The featured flavors of the month at Salt & Straw include Mummy's Pumpkin Spiced Potion, Essence of Ghost, Dracula's Blood Pudding, and Creepy Crawly Critters. These spine-tingling flavors are certain to get you in the spirit of Halloween. For the true foodie, these creepily crafted flavors feature everything from pumpkin tea and black cocoa to coconut toffee-brittle mealworms (not the candy kind) and pig's blood. But don't run yet!  I have the scoop on the latest ice cream craze to hit Downtown Disney at the Disneyland Resort and it is absolutely mouthwatering!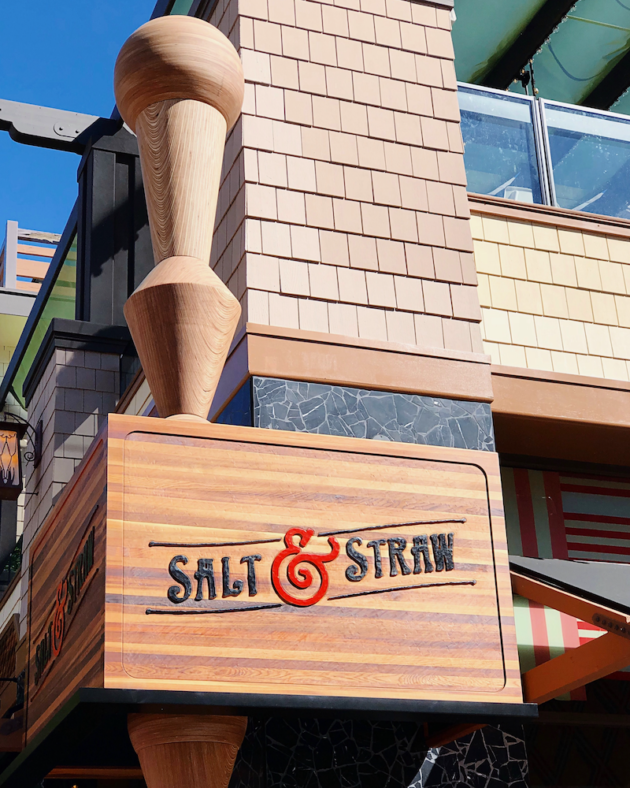 Consideration provided by Downtown Disney.
Salt & Straw
In a city where ice cream shops abound comes a scoop shop that distinguishes itself with inventive flavors and premium ingredients. The first Orange County location for Salt & Straw opened this month at Downtown Disney, and adds to the distinct flavors and experiences offered at the shopping, dining, and entertainment destination. Dreamed up by Portland-based co-founders Kim and Tyler Malek, their goal was to offer guests a unique experience where they could sample the diverse flavors showcased on the menu.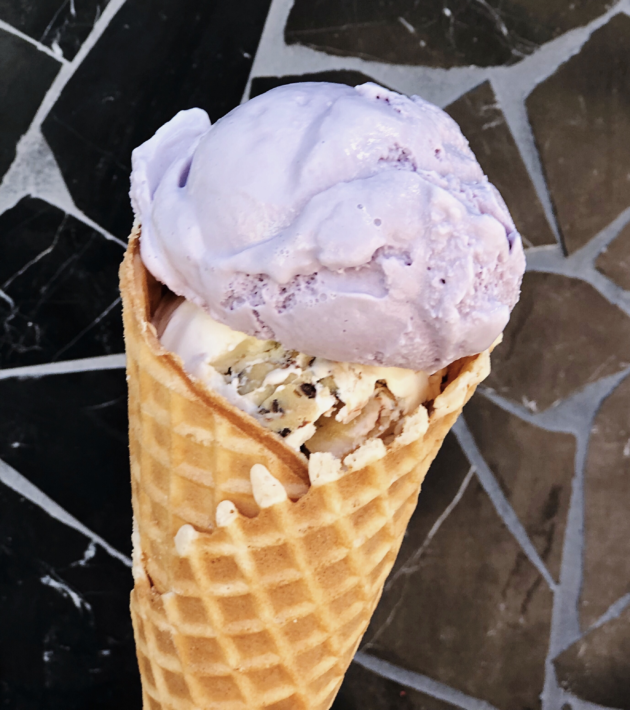 After I had sampled my way through the menu (tip…don't get full!), I decided on a two-scoop waffle cone featuring Honey Lavender and Salted, Malted, Chocolate Chip Cookie Dough. The first thing I noticed was how smooth and creamy the ice cream is. I also found myself drawn to the shop's imaginative take on traditional flavors. Chocolate Chip Cookie Dough is my favorite ice cream, so when I tried Salt & Straw's take on the popular flavor, I realized that no other version will compare. This particular flavor features chunky bites of chewy salty and malty homemade cookie dough, vanilla ice cream, and malted fudge swirls.
Every single flavor I tried was amazing, and that is not an understatement. The true test came when I decided to sample their vegan Freckled Mint TCHO-colate Chip. My son cannot have dairy, and his biggest complaint is the fact that dairy-free varieties never taste like the real thing. This particular flavor features organic dark chocolate in a peppermint coconut ice cream and it is absolutely dreamy (and undeniably cream). Having scoured the freezer section of local natural markets, I am equally impressed with Salt & Straw's culinary creativity when it comes to vegan ice cream. All too often I see Vegan Chocolate and Vegan Vanilla, and I know that my son longs for something a bit more indulgent. Their Dandelion Chocolate Hazelnut Cookies & Cream features dark chocolate ice cream made with coconut cream and hazelnut milk, swirled with stracciatella ribbons off chocolate and gluten-free, vegan Oreos.
Made in small batches using local, organic, sustainable ingredients, Salt & Straw features seasonal specialty ice creams, handmade waffle cones, and more. Tyler, who also serves as the shop's head ice cream maker, has a passion for cultivating partnerships with local farmers and artisans in the crafting of their flavors.
October Spooktacular Ice Cream Series
Having learned a bit more about Salt & Straw, it doesn't seem that outlandish that the shop would serve up these screamingly delicious new flavors. Here is a brief look at their Fall menu, available until October 31!
The Great Candycopia: What happens when you take your favorite Halloween candy and mix it into ice cream? This incredible flavor designed to satisfy your sweet tooth. Homemade Snickers, Twix chunks, Heath Bars, and Peanut Butter Cups are swirled into a salted butterscotch ice cream
Mummy's Pumpkin Spiced Potion (Vegan): In the spirit of all-things pumpkin spice comes an ice cream that turns the trending phenomenon upside down. Spices and dried pumpkin Psychocandy tea from August Tea are steeped in coconut cream. Candied pumpkin bits are stirred in for a Pumpkin Spice Latte you never dreamed of.
Essence of Ghost: Unlike real ghosts, I promise this ice cream is more than a figment of your imagination. This black cocoa sherbet combines bitter, sweet, and smoky flavors designed to give you the chills!
Creepy Crawly Critters: Behind every bug-laden ice cream is a story. In the middle of a field, you find yourself surrounded by insects, crawling, buzzing, and flying around you. This is the inspiration for the ice cream that features real crickets and mealworms. In partnership with Don Bugito's edible bug shop in Oakland, California, green-grass ice cream hides swarms of real dark chocolate covered crickets and coconut toffee-brittle mealworms.
Dracula's Blood Pudding: The most inventive of Halloween flavors gives new mean to the phrase, "I want to suck your blood!" Inspired by the classic Southern Italian dessert Sanguinaccio Dolce, this ice cream also features pig's blood from Salt & Straw partner Portland's Nicky USA. The blood pudding is infused with warm spices and is not for the faint of heart!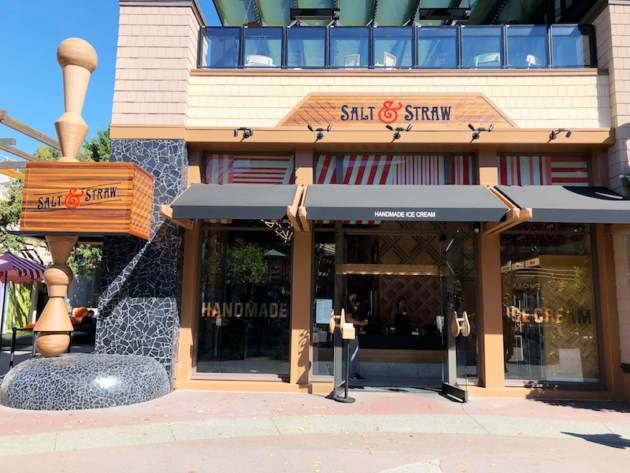 Salt & Straw is located at Downtown Disney (1550 Disneyland Dr. E-103A, Anaheim, CA) and is open from 10 am to 12 am. If you are not located near a local shop, you can order classic and October pints for home delivery on their website.