This post is part of a sponsored collaboration with Uncle Ben's. 
In those early newborn days when my son was just a toddler and my daughter would only sleep in the baby carrier, I found cooking and meal preparation to be incredibly challenging. My son is still that inquisitive child who takes things apart (like the control to my flat screen TV) just to see "how things work." As a toddler, the only way to ensure he wasn't painting his face with sunscreen or sticking beads up his nose (yes, both of these things happened) was to keep him right by my side as I prepared pancakes for breakfast or salmon and rice for dinner.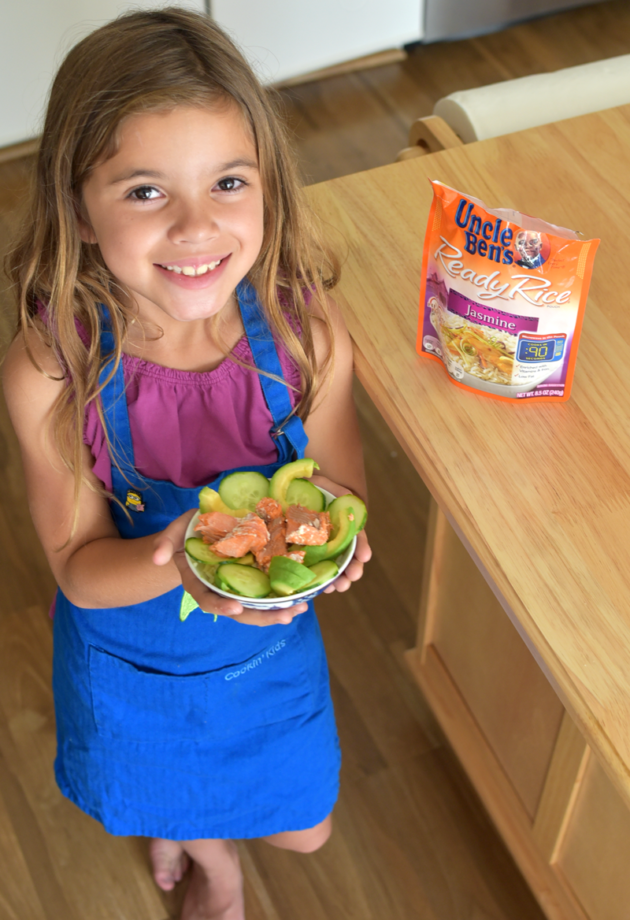 Ten years later and my son still loves to cook. Whenever I let my kids know that I'll be baking blueberry muffins for breakfast or making tacos for dinner, both my son and daughter are quick to claim their "task."  My son likes to crack eggs and sauté vegetables while my daughter prefers mixing and measuring. When we make pancakes Saturday mornings, there is always a "dispute" as to who is going to flip them. Some of our most memorable moments have been in the kitchen. My three-year old daughter helping with pasteles for Christmas or my son making our favorite pumpkin chocolate bread for Thanksgiving are just a few of those moments that have a lasting imprint on my heart.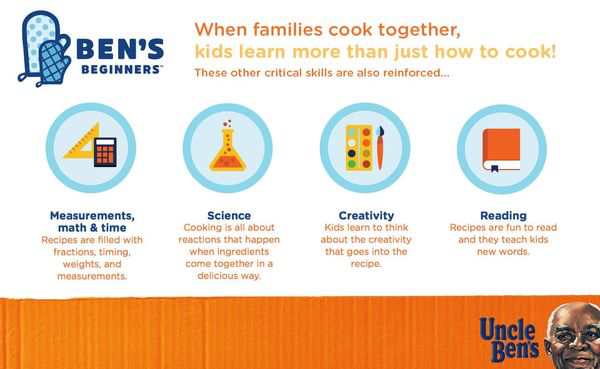 Cooking With Kids
There are so many benefits for families who cook together. In our family, reading, math, and science are skills that we have built upon in the kitchen. For example, my daughter has not always been the most voracious reader. One of the things I did a few years back was to have her "read" the recipes we were preparing so that she could gather all of the necessary ingredients. We have talked about the "science" of baking and why ingredients like baking powder cause a cake to rise or how over-mixing the muffin batter can cause them to have a tough consistency (as opposed to that fluffy, moist texture we are all striving for). Fractions, telling time, and learning about new foods are all topics we discuss as we are baking cookies or making poke bowls (hint hint!). And because I love to get creative, we dream up new dishes and talk about what new ingredients might enhance our favorite recipes.
UNCLE BEN'S® Ben's Beginners™ Cooking Contest
We are one week into the new school school year, and I can tell you that our schedules are bordering on hectic. While my son is at soccer practice, my daughter is finally getting her cartwheel on in gymnastics. Homework is only going to get more complicated and I still believe that kids need down time throughout the school week. Simple meals and knowing what I'm going to cook ahead of time have been our saving grace.
Did you know that children who cook and eat together with their families are more likely to consume healthier foods, have healthier eating habits as adults, and have higher academic achievement? In the midst of our busy schedules, I have always preserved dinner time, insisting that we sit down together as a family. This is our time to talk and share the joys or challenges of the day. I've also found that getting my kids involved with preparing and cooking meals keeps them busy doing activities that are purposeful as opposed to resorting to their devices for amusement.
The Ben's Beginners Cooking Contest, now in its sixth year, inspires families to spend more time in the kitchen with their kids. When you visit the website, you'll find kid-friendly recipes, online cooking lessons, and an opportunity to win some amazing prizes.
Now through October 9th, 2017, visit Ben's Beginners to submit photos of you and your kids preparing a rice-based dish using the hashtag #BensBeginners. There will be five grand prizes including $15K cash, a $30K cafeteria makeover for a child's school and a hometown celebration.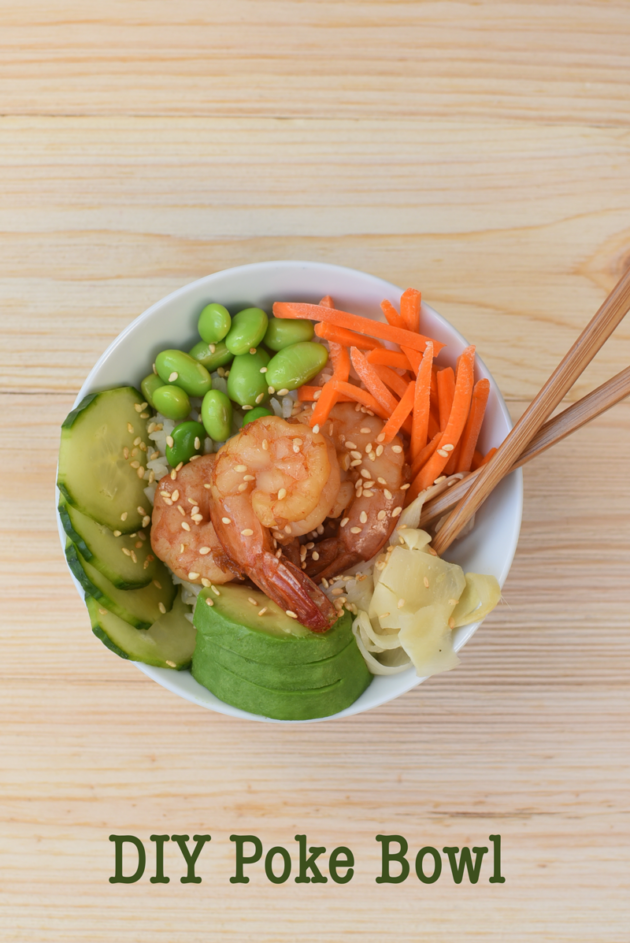 DIY Poke Bowl Recipe (Kid-Friendly)
I had my first poke bowl earlier this year and absolutely loved it. Poke is Hawaiian for "to slice or cut" and refers to raw fish served as an appetizer in Hawaii. A poke bowl typically consists of raw, marinated fish like ahi, tossed over rice and served with vegetables and sauces or dressings. The dish definitely reminds me of sushi, with more opportunities to customize. My kids are thankfully adventurous eaters, so convincing them to make poke bowls together was not difficult. Since this is a kid-friendly poke bowl recipe, we used cooked salmon and shrimp in place of raw fish and served it over a bed of Uncle Ben's Jasmine Rice.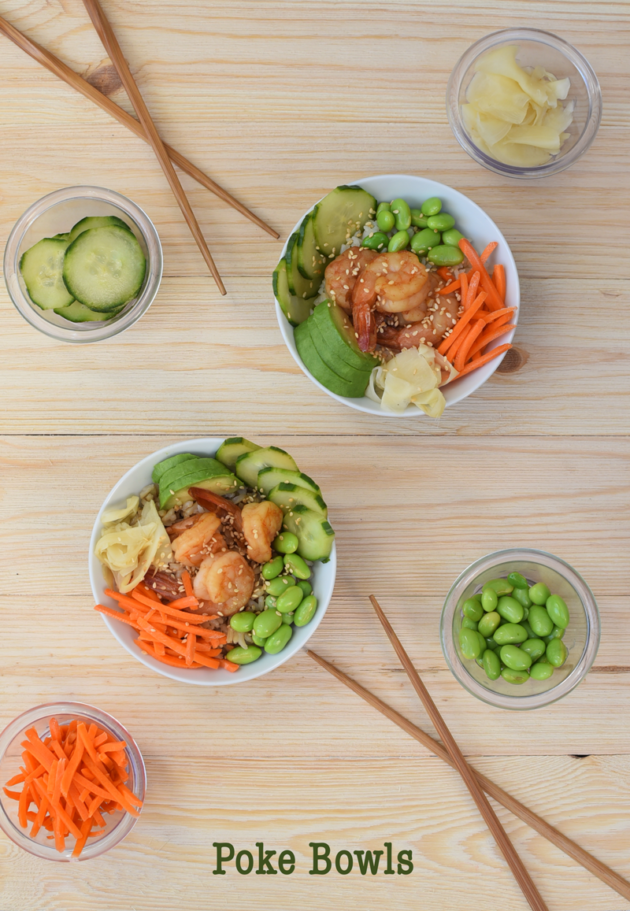 Poke Bowl
Ingredients
1

Package

Uncle Ben's® Ready Rice® Jasmine

12

cooked shrimp

1/2

cucumber

thinly sliced

1/2

cup

water

1/2

cup

rice wine vinegar

2

tbsp

sugar

1

avocado

sliced

1/2

cup

carrots

shredded

1/2

cup

green onions

chopped

1/2

cup

edamame

1

tsp

sesame seeds

1

tbsp

fresh ginger

ponzu sauce

recipe below
Ponzu
2

tbsp

soy sauce

1

tbsp

rice wine vinegar

1

tbsp

fresh ginger

minced

1

clover of garlic

minced

1

tsp

sesame oil

1

tsp

sugar
Instructions
To Prepare the Rice
Prepare the rice by gently squeezing the sides of the pouch to break apart the rice


Pour contents into a skillet, add 2 Tbsp. of water and heat

Stir rice occasionally until heated thoroughly

For the Marinated Cucumbers
Combine water, rice wine vinegar and sugar in a bowl

Marinate sliced cucumbers for at least one hour in the refrigerator

To Make the Ponzu Sauce
In a small saucepan, combine the soy sauce, vinegar, lemon juice, ginger, garlic, sesame oil, and sugar

Simmer over low heat for 3 minutes

DIY Poke Bowl
Layer each bowl with 1/2 cup rice


Layer shrimp on top of rice


Top poke bowl with marinated cucumbers, avocado slices, shredded carrots, green onions, edamame, ginger, sesame seeds and ponzu sauce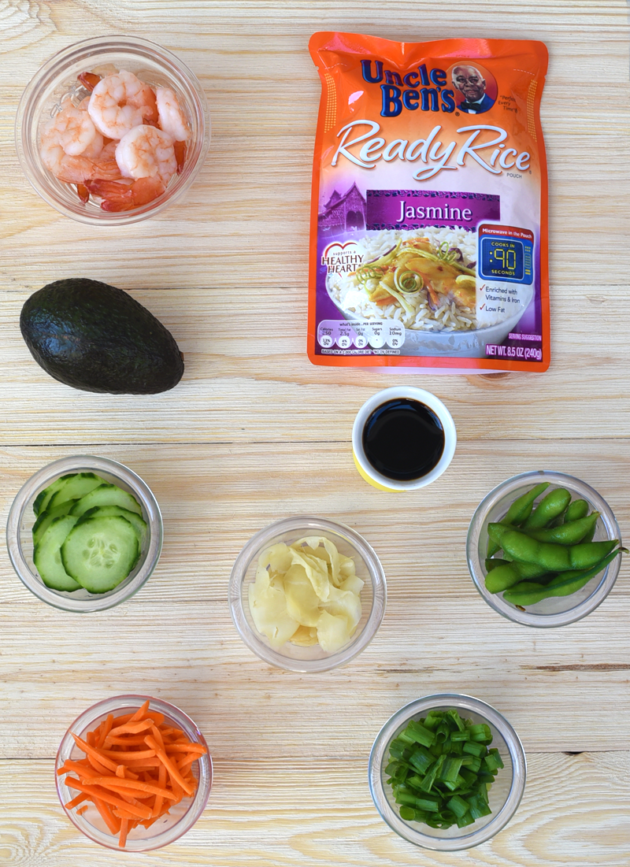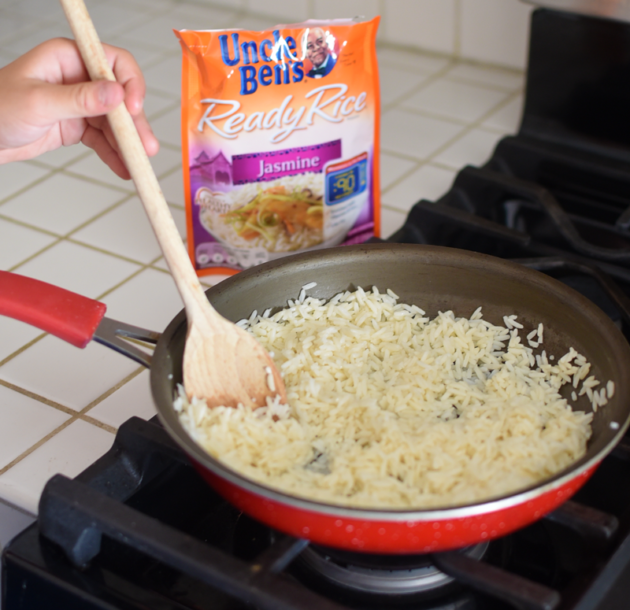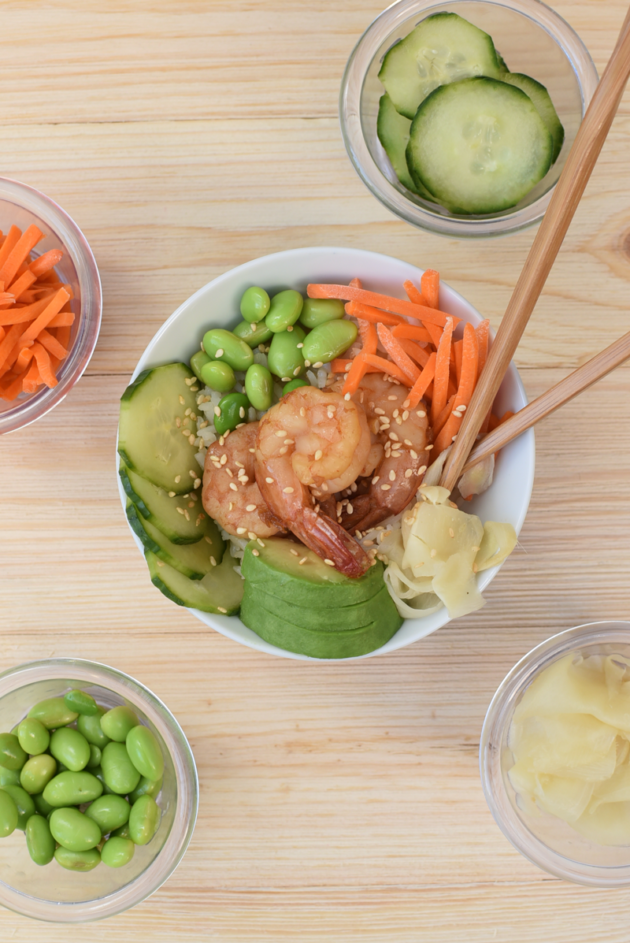 My kids really enjoyed spending time together in the kitchen making Poke Bowls. They loved the freedom to create a bowl with their favorite ingredients, different from the rest of the family. If you plan to serve this dish during the week, you can prepare the shrimp and toppings ahead of time. Be sure to cook the rice right before serving the Poke Bowls so that it is at its freshest.
For additional kid-friendly recipes or to enter The Ben's Beginners Cooking Contest, visit their website.