This shop has been compensated by Collective Bias, Inc. and its advertiser. All opinions are mine alone. #CapturingTraditions #CollectiveBias
In honor of Hispanic Heritage Month, I'm sharing a decadent recipe for Coconut French toast!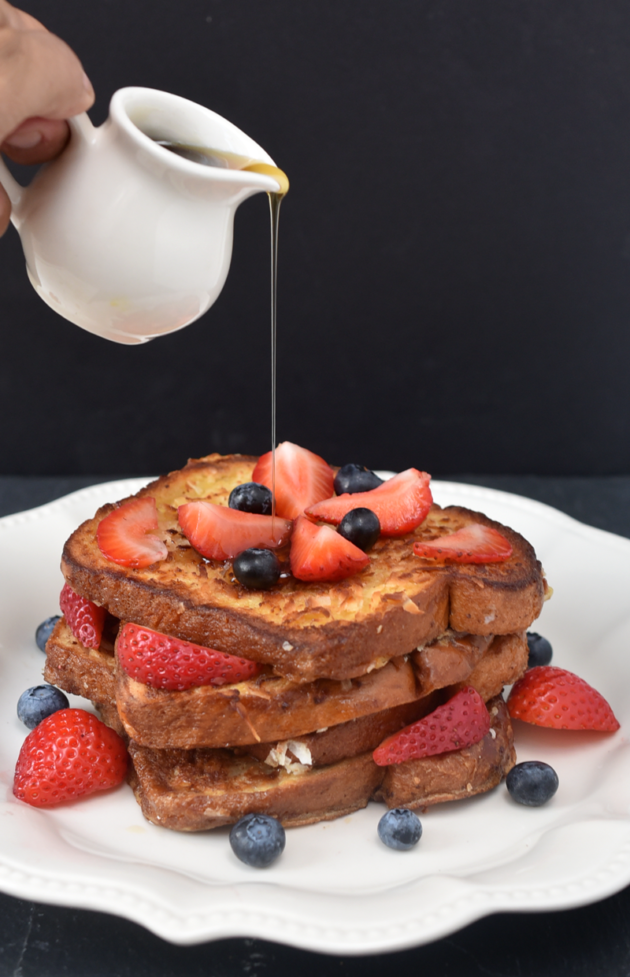 As a young girl, I spent countless hours in the kitchen with my dad, while he prepared arroz con pollo, plátanos, and gandules. My grandmother owned a restaurant, and inevitably, my father gleaned Puerto Rican cooking traditions and dishes that he then replicated in our home. I would start my winter mornings off with avena or farina and come home to a warm meal that always included arroz.
Puerto Rican cuisine has its origins in Spain, Africa, and parts of the Caribbean and beans, rice, meats, and verduras are the most frequently used ingredients. And if you're planning to enjoy a traditional Puerto Rican dessert, it most likely contains coconut.
Hispanic Heritage Month
This month, we celebrate Hispanic Heritage Month, beginning September 15th and running through October 15th. This month-long celebration honors the contributions of Hispanic and Latino Americans and celebrates the history, culture and contributions of American citizens who's ancestors came from Spain, Mexico, the Caribbean, and Central/South America. Hispanic Heritage Month begins on the 15th of September which is the anniversary of independence for the Latin American countries of Costa Rica, El Salvador, Guatemala, Honduras, and Nicaragua. Mexico, Chile, and Belize also celebrate their independence in September.
Food is an integral part of our Puerto Rican culture, and you'll often find that holidays are tied to specific dishes. For example, during Christmas, our family would make pasteles and tembleque and it would not be a celebration without coquito.
We are two weeks into the new school year, and I'm already feeling the pressure of the morning rush of getting breakfast on the table so that we can get out of the house on time. Breakfast has always been my favorite meal of the day because I love traditional dishes like pancakes, waffles, french toast, and omelets. As you can imagine, each of these dishes requires time to prepare. As part of my weekly meal prep, I have begun making some of these dishes ahead of time and then freezing them so that I can quickly warm them for breakfast during the school week.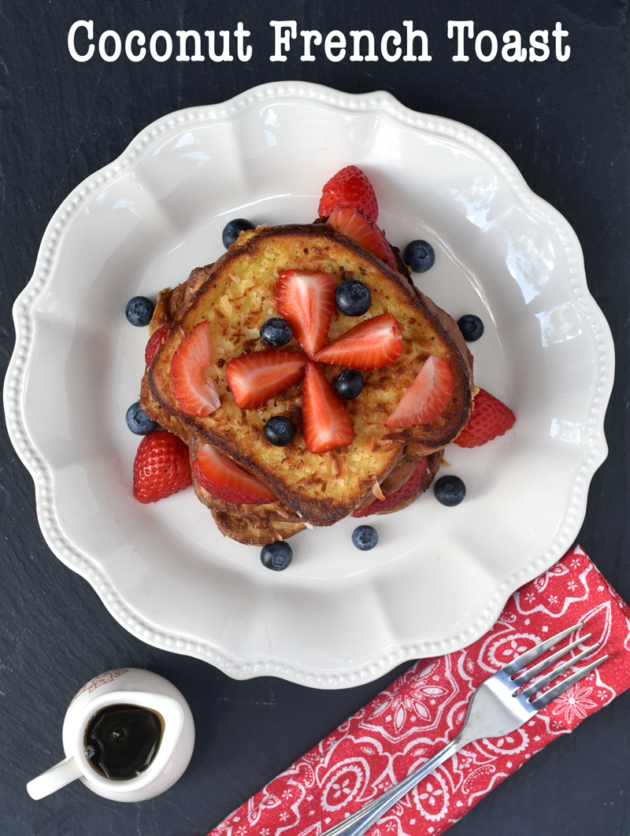 One of my new favorite breakfast dishes is a Coconut French Toast. I gleaned inspiration from my Puerto Rican roots to create this dish, which features a coconut milk batter and a crispy coconut crust.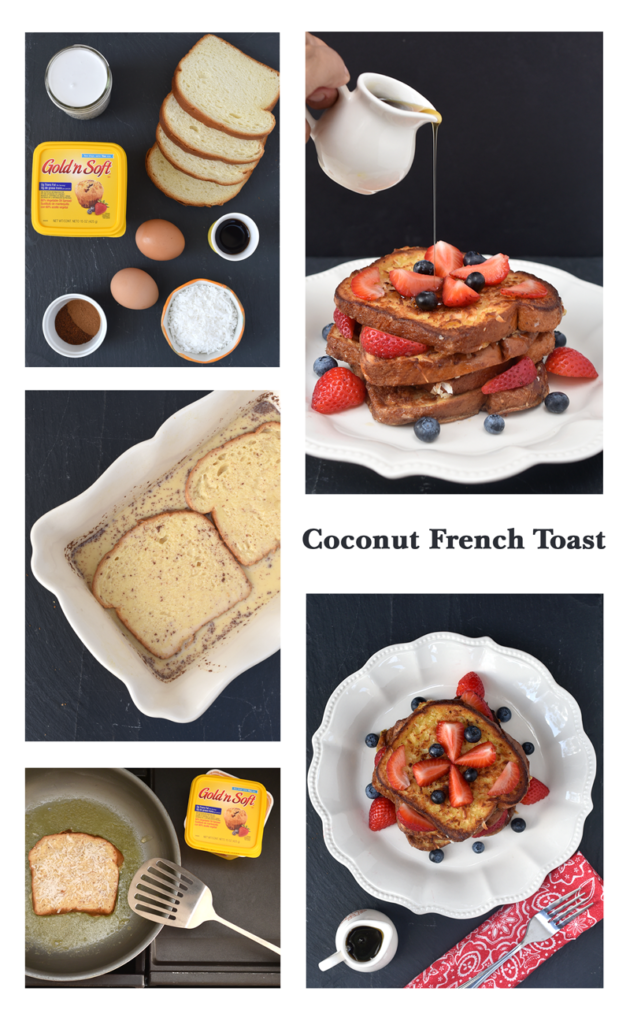 Coconut French Toast

Coconut French Toast
Ingredients
8

slices

thick bread

4

eggs

1

cup

unsweetened coconut milk

1

tsp

vanilla extract

1/2

tsp

ground cinnamon

1/4

tsp

ground nutmeg

Shredded Coconut

Gold'n Soft Spread

Fresh berries

syrup
Instructions
Preheat a nonstick skillet

In a large bowl, beat eggs

Add coconut milk, vanilla extract, and spices and mix to combine

Pour mixture into a shallow dish

Dip one slice of bread into egg mixture, coating both sides evenly

Coat each side of the bread with shredded coconut

Butter the skillet with Gold'n Soft Spread

Cook bread on low-medium heat for approximately 5 minutes on each side, or until golden brown.

Top coconut french toast with additional shredded coconut and fresh berries

Serve coconut french toast with maple syrup and Gold'n Soft Spread
This recipe for Coconut French Toast is easy to master and can be prepared the night before school if time is an issue. Refrigerate or freeze and then toast before serving for breakfast. Kids love the crunchy coconut crust, which is achieved, in part, by using Gold'n Soft Spread. Not only is Gold'n Soft Spread easy to spread, it offers the same great taste of butter without the cholesterol, hydrogenated oils and trans fats that we worry about with butter and other spreads. Gold'n Soft Spread is now available in a smaller, 15 ounce tub, ideal for smaller families like ours.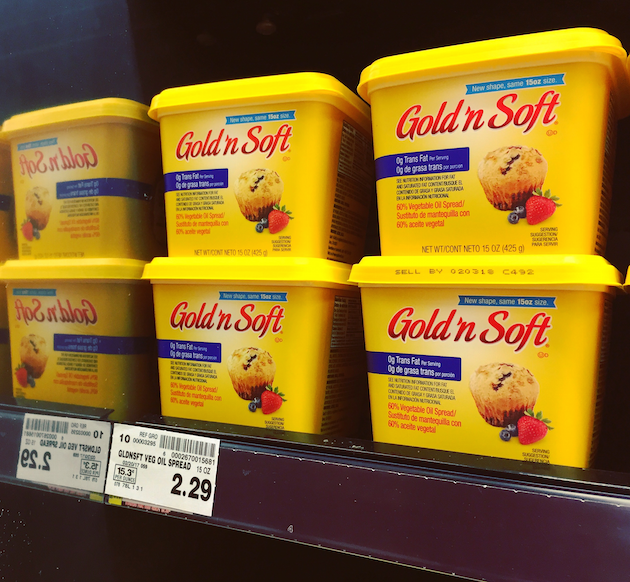 Gold'n Soft Spread is available in the refrigerated section of your local Ralphs store near the dairy products. Right now, you can save 50 cents on your next purchase with this coupon.

To find a store near you that sells Gold'n Soft Spread, just visit their website.

Looking for additional recipe inspiration? Be sure to visit the Gold'n Soft Spread Social Hub.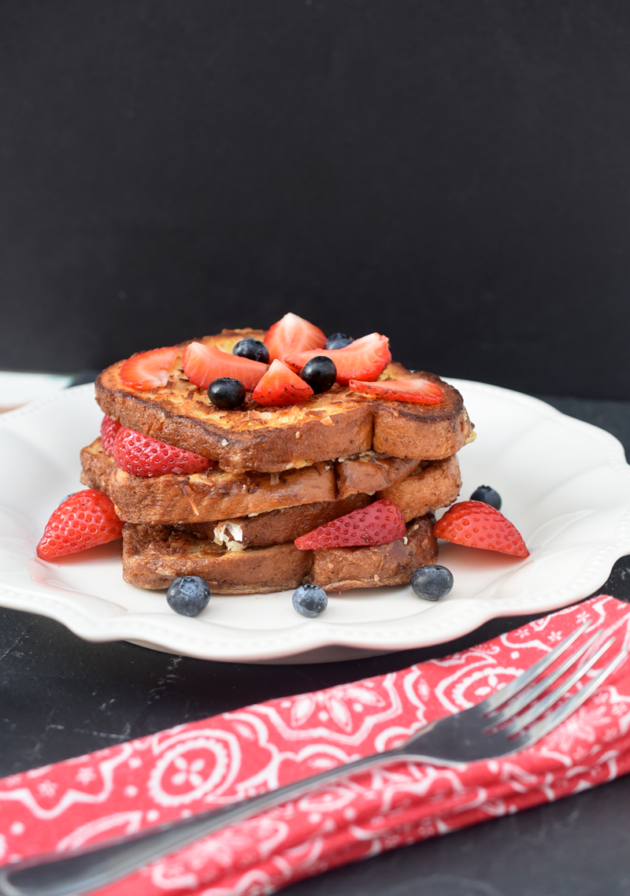 We are celebrating Hispanic Heritage Month with this decadent Coconut French Toast!  Be sure to check out all of our recipes, many of which are kid-friendly, here!