Food has a way of bringing people together in so many unique ways. As I surveyed the crowd at our local Texas de Brazil restaurant, I took note of birthday and anniversary celebrations, multigenerational families enjoying an evening out together, couples taking advantage of Saturday night date night, and friends bonding over Brazilian sausage and fried bananas. Dining at Texas de Brazil is a culinary experience. Having frequented the restaurant with family and friends on multiple occasions, I'm sharing 5 Reasons to Dine at Texas de Brazil.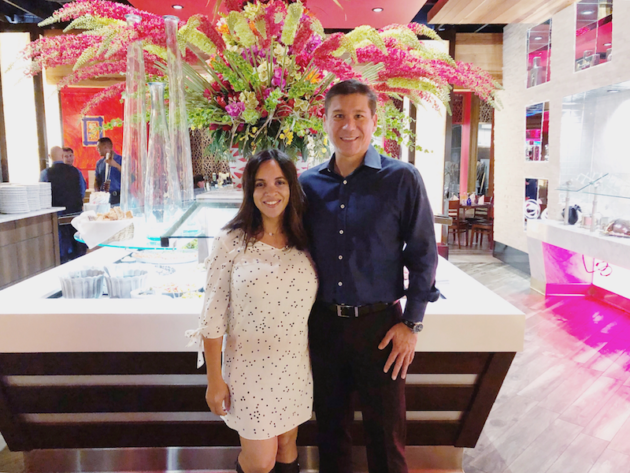 I participated in the Texas de Brazil Campaign on behalf of Wendy's Bloggers. My guests and I received complimentary meals to facilitate this post, but the opinions, creative content, and photographs are my own.
Texas de Brazil
Food and culture converge in the Brazilian tradition known as churrasco. The term is used to refer to beef or grilled meat served rodízioor table-side as it is sliced onto the plate from skewers. Texas de Brazil continues this culinary tradition, which has origins in Southern Brazil. Texas hospitality elevates the experience, ensuring diners receive excellent attention and service.
The heart of the Texas de Brazil experience is the restaurant's 15 varied flame-grilled meats. They include everything from Brazilian Sausage and Braised Beef Ribs to Filet Mignon Wrapped in Bacon and Leg of Lamb. The meat is slow-roasted over an open flame, then served table-side, straight from the grill, offering guests a fresh, authentic experience.
The 50-item Chef-Crafted Salad area is beautiful! The offerings are fresh and generous and include seasonal salads, roasted vegetables, imported cheeses, charcuterie, smoked salmon, sushi, regional dishes, and so much more. At the table, diners are also offered house-baked cheese bread, garlic mashed potatoes, and fried bananas.
The experience is complemented by an award-winning wine list, the restaurant's signature cocktail (the Caipirinha), and a la carte desserts. Dining is all-you-can-eat, and you can use the table card to indicate whether or not you are ready for additional food or require a small break.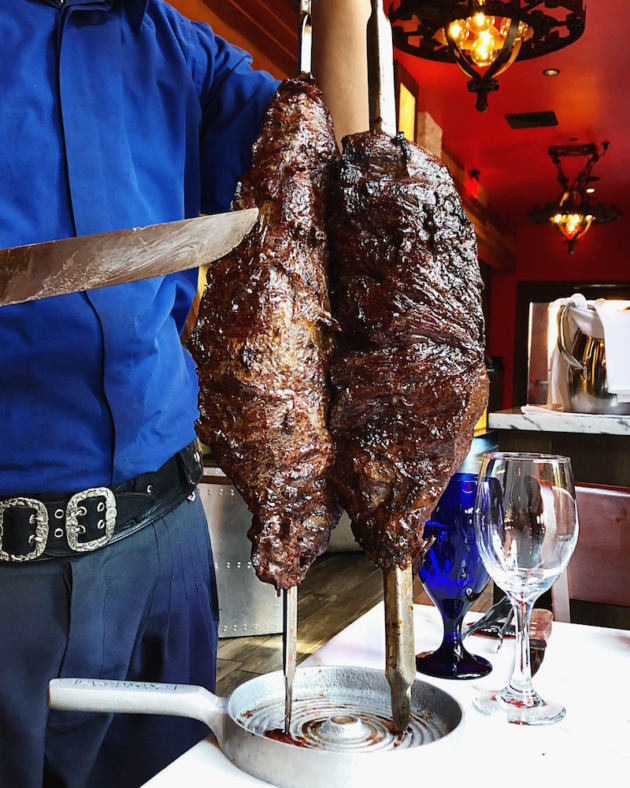 Texas de Brazil Review
The four of us recently dined at our local Texas de Brazil in Irvine in honor of their 20th anniversary. Each of us have varied palates, and I really enjoyed seeing the diversity displayed on our plates. My plate was piled high with vegetables, sushi, shrimp, and salmon while my adventurous son tried more cuts of meat than he had ever been exposed to in his life. My daughter is the pickiest of the four of us, and even she found herself heading back to the salad bar for seconds (and thirds) and I was proud of her for trying new meats. My mother is the most health conscious of the four of us and still found herself indulging in a variety of salad bar items and meats.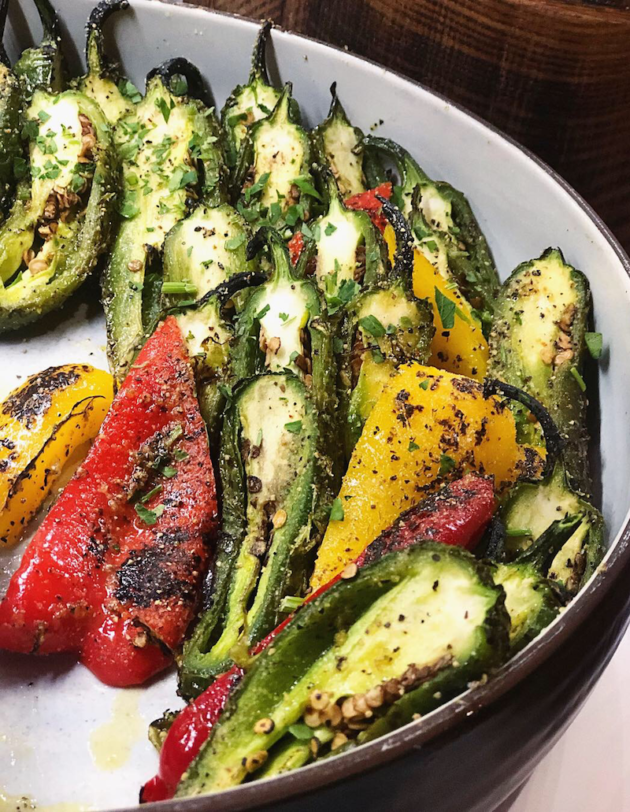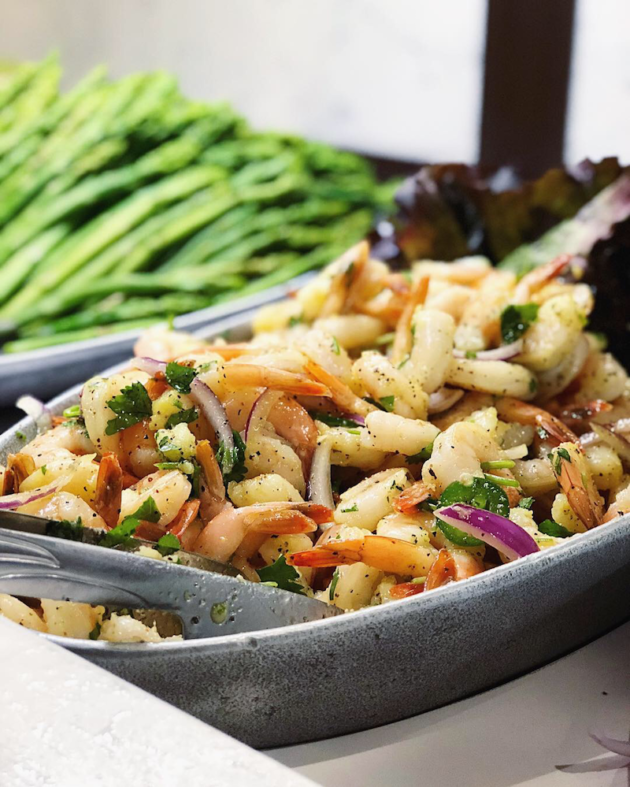 When you walk into the restaurant, you will immediately notice the expansive salad bar.  The variety is comprehensive and diverse, and impressive in appearance. During our visit, I noticed that the staff kept the area clean and stocked with fresh food. I hesitate to call it a salad bar or buffet because Texas de Brazil defies what people typically imagine when they hear those terms. Items vary by location, but include gourmet artisan breads, imported cheeses, steamed asparagus with orange vinaigrette, Brazilian hearts of palm, grilled portobello mushrooms, Greek olives, shrimp salad, herbed sweet onions, pineapple carpaccio, crispy bacon and more.
Whether you are a meat-lover like my kids, or adhere to a more pescatarian or vegetarian-friendly diet, Texas de Brazil offers dishes for everyone. The experience is lavish and leisurely and ideal for families, friends, and couples looking for a romantic night out.
5 Reasons to Dine at Texas de Brazil
The Texas de Brazil experience is all-you-can-eat. Simply make a reservation at your local Texas de Brazil, pay the fixed price, and enjoy your meal at your leisure. Pricing varies by location, but on average is $51.99 for the full experience and $29.99 for the Salad Area only. Children ages 6-12 are half price. It should be noted that the price does not include alcohol, featured items, desserts, beverages, tax or gratuity.
Vegans and Vegetarians can dine at Texas de Brazil. The 50-item salad area is filled with hot and cold dishes certain to satisfy your appetite. Simply opt for the Salad Area only pricing when making a reservation.
You can try foods you have never experienced before. One of the best reasons to dine at Texas de Brazil is the opportunity to diversify your palate. This is your opportunity to try a new cut of meat or a vegetable you are not familiar with. The seemingly endless selection of dishes means you will not leave hungry.
The meats at Texas de Brazil are some of the freshest you'll taste. Cooked in authentic Brazilian style, Texas de Brazil slow-roasts and perfectly seasons cuts of beef, lamp, pork, chicken, and Brazilian sausage over a wood charcoal fire. The meat is then expertly carved and served from cooking skewers onto your plate, ensuring that you enjoy the freshest meats available.
Texas de Brazil is family-friendly. Admittedly, I was a bit nervous to bring my kids to dine at the restaurant. I had dined at Texas de Brazil in the past, and the ambiance feels upscale, yet leisurely. Our server immediately reassured us that kids frequent the restaurant regularly, and that the combination of a diverse menu and attentive staff ensure that kids have a wonderful experience.
Looking for Texas de Brazil locations? Be sure to visit texasdebrazil.com. When you visit, I highly recommend making a reservation online. While dining, share your experience with @TexasdeBrazil and use the hashtags #TdBToasts20 #TdbToasts20Irv #TexasdeBrazil. You can also follow Texas de Brazil on Facebook, Twitter, and Instagram.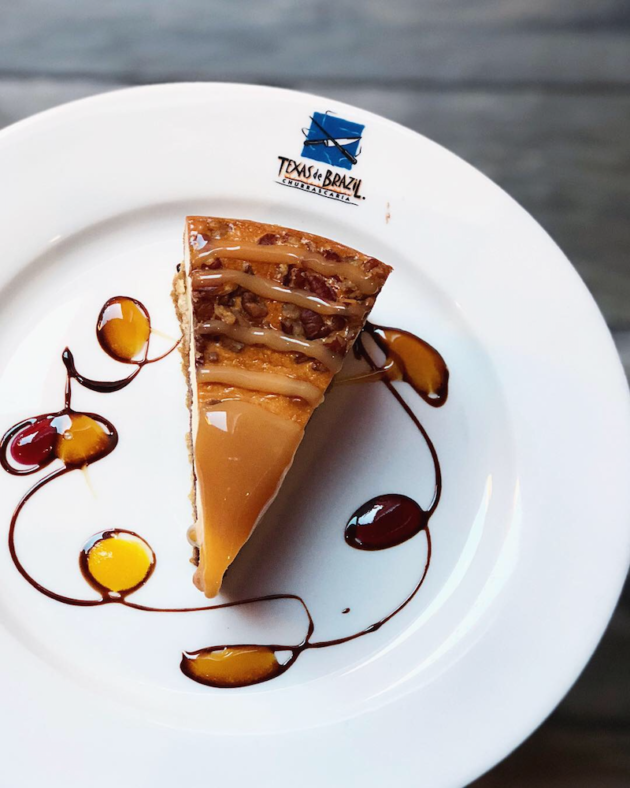 Texas de Brazil Giveaway
Don't forget to enter our Texas de Brazil giveaway where you can win a $100 Texas de Brazil Gift Card.