Last week, my daughter and I were negotiating, as 9-year-olds do. Her request? A movie night with mom…and only mom. She warmed this mama's heart, who knows all too well that the time is short, and very soon, she'll be asking me to shuttle her and friends to the movies. I did not have the heart to ask her what I would do with her brother while we watched our chick flicks! This week, I'm heading to PMA Fresh Summit Conference and Expo with DelFrescoPure to share the latest from the brand including their certified pesticide-free strawberries and the latest in Hydroponic Growing. Plus, I've teamed up with OC Mom Blog to offer two people an AWESOME #FamilyFunNight giveaway!
Sponsored.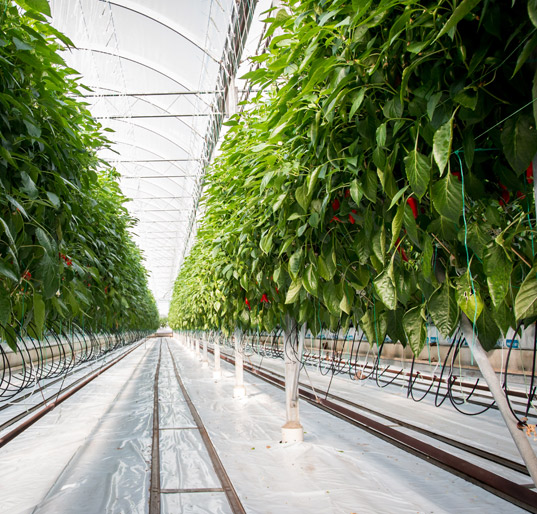 DelFrescoPure
Knowing where our family's food comes from and how it is grown is important to me. I've spoken to local farmers, spent an extensive amount of time with the California Farm Water Coalition, and even visited a number of farms across Northern and Southern California in an effort to understand and raise awareness surrounding farming and agriculture.
DelFrescoPure is located in Ontario and specializes in greenhouse growing techniques passed down from their family tree for more than 60 years. The company's innovation and technology make them a leader in hydroponics and the greenhouse industry.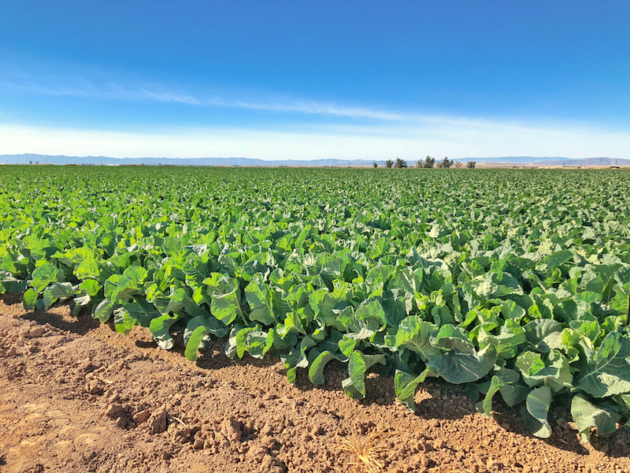 PMA Fresh Summit Conference and Expo
More than 1,000 companies converge to showcase the latest products, services, and innovations at PMA Fresh Summit Conference and Expo. And during The Fresh Ideas Showcase, you'll see some of the hottest new products on the market.
During the summit, I'll be learning all about DelFrescoPure's Living Cube, Hydroponics, and Yes!Berries, the first certified pesticide-free strawberries in North America.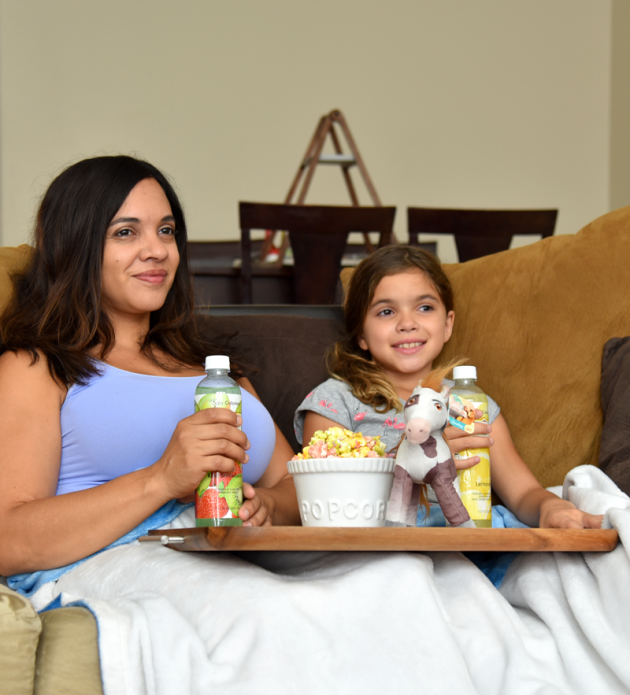 Healthy Family Movie Night Recipes
We are kicking off PMA Fresh Summit Conference and Expo with some healthy Family Movie Night Recipes, thanks to DelFrescoPure.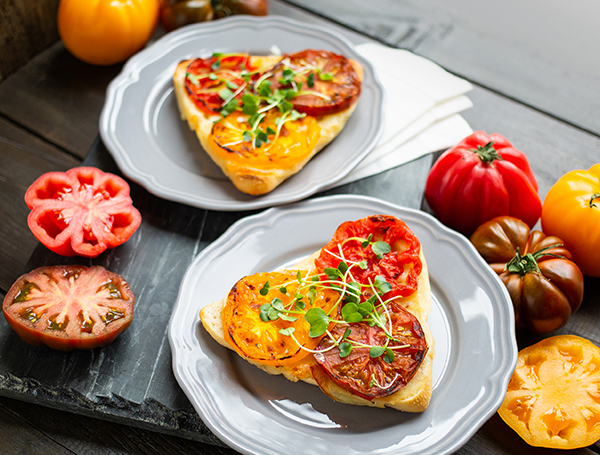 Heirloom Tomato and Provolone Toasts
My kids love pizza, and our game night menu typically includes some variety that has been picked up or delivered. This recipe multigrain bread, heirloom tomatoes, and microgreens for a healthier take on pizza!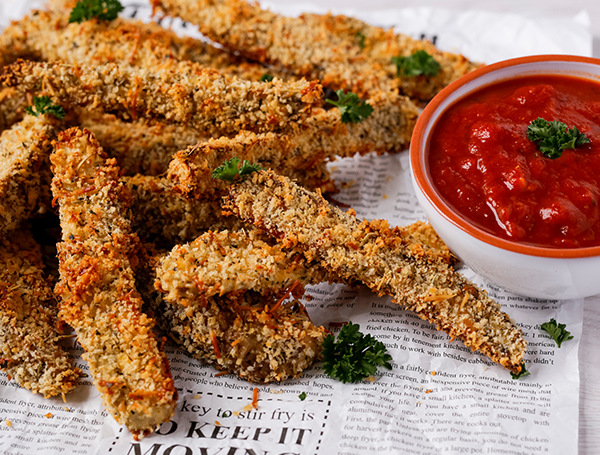 Eggplant Fries
I have a little girl who has a serious love for french fries. Unfortunately, they are loaded with sodium and fat. These eggplant fries are baked as opposed to fried, while still offering that crunch that kids enjoy.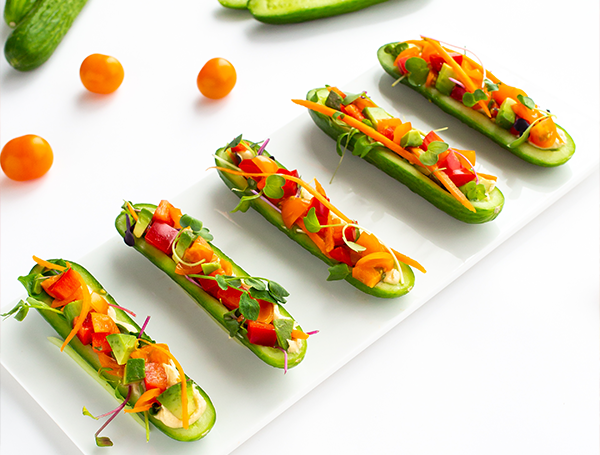 Hummus and Vegetable Cucumber Boats
If you struggle to get your kids to eat vegetables, try these adorable vegetable boats. Portable and kid-friendly, they are perfect for snacking on during your favorite movie.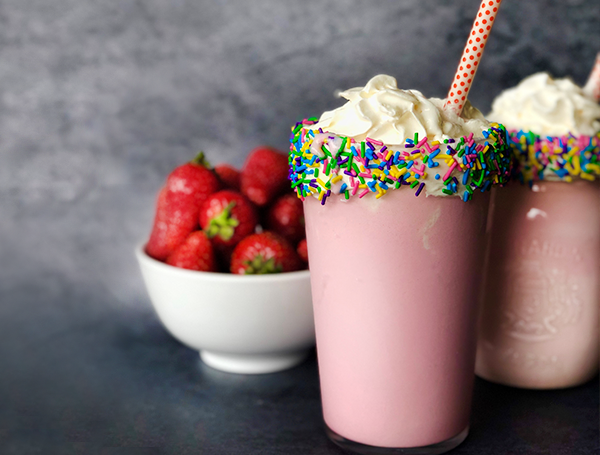 Strawberry Milkshake
A "special drink" and a treat are typically movie night requests from my kids. This recipe features DelFrescoPure's pesticide-free strawberries and no added sugar (apart from that contained in the ice cream).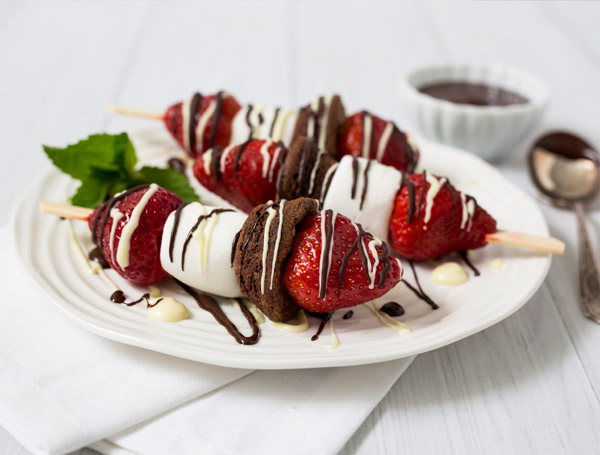 Chocolate Strawberry Kabobs
Speaking of treats, these Kabobs are super easy to make and kids love the combination of fresh strawberries and chocolate.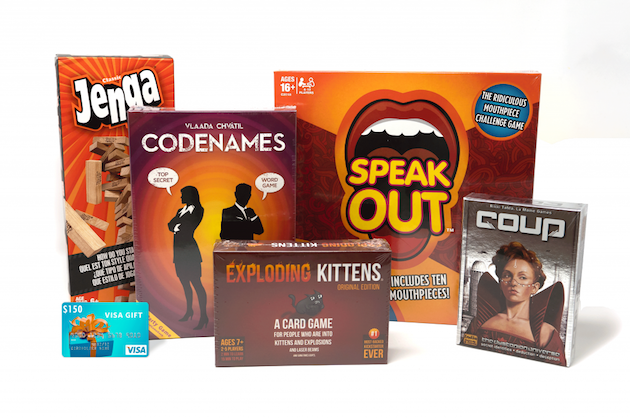 #FamilyFunNight Giveaway
Enter to win a prize pack from DelFrescoPure® containing 5 board/card games and $150 gift card worth approximately $250 total.
How to Enter
You may enter the sweepstakes in two ways: (1). uploading a photo to Instagram or twitter sharing what your family would do with a night off, share and tag the photo using #FamilyFunNight and follow Shelby Barone (@OCMomBlog) or Caryn Bailey (@RockinMama) and DelFrescoPure (@delfrescopure) on Twitter & Instagram; or (2). mailing a submission containing your name, address and telephone number to: ATTN: Del Fresco Sweepstakes, 1478 Seacliff Drive, Kingsville, Ontario, N9Y 2M2.
Mailed Submissions will be dated as submissions on the date they are received and will be discarded if received after the Sweepstakes End Date.
No purchase is necessary to enter. One entry per participant for the entire Sweepstakes Period.
The Sweepstakes is open only to legal permanent residents of: Canada, the fifty (50) United States and the District of Columbia (excluding, without limitation, Quebec, Puerto Rico, other U.S. territories and possessions, and where prohibited by law), who are 18 years of age or older or the age of majority in their place of residence. Additional exclusions in Official Rules.
How to Win
Two (2) winners will be selected at random by a drawing to be held on Oct 29th 2019, for a total of two (2) winners during the Sweepstakes Period. One winner will be announced on Shelby Barone (@OCMoms) Social Media and the other will be announced on Caryn Baileys (@RockinMoms) All entries received during the Sweepstakes Period will remain eligible to win any drawing that occurs after the date of submission. Winner is subject to eligibility requirements in official rules.
Your odds of winning vary depending on the number of entries received.