Twenty five years ago, audiences were introduced to Buzz Lightyear and Sheriff Woody in an imaginative world where toys come to life. The art of visual storytelling has evolved, along with the ever-changing world. And yet, Toy Story continues to touch audiences both young and old with its humor and heart. This Fall, bring home the 4th (and likely finally chapter) in the Toy Story saga when Toy Story 4 debuts on Digital in 4K Ultra HD, HD, Movies Anywhere, 4K Ultra HD, Blu-ray, and DVD. Plus, download our free Toy Story printables and our free DIY Toy Story Forky Ornament.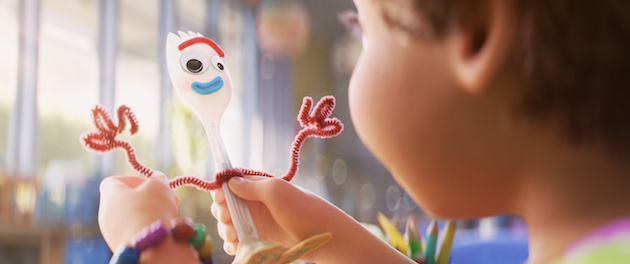 Consideration provided by Disney.
Toy Story 4
We first saw the film in theaters over the summer in 4DX, and were touched by the film's messages about friendship, loyalty, and acceptance. Tom Hanks reprises his role as Woody, who has always been secure in his ability to take care of his kid. The story takes place after the 3rd installment in the series, right after Buzz Lightyear and Woody have been placed with a new family.
Bonnie's first day of Kindergarten is filled with nerves, so Woody tags along to comfort her. During craft time, she creates Forky, who comes to life and becomes Bonnie's special toy. Ironically, Forky does not embrace his toy identity and the film is filled with hilarious antics where he constantly tries to throw himself away, after all..he's just trash.
Woody takes on the roll of teaching Forky how to be a toy, and their adventures are filled with humor, emotion, and a satisfyingly conclusive ending to the film series.
Toy Story 4 Bonus Features
Bring home Toy Story 4 this Fall, which features over one hour of bonus features which celebrate the film's beloved characters, Pixar's filmmaking team, and the legacy of Toy Story, the world's first fully computer-animated feature film.
Toy Story 4 bonus features include deleted scenes, including an alternate ending, a new featurette with a look back at Woody and Buzz's friendship over the years, studio stories shared by the Pixar team, and a look back at the creation and first storyboard screening of Toy Story with the filmmakers.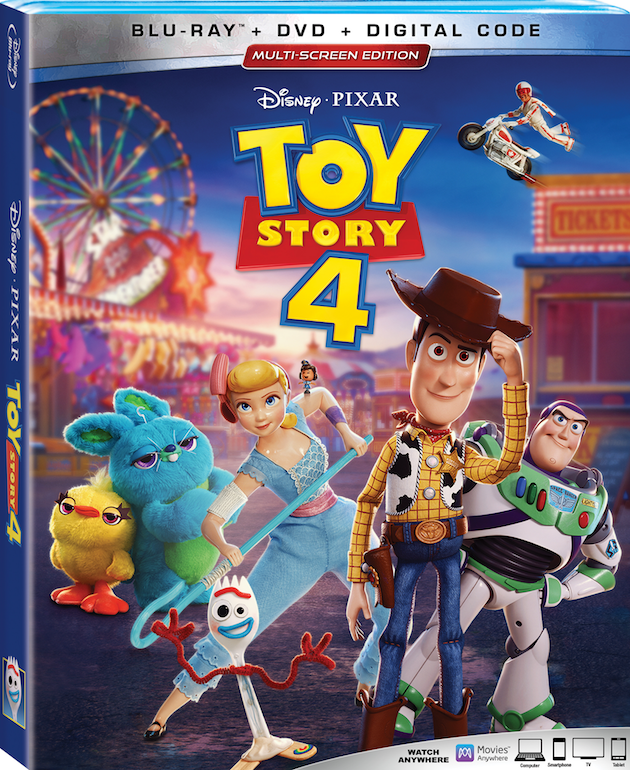 Blu-ray and Digital Bonus Features
'Toy Stories: The Toy Story 4 cast and crew share their love of toys!
Woody & Buzz: Take a look at the relationship between these two legendary characters.
Bo Rebooted: Discover how Team Bo reimagined all aspects of Bo Peep's identity to arrive at the fully realized character seen in the film.
Toy Box: Enjoy a collection of mini-docs on the film's memorable new characters, featuring the voice actors, director Josh Cooley and Pixar artists talking about the many elements that make these characters fun and lovable
Let's Ride With Ally Maki: Ally Maki, voice of Giggle McDimples, learns all about Pixar's dialogue recording process from director Josh Cooley and his team.
Deleted Scenes Introduced by director Josh Cooley:
Scamming Playtime
Bo Knows Hippos
Desperate Toys
Knock-Offs
Recruit Duke
She's The One
Audio Commentary, Trailers and more!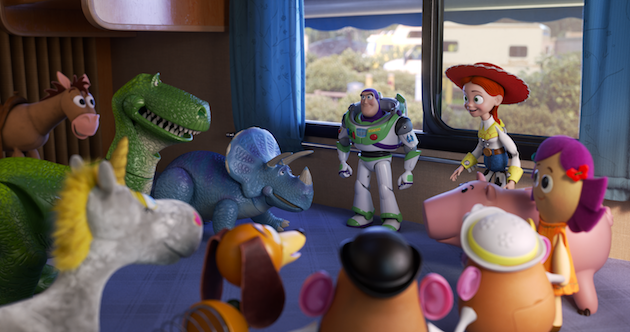 Digital Exclusive
Anatomy of a Scene – Prologue: Filmmakers and crew review key scenes of the movie and dissect the practical and technological methods used to bring them to life.
Additional Deleted scene: Bonnie's Playtime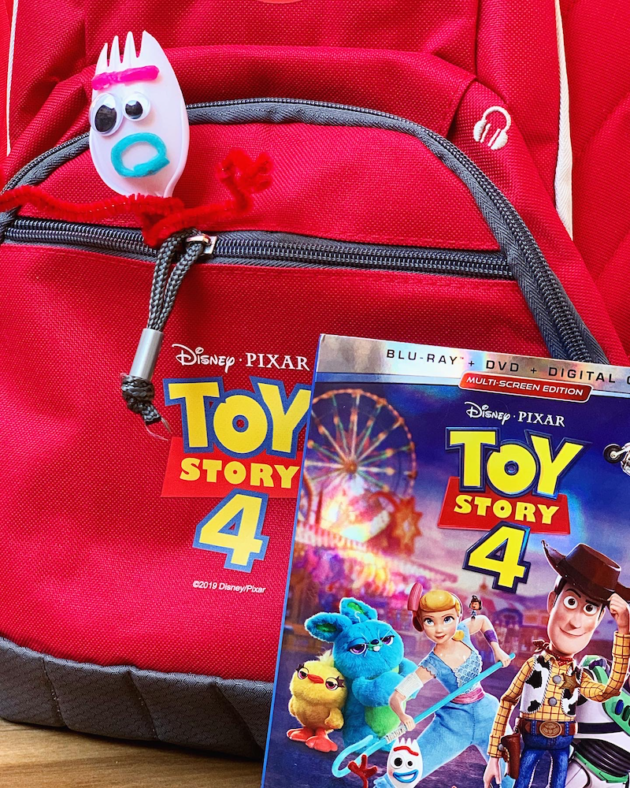 DIY Forky
Forky stands out as the most memorable new character from Toy Story 4. In honor of the film's home entertainment release, here is an easy DIY Forky printable that you can download and then make as you celebrate the release of the film.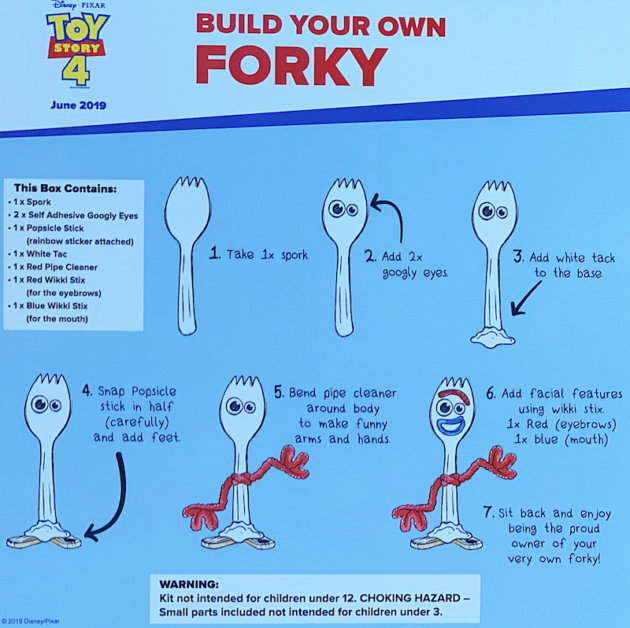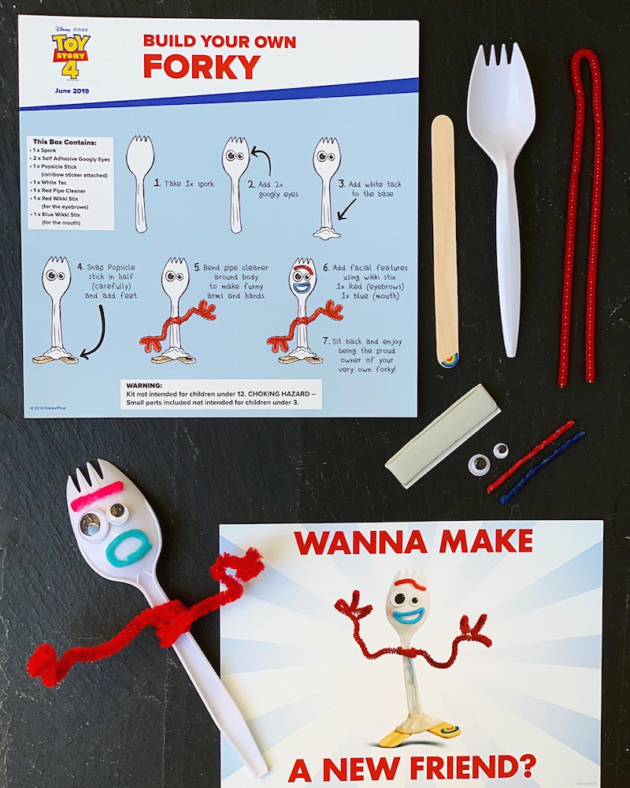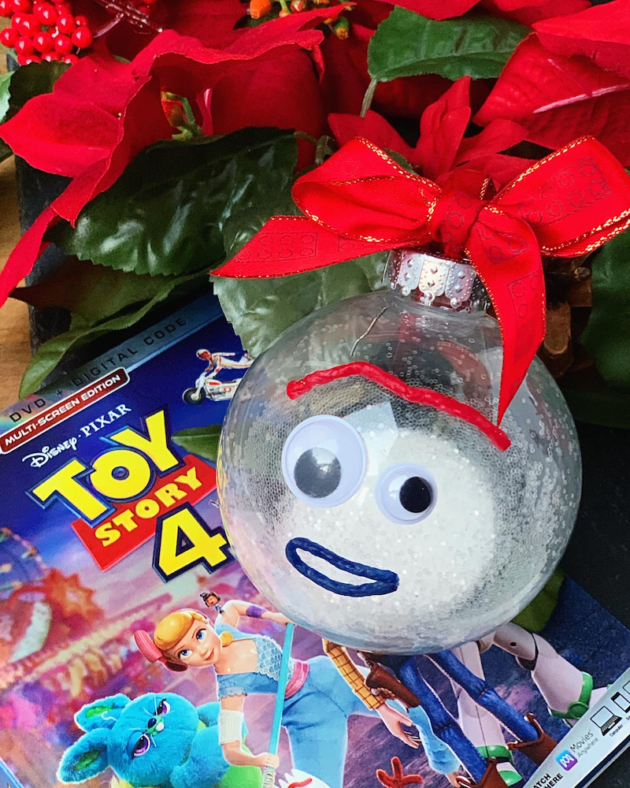 DIY Toy Story Forky Ornament
We are less than three months away from Christmas, so I thought it would be fun for us to make a Forky Ornament, inspired by Toy Story 4. This DIY is super easy and fun for families and takes just a few minutes.
To make this easy craft, simply use Wikki Stix to create Forky's face. Then tie a red ribbon on the top of the ornament!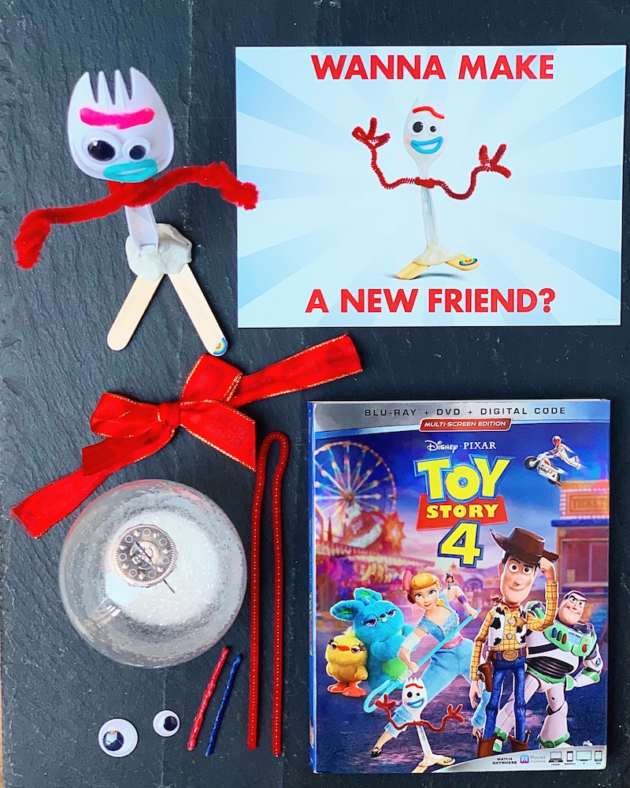 Toy Story 4 Printables and Activities

Celebrate the release of Toy Story 4 on Blu-ray and DVD with our free Toy Story 4 recipes and printables!