I was 17 when Toy Story was first introduced to audiences in theaters, and I remember watching the film for the first time with my father. While a teen at the time, I was still very much in touch with my childhood, and found that the film's concept about toys being alive really resonated with me, as I was an imaginative only child, who often dreamed up stories of princesses and their princes. Toy Story was the first film to be made entirely using CGI, resulting in numerous accolades for visual development. Nearly 25 years later, Disney/Pixar is releasing the 4th installment in the franchise, Toy Story 4. We experienced the film in 4DX, a truly immersive experience and my favorite way to see a film.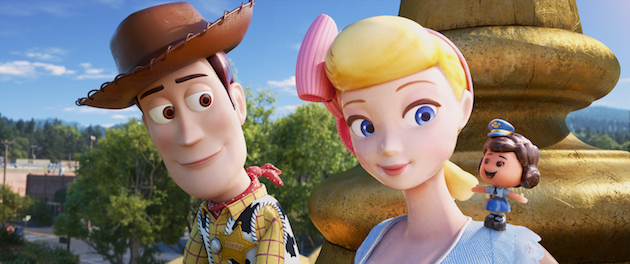 Toy Story 4
One of the things I love about the Toy Story franchise is how each film continues the natural progression of the story. After the events of Toy Story 3, Woody and Buzz Lightyear have a new home after being given to Bonnie by Andy. Bonnie is starting kindergarten, but her apprehension and Woody's concern for her land him in her backpack, despite the fact that she has been neglecting the toy Sheriff. During craft time, Bonnie creates Forky, a spork she made into a toy. Unfortunately, Forky views himself as trash, and is constantly trying to find his place in the nearest trash can. Woody makes it his priority to show Forky why he should embrace the toy life.
When Bonnie and her family take a summer road trip, Woody reunites with his long-lost friend Bo Peep, who is now living the carefree life of a lost toy. Worlds apart, the two come together in a series of adventures that involve convincing Forky of his place in Bonnie's life, thwarting the efforts of a seemingly evil toy who just wants to be loved, and Woody finally coming to terms with his own existence. The film is heartwarming, visually stunning, and at times, more poignant than I expected, particularly for an animated film. The end is satisfyingly conclusive, and yet I still wonder if Disney/Pixar will continue the story line…only time will tell.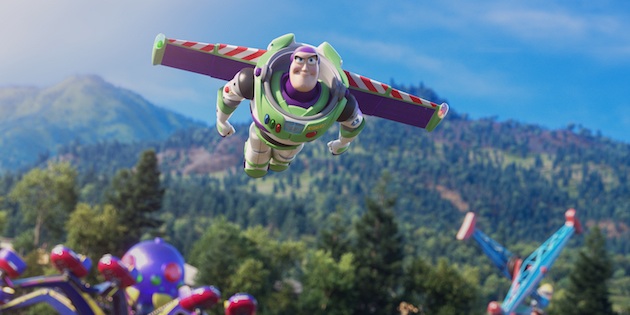 Toy Story 4 in 4DX
We have enjoyed watching previous films in 4DX, but Toy Story 4 was my favorite. 4DX is an exciting, immersive way to watch the latest films. Each film features a unique, multi-sensory experience, so that audiences are no longer passive observers. 4DX has a way of drawing you into the film's world through scent, motion, sight, and sound.
4DX offers 21 different kinds of effects, which can include wind, rain, snow, lightning, scent, fog, bubbles, swaying, and twisting. Each effect is purposeful, and timed perfectly throughout the film, evoking realistic emotions and feelings. Toy Story 4 features the following multi-sensory 4DX experiences:
Ride around in Bo Peep's skunk mobile
High speed chases through amusement parks and playgrounds
Wind and bumpy vibration simulate rough terrain and high-powered acceleration
High level motion and subtle motion with wind effects around every corner
Real rain water during key moments
4DX signature flower scent in certain key sequences
Duke's daring stunts, free falls, and electrifying jumps are all enhanced by 4DX pitch, heave and motion
Toy Story 4 Printables and Activities

Download our free Toy Story 4 Printables, Activities, Coloring Sheets, and Recipes, all inspired by the film.