Mother's Day brunch is my favorite part of the holiday. Most days, you'll find me working from home, juggling soccer practice, homework and Photoshop, with just enough time to prepare 3 from-scratch meals. I always find myself saying that if I could hire someone to prepare our meals, I'd gain back several hours every single day. With Mother's Day around the corner, many of the local moms in my circles are discussing what they really want for this special day. Sleeping in, relief from chef duty and some R&R top every single one of my friends' lists. Our Mother's Day celebrations are always simple…an intimate brunch and some quality family time where for one day, I don't have to wrangle, shuttle, or juggle.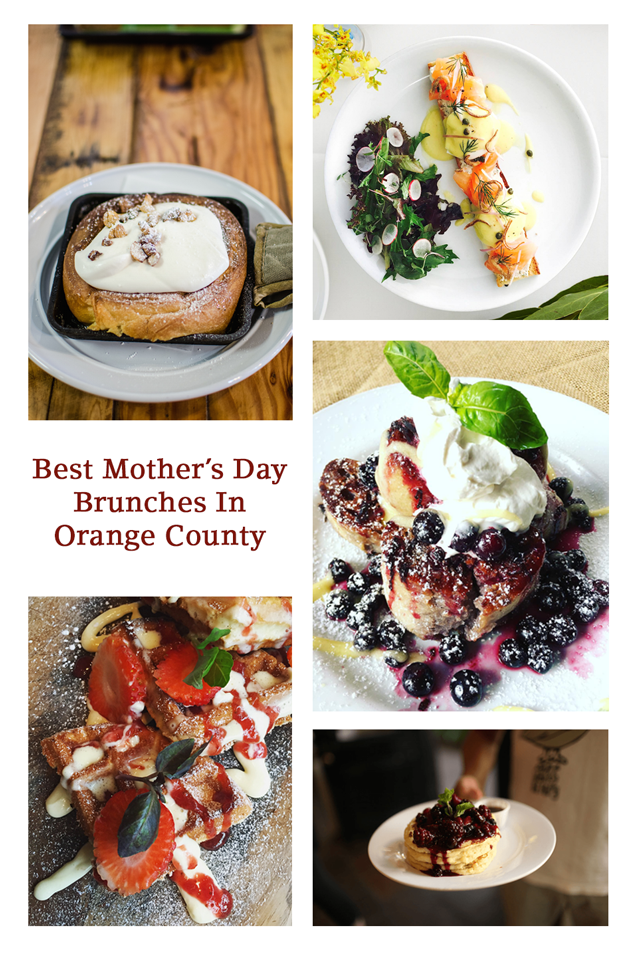 In honor of Mother's Day, I've put together a list of the Best Mother's Day Brunch Restaurants in Orange County. If you follow me online, you know that I am a complete foodie. So you know that the restaurants were well-vetted, some of which is from personal experience. If you have a favorite Orange County Brunch spot, feel free to name it in the comments section and I'll add it in!
Best Mother's Day Brunch Restaurants in Orange County, California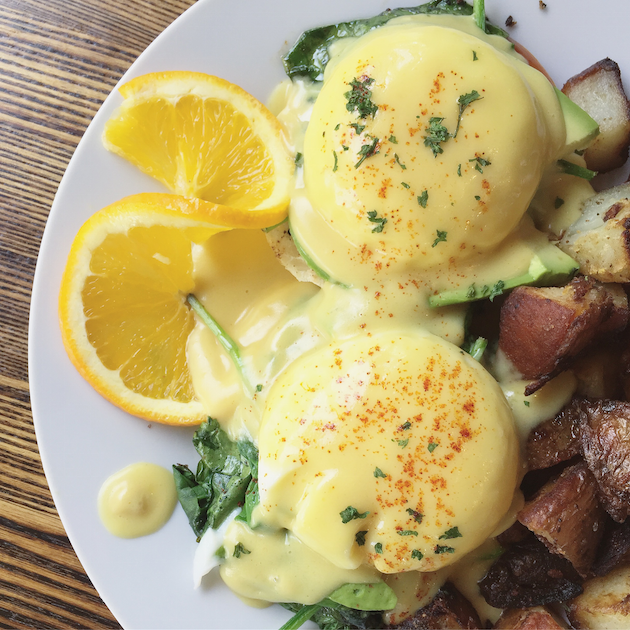 Plumeria by Stacks: The latest brunch hot spot at the Laguna Design Center features California and Hawaiian inspired cuisine and is owned by Nixon and Ovita Tanuwidjaja, who conceived the popular Stacks Pancake House. This upscale take on the classic breakfast spot will feature local favorites including Captain Mac Nut French Toast, Hawaiian Loco Moco and Banana & Nutella Crepes.  Brunch is served daily, 7 am to 3 pm.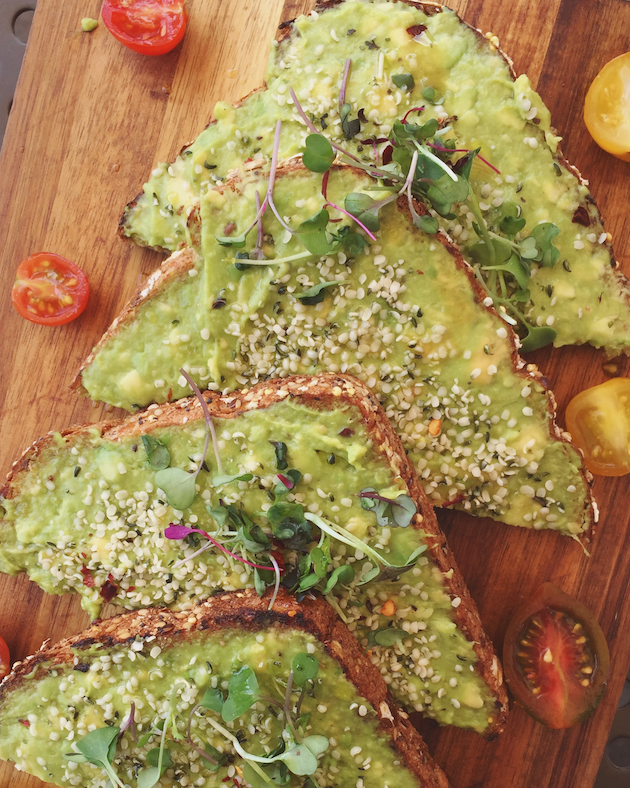 Lola's Cafe: This eclectic, family-owned food and coffee spot is tucked away in a small shopping center in Ladera Ranch and features locally-sourced foods, fresh pastries, loose leaf tea and Stumptown Coffee. Popular menu items include avocado toast, berry french toast soufflé, Suzy's Icelandic Breakfast and their signature Lavender Latte. Menu served 7 am to 11 am daily.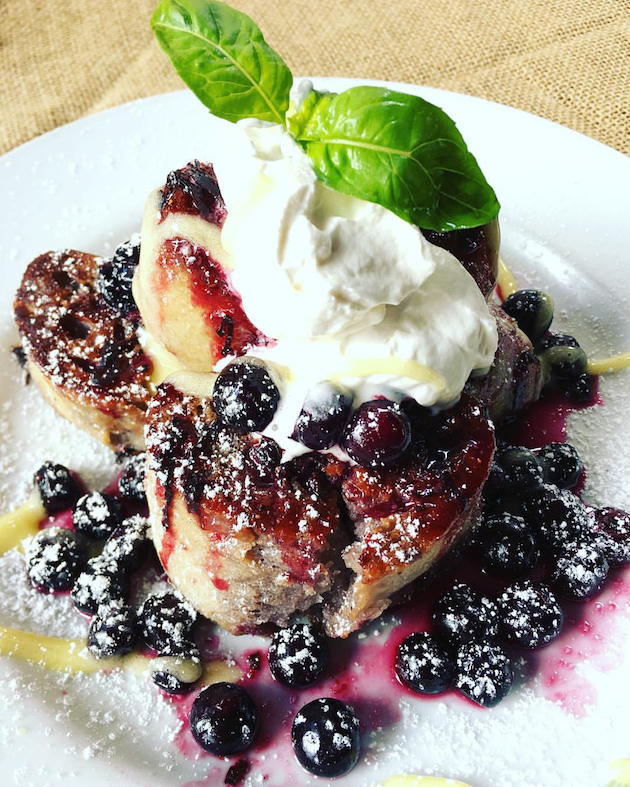 Ramos House Cafe: Located in the historic Los Rios District of San Juan Capistrano, the Ramos House features Contemporary American cuisine with Southern influences. The owner still lives and works at this historic house where wines are kept in the cellar, herbs are grown in the garden and the ice cream is churned outside. Brunch is served Saturday and Sunday from 8:30 am to 3:30 pm and is priced at $44. Long time favorites include their Crab Hash, Huevos Rancheros, Blueberry Basil Pain Perdu and Apple Cinnamon Beignets. At present, they also have an Avocado Toast featuring spring veggies on mixed greens with avocado, gluten-free cornbread and a fried poached egg. It makes a great Mother's Day brunch meal!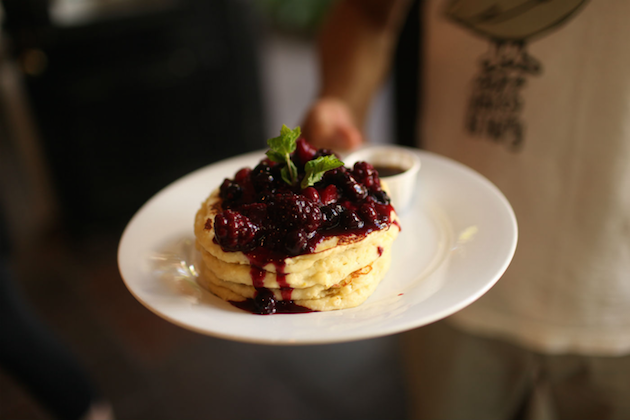 Haute Cakes Cafe: This Newport Beach hot spot serves up egg scrambles, fresh pancakes featuring their house-made batter, Mimosas and Stumptown Coffee. Owned by Paul and Tania Taddeo, the cafe features al fresco dining and is a neighborhood favorite. Breakfast is served daily from 7 am to 3 pm.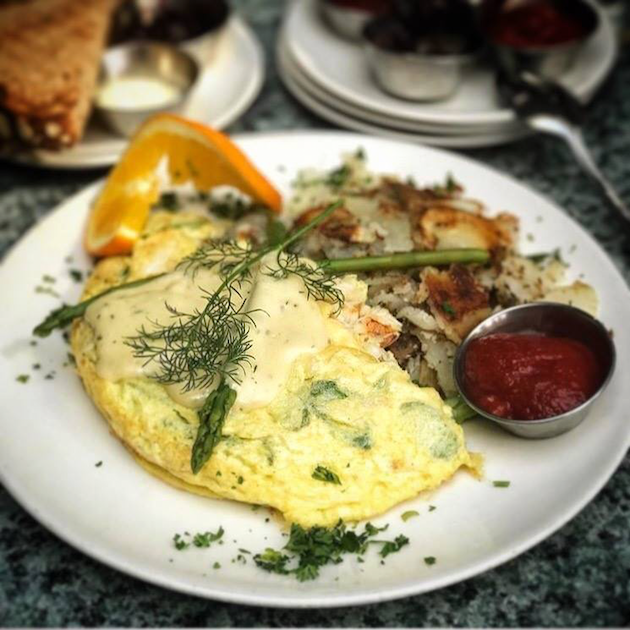 Plums Cafe: Enjoy Mother's Day brunch at this local favorite in Coast Mesa. The cafe offers modern American classic dishes and entrees foods inspired by the Pacific Northwest. Breakfast is served all day from 8 am to 3 pm with notable dishes that include Plums Famous Dutch Baby, Campfire Trout, Williamette Hazelnut Pancakes and Oregon Pepper Bacon. For Mother's Day reservations, call 949.722.7586.
Bru: With a commitment to creativity, simple ingredients and beautiful food, Bru serves up farm-to-table dishes featuring local, organic, sustainable ingredients. Highlights of their weekend brunch menu include Beer-Battered Chicken and Belgian Waffles, Crab Benedict and Pork Belly Chilaquiles. Brunch is served Sundays from 9:30 am to 3 pm.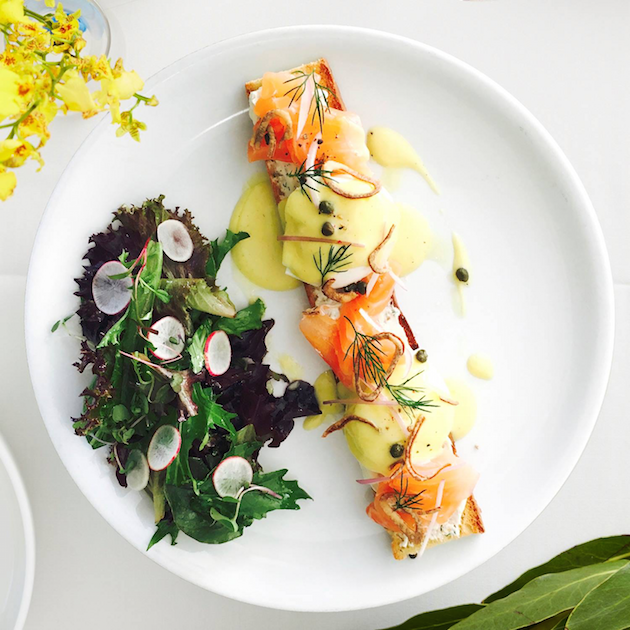 Fig & Olive: Inspired by the Mougins region in the South of France, Fig & Olive features contemporary dishes inspired by Mediterranean cuisine. Their Newport Beach location features a 12,000 square foot French Riviera Oasis surrounded by olive trees and gardens. Mother's Day Brunch features a 3-course Prix Fixe Menu which includes an appetizer, main course and dessert. Menu highlights include crab salad, burrata and asparagus, a French omelette and a Riviera salmon. Brunch will be served on May 14th from 11 am to 3:45 pm.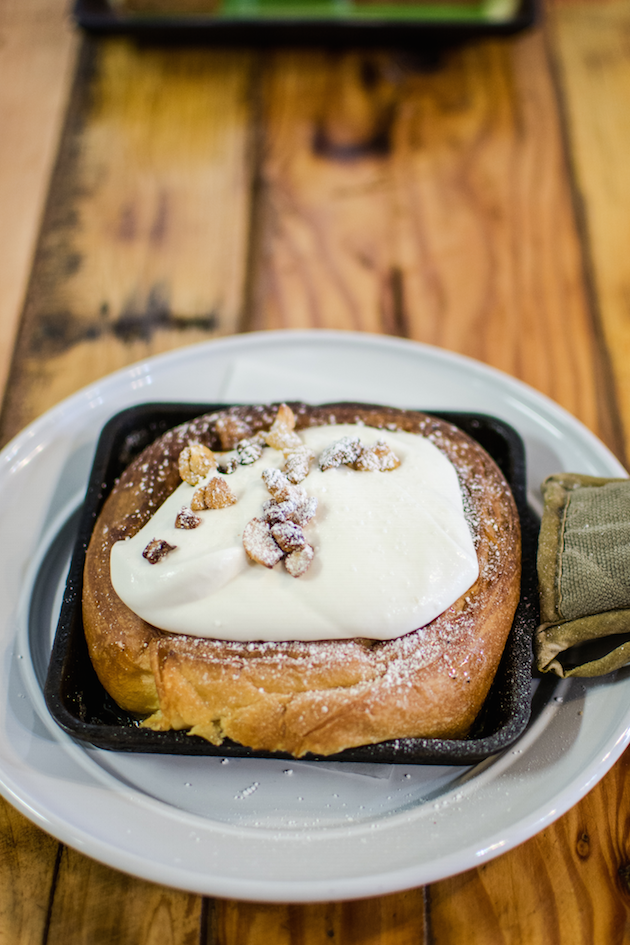 Break of Dawn: Chef Dee's out-of-the-box French and Vietnamese inspired-menu features his own eclectic take on traditional dishes. The restaurant's fine-dining style features upscale twists on traditional dishes like bacon and eggs, which features pork belly bacon and tempura eggs and French Toast Crème Brulee which features Mexican Chocolate, Chocolate Caramel and Coconut. Brunch is served from 8 am to 1 pm.
Harvest at The Ranch: Located at Laguna Beach's newest private resort, The Ranch specializes in seasonal California cuisine featuring local flavors and ingredients. comfort food inspired by regional ingredients.  Many of the ingredients used in the dishes are harvested on property. Breakfast is served daily from 7 am to 11 am and includes a diverse mix of sweet and savory dishes. Highlights include an Applewood Smoked Bacon Cinnamon Roll, Lemon Mascarpone Pancakes, Shrimp and Grits, and Chilaquiles.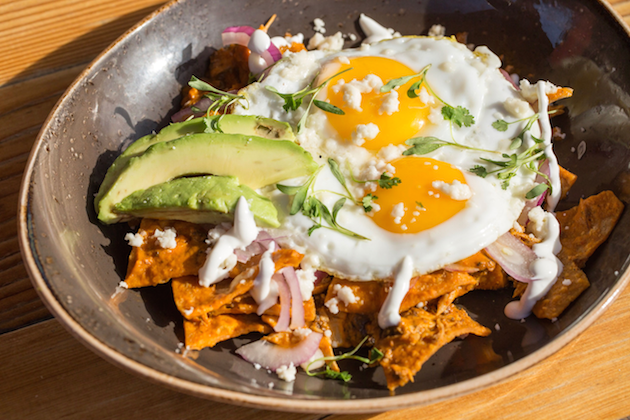 Salt & Ash: Executive Chef Cody Storts brings his experience working in Southern California and Texas to create dishes that appeal to the entire palate. He aspires to include as many flavors into one bite as possible. The result is creative dishes including Eggs Benny and Yukon Papas, Brioche French Toast, and Machaca Breakfast Burritos. Brunch is served 9 am to 2 pm Tuesday through Sunday.
Shades Restaurant at The Waterfront Beach Resort: Executive Chef Ben LeFleche begins his signature dishes by hand-selecting farmer's market ingredients and gourmet products from purveyors across the country. Their Champagne Sunday Brunch features Apple Crumb Pancakes, Cinnamon Roll French Toast, Breakfast Tacos and a variety of inspired Benedicts. Brunch is served from 6:30 am to 10:30 am.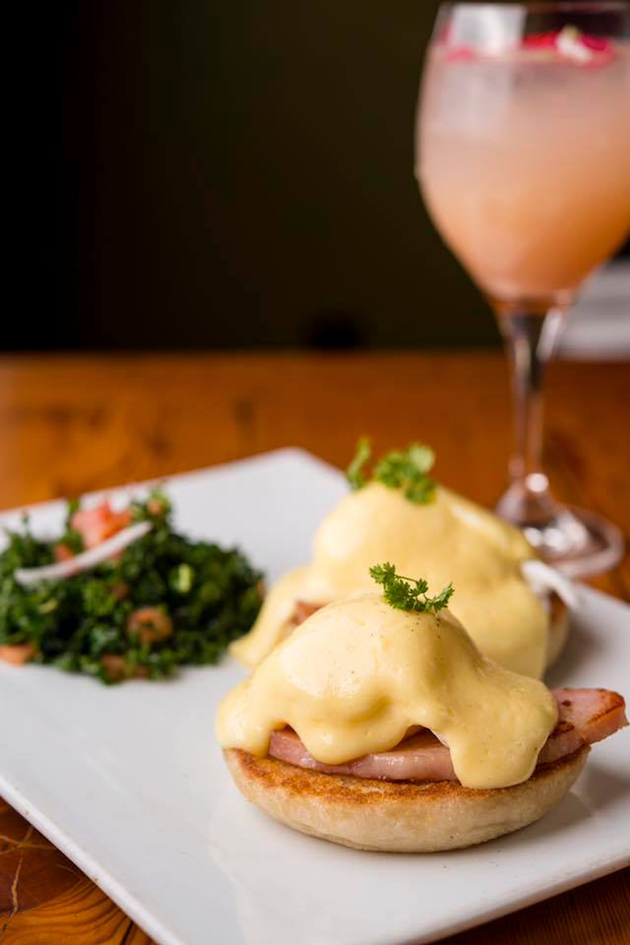 Sapphire Laguna: Chef Azmin Ghahreman owns and creates the seasonally evolving menu which features globally-inspired cuisine. His dishes incorporate the freshest ingredients available, found at local farms, specialty markets and artisan suppliers. Weekend brunch highlights include Vietnamese Shrimp Crepe, Braised Pork Chili Verde and Strawberry Cheesecake Buttermilk Pancakes. Their 3-course Prix Fixe Mother's Day Brunch Menu includes a Shrimp Louis Salad, choice of a Main Dish (Bananas Foster Pancakes and Study of Eggs Benedict are just 2 of several options), and Dessert (Laura's Lemon Pie, Triple Chocolate Icebox Cake or Greek Yogurt Semifreddo). The price per person is $85 and brunch will be served from 9 am to 3 pm on Mother's Day.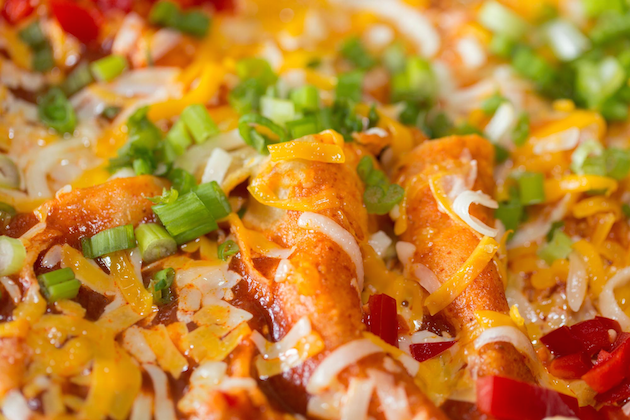 Orange County Mining Co: Situated in the hills of Orange County, the venue offers one of the most beautiful views and a menu that rivals it. Enjoy American cuisine in a rustic, casual venue with dishes that include quality meats, poultry and seafood. Their traditional Champagne brunch includes an omelette station, carved prime rib and ham, fresh fish, crab legs, smoked salmon, shrimp, and assorted breakfast items. In addition to their Mother's Day Brunch (Sunday from 9 am to 3 pm – $41), you can treat mom to a Pre-Mother's Day Brunch on Saturday from 10 am to 2pm for $36.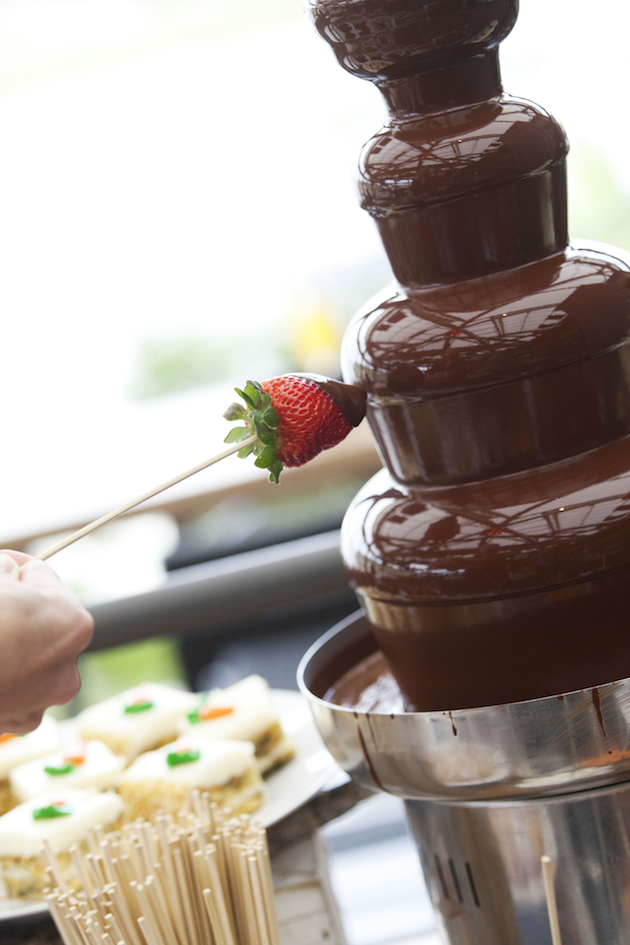 Back Bay Bistro: With pristine views of the Back Bay Nature Preserve, and a menu crafted by Executive Chef Bruno Massuger, brunch at Back Bay Bistro is truly unique. Celebrate mom with a brunch buffet, bottomless mimosas and a beautiful waterfront atmosphere. Menu call-outs include Ahi Poke, Ceviche, King CrabLegs, a Crepe Station, Cooked-to-Order Omelets, a Carving Station and more. Brunch is held from 9 am to 3 pm on Sunday, May 14th, 2017 ($75).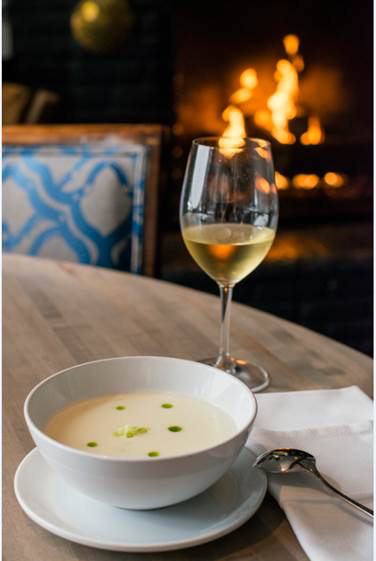 Five Crowns: Located in Corona del Mar, Five Crowns is a charming replica of one of England's oldest country inns, accented with authentic antiques, period paintings and cozy fireplaces. Mother's Day Brunch will feature prime cuts of beef, seared salmon, eggs florentine, English trifle and more. Brunch will be served on Sunday, May 14th, 2017 from 11 am to 4 pm.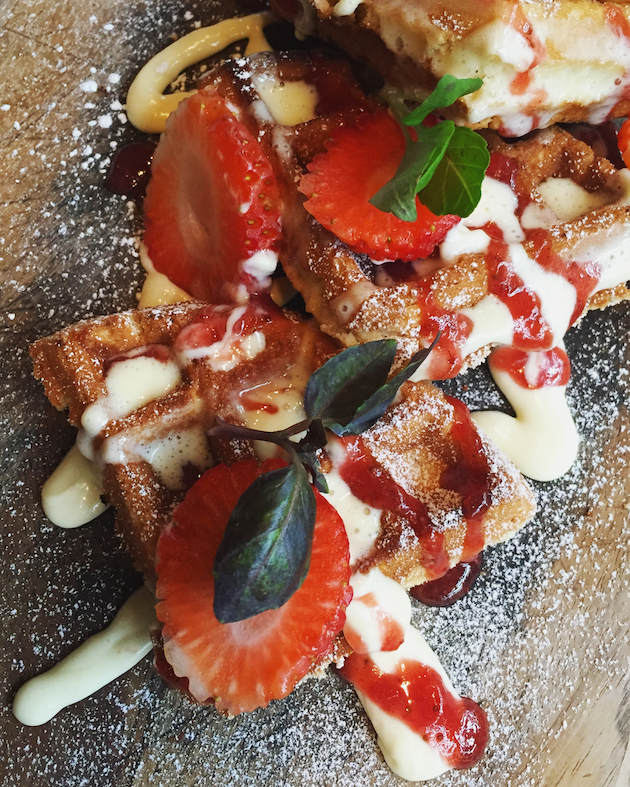 Cucina Enoteca: The collection of modern Italian kitchens has become one of my favorite places to dine in Orange County. There are 3 locations in Orange County, all of which feature seasonal menus prepared with fresh local ingredients. Fusing the flavors of Italy with organic California freshness, the result is inventive dishes including house made cheeses, charcuterie and sausage, artisanal breads and pastas made from scratch. Mother's Day Brunch will be served on May 14th, 2017 from 11 am to 2 pm and will feature Strawberry and Basil Waffle, Egg White Crostada, Smoked Sea Trout Dill and more.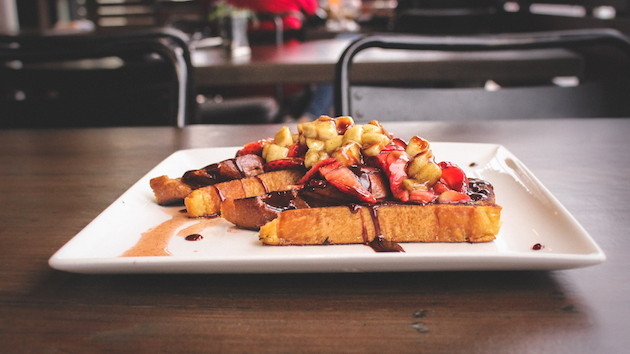 Craft House: The neighborhood restaurant, located in Dana Point, serves locally sourced New American cuisine against a sophisticated backdrop. Signature Sunday Brunch items include Fried Chicken and Johnny Cakes, Avocado Toast, Carnivore's Omelette, Cinnamon Swirl French Toast and more. Brunch is served Sundays from 10:30 am to 2:30 pm and all moms will receive a complimentary glass of champagne or  a mimosa with brunch.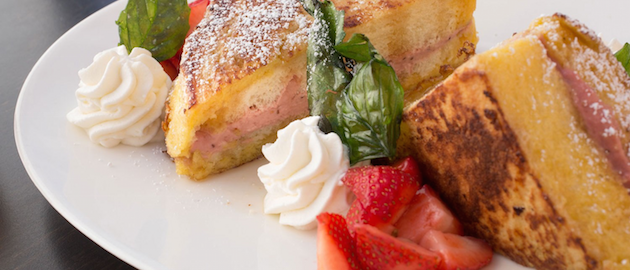 Splashes: Housed inside the Surf & Sand Resort, Splashes Restaurant features Mediterranean-inspired coastal cuisine by Executive Chef David Fune. Brunch is served Saturday and Sundays from 11:30 am to 3:30 pm. The menu offers breakfast and lunch items including Strawberry Cheesecake French Toast, Short Rib Quesadilla, a Seasonal Egg White Frittata and more.
Blind Pig: This eclectic eatery was created by Tony Monaco and Jarryd Graaff and boasts American progressive cuisine. The restaurant's Mother's Day menu features Parisian Gnocchi, Di Stefano Burrata, Chilaquiles and more. Brunch is served Sundays from 11 am to.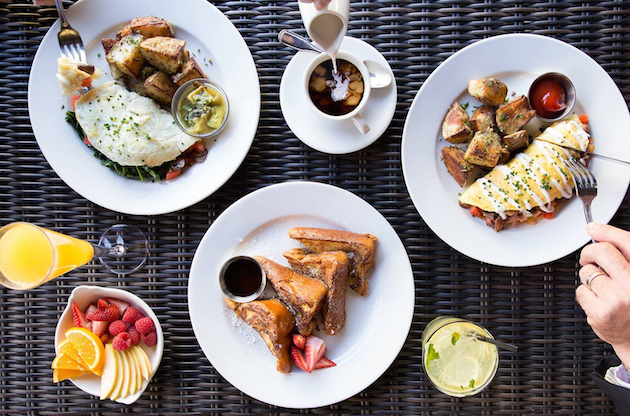 Paul Martin's Featuring daily, house-made, hand-crafted dishes, the restaurant aspires to real foods free from hormones and antibiotics. Their Prix Fixe Menu includes seasonal fruit, choice of entrée and beverage ($23). Dishes include an Applewood Smoked Bacon Omelet, Eggs Benedict, French Toast and more.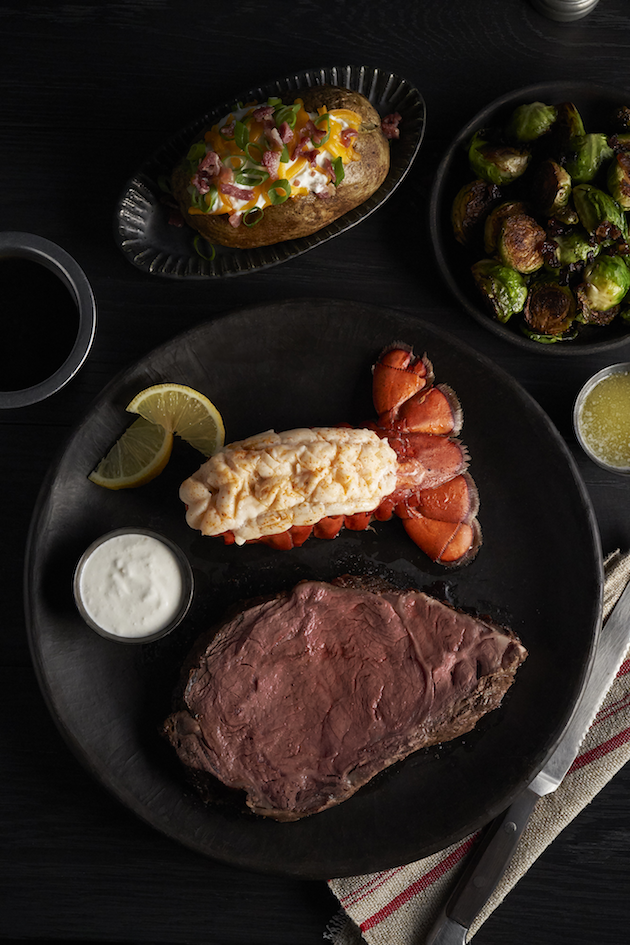 Black Angus Steakhouse will offer a Prime Rib & Lobster Mother's Day Meal for lunch or dinner which includes their famous 8 ounce slow-roasted Prime Rib, paired with a succulent cold-water Atlantic lobster tail, along with two Classic Sidekicks and their warm, sweet molasses bread. Normally priced at $42.95, Black Angus will offer the Mother's Day meal for a special price of $33.95.
Latest posts by Caryn Bailey
(see all)