This giveaway is now closed.  Thanks for stopping by!  The winner is Amber!!!  Congrats!  Have fun shopping!
Sometimes I think about all of the expenses that we have with our son and it's a little overwhelming, considering we'll be adding another baby into the mix soon.  Between toys, clothes, shoes, and gear, the shopping list is never-ending.  The school year is starting, and if you have more than one child, you may be feeling the financial stress of having to shop for clothes, shoes, and supplies.

It isn't unusual for moms to spend an average of $234 on clothing during the Back to School season (stats courtesy of Walmart).  And just like shoes, children outgrow clothing so quickly.  I recently went through my son's closet and pulled out items that don't fit him anymore.  There were articles that he had either never worn, or barely worn.  So while I'd love to buy him a designer wardrobe, I don't have the money and it's impractical.
Walmart has a wide array of clothing options for your child at affordable prices.  When I say affordable, I mean $5 tops, $3 shorts, and $6 jeans (on average, prices can be higher or lower).  Faded Glory is one of their children's lines and they have adorable clothing for boys and girls.
Thanks to Walmart, I was given a $50 gift card to show you what clothing options could be purchased.  So I decided to see what I could get for 3 children….yes….THREE!  Here is a little video I shot while on vacation with my son and his two cousins:
So the total price including tax was $47.52.  Awesome!  Are you impressed?  I am.  My husband knows I'm the queen of bargain shopping.  Here is the rundown of what we bought:
1.  T shirt and a pair of shorts
2. Long-sleeved, button down shirt with a pair of jeans
3.  Girl's dress
4.  Girl's dress
5.  Girl's shirt and skirt outfit
6.  Boy's t-shirt and shorts
7.  Boy's long-sleeved t shirt and pants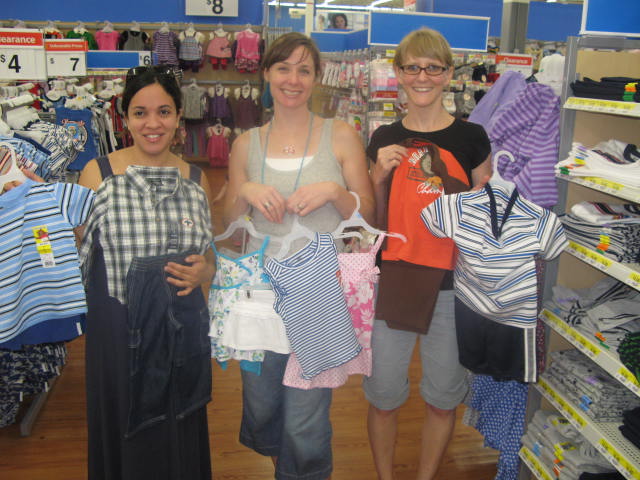 On average, each outfit cost less than $10, with the girl's dresses a bit cheaper.  We were all impressed!
Profuse thanks to Walmart for this fun opportunity.  We happily donated all of the clothes to my cousins!
Win It! One of you will win a $50 Gift Card so you can see how easy it is to purchase your child's Back to School wardrobe!  Simply head on over to the site and take a look around. Come back here and leave me a comment with a fantastic deal you found on the site!  Comments will close on September 25, 2009 at 10 PM PST. One comment per person, please (unless you do the extra credit). US residents only. Duplicates and comments not including the above information will be disqualified. Comments are moderated. If you don't see your comment in a reasonable amount of time, send me an email. Bloggers and non-bloggers may enter. If you don't want to leave your email address, please be sure to check back for my announcement on the winner. Please note that winners must respond within 48 hours of being announced/contacted or another winner will be drawn.
Want an extra entry? Do any or all of the following and receive an extra entry for each one.
Be sure to leave me a separate comment for each additional entry.
Follow me on Twitter AND tweet about the contest.
Enter Tanya and Amanda's giveaways
Subscribe to my feed via email or reader.
Blog about this giveaway. It doesn't have to be a separate post. Just include a blurb about it when you blog about other giveaways.
Click on one of the very cute buttons below and digg, stumble, fav, etc. Just let me know what you did in the comments!
For more fabulous Back to School Ideas, visit Mommy Mandy & Mommy Goggles!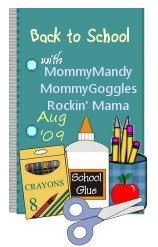 Latest posts by Caryn Bailey
(see all)