Nine years ago, author Cressida Cowell's book series was brought to life by DreamWorks Animation. How to Train Your Dragon follows the story of a young Viking teenager named Hiccup, who longs to follow his tribe's tradition of becoming a dragon slayer. The third film in the series debuted in theaters earlier this year, and will come to digital, Blu-ray, and DVD on May 21, 2019.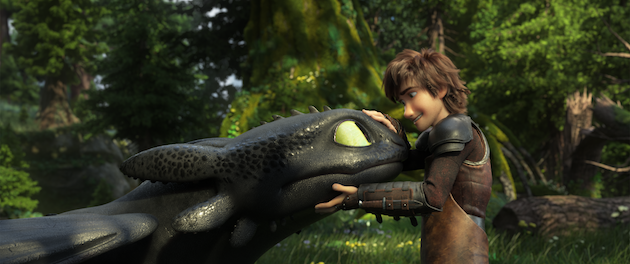 How to Train Your Dragon: The Hidden World
How to Train Your Dragon: The Hidden World is the final installment in the trilogy, and follows Hiccup as he seeks a dragon utopia while coming to terms with Toothless' new bond with a female Light Fury.
This is a story about growing up, finding courage to face the unknown, and how nothing can train you to let go. The unlikely friendship between the adolescent Viking and the fearsome Night Fury dragon has become an epic adventure for both of them.
Hiccup is now chief and ruler of Berk alongside Astrid and has created a chaotic dragon utopia. The sudden appearance of a female Light Fury coincides with the darkest threat their village has ever faced. Hiccup and Toothless must leave the only home they've known and venture to a hidden world thought only to exist in myth. As their true destinies are revealed, the two fight together, to the ends of the Earth, to protect everything they have grown to cherish.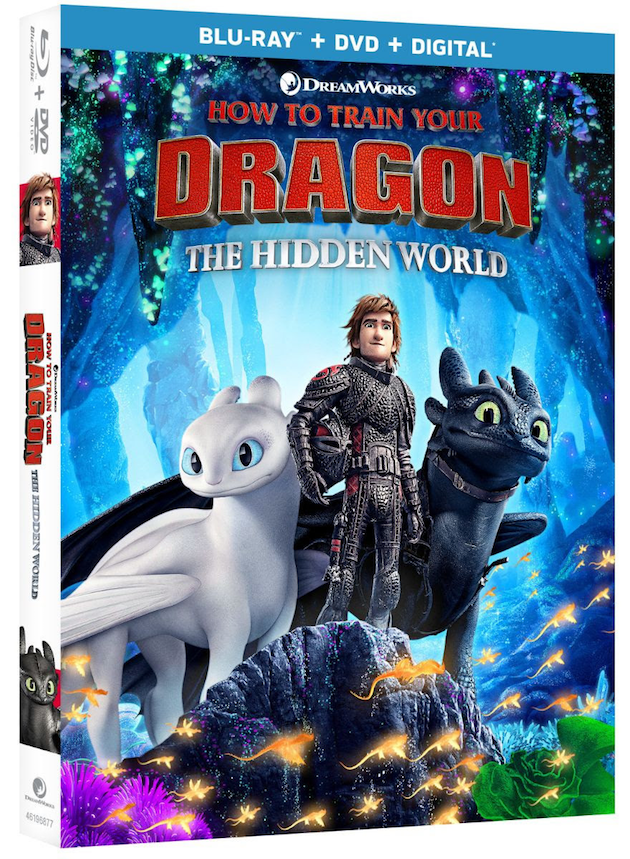 How to Train Your Dragon: The Hidden World on Blu-ray
Alternate Opening with Intro by Writer/Director Dean DeBlois
DreamWorks Shorts:

Bilby – Directed by Liron Topaz, Pierre Perifel and JP Sans; produced by Jeff Hermann and Kelly Cooney Cilella. Threatened daily by the deadly residents and harsh environment of Australia's Outback, a lonesome Bilby finds himself an unwitting protector, and unexpected friend, to a helpless (and quite adorable) baby bird.
Bird Karma – Directed by William Salazar and produced by Jeff Hermann, the beautifully artistic 2D short film Bird Karma tells a delightfully lyrical and fully unexpected tale of a long-legged bird's journey of blissful joy, inescapable greed and the accidental discovery of the consequences when too much is not enough.

Deleted Scenes with Intros by Writer/Director Dean DeBlois
How to Voice Your Viking – Go behind the scenes with the cast as they record the Viking voices of HOW TO TRAIN YOUR DRAGON: THE HIDDEN WORLD.
Creating an Epic Dragon Tale – Discover what filmmakers learned while crafting this epic dragon trilogy.
How I Learned from Dragons – The diverse cast of characters reveal why they think the dragon trilogy is so special.
Brave Wilderness Presents: Nature + Dragons = Awesome – Join Coyote Peterson, host of Brave Wilderness, as he explores what it takes to make the dragon's characters come to life.
The Dragon Sheep Chronicles – Protecting sheep from the dragons of Berk is no easy task but Hiccup has a plan.
A Deck of Dragons – Observe four new dragons as Fishlegs unveils his original deck of dragon trading cards.
Growing Up with Dragons – After years of being with these characters, hear the lasting effects of the dragon trilogy from the filmmaker's perspective.
The Evolving Character Design of Dragons – Cast and crew reveal what it was like to evolve not only the characters of HOW TO TRAIN YOUR DRAGON: THE HIDDEN WORLD, but themselves as well.
Drawing Dragons – Get a glimpse of what goes in to designing a DreamWorks dragon.
Epic Villain – A different kind of villain, Grimmel brings great challenges to the village of Berk. Go behind the scenes as filmmakers breakdown this epic character.
Astrid's Whole Dragon Trilogy in 60 Seconds – Hold on tight as Astrid sums up the whole dragon trilogy in a legendary 60 seconds.
Welcome to New Berk – With Hiccup as your guide, get a firsthand look at the updated Viking village of New Berk.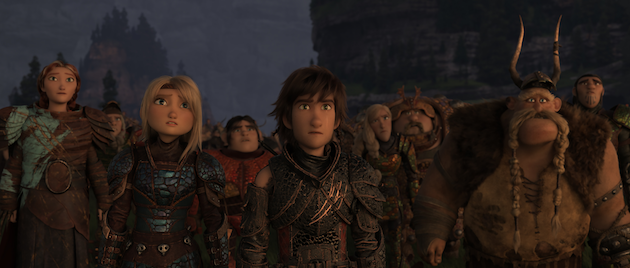 How to Train Your Dragon Printables