This giveaway is now closed.  Thanks for stopping by.  The winner is Colleen. Congratulations!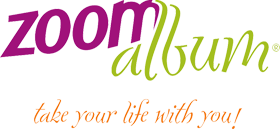 I LOVE photo projects!  My husband always jokes with me about how I take way too many pictures and then don't know what to do with them.  If it was bad before we had my son, you can just imagine how bad it is now!  There is only so much wall space available so it becomes necessary to find creative ways to display all of the pictures I like to take. There are a ton of companies now that offer you the option of creating a photo album with your pictures.  The only problem with these companies is that it can be very expensive and you're never quite sure that it will turn out exactly the way you want it.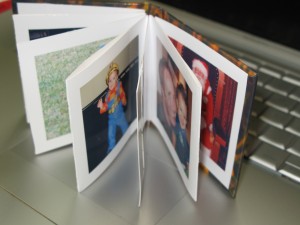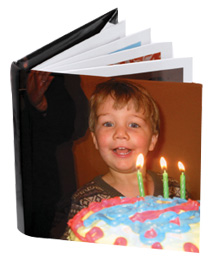 ZoomAlbum is a photo book that you create at home, which I think is an ingenious idea. When you purchase the kit, you'll receive everything you'll need to make three, 3″ x 3″ high quality, glossy photobooks.  Here is a little more information about the company from the site:
ZoomAlbums are small, portable photo albums with a professional look that customers can make at home. In just a few minutes, any user can create a handmade gift or keepsake using the familiar technologies found in most households today: a PC, digital camera, camera phone or scanner, and a color Inkjet printer.
I love crafty projects because there is something fulfilling about the finished product.  It's more meaningful because I've spent the time and energy working to achieve that perfect end result.  I was, however, a bit nervous and intimidated because I thought it would be a difficult project to complete.  With a little initial guidance from my husband, I was able to create an album in just a short amount of time.  The kit comes with 3 photo-sheets and covers, and the necessary software (which is also available for download on the site) to create the photobooks.  I love the fact that I didn't have to cute or glue anything!  I think the most time-consuming part for me was finding and arranging the pictures and that's just because I have way too many pictures of my son.  Each book holds 12 pictures and I used a different picture for the cover for a total of 13.  The next step is to print them on the photo paper provided.  Putting the actual album together took minutes…it was that easy.


You just fold, tear, and adhere…maybe it's better if you see it live on the Martha Stewart show:
ZoomAlbums make fabulous gifts and they're so affordable.  The quality is superb…much better than I expected and I loved the photo cover option, although you also have the option of using a colored cover.  I am going to replicate the one I made for my parents and my husband's parents and give them as Mother's Day/Father's Day gifts.  The Photo Cover Album Kit retails for $32.95 but is on sale now for $26.36 (that's only $8.78 per album) and can be purchased directly from the site.
Win It! One of you will win a ZoomAlbum Photo Kit.  Head on over to the site and take a look around.  Come back here and leave a comment with something you learned or found interesting about ZoomAlbum and what type of album you'd like to make.  Comments will close on March 23, 2009 at 10 PM PST.  One comment per person, please. US residents only. Duplicates and comments not including the above information will be disqualified. Comments are moderated. If you don't see your comment in a reasonable amount of time, send me an email. Bloggers and non-bloggers may enter. If you don't want to leave your email address, please be sure to check back for my announcement on the winner. Please note that winners must respond within 48 hours of being announced/contacted or another winner will be drawn.
Want an extra entry? Do any or all of the following and receive an extra entry for each one.
Be sure to leave me a separate comment for each additional entry.
Follow me on Twitter AND tweet about the contest.
Subscribe to my feed via email or reader.
Blog about this giveaway. It doesn't have to be a separate post. Just include a blurb about it when you blog about other giveaways.
Place my button on your site. If you have difficulty, please let me know.
Click on one of the very cute buttons below and digg, stumble, fav, etc. Just let me know what you did in the comments!

Profuse thanks to ZoomAlbum and the Family Review Network for this review opportunity!
Latest posts by Caryn Bailey
(see all)