"It is easier to feel than to realize, or in any way explain, Yosemite's grandeur. The magnitudes of the rocks and trees and streams are so delicately harmonized, they are mostly hidden." ― John Muir
My mom has told me stories of our visit to Yosemite as a family when I was a young girl, but my recollection is hazy considering the brevity of our time there. A visit with my kids has been on my bucket list, and thanks to Yosemite Lakes RV Resort, we spent our Spring Break hiking and glamping amongst the beauty of the Sierra Nevada Mountains. I've planned and dreamed about our trip for so long that I had to pinch myself as we drove into the west entrance of Yosemite National Park, much of which is still covered with snow at that elevation. We could not have picked a better time to visit, considering the park's transition from Winter to Spring.
Thank you to GoRving and Thousand Trails for hosting our stay!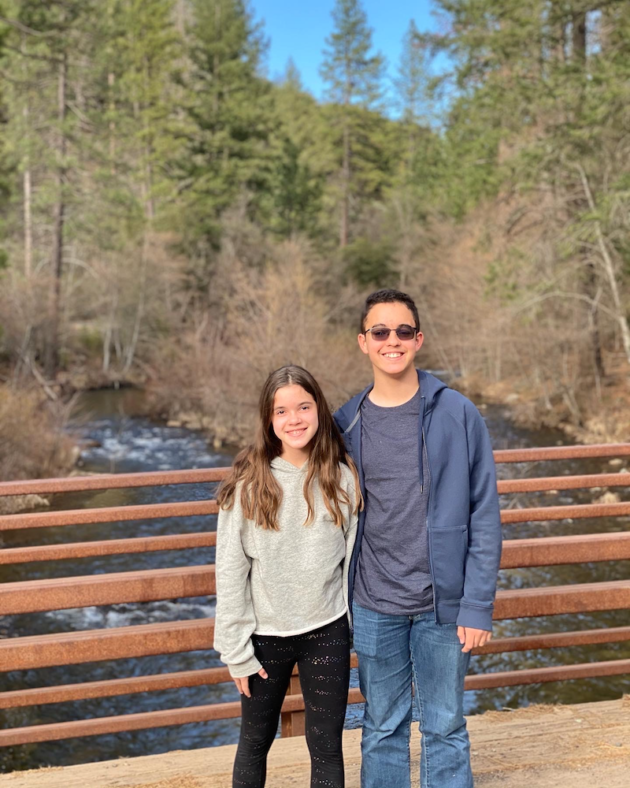 Where to Stay in Yosemite – Yosemite Lakes RV Resort
My father loved the outdoors, and many of our vacations were spent at campgrounds throughout California. We are no strangers to RV camping, but much of our time was spent under the stars tent camping. Families visiting Yosemite National Park have the option of staying in Yosemite Valley or outside of the park. Camping and lodging reservations inside the park are booked months in advance, and some campsites are only available via a lottery system which means you would need to make arrangements many months before your visit. Additionally, the cost to stay in Yosemite Valley can be prohibitive for families.
Yosemite Lakes RV Resort is located just five miles from the west entrance to Yosemite National Park and was perfect for our Spring Break trip. The RV resort and campground sits on a 400-acre preserve in an idyllic nature setting. We loved listening to the sound of the bullfrogs along the Tuolumne River at night, stargazing (the sky was crystal clear), and being awakened by the area's local birds. The campground is serene, surrounded by majestic trees and the Sierra Nevada Mountains.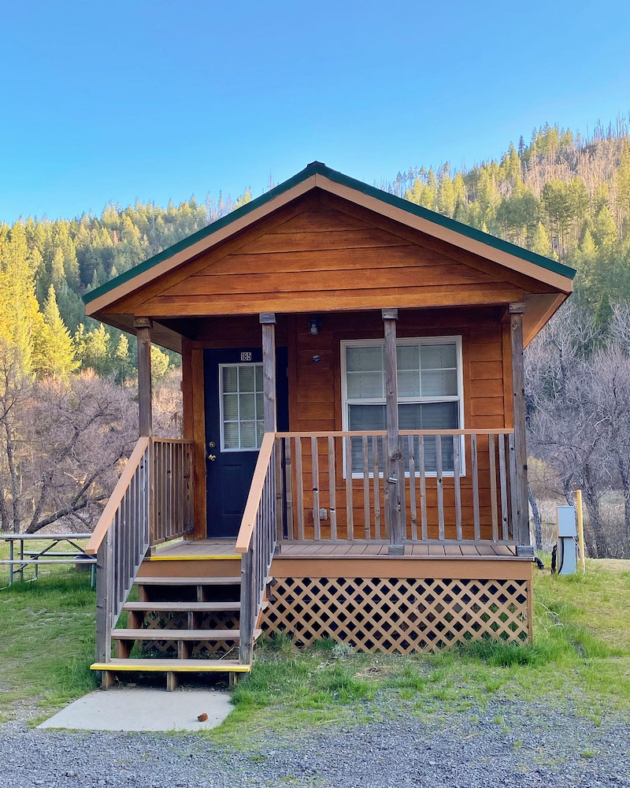 Accommodations
Staying in a park model RV at Yosemite Lakes RV Resort offered the best of the outdoors with all of the comforts of home. According to Go RVing, Park Model RVs (sometimes referred to deluxe Cabins or Cottages) are unique units that provide temporary accommodations for recreation, camping or seasonal use. Park Model RVs are designed to look like a home, but they need to be hooked up to site electricity, sewer and water like any RV. They may have a front porch, a sleeping loft and are a great way to experience the campground lifestyle if you don't have an RV or all the gear that goes with tent camping. Our park model cabin (it is called a cottage on their website) was fully equipped with everything we needed to cook our meals including a refrigerator, a stovetop (no oven), a microwave, a toaster oven, a coffee maker, pots, pans, dishes, glasses, and utensils. Additionally, the cottage is equipped with an outdoor grill, which we used for meats, fish, and even cast iron skillet desserts. The campground offers several alternatives to tent and RV camping including bunkhouses, cabins, cottages, hostels, and yurts. Additionally, the campground offers 254 full hook-ups and 130 tent sites.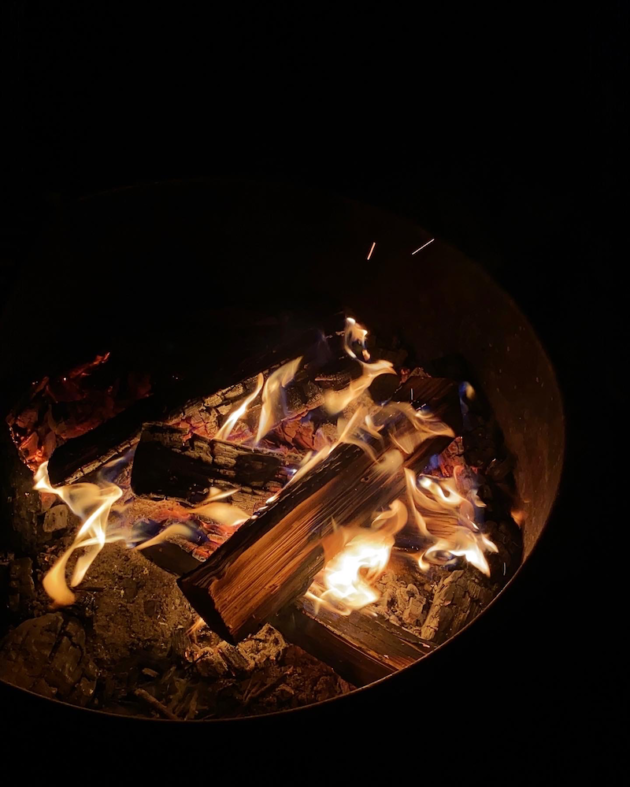 The cottages sleep six and are arranged with two bedrooms, a living room/dining area, and a bathroom. One bedroom has a queen size bed, the second bedroom has a set of single bunk beds, and the sleeper sofa is housed in the living room/dining area. We also had heating, air conditioning, and satellite TV.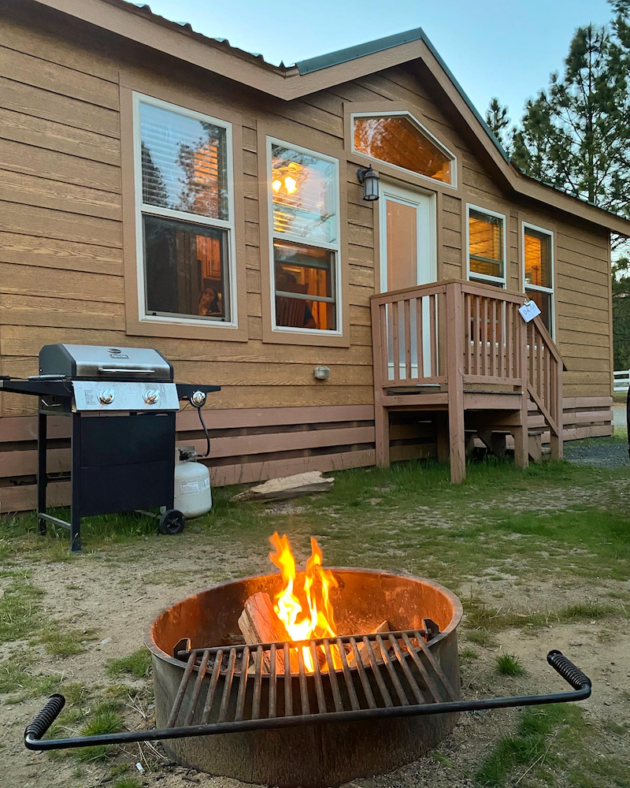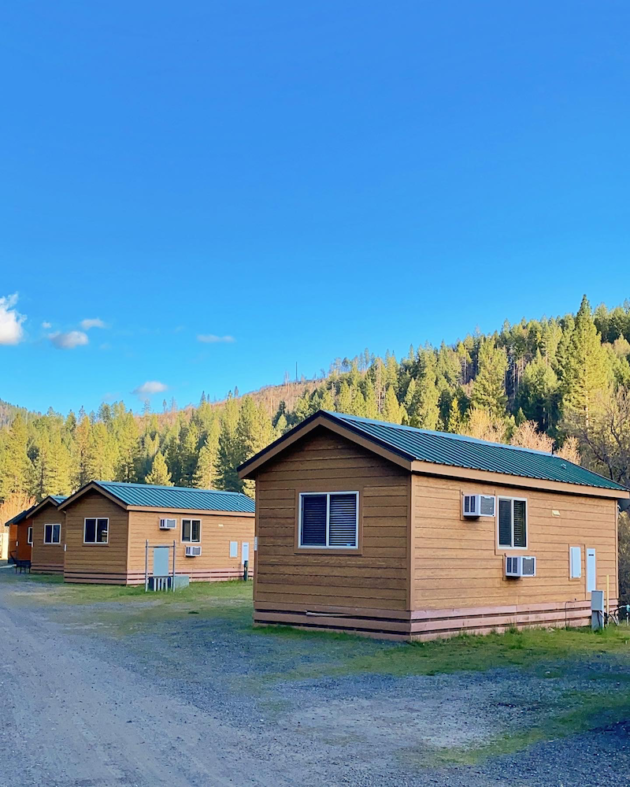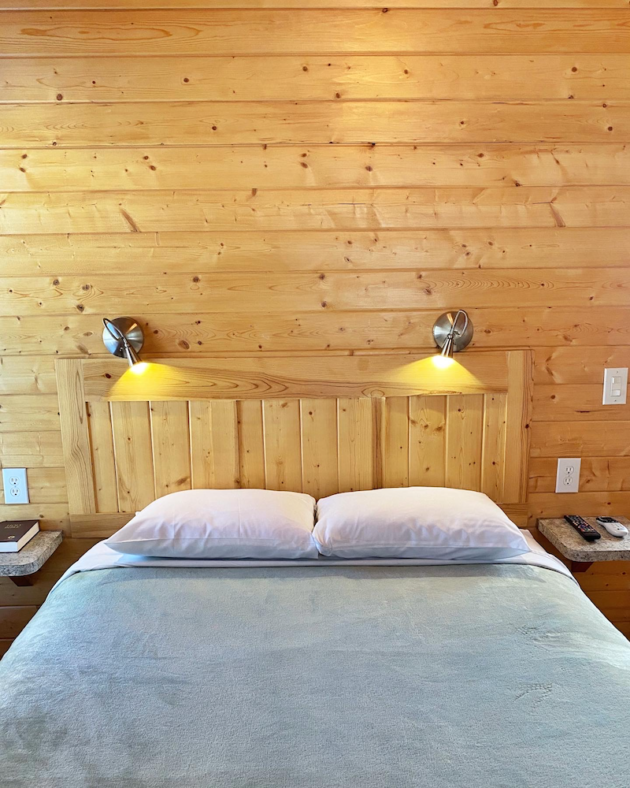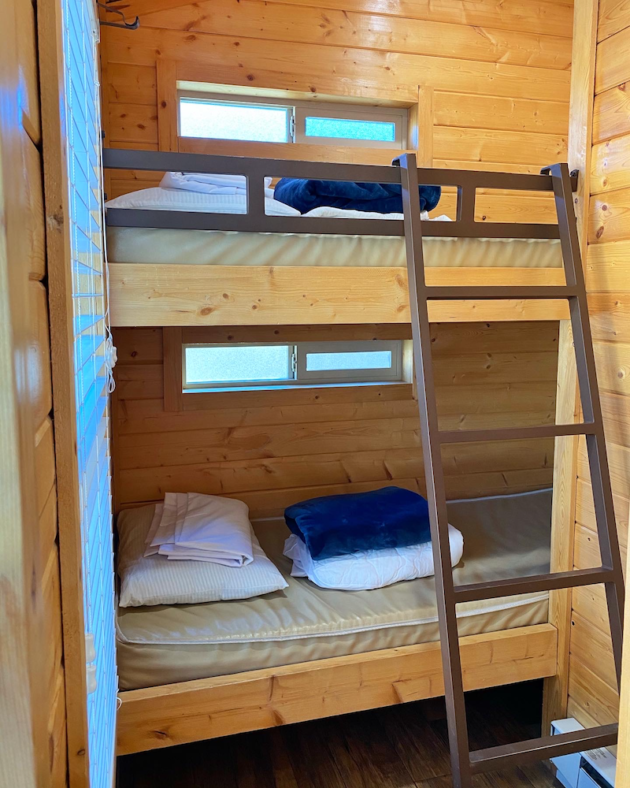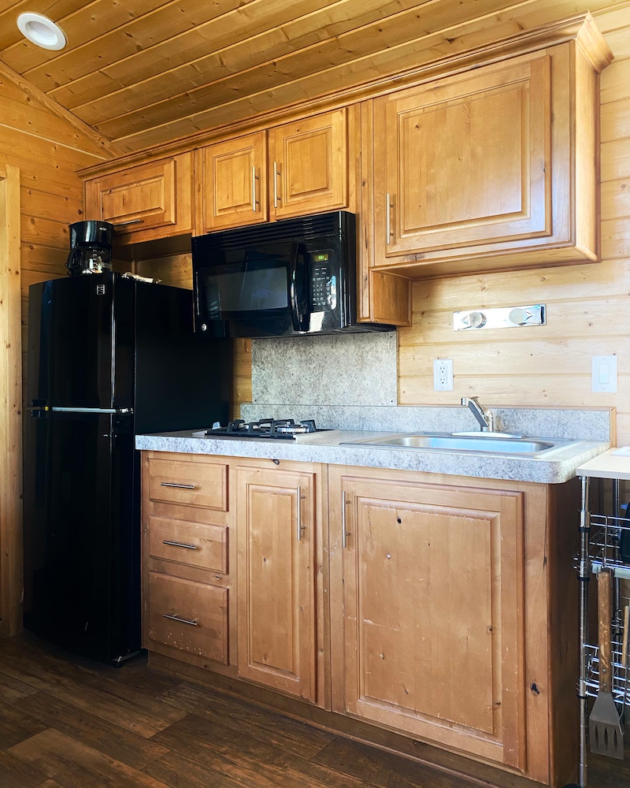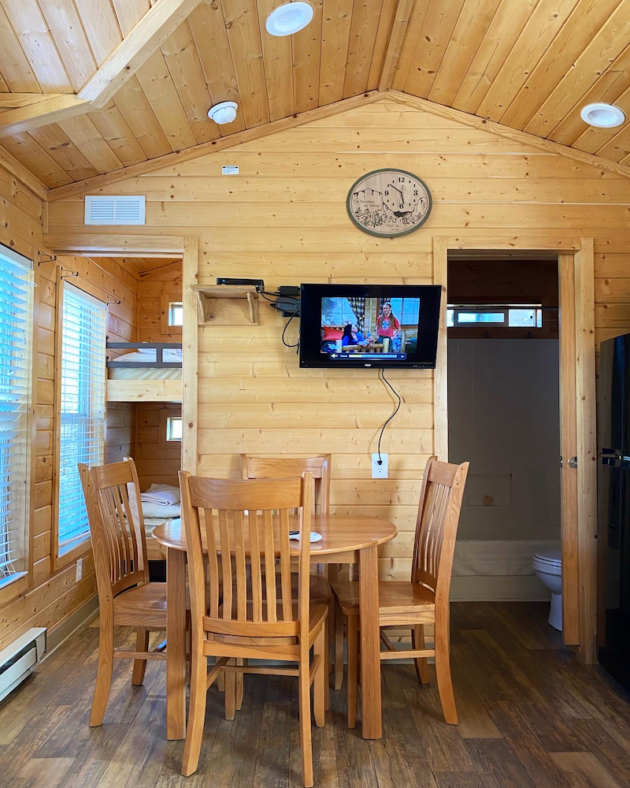 While we absolutely love tent camping, it requires careful planning and some effort. We knew we would be cooking all of our meals at our campsite, so not having to pack a tent and sleeping bags gave us more trunk space and a few extra hours on each side of our stay.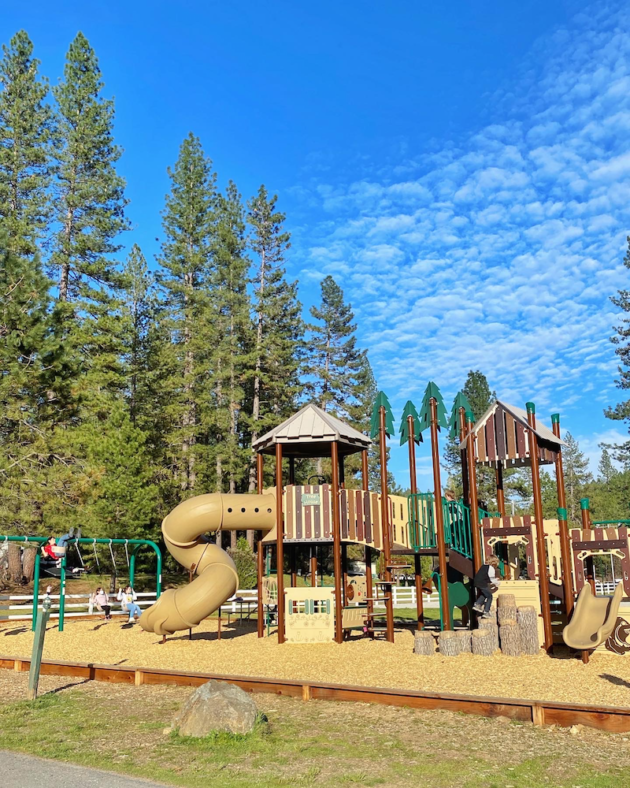 Amenities at Yosemite Lakes RV Resort
One of the reasons we camp is to spend time enjoying outdoor activities. Yosemite Lakes RV Resort is located on a spacious 400 acres surrounded by woods and the mountains and offers ample opportunity for exploring. As the weather warms up, families can spend time swimming and fishing along the Tuolumne River. The picturesque campground also offers a number of onsite activities making it the ideal base camp for your visit to Yosemite National Park. During our stay, many of these activities were limited due to COVID-19, however, as the state fully reopens June 15th, 2021 and the campground completes its renovation, I expect that families will be able to enjoy all of the property's amenities. It should also be noted that the campground is pet-friendly.
Children's Playground
Volleyball
Tetherball
Basketball
Tennis
Mini Golf (currently closed)
Horseshoes (rentals currently closed)
Croquet (rentals currently closed)
Badminton (currently closed)
Pool Table (currently closed)
Table and Board Games (currently closed)
Hiking
Fishing (Seasonal, April – October)
Swimming (Seasonal, Summer)
Summer Bus to Yosemite National Park (currently not running; requires an additional fee)
Clubhouse (currently closed, under renovation)
Laundry Facilities
Satellite TV
Picnic/BBQ Area
Restroom/Shower Facilities
Onsite Country Store and Gas Station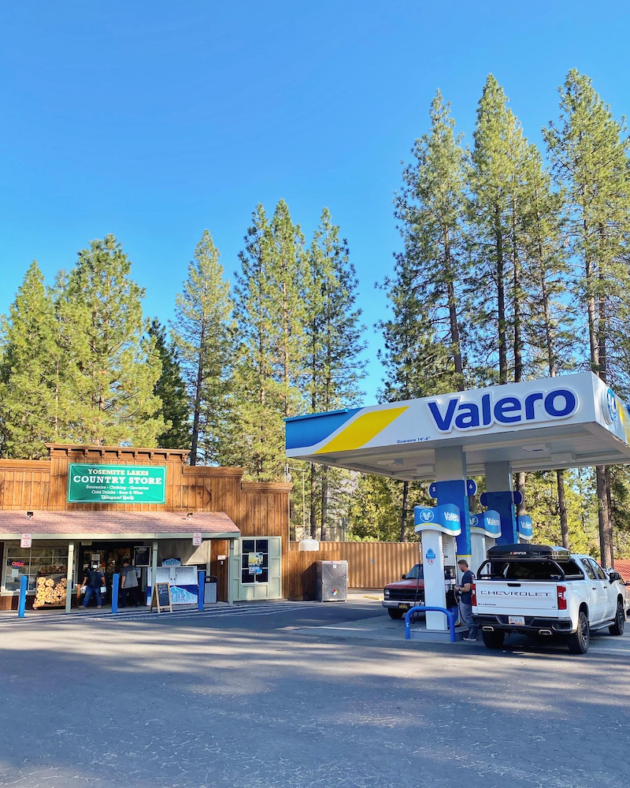 Getting There
Our drive from South Orange County to Yosemite Lakes RV Resort took approximately 7 1/2 hours (with stops). The campground is located in Groveland, California north of Fresno and south of Sacramento. Because there is very limited reception as you approach the area, I recommend bringing a GPS or setting your phone's GPS/map in Fresno. You might also consider bringing a physical map of the area. Once at the campground, it took us approximately one hour each way into Yosemite Valley (this is the same amount of time it would take to reach the valley from the south entrance.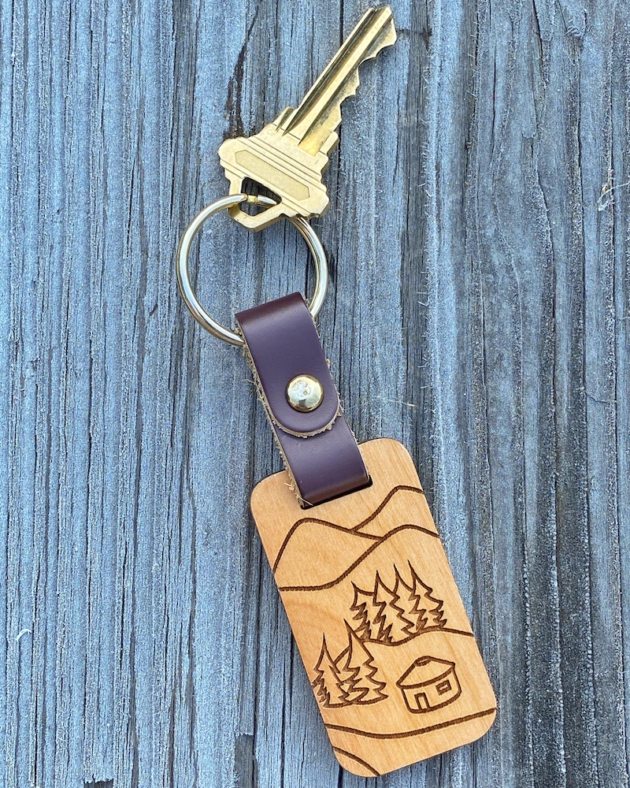 Yosemite Lakes RV Resort
31191 Hardin Flat Rd.
Groveland, CA 95321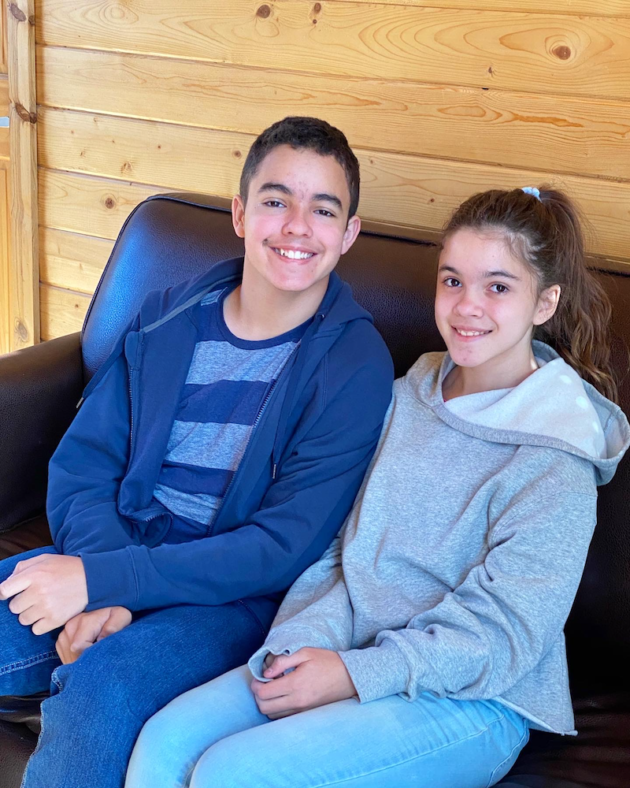 What to Bring – Camping Packing List
One of the many benefits of staying in a park model RV (cottage) at Yosemite Lakes RV Resort is the fact that you don't have to pack any bed linens, bath/dish towels, cookware, or dinnerware. This will give you the space and energy to focus on packing what you need to prepare your meals. Cooking our favorite camping meals not only saves money, it is also a wonderful way to connect as a family. To prepare for your visit, here is Camping Packing List, put together by Go Rving/Thousand Trails. It also includes my notes and tips, based on our experience at the campground.
Camping Packing List
Soap, shampoo, toiletries (our cottage included soap and shampoo, but I like to bring my own)
Bug spray
Sunscreen
Music (i.e. iPad & speakers)
Cell phone, charger, and back-up battery packs
Camera, tripod, etc.
Your own GPS (you will not have any reception at the campground and it will be limited throughout Yosemite National Park)
First aid supplies (put a small kit together to include electrolyte packets for hiking)
Flashlight and/or battery-operated lantern
Folding chairs & picnic blanket (the cottage site does have one picnic table with benches)
Games/cards
Binoculars
Beach towels
Swimsuit/water shoes
Reusable water bottles
Hairdryer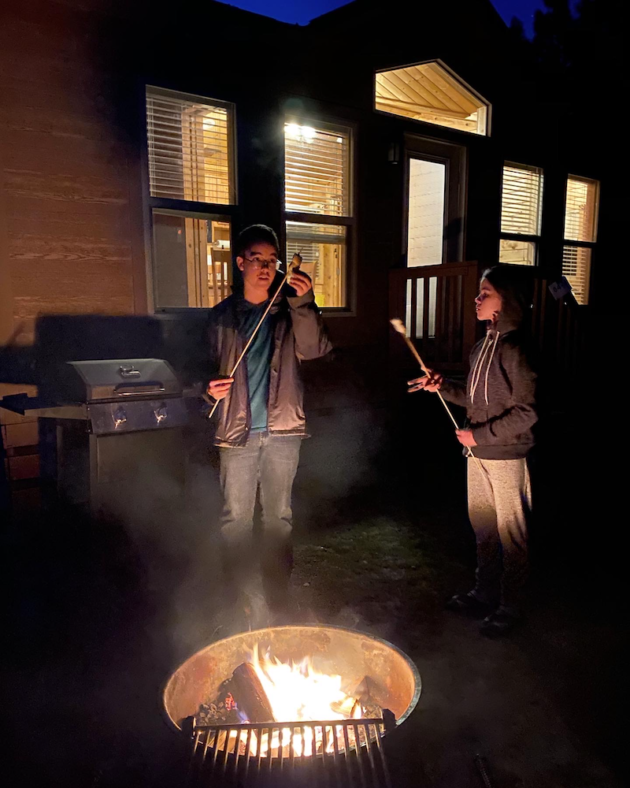 Meal Planning – Best Camping Meals
As a young girl, I could not wait to go camping with my family, specifically because my father cooked the best camping meals and we typically spent most of our time at our campground. He cooked everything from steaks to mac and cheese and there was always an abundance of s'mores. If you're planning a trip to Yosemite, your food options will be limited to Yosemite Valley Lodge, The Ahwahnee, Yosemite Village, and Curry Village, all of which are located in the Valley. Preparing your own meals will not only save you time and money, but it makes the most sense when you are exploring Yosemite National Park.
Camping meals do not have to be elaborate, but I could not resist my inner foodie! We cooked everything from grilled steaks and salmon to tacos and pizza. We also indulged in the best camping desserts including a skillet apple cobbler, s'mores, and the Girl Scouts' infamous banana boats. While there is a store onsite, I highly recommend bringing everything you need to cook your meals. You can utilize the store as your go-to for snacks, drinks, and any forgotten items. To prepare your camping meals, here is a camping grocery list put together by Go Rving/Thousand Trails.
Camping Grocery List (Food and Food Prep)
Spatula or tongs for the grill (these are included in your cottage, but you may decide to bring your own)
Paper towels/napkins (the cottage includes a roll of paper towels, however, I recommend bringing your own so that you don't have to trek to the check-in area should you run out)
Foil (you will need this for the grill)
Plastic wrap/ziploc bags/plastic storage containers (these items come in handy should you have leftovers)
Tablecloths (you can opt for disposable)
Paper plates/plasticware (your cottage will include these items, but you can bring disposable if you do not want to wash dishes)
Grilling sticks (for skewers and s'mores)
Cast iron skillet
Wafflemaker
Bottle opener
Antibacterial handwipes
Garbage bags
Matches / lighter for grills (remember that you should not bring your own wood due to the risk of transporting tree-killing pests)
Cereal / Milk
Eggs / bread / bacon
Sandwich meats / chips
Steaks/chicken/fish/hamburgers
Ketchup/mustard/butter/salt/pepper/spices/cooking oil/cooking spray
Veggies for grilling
Sodas/juice/bottled water
Snacks (I recommend bringing snacks to hike with including nuts, trail mix, nut butters, etc.)
Coffee/tea/cream/sugar
Chocolate bars, marshmallows, graham crackers, long skewers for s'mores
Here is a list of the meals we prepared: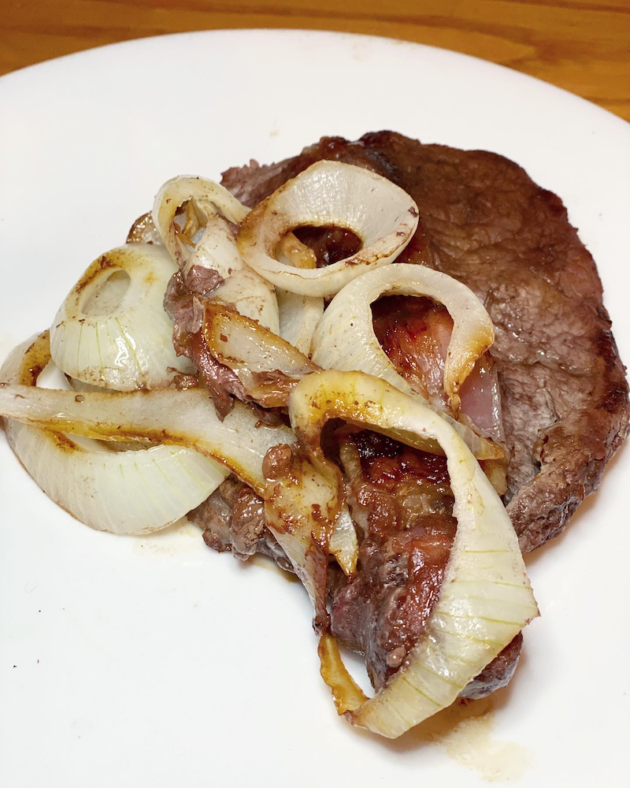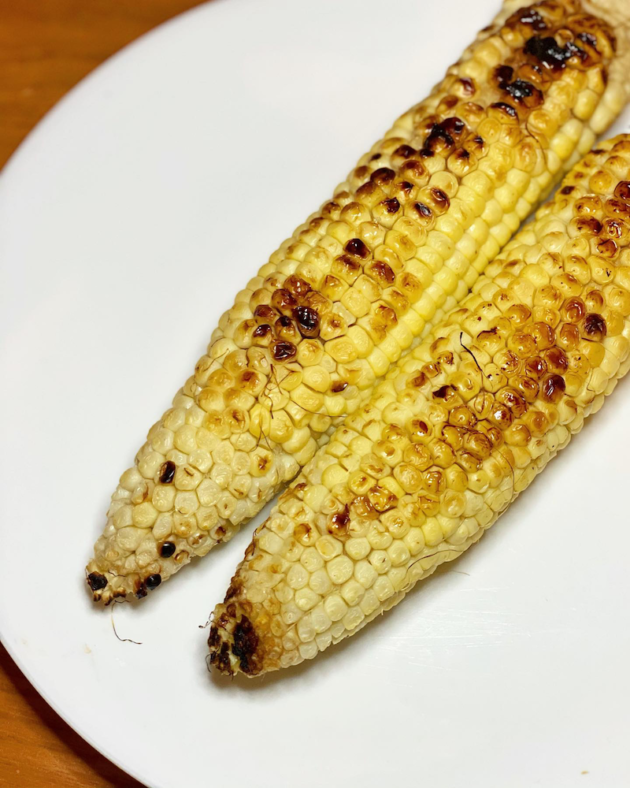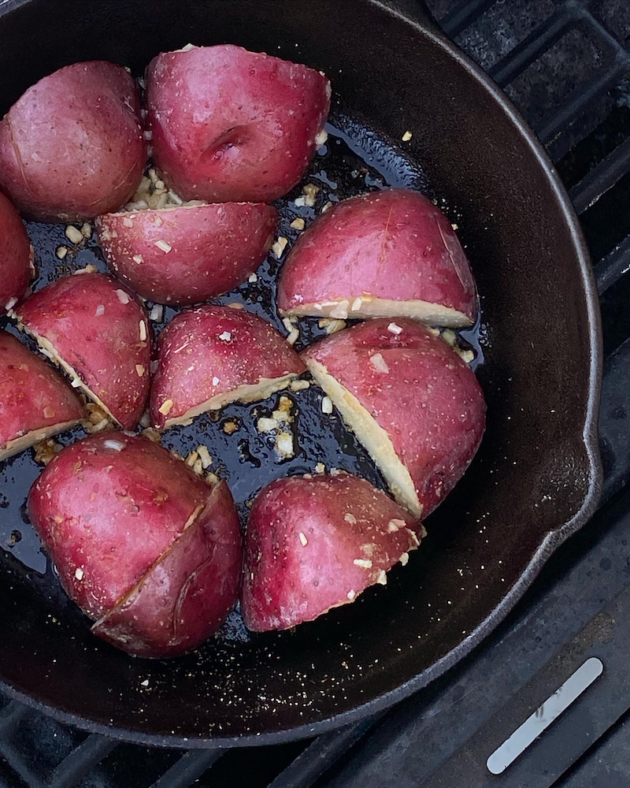 Dinner #1
Grilled Steak
Grilled Salmon
Grilled Corn on the Cob
Roasted Red Potatoes
Bread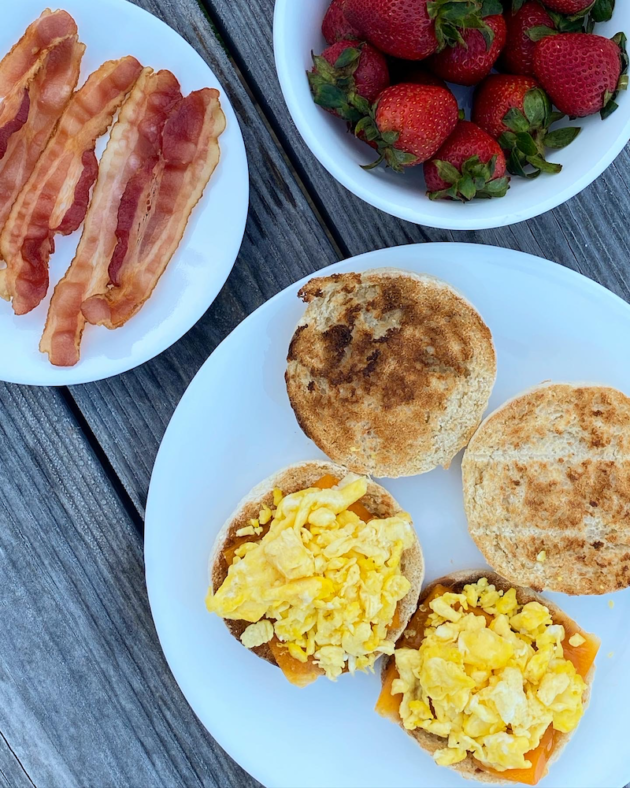 Breakfast #1
Breakfast Sandwiches
Bacon
Fresh Strawberries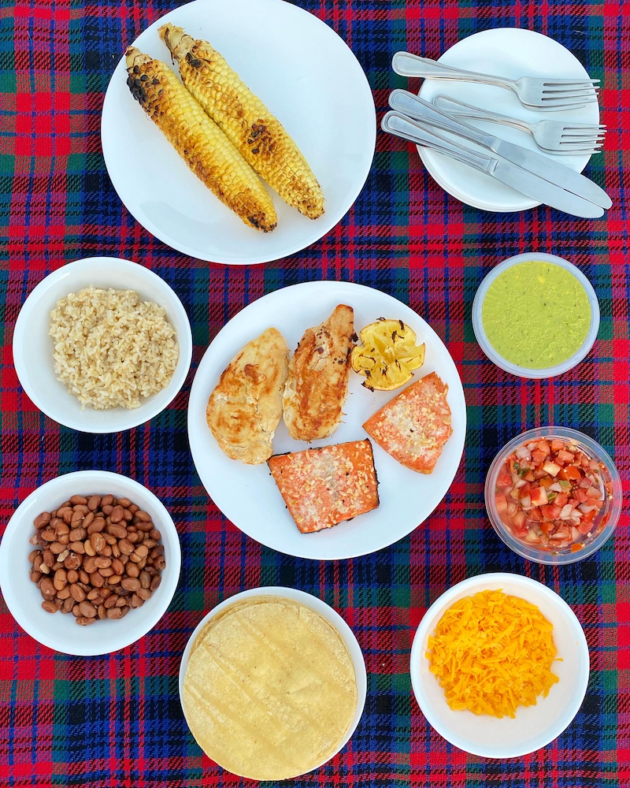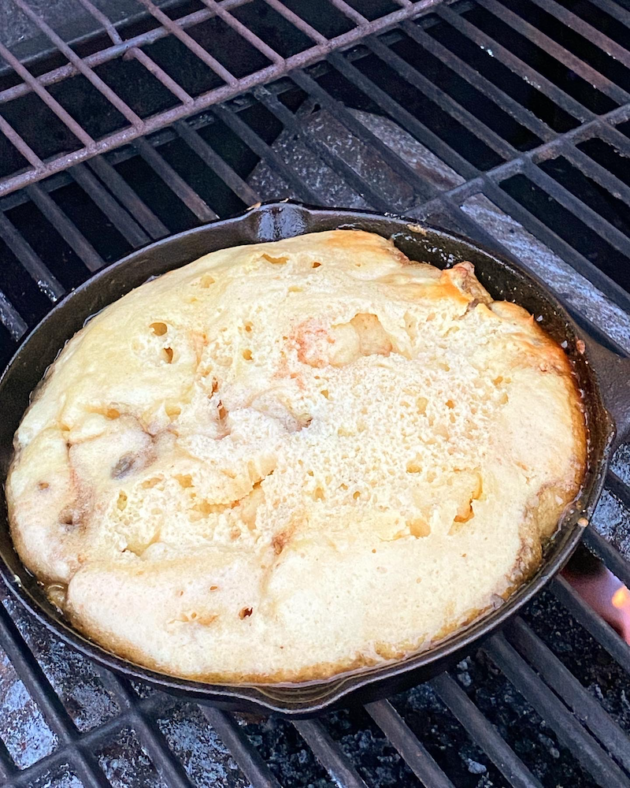 Dinner #2
Grilled Chicken and Salmon Tacos
Rice
Beans
Salsa
Guacamole
Cheese
Tortillas
Skillet Apple Cobbler (Recipe Here)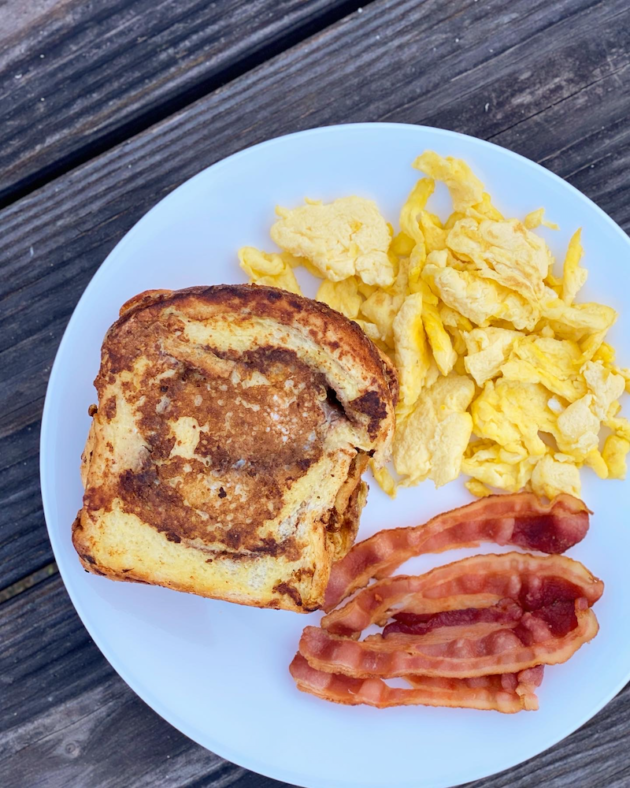 Breakfast #2
French Toast (Butter, Syrup)
Bacon
Scrambled Eggs
Fresh Fruit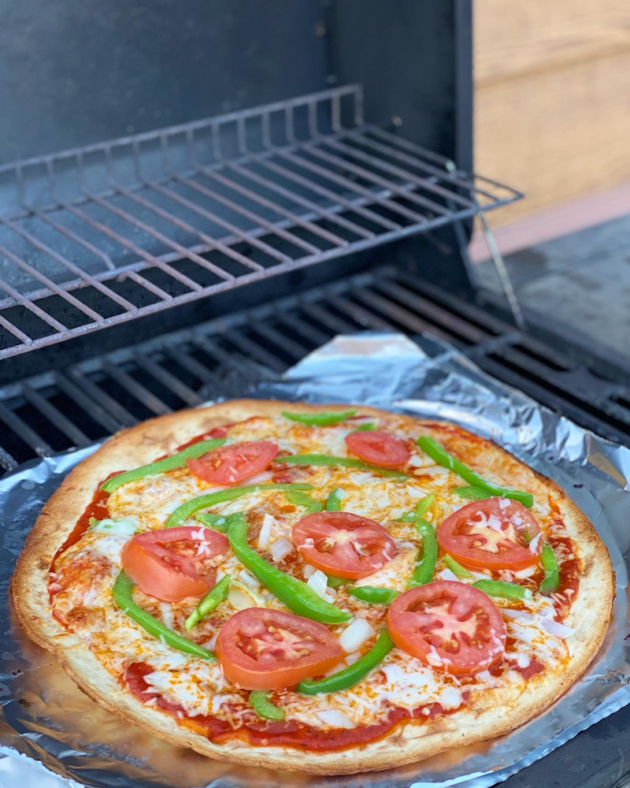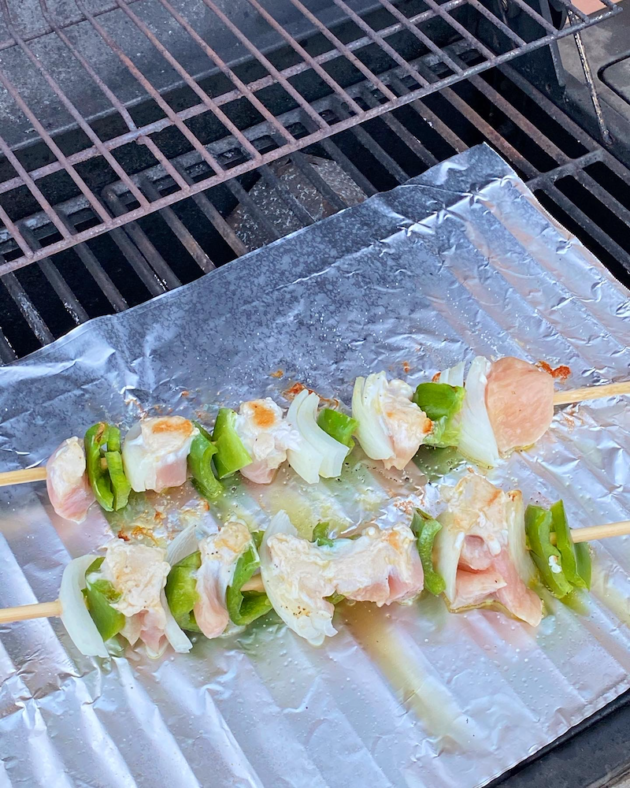 Dinner #3
Grilled Pizza (Pizza Sauce, Cheese, Fresh Vegetables)
Grilled Chicken Skewers (Bell Peppers, Onions, Salt, Pepper)
Banana Boats (Bananas, Dark Chocolate, Marshmallows)
Meal Planning Tips
Purchase all of your food prior to your arrival. The last city to purchase groceries is Fresno or Merced on your drive to Yosemite Lakes RV Resort.
Use a combination of dry ice and conventional ice to store your food. I froze all of our meat and fish and then packed it in dry ice for the drive to the campground.
Pre-measure ingredients for any recipes that are more involved (I did this for my skillet apple cobbler)
Load any recipes you need ahead of time and save them to your phone as you likely won't have access to them once you arrive to your campsite.
Pre-plan all of your meals with portion sizes, to reduce the amount of food wasted.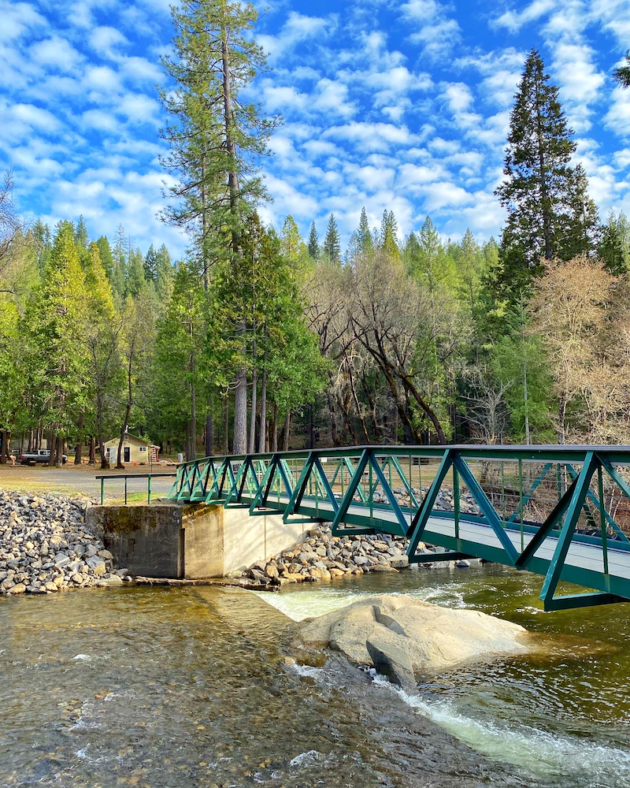 Camping During a Pandemic
Last year, we tip-toed our way back to traveling by planning a camping trip and we've done several more since that initial trip. We found that being outdoors was a great way to social distance and enjoy the great outdoors. While the state is expected to re-open fully on June 15th, 2021, it is important to consider how the pandemic will affect your travel plans.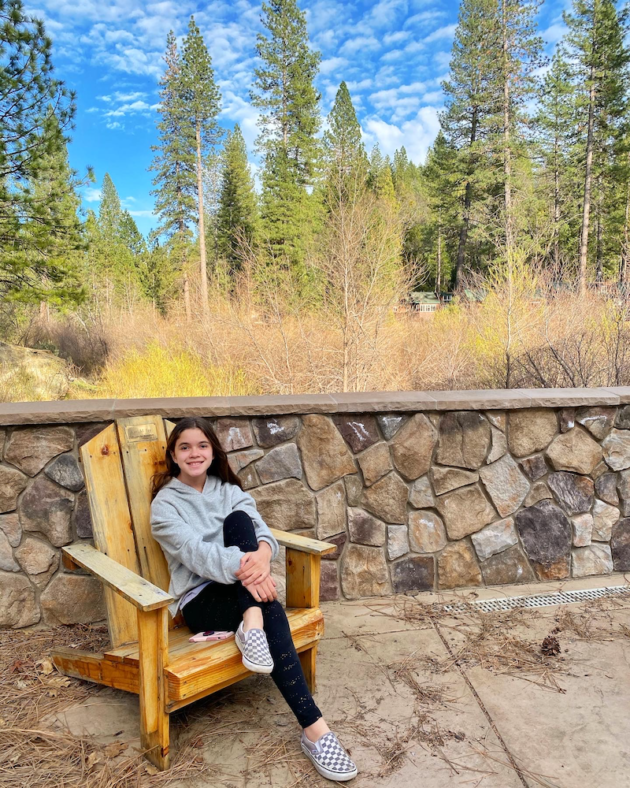 Reservations must be made in advance.
Purchase permits and any other needed items prior to arrival.
Plan to be self-sufficient during your stay. If you are staying in a cottage, the staff will not enter for any housekeeping. You can obtain new towels (and additional toiletries) each day at check in.
Bring your own sports equipment, as rentals are currently closed due to COVID-19.
Dispose of your trash in the designated dumpsters as staff are not allowed to dispose of your trash.
Opt for cashless/contactless payment methods, when available.
Adhere to site guidelines regarding masks and physical distancing.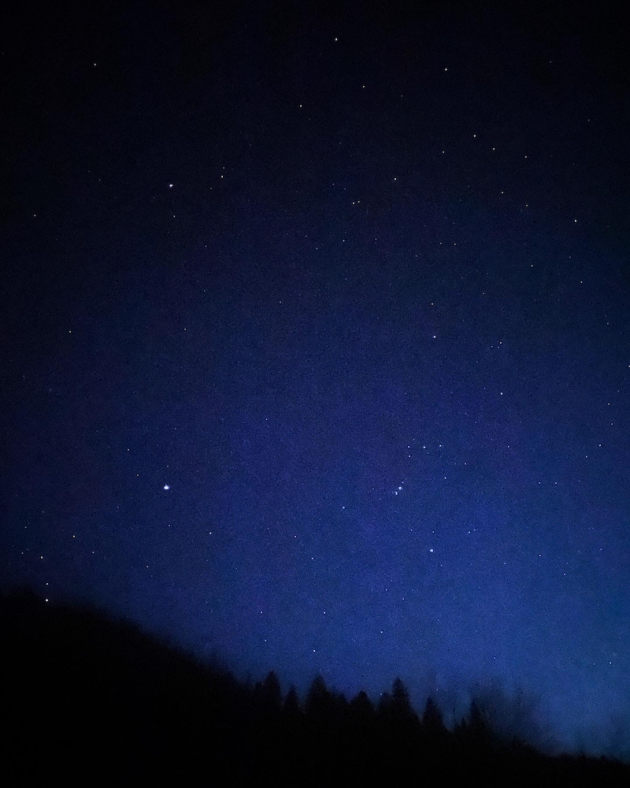 Yosemite Area Attractions
Yosemite Lakes RV Resort is the closest campground to Yosemite National Park. The drive to the entrance is approximately 10 minutes and another 40 minutes into the valley. We went to the park each day of our stay, but the area also offers hiking, white water rafting, fishing, boating, and water skiing.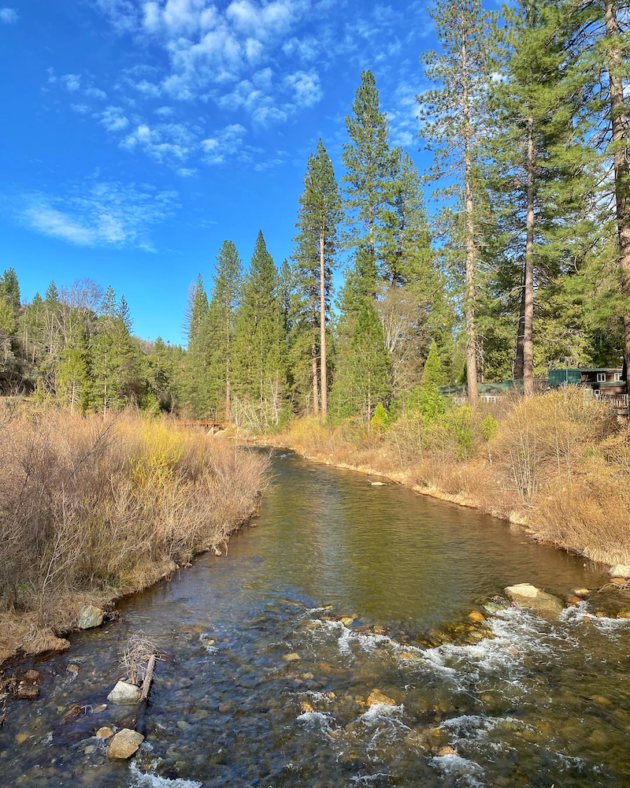 Rainbow Pool: This natural swimming hole and waterfall is located 5 miles from the campground and offers swimming, fishing, and hiking.
Hetch Hetchy Reservoir: Located on the main stem of the Tuolumne, you'll find spring waterfalls and wildflowers.
Carlon Falls: This 3.4 mile hike will take you along the South Fork of the Tuolumne River to the falls.
Fish in Pine Mountain Lake
Whitewater Rafting
Fish, boat, and water ski at Lake Don Pedro
Visit Moaning Caverns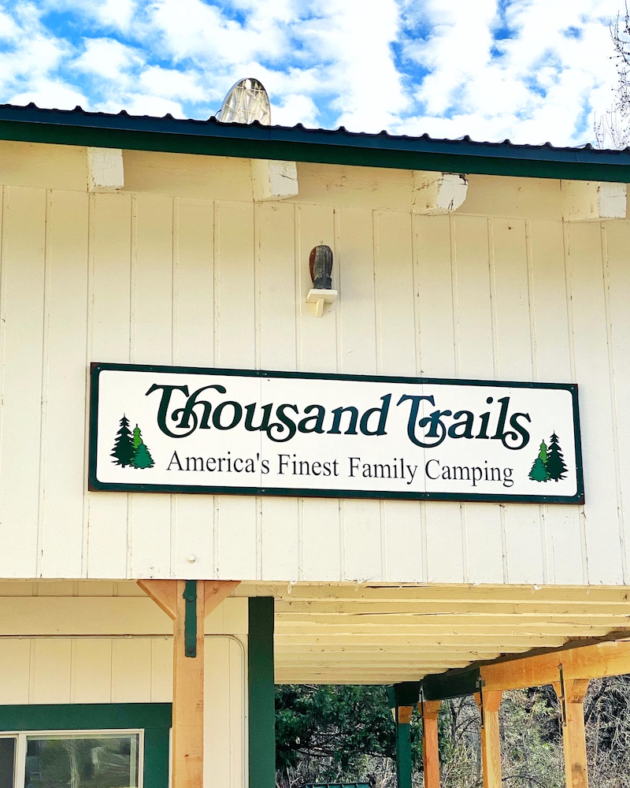 Be sure to read my best tips for visiting Yosemite National Park.