This giveaway is now closed.  Thanks for stopping by.  The winner is Jessica.  Congrats!
I love being a mom, but sometimes I reminisce back to the days when I could get in and out of a store in 20 minutes, sit down with my husband at a restaurant and eat a warm meal, and go to my fitness classes at the gym.  I always keep the perspective that this time is only brief, and that my children will be grown before I know it.  So while sometimes, in the trenches, it seems difficult and tiresome, I treasure the moments where I get to nap with my son, read him a story, sing with him, color, or any other numerous activities we do together.
But, that doesn't mean that we as moms should neglect ourselves.  In fact, it's really quite the opposite.  I truly believe that it's important for me to maintain a healthy, active lifestyle.  It sets a positive example for my son and helps me de-stress.  To be honest, participating in any type of fitness activity is very difficult for me.  The closest family we have is an hour away and it was only recently that I started putting my son in preschool (which is my small window of time to get laundry, grocery shopping, etc. done).  The alternative to fitness classes at the gym has traditionally been the DVD workout.  There are a lot of great programs out there, however, it's difficult to customize them to my personal fitness level and after awhile they can get boring.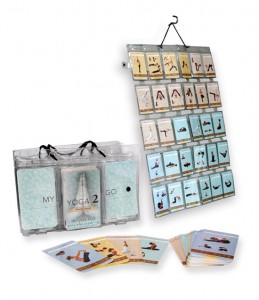 I recently had an opportunity to try out the My Yoga 2 Go Practice System, a complete system "combining the flexibility of working out at home, the versatility of a yoga class and the hands-on guidance of an experienced yoga instructor."  I actually find beginner yoga to be extremely relaxing.  I used to like to alternate on my days off from cardio.  Now that I'm pregnant, it's the only "exercise" I can really do.
Before I talk about my experience with the program, I wanted to tell you about the program.  It's really unlike anything I've ever tried before.  The My Yoga 2 Go Practice System includes 71 posture cards (I like that they're pictures of real people doing the poses) and a clear multi-pocket display tote (you can also fold it up and use it as a carrying case).  The cards feature 3 beginner sequences, 2 intermediate sequences, and 2 advanced sequences.  Once you figure out what level you are, you select that color-coded sequence, organize the cards by number, and place them into the clear display tote.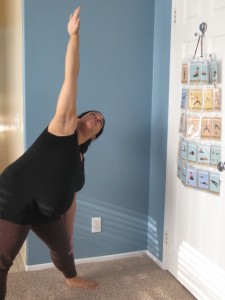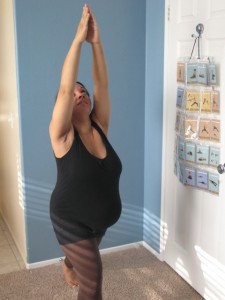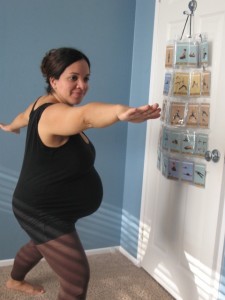 Since I'm pregnant, and classify myself as a beginner, the founder of the program designed a prenatal sequence for me.  I recognized many of the poses, but I did find some of them a bit challenging (I'm almost 7 months pregnant!). I like the fact that each card has details on the amount of time it takes to complete each pose/stretch, detailed directions, variations, and benefits. It's very thorough.  I will say that if I didn't know the pose, I had to turn the card over and spend some time studying it which is really the only downside I see to the system.  Yoga can be used for improving strength, stretching, or simply relaxing and having to stop in the middle to read about the next pose might be a bit of an interruption.  However, I do like the thoroughness of the program, the ability to vary based on skill level, and the versatility of using this anywhere.  I definitely don't think you'll get bored with this system!
The My Yoga 2 Go Practice System retails for $29.95, but you can save 15% when you use the code "BLOGYOGA."  (valid through October 31, 2009). The site also offers a variety of yoga products including T-shirts, jewelry, mat bags and more.
Win It! One of you will win a My Yoga 2 Go Practice System.  Simply leave me a comment with a way you as a mom find time to exercise or do yoga.  Comments will close on October 29, 2009 at 10 PM PST.   One comment per person, please (unless you do the extra credit). US residents only. Duplicates and comments not including the above information will be disqualified. Comments are moderated. If you don't see your comment in a reasonable amount of time, send me an email. Bloggers and non-bloggers may enter. If you don't want to leave your email address, please be sure to check back for my announcement on the winner. Please note that winners must respond within 48 hours of being announced/contacted or another winner will be drawn.
Want an extra entry? Do any or all of the following and receive an extra entry for each one.
Be sure to leave me a separate comment for each additional entry.
Follow me on Twitter AND tweet about the contest.
Subscribe to my feed via email or reader.
Blog about this giveaway. It doesn't have to be a separate post. Just include a blurb about it when you blog about other giveaways.
Click on one of the very cute buttons below and digg, stumble, fav, etc. Just let me know what you did in the comments!
Profuse thanks to the Family Review Network for this review/giveaway opportunity!
Latest posts by Caryn Bailey
(see all)