I was invited to a media event which facilitated the writing of this post.
The very first time I saw World of Color, my immediate thought was that Walt Disney would have loved this show. Five years in development, the show was imagined as a "living 'Fantasia'" which would utilize music, animation, color, light and water to immerse audiences in Disney's most treasures stories and characters. Today, World of Color is still my favorite show at the Disneyland Resort. The show is a spectacular display of innovation and nostalgia projected across a majestic water canvas. This season's iteration, "World of Color – Celebrate! The Wonderful World of Walt Disney," brings to life the story of Walt Disney and his dream of Disneyland.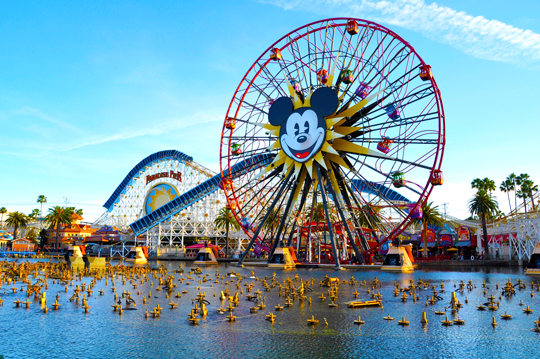 Best World of Color Viewing Spots
If you've ever seen the show, you know that securing the best spot is essential! At present, all reserved viewing areas are standing-only and offer the best panoramic vantage point to enjoy the show's effects and film projections. These areas are easily identifiable and access is granted with either a Disney FASTPASS ticket or a World of Color Dining Package.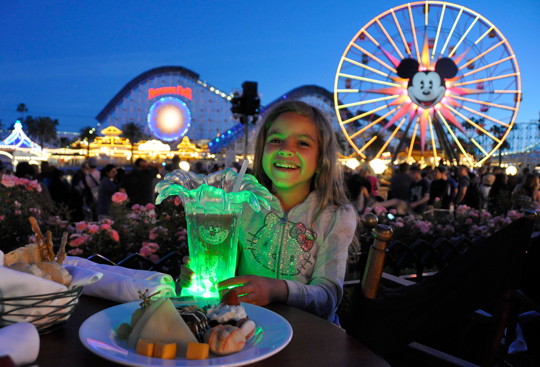 A New Way to See World of Color
A few weeks ago, the Disneyland Resort introduced a brand new way to experience World of Color, and I personally think it's the sweetest! The World of Color Dessert Party adds a bit of sparkle and magic to the show, and includes reserved seats, sweet and savory treats, drinks, and pristine views of the show. Perhaps what I love most about this new experience is the fact that my kids and I can sit down and enjoy the show comfortably with table service.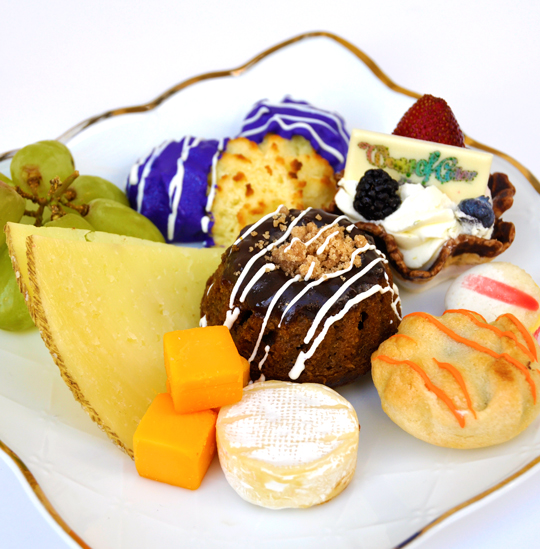 World of Color Dessert Party Package
Before your visit to the Disneyland Resort, I recommend booking this experience ahead of time online or via phone at (714) 781-DINE. Each person in your party will need to book the package which costs $79 (inclusive of tax and gratuity). The World of Color Dessert Party Package includes a selection of beverages (champagne, sparkling cider, coffee, tea, hot chocolate and soft drinks), a bread basket accompanied by Brie, Mild Cheddar and Manchego Cheeses and seedless grapes, and a beautiful, plated selection of desserts including a Chocolate Mocha Bundt Cake, a Mickey Coconut Macaroon, a waffle bowl with berries and lime-yogurt mousse, mini French macaron, and a Dulce de Leche-filled shortbread cookie. The resort also introduced a special drink called the Wonderful Cooler which includes Sprite, Lemonade, Blue Liqueur, and Coconut Rum. There is also an option to upgrade to the World of Color Sipper, which my kids thought was way cool since they magically glow with the show.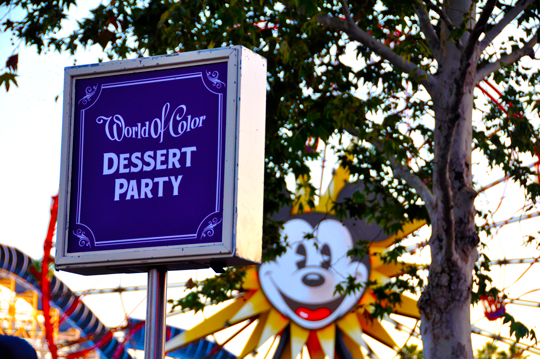 Know Before You Go
As I mentioned above, I highly recommend making reservations ahead of your visit to ensure availability, particularly as we get closer to the Summer.
This is a separate ticketed experience and park admission is required.
Cancellations must be made 24 hours in advance.
Food allergies and/or special diets can be accommodated as long as the request is made ahead of your visit
The World of Color Dessert Party begins approximately 1 hour prior to showtime and I highly recommend arriving early in order to be seated and have an opportunity to enjoy your treats before the show starts (and it gets dark!).
If World of Color is canceled due to weather or technical issues, your package will be refunded.
Overall, we really enjoyed our experience at Disneyland's World of Color Dessert Party. I can't tell you how many times I've wanted to see the show but my kids were too tired from our day at the parks to make it through standing up. I absolutely love the option of having a seat and table service at one of the most spectacular viewing locations for World of Color.
The sweet and savory snack portions are incredibly generous and equally delicious. My favorite dessert was the Waffle Bowl while my kids didn't even let me get a taste of the French macarons. If you can't finish all of your treats, ask for a to-go box and enjoy them and the memories of this majestic "carousel of color."
For additional information visit Disneyland.com.