Healthy snacking can sometimes feel like a paradox. With my kids spending more time at home, the challenge to balance healthy with fun and palatable is real. My kids have always enjoyed Mandarins, and as a parent, I'd much rather they reach for fruit over anything packaged. Halos Mandarins are sweet, seedless, and easy for kids to peel. And in addition to being the perfect snack, they also make for the most adorable Easter crafts!
Partner.
Halos Bunny Pouch
The traditional Easter basket is filled with chocolate, jelly beans, and admittedly, empty calories. Wonderful Halos reached out to partner on a fun, healthy approach to Easter and it was a natural fit since my kids go through a bag of mandarins every single week. In addition to being nature's perfect snack, Halos mandarins can be used in place of sugary treats this Easter. Families can also enjoy time together putting together two easy Easter-themed crafts.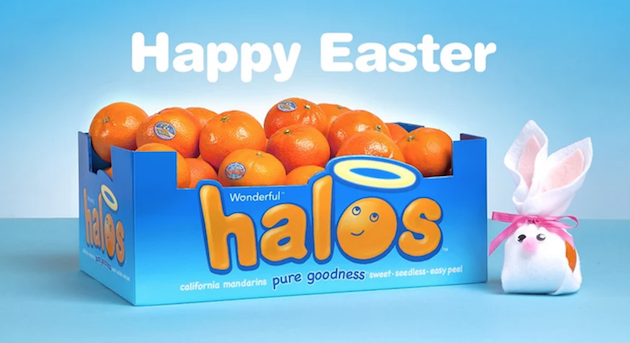 Here is what you'll need to make the Halos Bunny Pouch:
One Wonderful Halos mandarin
One 9" x 9" square of white felt
Pink felt
Scissors
Rubber bands
Ribbon
Glue
Small pom poms
Large pom poms
Googly eyes
Instructions:
Cut off a corner of the white felt about a third of the way in. Fold the felt over about 1″ from the side that was cut and keep folding until you get to the end.
Place the mandarin in the middle of the felt and wrap the ends around it. Secure the ends of the felt around the mandarin with a rubber band to make the ears.
Tie a length of ribbon in a bow around the ears, hiding the rubber band. Now cut out pieces of pink felt to tuck inside the ears.
Make your bunny's face by gluing on googly eyes and a small pom pom for the nose, and glue on a large pom pom for the tail.
This was the more challenging of the two crafts, but we loved how it turned out. Wonderful Halos has a short video that details how to make this adorable Halos Bunny Pouch.
Halos Easter Buddy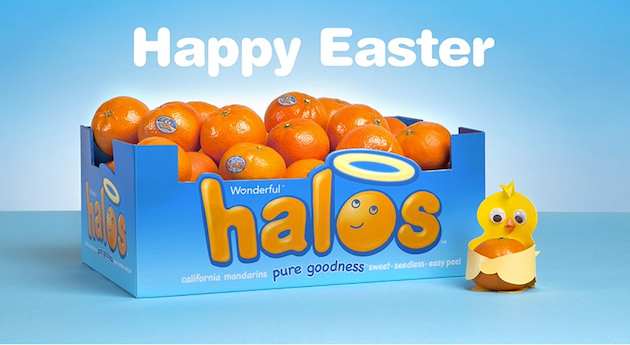 Here is what you'll need to make the Halos Easter Buddy:
One Wonderful Halos mandarin
Halos Easter Buddy template (see below)
Yellow card stock
Orange card stock
Googly eyes
Glue
White felt
Double-sided tape
Scissors
Pencil
Instructions:
Print and cut out the Halos Easter Buddy template. Trace the template onto yellow card stock and cut out the shape.
Cut two small triangles from orange card stock, fold them in half, and glue on the buddy's face to make a beak.
Cut out a small triangle from the yellow card stock, fold it in half, and glue it on the head to make a tuft of feathers.
Glue on the googly eyes and wait about 2 minutes for the glue to dry. Then cut a circle out of the white felt and glue onto the buddy's belly.
Fold the legs up, place the mandarin on top of the legs, and tape the wings around the mandarin.
Easter Buddy Template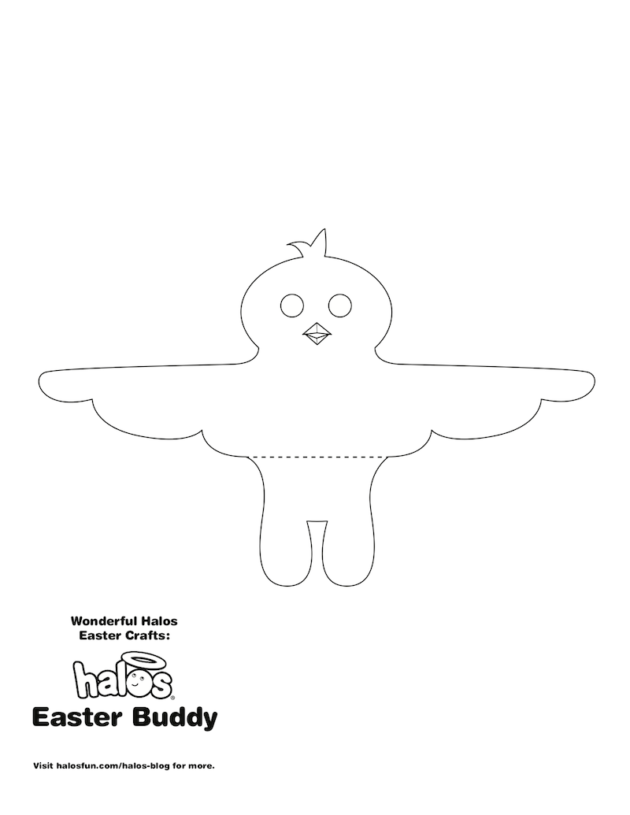 Here is Wonderful Halos' short video, detailing how to make their Halos Easter Buddy:
Once you have completed your Easter Buddy and/or Bunny Pouch, arrange them in your child's Easter basket with some eggs and other treats for a healthy Easter Basket. For more information on Wonderful Halos, visit their website at HalosFun.com.
Latest posts by Caryn Bailey
(see all)