Looking for a unique, handmade gift to give friends and family this season? Visit Winter Fantasy at the Sawdust Art & Craft Festival. Each year, the festival grounds are transformed into a winter wonderland!

Winter Fantasy
Winter Fantasy offers local artists the opportunity to display and exhibit their original, handmade fine art or craft. Over 175 artists are currently on display selling original creations throughout the holiday season. The exhibit includes jewelry, clothing, fused and blown glass, ceramics, woodwork, forged metals, painting, photography, sculptures, clothing, and textiles.

Additional activities include live holiday entertainment, outdoor cafes, art classes and demonstrations with a dedication by the festival to educate the public about art. Kids can visit with Santa and families can enjoy entertainment including the Lil' Dickens Carolers, Rene's Marrionettes, the Balloon Diva, and more.
Food and refreshments include fresh kettle corn, Dippin' Dots, gourmet pastries, espresso and more.

Winter Fantasy Tickets and Dates
Winter Fantasy runs every weekend, November 18th through December 17th, 2017 from 10 am to 7 pm.
Ticket prices are as follows:
$8 for adults
$7 for seniors
$4 for children
Children under 5 free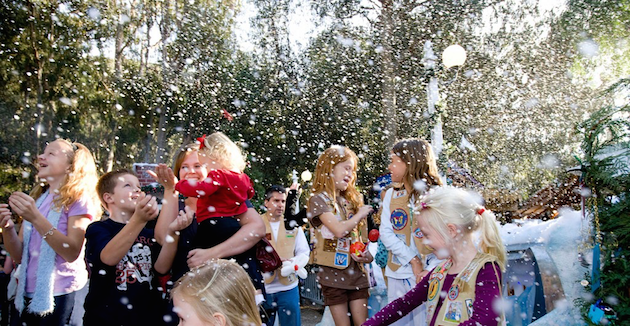 Winter Fantasy is located at the Sawdust Art Festival:
935 Laguna Canyon Road, Laguna Beach, CA 92651