If your kids have outgrown the popular character Valentine's Day Cards, or you're looking to add a personal touch to your greetings, you'll love this simple idea for a Valentine's Day Crafting Party. It's also a great weekend winter activity for kids and will give them an opportunity to express their creativity while making each greeting unique and meaningful.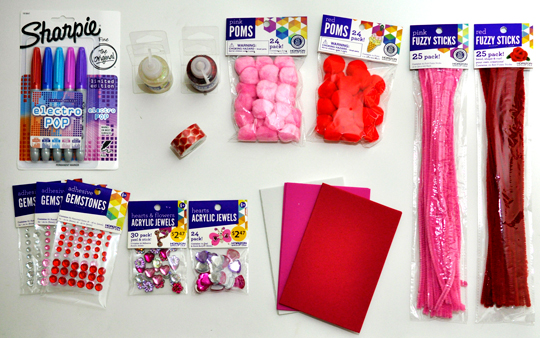 I shopped for my Valentine's Day Crafting Party supplies at my local Walmart, and my biggest challenge was narrowing down what exactly I wanted since their crafting and Valentine's Day sections are expansive and filled with a variety of items. Kids are often more engaged by simple activities that they can complete in a short amount of time, so I decided to pick up a variety of marker, stickers, glitter glue, washi tape, pom poms, fuzzy sticks and card stock. I also picked up a Create a Valentine Kit from Creative Hands, which includes a variety of stickers and sequins to personalize each note.
One of the trends I've been seeing lately is for kids to include a small toy with their Valentine instead of candy. Walmart has a section filled with inexpensive favors including pencils, erasers and small toys, so I picked up a few packages that include stickers to gift with each personalized Valentine.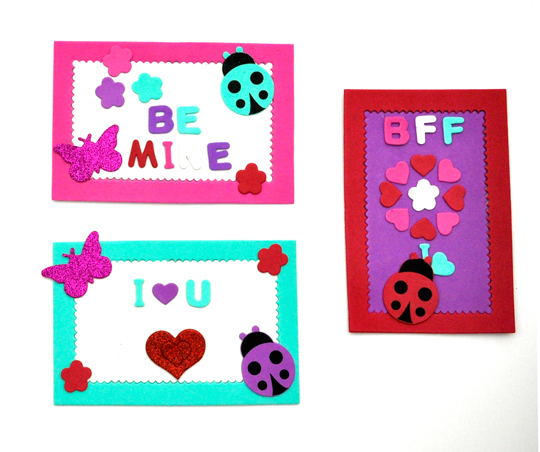 Once your kids' Valentines are complete, they'll need a place to store them in anticipation of School Valentine's Day Parties. You can opt to pick up a Valentine Card Holder or make your own. I found a few DIY Mailbox Kits for boys and girls for just $1.44. Each kit is easily assembled in just a few minutes and can then be personalized by kids with stickers.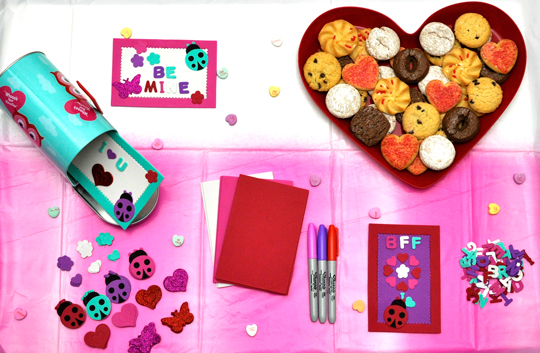 No party is complete without snacks!  Since the focus of this party was on crafting with kids, I picked up a few boxes of Conversation Hearts to spread out on the table and a box of Assorted Valentine Cookies which are available in the Bakery section of your local Walmart.
Looking for additional Valentine's Day Party Ideas? Check out these festive, affordable tips and inspiration from my fellow Walmart Moms for your next Valentine's Day Party:
Valentine's Day Party Tablescape
Valentine's Day Cookie Decorating Party
Valentine's Day Party For Kids