Earlier this year, Warner Bros. took us on a nostalgic new adventure with the beloved Tom & Jerry. The film, which was directed by Tim Story, reignites one of history's most beloved rivalries. Now available on Blu-ray, DVD, and Digital, we celebrated the home entertainment release of Tom & Jerry with a virtual cooking class thanks to Warner Bros. and CozyMeal. Our Cat & Mouse Cooking Caper Menu included a Mouse Trap Charcuterie Board and a Cat Lovers Caramel Popcorn.
Partner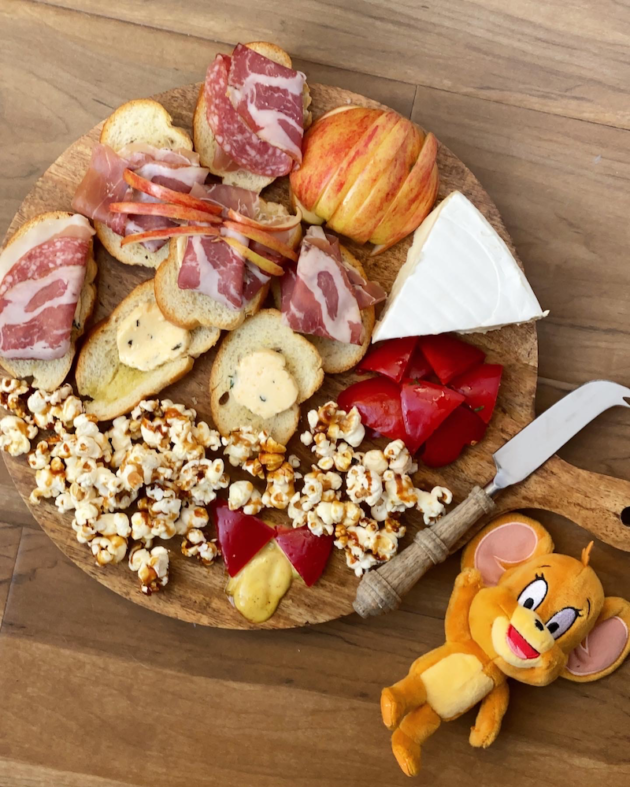 Tom & Jerry Charcuterie Board
Charcuterie boards continue to trend, in part due to the impressive visual statement they make. We started our cooking class by putting together a Mouse Trap Charcuterie Board which is designed to resemble a cat and a mouse. Here is what you will need for this Tom & Jerry Charcuterie Board:
Equipment Needed:
24-inch board
Small saucepan
Large pot with a lid
Baking pan
Wooden spoon
Cutting board
Whisk
Knife
Fork
Spoon
Parchment paper
Strainer
Silicone spatula
Plastic wrap
Ingredients Needed:
Small baguette
7 oz Calabrese salami & Prosciutto
8.5 oz Brie cheese
1 bunch each of fresh parsley, thyme & mint
1 red apple
1 red bell pepper
3 limes
2 sticks salted butter
8 oz heavy cream
2.5 oz honey
1 cup popcorn kernels
1 ½ cups sugar
½ cup mayonnaise
3 tablespoon corn syrup
1 teaspoon baking soda
1 teaspoon salt
Dijon mustard
Garlic powder
Black pepper
Smoked paprika
Cat Lover's Caramel Corn:
Ingredients:
1 cup sugar
1 stick salted butter
3 tablespoons corn syrup
1 cup popcorn kernels
1 teaspoon salt
½ teaspoon baking soda
Procedure:
Preheat oven to 250F.
Pop the corn in the microwave. This should take around 3 minutes. You can also pop the corn in a stockpot over medium heat which is my preferred way to pop corn.
Take a small pot out and add butter, sugar, heavy cream fand corn syrup. Keep the gas flame on high. Once everything starts to melt and the color of the sugar is light caramel, turn the heat down to medium. Chef's Note: While making this recipe or dealing with sugar always use a wooden spatula or heatproof silicone spatula.
Cook this mix for about 5 minutes on medium flame and the color is now deep golden but not brown.
Now prepare a baking pan or sheet and line it with parchment or aluminum foil.
Place the popcorn on the baking pan. Then pour the golden caramel mix on top of the popcorn.
Mix the popcorn and caramel sauce quickly. Chef's Note: You won't be able to cover 100% but try to cover at least 75%.
Pop the tray in the oven for 15 minutes. Check the mixture and mix the popcorn to coat the rest of the remaining kernels. Place back in the oven for an additional 5-10 minutes – keep a close eye on it to ensure it doesn't burn.
Once out of the oven after the second time let this cool down.
Then break it with your hands to separate the individual kernels and enjoy!
Herb Butter, Herb Mayonnaise & Baguette:
Ingredients:
1 stick salted butter (softened at room temperature)
1 ½ tablespoon lime juice, divided
2 teaspoons fresh thyme, chopped & divided
1 teaspoon garlic powder
1 teaspoon smoked paprika
1 teaspoon honey
1 cup mayonnaise
Garlic powder, to taste
Dijon mustard, to taste
Salt & pepper, to taste
Procedure:
Put your butter in the bowl. If the butter is not softened, put it in the microwave for 20 seconds.
Add the lime juice, garlic powder, smoked paprika and thyme to the butter. Mix all the ingredients together until it is nicely incorporated.
Once everything is mixed, take a plastic wrap and place the butter horizontally. Then start rolling it into a roulade (shape into a log). Make sure there are no air bubbles and you have rolled it very tightly. Twist the end of the plastic wrap. Put the butter in freezer for 35 minutes.
In another bowl, combine mayonnaise, ½ teaspoon lime juice, 1 teaspoon chopped thyme, honey, and smoked paprika, garlic powder, & dijon mustard to taste. Mix to combine all the ingredients.
Place the herbed mayonnaise in the fridge for 30 minutes.
Cut baguette into thin slices and put in a big bowl.
Toss the baguette with some chopped thyme, olive oil, salt & black pepper.
Line the baking sheet with the baguette and place in the oven at 350° for 7-10 minutes. The bread should be crispy and golden brown.
Take the butter out and cut them in thin rounds. Place on a warm baguette and enjoy!
To assemble the board:
Cut apple into thin slices. Place in a bowl and drizzle a little bit of honey & lemon. Chef's note: This trick helps keep the apples from turning brown.
Core the top of the bell pepper to remove the stem. Cut one side of the bell pepper so it becomes flat. Cut the pepper into thin strips.
Arrange baguette on the board. Add slices of the herbed butter on the baguette.
Take out one slice of prosciutto at a time and fold loosely to resemble a rose. Then place the prosciutto on the baguette.
Place the stipes of apples and bell pepper around the board.
Cut the brie cheese in half (if it is round) and place on the board.
Put the herb mayonnaise in a small serving bowl and place on the board.
Break the caramel corn into small pieces and place around the other items on the board.
Dig in and enjoy!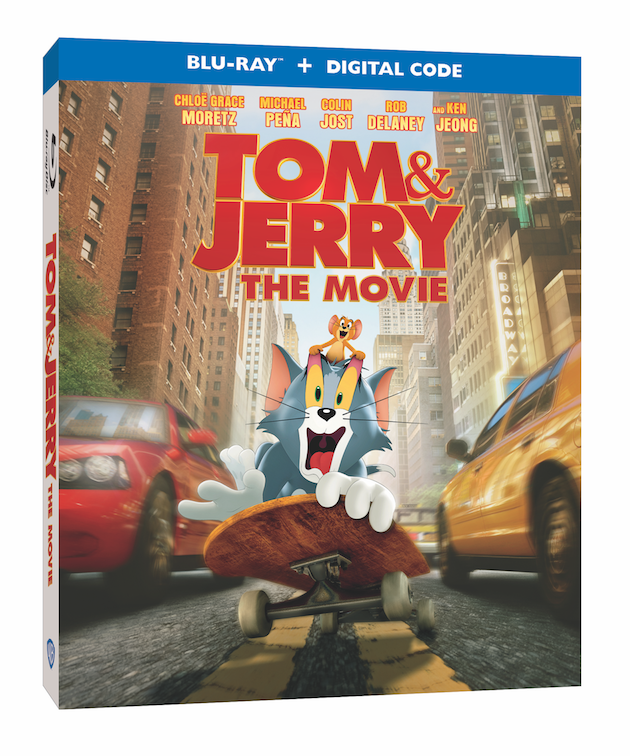 Tom & Jerry on Blu-ray and DVD
Tom & Jerry follows the cat and mouse duo on a new adventure in New York City. When Jerry moves into New York City's finest hotel on the even of the wedding of the century, the event planner is forced to hire Tom to get rid of him. The cat and mouse battle that follows threatens to destroy her career, the wedding, and the hotel. But that is not their most pressing problem. A diabolically ambitious staffer is conspiring against all three of them.
Tom & Jerry Bonus Features (Blu-ray):
Deleted Scenes Gag Reel
Bringing Tom & Jerry to Life
Tom & Jerry's World
The Feud: #TeamTom vs. #TeamJerry
Jerry's "A House For a Mouse"
The Tom & Jerry Guide to New York City Wildlife
Inside the Wedding of Ben and Preeta
A Scene Comes to Life: Scene #1-Ben and Preeta's Wedding
A Scene Comes to Life: Scene #2-Animal Lock-Up
Tom & Jerry is now available on Blu-ray, DVD, and Digital including Movies Anywhere, Amazon, FandangoNOW, Apple TV, VUDU, and more. Be sure to download our free Tom & Jerry printables for your home movie night.