I have no idea how the amount of laundry exponentially increased with baby number 2, but I find myself doing laundry almost every day.  The physical act of throwing the laundry in the washer and dryer is not the difficult part.  It's the sorting, stain removal, folding, and putting away that takes way too much time.
About a week ago, I returned from a trip to Arizona to learn all about simplifying and organizing my laundry regimen…from the hamper to the hanger.  The trip was informative, inspirational, and relaxing.  We toured Bosch's flagship brand gallery and training center, put their washers and dryers to the ultimate stain removal test, and gleaned laundry organizational wisdom from The Container Store. Because there were several components to the trip, I'll be covering them over the next couple of weeks.
Before we toured the facility, we participated in an activity that would put Bosch's washers and dryers to the test.  Rather than tell you about it, let me show you!
Rockin' Mama at Bosch from Liz Peterson on Vimeo.
So…can Bosch's front-loading washers remove the "sugar high" from my shirt?  Check out my Whrrl:
I dream of owning a front-load washer.  Not only do they look pretty, they are highly efficient.  And, it just so happens that Bosch has the most efficient line-up of full-size front load washers available. Here are some of the questions posed during our conversation with Bosch: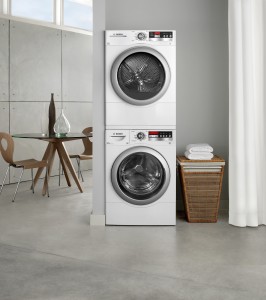 1.  How do top load and front load washers differ in performance and efficiency?
If you've ever peeked inside a top load washer, you know that it houses an agitator that churns the clothes together.  On the contrary, a front load washer does not have an agitator.  Rather, the clothes get dropped on top of each other via gravity and spin, which means more clothing area is exposed (to be cleaned).  A front-load washer can sense the size of the load and adjusts water usage accordingly (a feature not replicated in a top-load machine).  Specifically, Bosch's ActiveWater system multiplies the cleaning power of each gallon of water, the result being that the machine will use 13 gallons of water while delivering the cleaning power of 400 gallons (that's 70% less water usage).
2.  What eco-friendly features are inherent in Bosch's washers and dryers?
As an eco-minded mom, I replaced all of my appliances with Energy Star rated appliances when we moved into our home.  Appliances with this designation must contribute significant energy savings and efficiency nationwide while delivering the features and performance demanded by consumers.  All of Bosch's appliances are Energy Star rated.  In fact, many of their appliances exceed Energy Star qualifications and are the most energy efficient in the world. Specifically, their Vision line of washers and dryers includes an EcoAction feature which allows users to reduce energy by 20% per wash and 10% per dry cycle with the push of a button on the machine.  Their dryers include an EcoSensor which measures the moisture level of the clothes to adjust the cycle length and heat level for efficient drying.
If you get a moment, I encourage you to check out their commitment to sustainability.
3.  How effective are they at cleaning and removing stains?
Quite.  But you knew I was going to say that right?  Let me tell you why!  First…here are some of the reasons why that juice (dirt, pen, fill in the blank) stain did not come out:
You used too much detergent
You didn't wash at the optimum or recommended temperature for that particular stain
The wash cycle did not run long enough
Bosch's Vision washers possess an ActiveClean system which adjusts the number of rinse cycles for custom cleaning results and a Stain Removal option for tackling a variety of stains in one wash cycle.  In order for any front load washer to deliver the cleaning results you want, consider the above 3 factors.  Also remember that the type of fabric and the amount of time a stain has been on the fabric will impact your washer's ability to remove it.
Follow these steps for removing difficult stains:
Pretreat as soon as possible
Get it in the wash as soon as possible (the longer the stain sits, the harder it is to get it out)
Use the correct water temperature for the type of stain you're trying to remove
Stay tuned!  I have much more to share about my trip to Arizona with Bosch!  Check out some pictures from our tour of their design gallery:
No monetary compensation was received for this post.  Bosch sponsored my trip which included flight, hotel, and meals.
Latest posts by Caryn Bailey
(see all)