This giveaway is now closed. Congrats to Judy B (#60)!
So it's week number three of my "test drive" and I'm converted.  I really only use my old phone to make calls because I haven't imported all of my numbers from my old phone into the Palm Pre Plus.
I don't know if I mentioned this in previous posts, but we are not Verizon subscribers.  Not yet.  But we are seriously considering making the switch.  We are no longer in a contract with our current mobile phone provider and are free to make a change.  Apart from the fact that the phone is user-friendly and offers a ton of features that make my life easier, the service I've experienced with Verizon has been very favorable.  Like any mobile phone service provider, there are spots where I don't get reception.  But those have been very few and far between from my experience with Verizon.
This week I want to highlight some of specific features I think moms will appreciate about the phone.
I tend to be a bit on the disorganized side.  My husband and I utilize an online calendar via Google to keep track of our schedules.  I've had many phones with a calendar function but have never made use of it until now.  And that is because I didn't have to do a lot of work to set the calendar up on the Palm Pre Plus (who has time for that right?).  Since I use an online Google calendar, I was able to sync that calendar into the one on my phone without re-entering any of the information.  If you have multiple online calendars (i.e. Facebook, etc.), you can sync all of those calendars into one calendar for easy viewing on the Palm Pre Plus.  Because the Palm Pre Plus can sync the calendars, I can enter information online via my Google calendar and then keep up with it on my phone.  And just like Google calendar, it's able to color code individual calendars to keep everyone's schedules distinct.  The phone also has 3 options for viewing (I prefer the monthly view for at-a-glance viewing and the daily view for a more detailed look at my schedule for the day).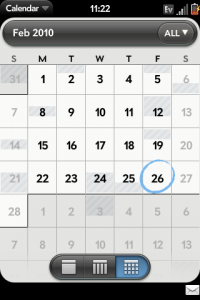 Monthly View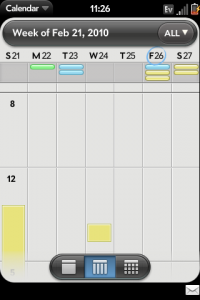 Weekly View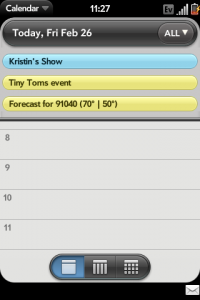 Daily View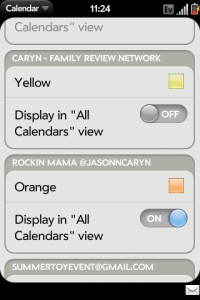 Color Coding and Calendar Viewing option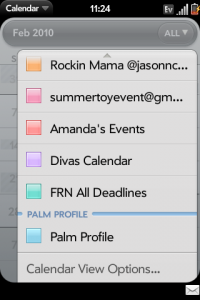 Syncing my calendars
I have lived in Southern California my entire life and still get turned around.  Last week I ended up in someone's private community trying to get home (and I was less than 10 minutes away from my house).  A GPS is a must-have.  I've got play dates to go on, museums to explore with my kids, and new places to venture out to.  VZ Navigator is a paid service through Verizon which enables your phone to be used as a GPS (Global Positioning Services) device.  For $9.99 a month you get the following:
Heads-up, voice-prompted turn-by-turn directions with auto re-routing if you miss a turn.
Local search of nearly thirteen million points of interest (POIs) in the U.S.A.
Detailed color maps that can be quickly panned and zoomed.
I cannot function without a GPS, and I do have one in my car.  But I thought I'd try this one to see how it compares.  I like the fact that it's up to date (as opposed to my GPS device which desperately needs an upgrade).  I can enter a partial address and it will find it for me.  I also ike the voice-prompted directions (this ensures that I'm truly hands free).  There are three things I would love to see improved.
1.  Continued navigation, even if I'm using another application (such as email).
2.  I'd love to have an audible notification upon my arrival to my destination.
3.  I'm not sure if it's just with the Palm Pre Plus, but I have to click to confirm re-routing which doesn't make it entire hands-free.
Here are some screen captures from my recent trips, using VZ Navigator: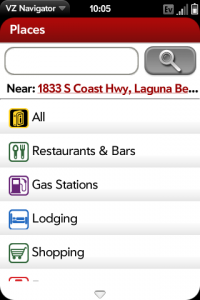 Find a gas station, go shopping, or a restaurant near your location.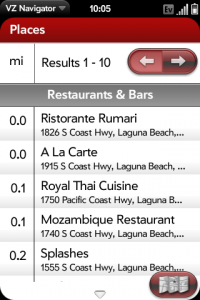 Thai sounds good!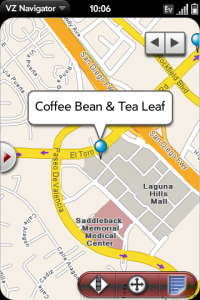 Coffee break?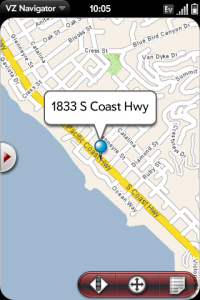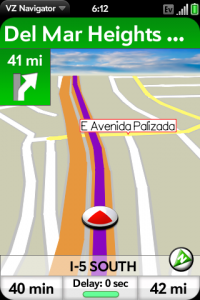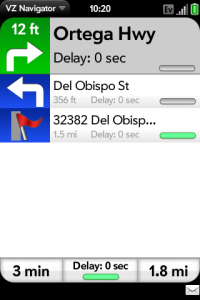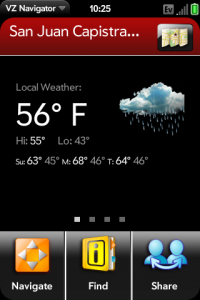 What's the weather like today?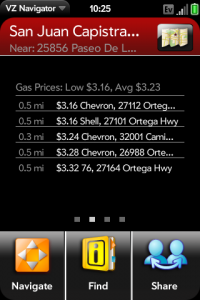 Where is the cheapest gas?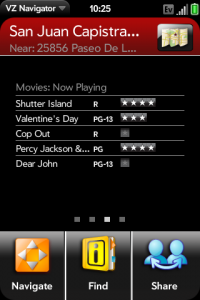 What's new on the big screen?
The Palm Pre Plus allows you to organize, multi-task, schedule, and stay connected.  It truly is a "smart" phone.  Be sure to come back next week as I conclude my test drive.  That's not to say that you won't be eharing more about this phone…because you will.  The company is constantly working on upgrades to improve it's usability.  In fact, I just got a message, notifying me that I have a new video capture update.  Since I haven't even begun to explore it, I'll save that for next week!  Here is a little video I made to show you the phone in action:

And for another perspective on the Palm Pre Plus (plus even more opportunities to win a Verizon GC), check out these fabulous gals' reviews:
Win It! I have one more $25 Verizon gift card to give away.  Simply leave me a question you have about the Palm Pre Plus.  I will try to answer as many of them as I can in my last post.  But rest assured that the company is listening so this is a great opportunity have your question sent to the team I'm working with. Comments will close on March 14, 2010 at 11:59 PM PST. One comment per person, please (unless you do the extra credit). US residents only. Duplicates and comments not including the above information will be disqualified. Comments are moderated. If you don't see your comment in a reasonable amount of time, send me an email. Bloggers and non-bloggers may enter. If you don't want to leave your email address, please be sure to check back for my announcement on the winner. Please note that winners must respond within 48 hours of being announced/contacted or another winner will be drawn.Want an extra entry? Do any or all of the following and receive an extra entry for each one.
Be sure to leave me a separate comment for each additional entry.
Follow me on Twitter AND tweet about the contest.  Please use the hashtag #VerizonPalmPrePlus
Bonus:  If you come back each week and comment, you'll get an extra entry into the Palm Pre Plus giveaway.  You must comment on each of the four posts to get the extra entry.
Vote for Rockin' Mama for the Hot Blogger Calendar
Subscribe to my feed via email or reader.
Blog about this giveaway. It doesn't have to be a separate post. Just include a blurb about it when you blog about other giveaways.
Click on one of the very cute buttons below and digg, stumble, fav, etc. Just let me know what you did in the comments!
I wrote this review while working on a Verizon Palm Pre Plus campaign by TheMotherhood.com on behalf of Verizon Wireless and have been given a Palm Pre Plus (and prizes for giveaways) to facilitate my review.

Latest posts by Caryn Bailey
(see all)