No compensation was received for this post. Travel, accommodations, some meals and some activities were provided.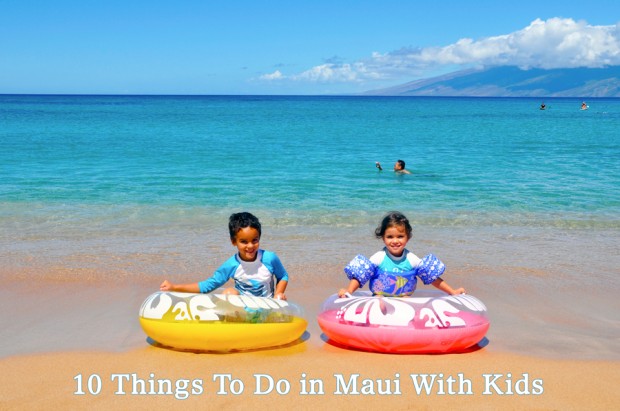 My son and I walked hand in hand through the Kahului Airport in Maui last month in search of any last items we might take home with us to remember our time together. In reality, every memory we shared together was already forever imprinted on our hearts. My son looked up at me as we perused the local coffees and said, "Mommy…can we come back to Maui every year?" To which my response was, I hope so buddy. This serene island left a lasting impression on all of us and while I knew that it would be indelible, none of us really knew how much we would fall in love with the people, the culture, and the breathtaking beauty that surrounded us.
Maui is Hawaii's second largest island and perhaps the most beautiful. Everywhere we stood had unparalleled views. In the same day, we found ourselves high atop the peek of Haleakala in sheer awe of nature's volcanic footprint and then swimming with sea turtles off the coast of Kaanapali Beach.
Hawaii has been a dream destination of mine, and having traveled all over the world, I anticipated that our trip would be a diverse mix of food, adventure, culture, and relaxation. And while I had been told by those who have gone before me that Maui is incredibly family-friendly, I was surprised at the sheer amount of activities available for kids of all ages.
I narrowed this list down to the top ten things to do in Maui with kids, but I can assure you there are many more activities and sights to explore throughout the island.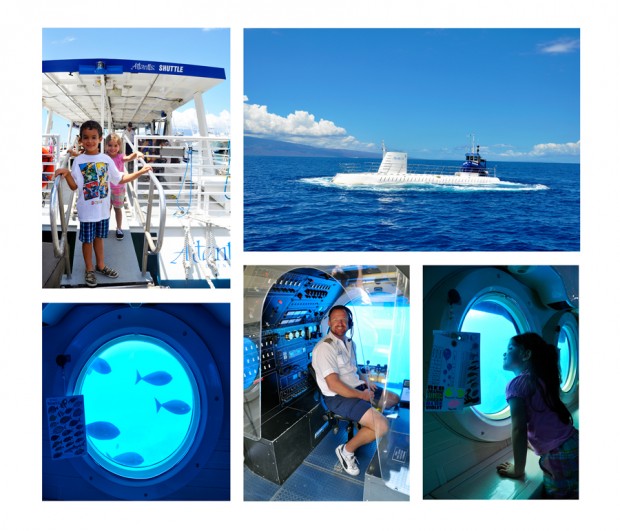 Atlantis Submarine Tour: My kids are STILL talking about all of the sea life they caught site of while exploring the depths of Maui's pristine ocean. Once you take the shuttle boat over to the dive site, you'll journey 100 feet below to a live, undersea aquarium featuring native reef fish, coral, sharks, stingrays and the aged Carthaginian replica of a 19th century supply vessel. The entire journey takes just under 2 hours which is perfect for young children like my 4-year old daughter. There is enough sea life to ooh and awe at without kids getting bored and my son enjoyed trying to spot all of them by referencing the guides provided. As a parent, I appreciated the opportunity to sneak in a bit of ocean education on this adventure. Featured on National Geographic Television, this is the perfect excursion to combine with a day at Maui Ocean Center. Be sure to book online in advance, to secure the best pricing. You can also peruse the packages available which can include snorkeling, a luau, and more.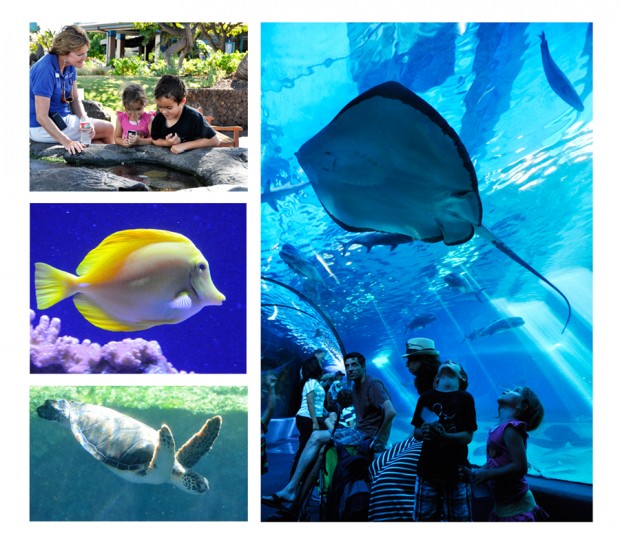 Maui Ocean Center: Surrounded by some of the most crystal clear oceans on Earth, you'll want to explore the sea life that sets Maui apart from other parts of the world. The aquarium houses over 60 exhibits, the highlights of which include Hawaiian Green Sea Turtles, Hammerhead Sharks, and spectacular, rarely seen reef-life including moray eels and nocturnal fish. Our kids loved the Open Ocean exhibit where they go up close and personal with stingrays and sharks. This is also where you have the opportunity to dive into the aquarium's 750,000 gallon tank with the sharks, stingrays and tropical reef fish. Shark Dive Maui is limited to 4 divers per day so be sure to make reservations if this is something you are interested in.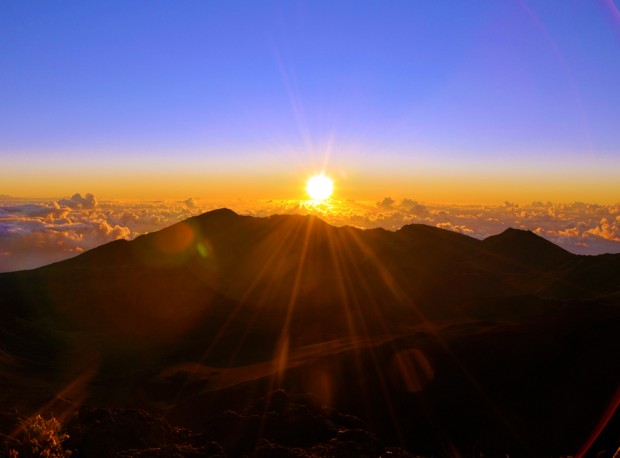 Watch the Sun Rise (or Set) at Haleakala: "If there is only one thing you do while you're here, be sure to watch the sunrise at Haleakala." When the locals make a suggestion, you heed it because you know that the experience will be well worth the trek. There are not many experiences in my life that can match that morning when we woke up at 4 am to make the 2 hour (ish) drive to the summit of Haleakala. According to the locals, no sun rise is ever the same and the colors can vary from orange and yellow to pink and red. The locals sing as the sun rises, making for a unifying, celebratory experience.
Haleakala is the highest point on the island, which makes for spectacular, sweeping views. If you're planning to visit for sunrise, be sure to leave with sufficient time to catch the sun rise as it can get very crowded both in the parking lots and from the viewpoint. I recommend giving yourself at least a 30 minute buffer to ensure you've parked and set up a location to view (and photograph) the sun rise. Be sure to bring snacks and warm clothing as the temperature can vary significantly.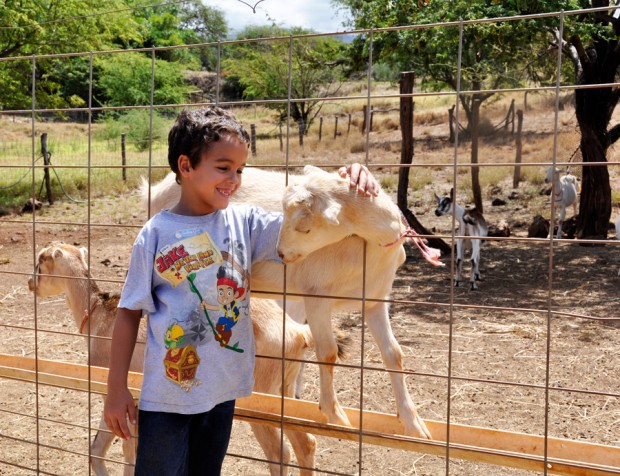 Surfing Goat Dairy: After you've watched the sun rise at Haleakala and grabbed a plate of Macadamia Nut Pancakes at Kula Lodge, you'll still have an entire day to explore Maui's UpCountry. Surfing Goat Dairy is the only certified Humane Dairy in Hawaii and supplies local restaurants and hotels with their delectable Surfing Goat Cheese. If you're in the area, you won't need a reservation for one of their casual, 20-minute walking tours. This particular tour is great for kids because it gives them an opportunity to pet and feed the goats and learn a bit about the history of the farm as well as how they milk the goats and then pasteurize and process the milk for cheese. The tour concludes with a tasting that will have your mouth watering for more. If your family is interested in milking the goats, you'll want to sign up for an afternoon tour which starts at 3:15 pm. Tip: Visit the Surfing Goat Dairy and the Lavender Farm on the same day since you'll be in Maui's UpCountry.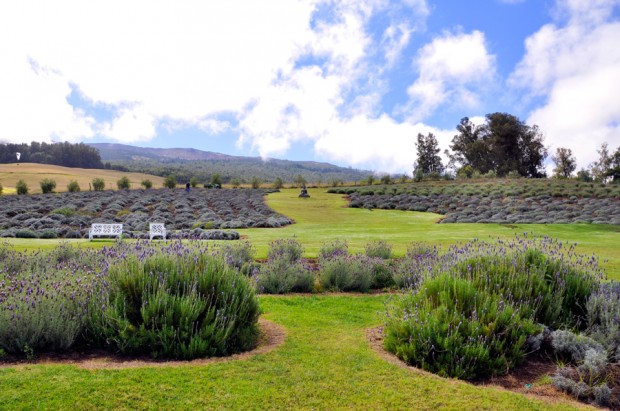 Ali'i Kula Lavender Farm: The Ali'i Kula Lavender Farm is truly one of Maui's hidden gems! We were all surprised at just how many different types of lavender exist and are grown on this 13.5 acre farm that sits 4,000 feet above the sea and offers expansive views of the island. The farm is home to 55,000 lavender plants spanning 45 different varieties. Interspersed throughout the farm are olive trees, hydrangea, and other exotic plants. Much like a museum, you'll spend as much or as little time as you feel necessary to truly take in the beauty of this place. We liked the Lavender Treasure Hunt which took us to some of the most beautiful sites on property and the kids were rewarded with Lavender cookies when they completed the hunt. While the farm is easy to navigate on foot, you can opt for a walking or a cart tour if you're looking to learn more about the history and the story of this farm. Be sure to stop by the Gallery Gift Shop before you leave for a Lavender Scone and a cup of Lavender Tea.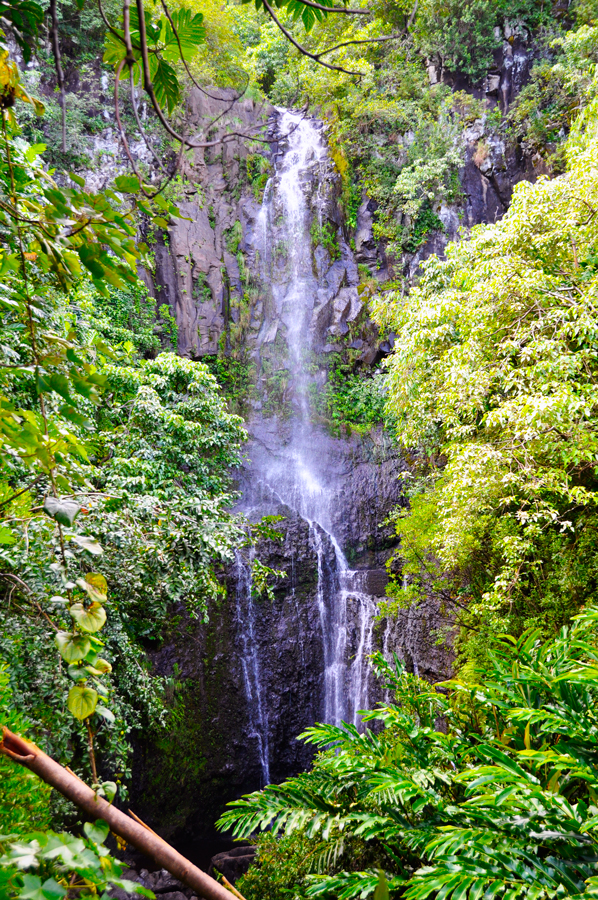 Road to Hana: "Remember" he told me "the Road to Hana is a journey…not a destination." Sage advice from a local who also gave me the island ok to give up my failed attempts to successfully stand-up paddle-board after a rough day out at sea. There was one thing I had to do while we were in Maui…I wanted the accomplishment of driving all the way to Hana. And while that was a success, nothing could be more true than the advice we were given about our perspective and expectations on that adventure.
This 64.4 mile road connects Kahului with the town of Hana and can be driven in about 2 1/2 hours. But you won't likely make it to Hana in that amount of time if you plan to stop at one of the many scenic viewpoints along the way. As you navigate the 620 curves and 59 bridges that make up this historic road, you'll find yourself quickly immersed within some of the most beautiful tropical rainforests in the world. Majestic waterfalls, plunging, nature-made pools, and breathtaking seascapes will force your eyes off the road so be sure to plan for many stops.
The drive is not a difficult one, but inevitably takes longer than you might expect so I have a few tips to help you plan your journey.
Bring a lunch, snacks, and plenty of drinks. There are a number of fresh food stands offering everything from fresh smoothies and homemade banana bread to coconut ice cream served in a real coconut shell and the biggest shaved ice we have ever seen. Don't forget to bring cash as many of the food stands do not take credit cards.
Start with a full gas tank as there is only one gas station located in Hana once you leave Kahului.
Plan your stops ahead of time. This will help ensure you have time to make the drive home while it is still daylight (driving this road at night can be daunting).
Pay attention to the posted mile markers, particularly if you are using a map to guide you.
Consider downloading a navigational app that won't require cellular reception (there is no reception for much of this journey) or purchase an audio CD before leaving Paia.
Consider spending the night in Hana so that you won't feel rushed as you make the drive. At the very least, don't try to plan any additional activities the day you take this adventure as you want to fully experience this amazing journey.
Bring swimsuits, towels, sunscreen, mosquito repellant, and warm clothing.
Consider taking the road less traveled back around the island (more on this when I share my top ten places to stop on the Road to Hana)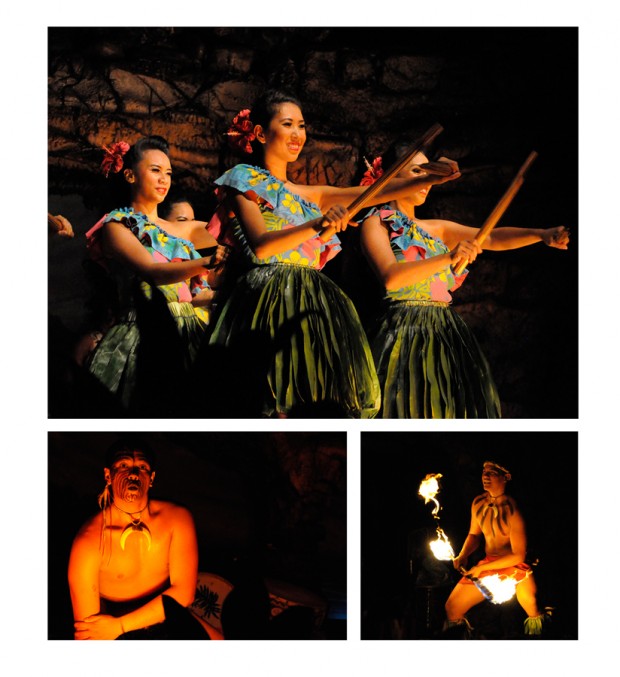 Drums of the Pacific Lu'au: Nothing could prepare us for the exciting, jaw-dropping, mouth-watering cultural experience of Hawaii's traditional lu'au, performed nightly at the Hyatt Regency Maui Resort & Spa. Preparation for this Hawaiian extravaganza begins early in the morning with the roasting of the kulua pig in their underground imu. Unlike many island lu'au's, this particular show weaves in the culture of Hawaii's surrounding islands including Samoa, Fiji, Tahiti, Tonga, and Rarotonga through music, fashion, food, and art. The show is approximately 3 hours long and includes a gourmet, all-you-can-eat island buffet, an extravagant dessert bar and an open bar. If you have small children, you may want to consider preferred or VIP seating which offers the best views of the show, remembering that fire is used in the show and may be daunting.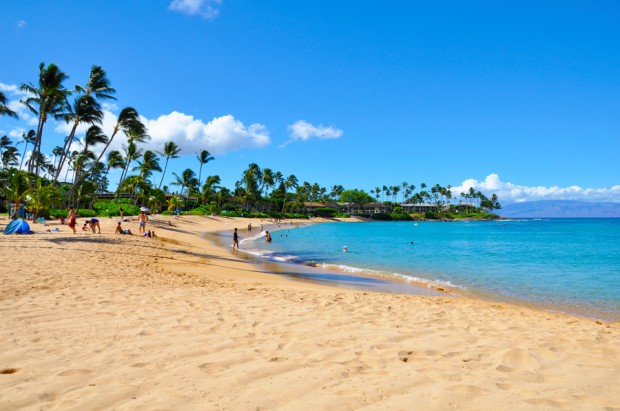 Napili Bay, adjacent to Kapalua Bay
Snorkeling at Kapalua Bay: Maui's pristine waters and diverse sea life make it ideal for snorkeling. If you have young children, you'll want to stick with calm waters like those found at Kapulua Bay or the adjacent Napili Bay. Since the bay is protected by reefs on both sides, this is an ideal location for beginners and kids and spotting sea turtles, coral, and diverse exotic fish. For additional snorkeling locations, check out Black Rock at Kaanapali Beach or take an excursion to Molokini.
Maui Friday Town Parties: Every Friday, one of four towns play host to an outdoor celebration that showcases the art, culture, and music of Maui. Each town's celebration varies but can include entertainment, food, art, crafts, and a youth zone with games, face painting, arts/crafts, and other kid-specific activities. Since both locals and visitors often frequent these town parties, you'll experience authentic Hawaiian culture and have the opportunity to shop for local goods and enjoy local cuisine. Since these parties occur Friday evenings and rotate each week, you'll want to check the website to ensure the event has not been canceled due to weather.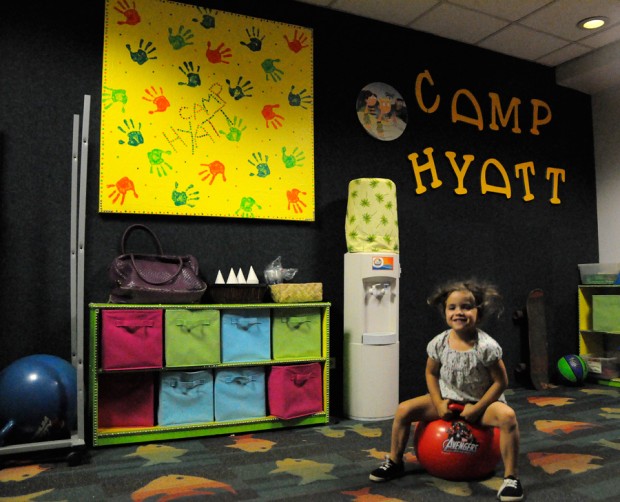 Spend a Day (or Half Day) at Camp Hyatt: I had no idea just how much my kids would enjoy the time they spent at Camp Hyatt, but when we picked them up, they did not want to leave. Camp Hyatt is a fun, engaging program offered at the Hyatt Regency Maui Resort & Spa for kids ages 5-12. Full, half, and night camps are available and each include a schedule of activities such as lei making (which my kids loved!), swimming, exploring the wildlife that reside at the Hyatt, searching for sea shells and marine life along Ka'anapali Beach, taking photographs, and so much more. Lunch or dinner is included with full and night camps and can be purchased for half-day camps, making this a great way for parents to spend some quality time together. Even if your family is not staying at the resort, your kids can spend the day at Camp Hyatt for an additional, nominal fee of just $5. Be sure to make reservations for your children by 3 pm the day before camp to ensure a spot.
With so much to do in Maui, even after a week we found ourselves compiling a list of place we want to see and adventures we want to embark on when we return to this majestic island.
Be sure to check out my posts on the best places for families to stay in Maui and a family-specific itinerary for spending a week on the island.
Photos: Rockin' Mama unless otherwise noted.