This giveaway is now closed.  Thanks for stopping by.  The winner is Marci.  Congrats!
We (meaning all three 0f us) were very blessed not to have suffered a lot when my son was teething.  He was such a happy, even-tempered baby that most of the time he just gnawed on his hand or a toy and drooled a ton.  For some babies, teething can cause a lot of misery.  I have heard my friends tell me stories of fevers and sleep disturbances and crying…lots and lots of crying.

I tried very hard not to let my son "teethe" on anything that wasn't safe.  But you know how it is.  You're out and about and you left the teether in the car… So anything and everything is fair game when you're trying to make it to an appointment or finish grocery shopping.  Have you ever allowed your child to "teethe" on a bracelet or necklace?  I haven't but I know that babies love playing with mommy's jewelry and I think that teething jewelry is an innovative way to help ease the discomfort of teething.  Had I known about Smart Mom Jewelry I'd have made sure to have a piece on me when my son was going through the teething stage.  Here is a little more information about Smart Mom's teething jewelry from the site:
Made from the same material as many teething toys, Teething Bling looks great on Moms, Grandmas, Aunts and Caregivers but is safe for curious babies to handle and chew. Teething Bling products are non-toxic, phthalate, BPA, PVC and lead free and all pendants come with a breakaway clasp.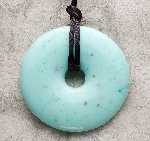 We received a couple of pendants to preview, courtesy of the company.  They're flexible and colorful, and I imagine babies would very much be drawn to them.  They each come with a breakaway clasp so when (not if) your baby tugs on it, it won't break or choke you. While I completely understand the need for the necklaces to be larger (so as not to pose a choking hazard), the jewelry is a little bigger than I am accustomed to wearing.  It's a nice alternative to either not wearing any jewelry at all or risk having my child teethe on something unsafe.  It's not to say that I wouldn't or won't wear it because I plan on using this with baby number 2. It's just a thought I had, particularly since I'm a small person who tends not to wear larger pieces of jewelry.  I definitely plan on sharing more of my thoughts once we've had a chance to try this out with baby number 2.
My son is way beyond the teething stage, so we're saving these for baby number 2.  The company also sells coordinating bangles and key chains.  I actually would love to buy a key chain since my son was fascinated with my keys.  Now that was something I had to make sure he didn't try to teethe on.  Even today he likes to play with mommy and daddy's keys.
Pendants retail for approximately $19 and can be purchased on the site.  They're available in a multitude of colors and patterns.
Win It! One of you will win a teething pendant.  Simply head on over to the site and take a look around.  Come back and leave me a comment with the color or pattern you'd choose.  Comments will close on August 22, 2009 at 10 PM PST. One comment per person, please (unless you do the extra credit). US residents only. Duplicates and comments not including the above information will be disqualified. Comments are moderated. If you don't see your comment in a reasonable amount of time, send me an email. Bloggers and non-bloggers may enter. If you don't want to leave your email address, please be sure to check back for my announcement on the winner. Please note that winners must respond within 48 hours of being announced/contacted or another winner will be drawn.
Want an extra entry? Do any or all of the following and receive an extra entry for each one.
Be sure to leave me a separate comment for each additional entry.
Follow me on Twitter AND tweet about the contest.
Subscribe to my feed via email or reader.
Blog about this giveaway. It doesn't have to be a separate post. Just include a blurb about it when you blog about other giveaways.
Place my button on your site. If you have difficulty, please let me know.
Click on one of the very cute buttons below and digg, stumble, fav, etc. Just let me know what you did in the comments!