This giveaway is now closed.  Thanks for stopping by.  The winner is Becky.  Congratulations!

I am an only child which means I spent a lot of time with my parents.  Inevitably, I did grown up things like baking and cooking with them.  I  have wonderfully fond memories of baking with my parents using an Easy Bake Oven. To this day, I still love to bake.  It's therapeutic for me. My husband always tells me to go bake when he sees me stressed out!  One of the things I've been doing lately is bringing my son into the kitchen with me while I cook or bake.  I used to do these things while he was playing or watching a show or taking a nap.  But I strongly believe that everyday activities like cooking and baking are educational and interactive.  It's just another way we spend time together doing something that has to be done.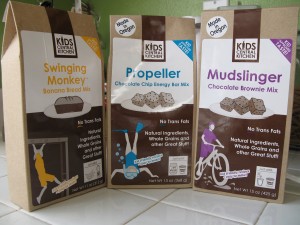 Today, there are a ton of resources available for parents to foster this activity with their children.  We were recently sent 3 baking mixes from Kids Central Kitchen to test out.  Here is a little more information about the company from the site:
Kids Central Kitchen offers natural, whole grain baking mixes for today's active kids and their families! Also enjoy a fun and colorful selection of children's cooking utensils, baking pans, mixing bowls, cookie cutters, sprinkles, chef hats, aprons, party favors, baking gift sets and other fun baking supplies.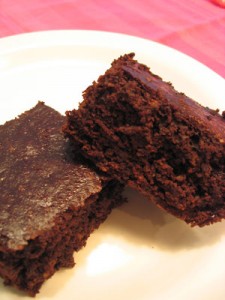 One of the very first things that stood out to me about the company is their use of natural and organic ingredients.  I have read that the first two years are critical for brain development and that if at all possible, to try and only give children at this age whole, natural, organic foods.  The entire line of baking mixes are free from trans fats, hydrogenated oils, high fructose corn syrup, artificial flavors, colors, or preservatives.  They do, however, taste great!  And they're so simple to make.  Baking with kids should not be an hour-long venture…they won't make it through to see the finished product if it takes that long.  Each mix only requires a few ingredients (the three mixes I received only required two plus the mix) which means prep time is quick).  One of the things I really like about the mixes is that they call for natural ingredients like bananas, applesauce, and yogurt. The mixes contain whole grains (like oats), are low in fat and calories, low in sugar, and contain a decent amount of protein and fiber.  I find comfort in reading AND understanding the list of ingredients on the back of the package.  Did I tell you how great they taste?  If you don't believe me…just ask the company's panel of "little" taster who have given Kids Central Kitchen products their approval.
At present you'll find seven different varieties (including low fat, low cholesterol, and vegan recipes)  and each mix retails for $5.99.  You can purchase Kids Central Kitchen mixes online or at a store near you.  Be sure to check out the company's website for recipe ideas and variations on these mixes.  And if you'd like to learn more about the benefits of cooking with kids (like enhanced reading and math skills, learning the concepts of time, patience, and self-confidence), check out this article by Dr. Spock.  Right now you'll save 10% on your purchases with the code "ROCKINMAMA10."
Win It! One of you will win your choice of four baking mixes, courtesy of Kids Central Kitchen! Simply head on over to the site and take a look around.  Come back here and tell me which four you'll choose if you win.  Comments will close on March 27, 2009 at 10 PM PST.  One comment per person, please. US residents only. Duplicates and comments not including the above information will be disqualified. Comments are moderated. If you don't see your comment in a reasonable amount of time, send me an email. Bloggers and non-bloggers may enter. If you don't want to leave your email address, please be sure to check back for my announcement on the winner. Please note that winners must respond within 48 hours of being announced/contacted or another winner will be drawn.
Want an extra entry? Do any or all of the following and receive an extra entry for each one.
Be sure to leave me a separate comment for each additional entry.
Follow me on Twitter AND tweet about the contest.
Subscribe to my feed via email or reader.
Blog about this giveaway. It doesn't have to be a separate post. Just include a blurb about it when you blog about other giveaways.
Place my button on your site. If you have difficulty, please let me know.
Click on one of the very cute buttons below and digg, stumble, fav, etc. Just let me know what you did in the comments!
Latest posts by Caryn Bailey
(see all)