This giveaway is now closed.  Congrats to the Winner, Nad (#28)!
Several years ago, I decided to omit all white, processed foods from my diet.  I replaced white bread, flour tortillas, and saltine crackers with their whole grain alternatives. According to The Journal of Nutrition, "higher intakes of cereal fiber, particularly from whole-grain sources, are associated with lower total percent body fat and percent trunk fat mass in older adults."  Consuming a diet rich in whole grains can also help maintain a healthy heart and reduce the risk for diabetes and certain types of cancer.  Whole grains are also a good source of fiber, antioxidants, vitamins, and minerals.  Here are 5 ways whole grains can benefit you:
Heart health. Heart-healthy diets rich in whole grain foods can reduce the risk of heart disease.
Reduce cancer risk. Low fat diets rich in fiber-containing grain products, fruits and vegetables may reduce the risk of some types of cancer, particularly of the stomach and colon.
Manage diabetes. The American Diabetes Association recommends whole grain as part of a diabetic diet.
Keep you regular. Fiber from whole grains promotes regularity and keeps the intestines working smoothly to help maintain good digestive health.
Weight management. A growing body of evidence supports that people who eat more whole grain tend to have healthier body weights and gain less weight over time than those who don't.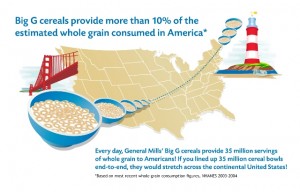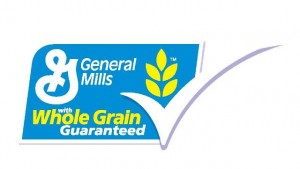 So how do you incorporate foods rich in whole grains into your diet?  One of the things I do is try to choose whole grain cereals.  General Mills is one brand that guarantees at least 8 grams of whole grains per cereal serving and many deliver 16 grams or more (just look for the white check on the top of the box). Cheerios and Honey Nut Cheerios are favorites in our household because they're also low in sugar.
Are you consuming enough whole grains?  According to the Journal of the American College of Nutrition, only 1 in 10 Americans consume the minimum recommended amount.  If you would like to learn more about whole grains, whether or not you're consuming the recommended amount, and how to incorporate them into your diet, just visit Whole Grain Nation.
To help you learn more about the benefits of whole grains, including how to incorporate them into your diet, I have a prize package to give away, courtesy of General Mills.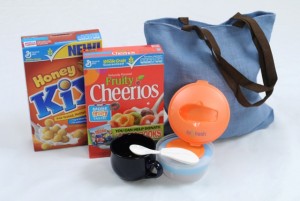 Win It! One of you will win the following "Grains of Goodness" package:
* 2 VIP coupons for Big G cereal products
* A breakfast chiller
* A large cereal mug
* A tote bag
To enter, simply list one way you incorporate whole grains into your diet.  Comments will close on March 10, 2010 at 11:59 PM PST.  One comment per person, please (unless you do the extra credit). US residents only. Duplicates and comments not including the above information will be disqualified. Comments are moderated. If you don't see your comment in a reasonable amount of time, send me an email. Bloggers and non-bloggers may enter. If you don't want to leave your email address, please be sure to check back for my announcement on the winner. Please note that winners must respond within 48 hours of being announced/contacted or another winner will be drawn.
Want an extra entry? Do any or all of the following and receive an extra entry for each one.
Be sure to leave me a separate comment for each additional entry.
Follow me on Twitter AND tweet about the contest.
Vote for Rockin' Mama for the Hot Blogger Calendar
Subscribe to my feed via email or reader.
Blog about this giveaway. It doesn't have to be a separate post. Just include a blurb about it when you blog about other giveaways.
Click on one of the very cute buttons below and digg, stumble, fav, etc. Just let me know what you did in the comments!
I did not receive compensation for this post. I received a prize pack, courtesy of MyBlogSpark and General Mills to facilitate this review.  The giveaway was also sponsored by MyBlogSpark and General Mills.

Latest posts by Caryn Bailey
(see all)