Our summers here in Southern California can get quite warm, so an escape to cooler (and wetter) places is typically in order.  If you're looking for things to do in Southern California with kids this summer, a trip to Knott's Soak City may just be the perfect activity to cool down.  We had a chance to preview the newly-expanded water park during Passholder weekend and it was one of the most relaxed weekends we have had in a very long time.  I have my own fond memories of visiting our local water park as a child and loved seeing my kids make a splashful of memories. 

Knott's Soak City
Knott's Soak City opened for the season over the weekend, and this 15-acre water park, located next to Knott's Berry Farm, features 23 speed, tube and body slides, a 750,000-gallon Tidal Wave Bay wave pool, the one-third-mile Sunset River (one of the longest lazy rivers at a water park), and the three-story Beach House which boasts 200 water guns, nozzles, sprayers and other interactive surprises.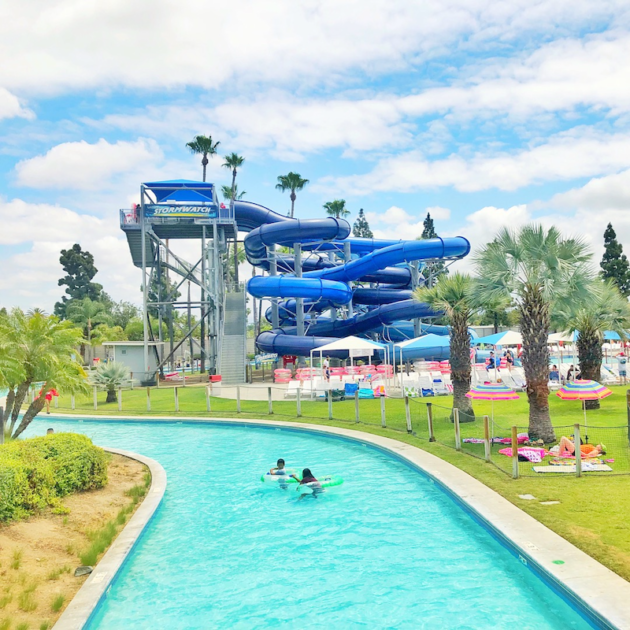 Water Slides and Attractions at Soak City
Banzai Falls: Race to the finish on this speed slide, which features 6 lanes and a height of over 41 feet. Riders slide head first on a mat and end with a splash.
Beach House: Splash, slide, and play at Soak City's three-story Beach House. Activities include interactive water guns, faucets, water slides, and more. Plus, every five minutes, the water bucket unloads 500 gallons of water on everyone below.
Laguna Storm Watch Tower:  A storm is brewing atop the 43 foot tower! Choose from the Typhoon, Tornado, or Cyclone tube slides.
Malibu Run: Situated at a height of 39 feet, the four single-person, inner-tube slides include open flume and enclosed, dark flumes for the ultimate thrill!
Old Man Falls: Thrill-seekers will love defying gravity with the speed-slide action of Pipeline, Point Break, and Riptide, situated 63 foot high atop Old Man Falls.
Shore Break: At seven stories high, the towers feature six thrilling water slides, including two dueling slides that propel riders through a series of drops and turns. Four of the six slides have guests climb inside the Aqua-Launch chamber where they wait for the floor to drop from underneath them for a vertical free fall.
The Wedge: Families (up to 6) can ride together on an open-air raft ride which features twists, turns, and unexpected drops.
Tidal Wave Bay: Surfs up at the 750,000 gallon bay. Enjoy the sun when the waves are calm, then brave them as they start to roll in.
Sunset River: Take a break from the thrilling aquatic action at Knott's Soak City on the 1780 foot lazy river. At one-third mile in length, it is one of the longest and widest water park lazy rivers in the world.
Gremmie Lagoon: Even the smallest of kids can make a splash at the tot-sized playground, which features an interactive octopus, submarines, and oversized landmarks that squirt, sprinkle, soak, and splash kids and their parents.
What to Eat at Knott's Soak City
Knott's Soak City offers 2 dining locations, separate drink refill stations, and 2 Dippin' Dots carts. Additionally, those who rent a cabana for the day have access to a separate menu with waiter service.
Longboard's Grill: The newly remodeled quick-serve restaurant features hand-breaded chicken tenders, fish and chips, chicken sandwiches, wraps, fresh salads, grilled burgers, and hot dogs.
Portside Pizza:  The pizza venue offers salads, pizzas, and funnel cakes.
Drink Refill Stations: Fill up your all-season or single-day souvenir cup at one of the three stations located throughout Knott's Soak City.
Three Dining Plans are offered including a Single Meal Deal (entree, side, and fountain drink), All Day Dining (Enjoy an entree and a side as often as every 90 minutes. Drinks are not included), and All Season Dining (Enjoy lunch and dinner at the park with a 4-hour interval between meals. Drinks are not included). Tip: Purchase a Souvenir Bottle online for the best price on drinks throughout the season.
Cabana Rentals
One of the ways to make the most of your visit at Knott's Soak City is to rent a semi-private cabana. The summer season can get busy at the water park, so renting a cabana ensures you have a shaded space to relax in between water play.
Each cabana reservation includes 8 wristbands and amenities including a table with an umbrella, 4 inner tube rentals, and waiter service. The three cabana offerings include Shore Break, Wavepool, and Malibu and correspond to the location. Prices for the day start as low as $170 and reservations can be made online.

Tips For Visiting Knott's Soak City
Be sure to pack your swimsuit, a rash guard, towels, sandals/water shoes, sunscreen, sunglasses, and a waterproof phone case. If you forget any of these items, the WipeOut Surf Shop sells them all of your waterpark needs.
Lockers are available for rent starting at $14 for the day. This is the most secure way to store your valuables such as your cell phone and wallet.
Knott's Soak City allows small hand-held coolers containing water, a small umbrella, personal float toys, and life jackets (however they must be Coast Guard-approved).
Knott's Soak City provides inner tubes free of charge for any ride that requires one. Inner tubes can also be rented for the day for $9.99 each.
Life jackets are available throughout the water park for complimentary use.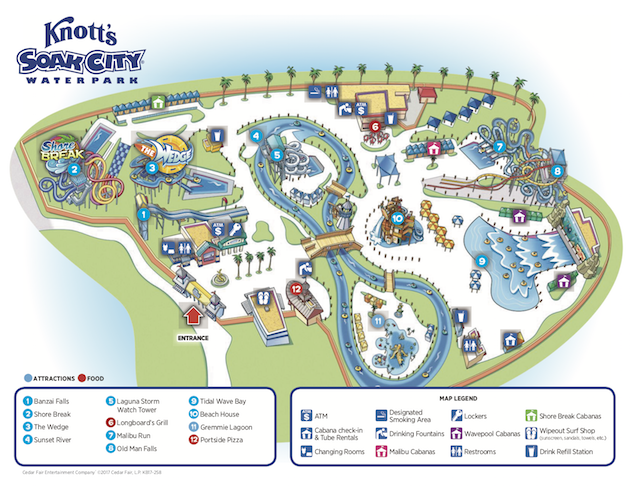 Knott's Soak City Address, Tickets, and Season Pass Information
Knott's Soak City is located at the following address:
8039 Beach Blvd., Buena Park, CA 90620
The best pricing for tickets to Knott's Soak City is online and starts at $40.
If you are a Gold or Platinum Season Passholder, you have access to Soak City throughout the year.
Knott's Soak City is open May 19 through September 9, 2018 (closing times vary)
A visit to Knott's Soak City is the perfect way to make a splash this summer!  Visit Knotts.com/SoakCity for more information.

Knott's Soak City Giveaway
I have partnered with Knott's to offer one family a Knott's Soak City Waterpark Family 4-Pack. Here is what the winner will receive:
4 pack of general admission to Knott's Soak City Water Park (value: $50 each)
4 pack of Single Meal Deal vouchers (value: $14.49 each)
1 parking pass (value: $18)
Total Soak City prize value: $275.96
To enter, simple complete the Rafflecopter form and leave me a comment with one thing you are looking forward to doing at Knott's Soak City. Comments will close on June 5, 2018 at 11:59 PM PST.
US Residents only. Duplicates and comments not including the above information will be disqualified. Comments are moderated. If you don't see your comment in a reasonable amount of time, send me an email. Bloggers and non-bloggers may enter. If you don't want to leave your email address, please be sure to check back for my announcement on the winner. Please note that winners must respond within 48 hours of being announced/contacted or another winner will be drawn.