My kids looked at me skeptically last week when I picked out a trio of thin, ribeye steaks while shopping at my local Walmart. My kids love steak, but because I don't eat meat, I often pass by the meat department during my shopping trips without even giving it a thought. We're in the midst of tailgate season, and since we love watching the game with friends, I thought I'd endeavor to make Steak Fajitas On The Grill.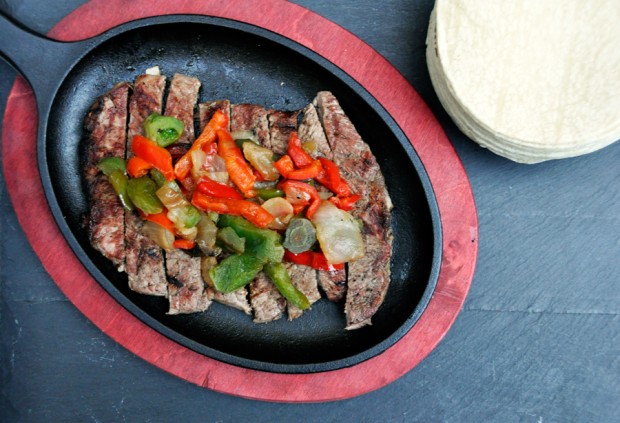 Because of the inspiration and knowledge I've gleaned from Robyn Lindars (aka Grill Grrl) and Chef Ernest Servantes during recent trips to Bentonville with Walmart, I've tried to get creative, grilling everything from salmon on a cedar plank to mangos and a peach cobbler. Our gas grill is quite large and admittedly intimidating to use.  I thought it would be nice to have something smaller, more portable, and easier to use for impromptu grill nights like we had over the weekend.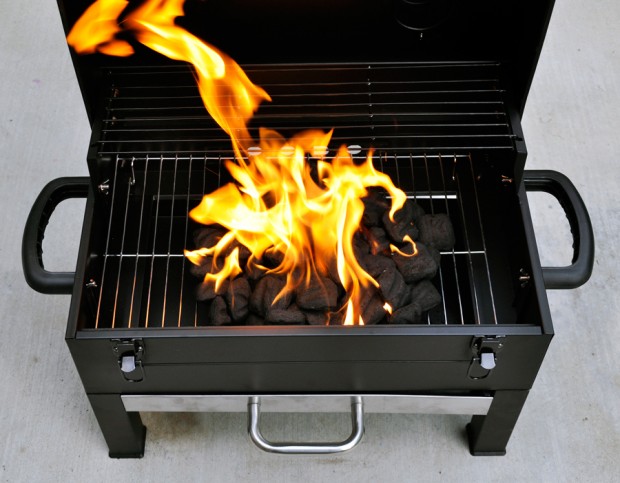 While shopping at my local Walmart, I picked up a Kingsford Deluxe Portable Charcoal Grill for just $35!  At present, most of the grills are on sale at Walmart and deeply discounted.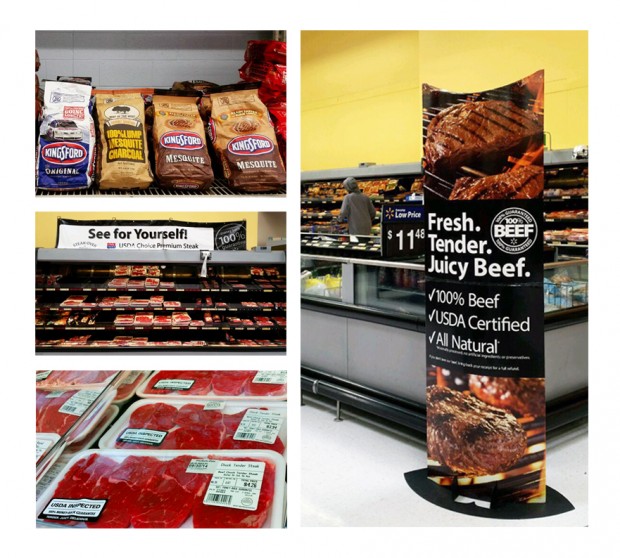 To make these Steak Fajitas on the Grill, pick up Kingsford Original Charcoal Briquets ($13.38), Walmart's USDA Choice 100% guaranteed, 100% beef steaks, and anything else you like to complete your fajitas.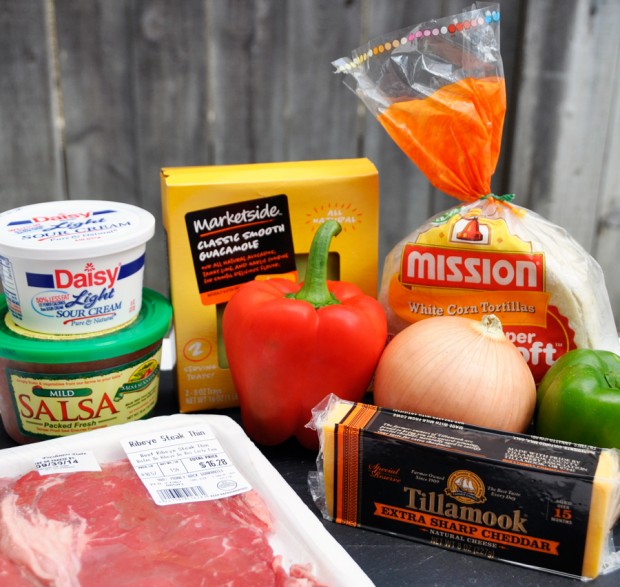 Because I was looking to create a meal that was fresh, quick, and easy, I purchased ready-made salsa, sour cream, guacamole, extra sharp cheddar cheese, red and green bell peppers, onions, and tortillas.
Fajitas are simply any type of grilled meat served as a taco on a flour or corn tortilla.  Rather than using a cast iron pan, I cooked everything on the grill without every having to use my oven or stove.  Since this recipe is meant to be easy, I thought I'd share my simple steps and tips for success.
How to Light the Grill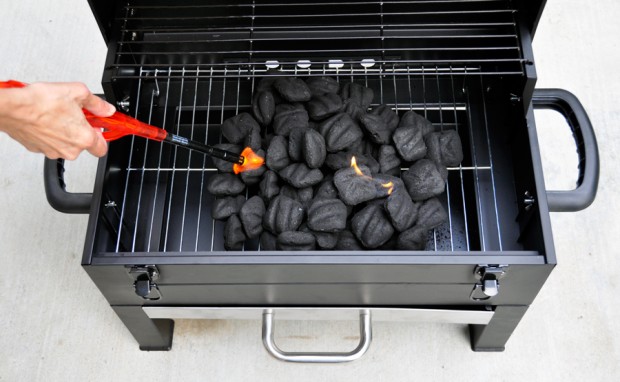 1. When using charcoal, the most common way to light it is to use lighter fluid.  However, Walmart also sells Kingsford Match Light Briquets which can be lit and ready to cook in approximately 10 minutes.  Since lighter fluid and Match Light Briquets can often alter the flavor of your food, you might consider using a charcoal chimney or one of About Food's "greener" charcoal starters.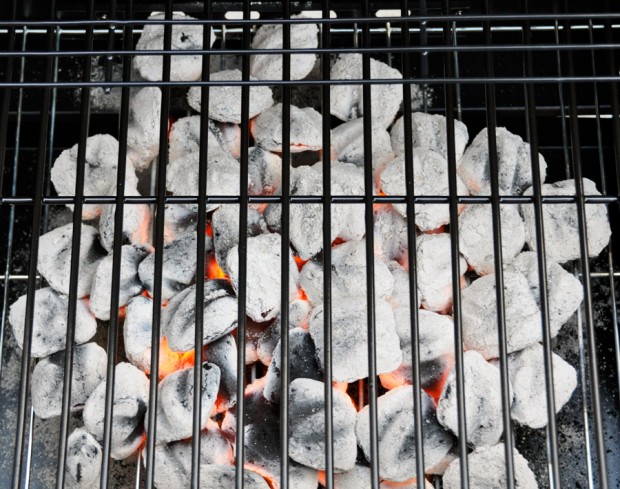 2.  Once you've arranged your charcoal briquets in a pyramid and lit them, wait until they are covered with a white ash.  Using a pair of heat-proof tongs, arrange the briquets in a single layer for even cooking.
Direct vs. Indirect Cooking on the Grill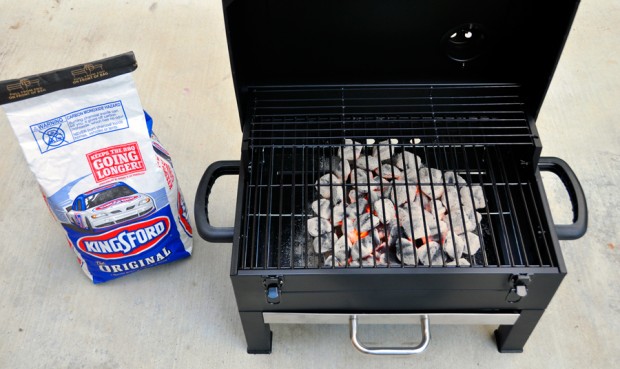 One of the most interesting things I learned during my time in Bentonville was the difference between direct and indirect cooking on a grill. Direct grilling over the charcoal is ideal for steak, hamburgers, hot dogs, chicken pieces (i.e. leg, breast), vegetables, and fruit. Indirect grilling (where the briquets are arranged on one side of the grill and the food is cooked on the opposite side) can be compared to slow cooking foods and is ideal for roasts, loins, chops, whole chickens, turkey, fish, and baked goods (like cobbler!).
How to Prepare Steak for Fajitas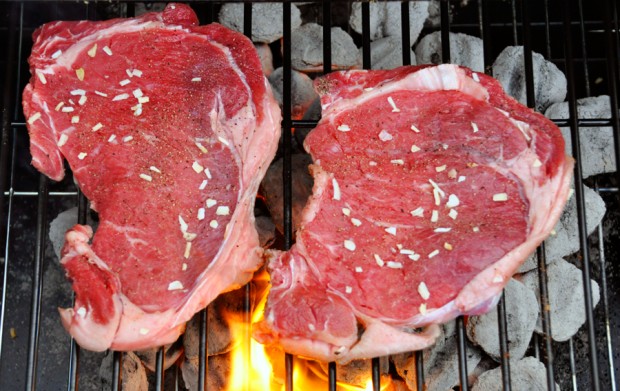 While I'm not an expert on steak, I've heard that less is more.  I seasoned the steaks with a sprinkle of salt, pepper, garlic and onion powder and my kids could not even wait for the vegetables and tortillas to begin digging in!  You might also consider Spice Hunter or Simply Organic's Fajita Seasoning, available at your local Walmart.  Because I purchased thin ribeye steaks, they grilled in about 5-7 minutes.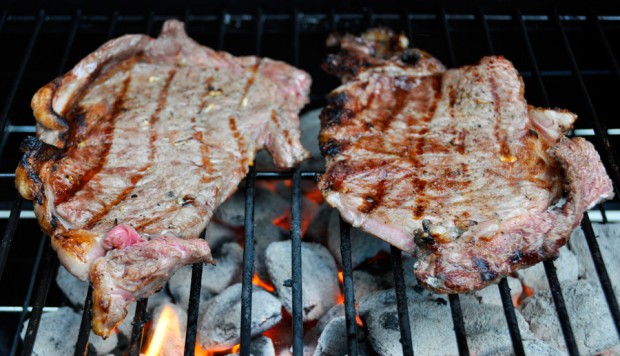 You'll want to grill each side for 1-1/2 minutes and then flip so the steaks don't burn.  The USDA recommends grilling steak to an internal temperature of 145 degrees F and allow to rest 3 minutes to ensure safety from food-borne illnesses.
How to Assemble Fajitas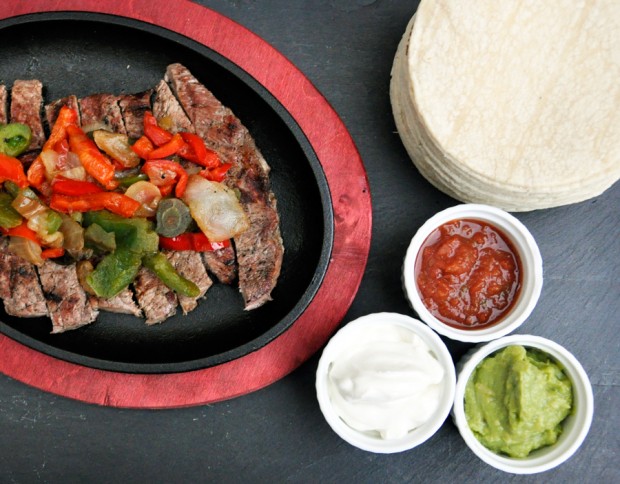 Because these steaks grilled so quickly, you might consider grilling your vegetables (season with salt and pepper and drizzle with olive oil) with the steaks (or even slightly before) so that everything is ready at the same time.  Warm your tortillas on the grill and serve up these Steak Fajitas with guacamole, sour cream, salsa, extra sharp cheddar cheese and any additional veggies/condiments you prefer.
Are you ready for Tailgate Season? I would love to hear your best grilling tips and recipes!