My very first trip to Disneyland was at the age of 2 (with pictures serving as my only memories). I'm old enough to remember PeopleMover, the Main Street Electrical Parade, and the Country Bear Jamboree (if you look behind you while riding The Many Adventures of Winnie the Pooh, you'll see three of the bears overhead).  I remember when Disney's California Adventure Park was being built and Mickey's Toontown was just a dream.  I have so many memories from the resort.  And while there is a familiarity when visiting, there is also excitement and anticipation because something is always being imagined.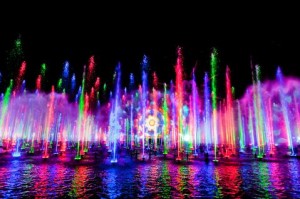 World of Color debuted this past Friday at Disney's California Adventure Park.  I saw the show on Thursday night and was captivated for the entire 25 minutes.  World of Color combines lights, water, music, fire and animation to tell some of Disney's most cherished stories.  Walt Disney himself was the inspiration for the World of Color, which has been in production for five years. Walt Disney's first color television series entitled Wonderful World of Color  aired from 1961 to 1969 and combined classic storytelling with innovative artistry (as the show does today).
Just the backdrop alone (animation projected on massive screens of water) is impressive.  World of Color engages 1,200 powerful and programmable fountains, and a vast underwater grid with more than 18,000 points of control.  The fountains can send water up to 200 feet, and when combined with the lighting, makes for a truly magnificent display.  The fountains literally come to life and tell their own story.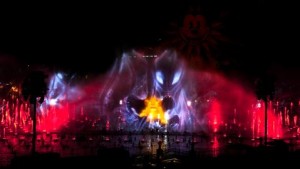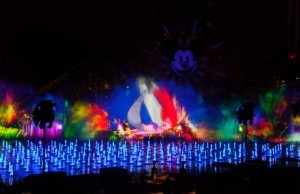 Many people identify with Disney because of their timeless stories. You've likely seen The Lion King, Toy Story, and The Little Mermaid. But not quite in this way. I particularly enjoyed the familiarity of the stories combined with the "newness" of how they were presented.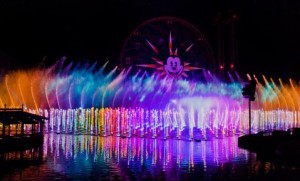 Technically, the show is a masterpiece.  The combination of color and water is a work of art.  The transitions are smooth, the music is moving, and the scenes captivating. My husband has yet to see the show, but I can't wait to for his reaction.
There are several numerous hundreds of videos on YouTube of the show.  But that will only give you a taste of how spectacular the show is.  You Must. See. It.
Recommendations for viewing…
It's going to be a busy summer at the resort.  And I have a lot more to share with you about "What's Next" with Disney.  I highly recommend obtaining a FASTPASS for primary viewing (although I was told you can see the show from multiple locations around Paradise Bay).  You can obtain a FASTPASSat the Grizzly River Run FASTPASS terminals (you can line up at 7 am).  If you don't get a FASTPASS (at some point during the day, they will run out), you can select from one their World of Color dining options as follows:
Picnic Meals
Beginning June 11, guests can go online (or via walk-up purchase at Sonoma Terrace and Golden Vine Winery) and order a special boxed picnic meal that includes "World of Color" Reserved Viewing.  Price:  $14.99
Picnic meals may be picked up at the Sonoma Terrace from 2 p.m. to 8pm. Reserved viewing tickets will indicate return time, location and show time.
Price Fixe Dinner Packages
Prix fixe meals are available at both Ariel's Grotto and the Wine Country Trattoria restaurants, and they come with "World of Color" Preferred Viewing. Guests may order from a varied menu of seafood, meat and vegetarian options at Ariel's Grotto (current price: $36.99 for adults; $20.99 for children ages 3-9) or a selection of Italian cuisine at Wine Country Trattoria (current price; $39.99 for adults; $18.99 for children ages 3-9). Restaurant seatings are at specified times and space is limited. Prix fixe meals must be reserved, at 714/781-DINE.
"
World of Color
" will be presented twice nightly June 11 through Aug. 29 at 9 p.m. and 10:15 p.m.
Above photos, courtesy of Disneyland.
No compensation was received for this post.  I was invited to attend the media preview of World of Color, courtesy of the Disneyland Resort.
Latest posts by Caryn Bailey
(see all)