Spinach and Cheese Tamales are a great twist on a classic favorite, especially during the Fall. The day that my kids go back to school signifies the unofficial start to the Fall season. I always find it interesting how the weather changes and the days get shorter right around the same time. There is no gentle ushering in of this new season. Rather, it really is as dramatic as being in the Caribbean one weekend and sipping pumpkin spice lattes the following week. This time of year is one of my favorites, but knowing how busy it will be, I'm already thinking about all of the holiday meals I want to create – like Spinach and Cheese Tamales!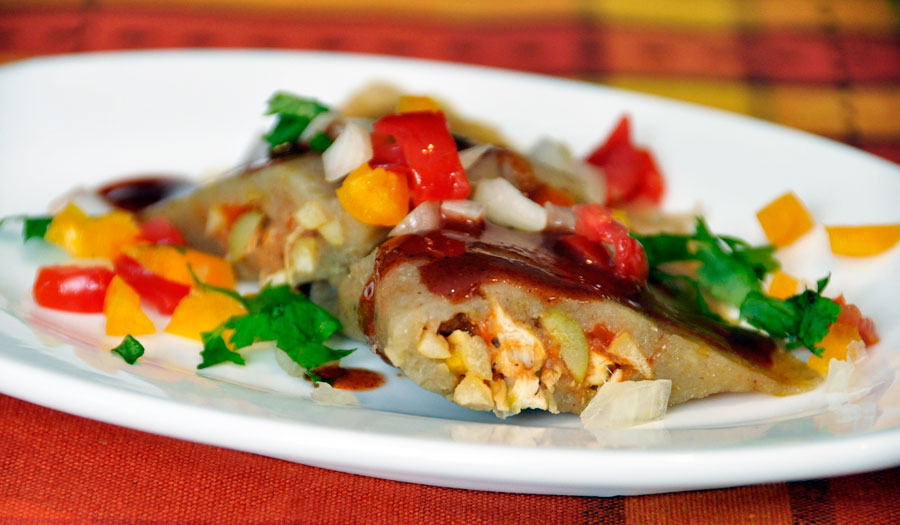 Pasteles
Spinach and Cheese Tamales – A New Twist on an Old Favorite
As a child, my parents only made a handful of Puerto Rican dishes, but those recipes were esteemed in our family. A few years back, I re-created my dad's Puerto Rican Tamale recipe with the help of my kids, and it is still a well-loved dish in our family. In honor of Hispanic Heritage Month, I decided to take a meatless spin on another iconic Hispanic dish…tamales! These spinach and cheese tamales may be free of meat, but they're full of flavor.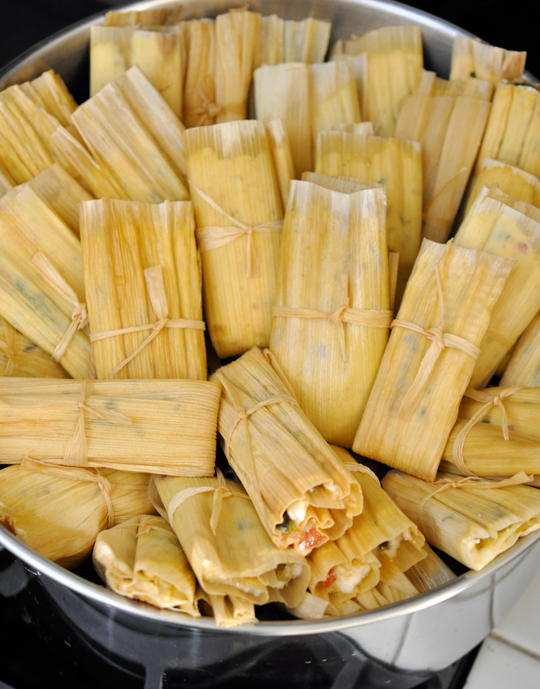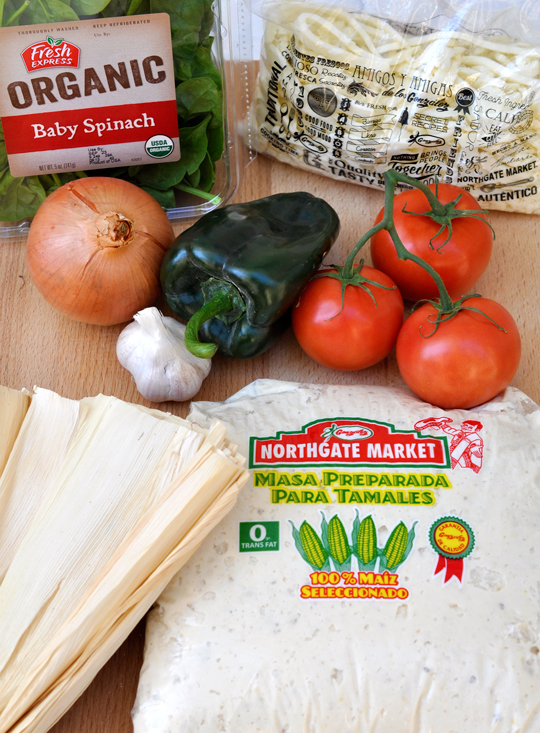 Traditionally, tamales originated in Mesoamerica, including regions of Mexico. They consist of masa, a corn-based dough, and any combination of meat, cheese, fruit, vegetables and/or chilies. The masa and fillings are wrapped in a corn husk and then steamed until firm. While the ingredients are simple and easy to find at your local Hispanic Market, the process can be lengthy, particularly if you plan to make the masa from scratch.

I'm always looking for new meatless dishes to serve to my family, so I headed out to my local Northgate Market to shop for ingredients for my Spinach and Cheese Tamales. I immediately head over to the Tortilleria and was delighted to find masa, already prepared!  I also picked up corn husks, oaxaca cheese, organic spinach, tomatoes, onion, garlic, and a pasilla pepper.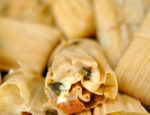 Spinach and Cheese Tamales
Servings
:
3
dozen tamales
Ingredients
3

dozen corn husks

3

pounds

of prepared Masa

3

T

olive oil

divided

1

yellow onion

diced

3

cloves

of garlic

minced

2

pasilla peppers

5

ounces

of fresh spinach

2

tomatoes

diced

8

ounces

oaxaca cheese

shredded
Instructions
Soak corn husks in water overnight to soften

Wilt spinach in a medium saucepan over low-medium heat with 1 tablespoon of olive oil

Roast pasilla peppers over medium-high heat until the skin is charred. You can roast the peppers in a dry skillet or directly over the flame.

Allow peppers to cool before handling

Remove the skin and pull out the seeds. Dice and set aside.

In a large saucepan, sauté onion and garlic until soft. Do not brown.

Add in roasted peppers, spinach and tomatoes

Prepare steamer with water but do not heat to avoid getting burned while placing tamales inside pot.

To assemble tamales, spread 1/4 cup of prepared masa onto the smooth side of the corn husk.

Place 2 tablespoons of vegetable filling onto masa. Do not overfill.

Add cheese. The amount will depend on preference.

Roll tamales lengthwise towards the center, ensuring that the sides of the husk overlap. Fold over once and tie with a piece of corn husk to ensure filling does not leak out during steaming.

Place tamales open end up, into the steamer. Do not lay tamales flat.

Steam over low-medium heat for 2 1/2 to 3 hours.

Allow to cool slightly before removing corn husk.

Serve immediately.

Extra tamales can also be frozen before steaming.
*It should be noted that this is not a vegetarian dish as prepared masa contains lard, an animal fat. For vegetarian Spinach and Cheese Tamales, be sure to make the masa from scratch.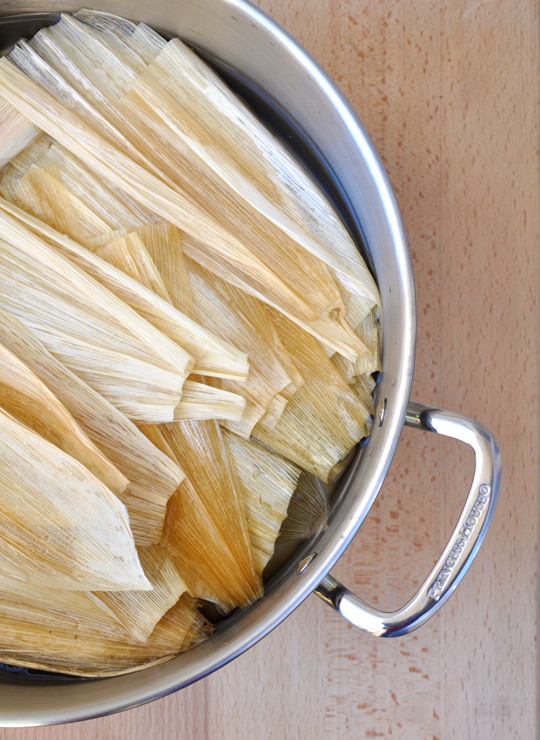 Soak corn husks overnight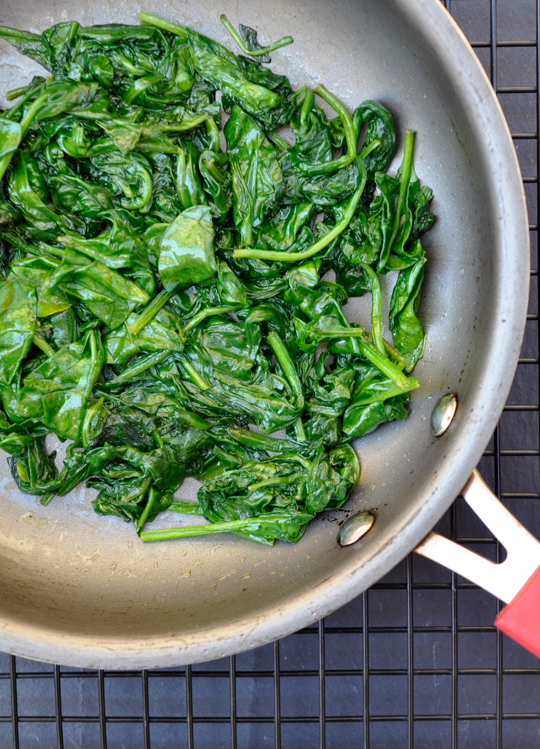 Sauté spinach in olive oil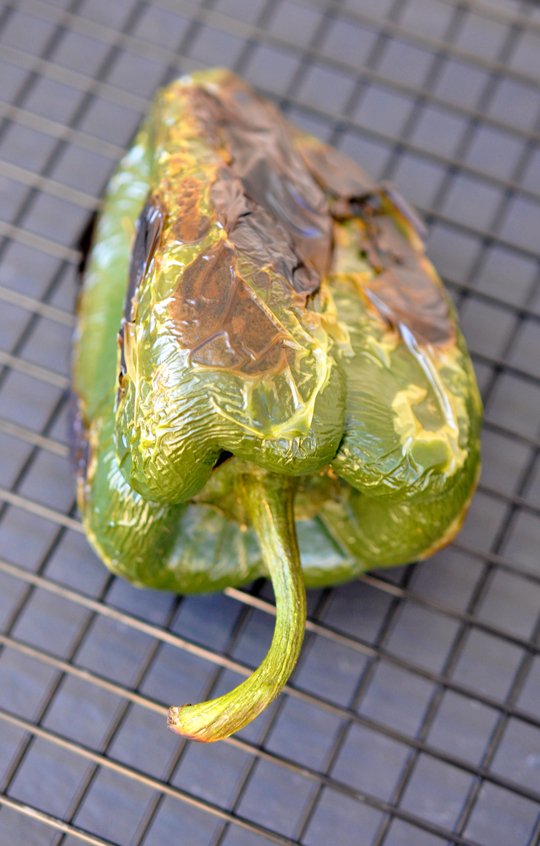 Roast pepper over flame until skin is charred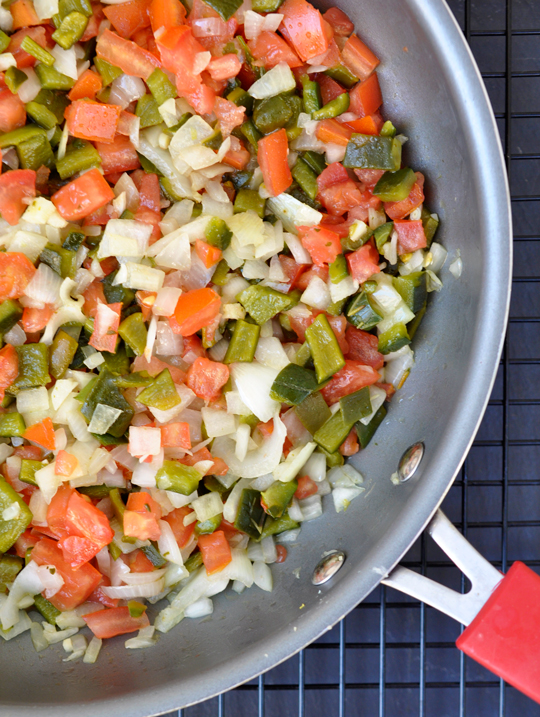 Sauté vegetables in olive oil
While the tamale-making process is lengthy, it isn't complicated, particularly once you've mastered the art of how to wrap tamales. Having the dough already prepared will save time. You can also spread the process out over 2 days if you plan to make the masa from scratch or are including meat in the tamales. My favorite way to make tamales is with a friend or family member, so my best tip for making tamales is to have a tamalada!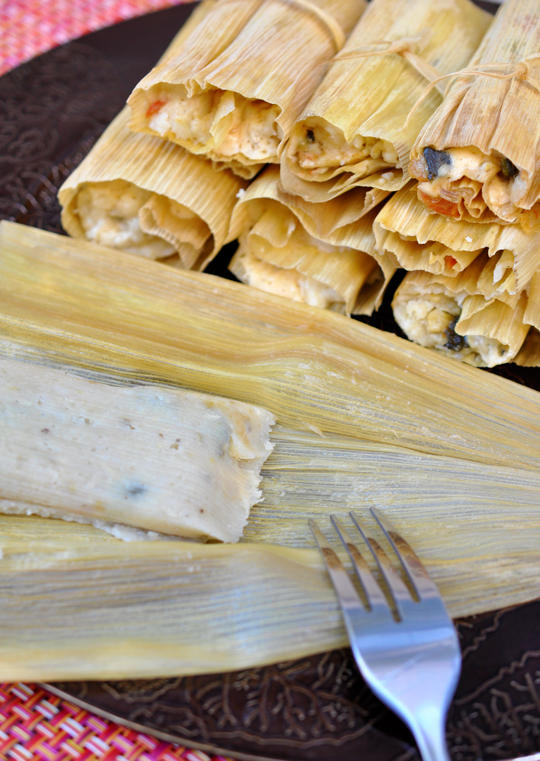 Best Tips for Making Tamales
Plan to make a lot of tamales. My recipe makes 3 dozen which is ideal since you want to enjoy tamales throughout Hispanic Heritage Month.
When spreading the masa onto the corn husk, leave a small margin so that they can easily be folded.
Do not overfill your tamales. The masa will expand during steaming and spill over into the steamer.
Overlap the edges of the corn husks to create a seal. I also like to tie a piece of corn husk around the tamale to ensure the filling does not spill out.
Invest in a quality stockpot. The time and resources you will expend making tamales will be worth the investment to ensure your tamales cook perfectly. I use Princess House's Classic 15-Qt. Stockpot & Steaming Rack.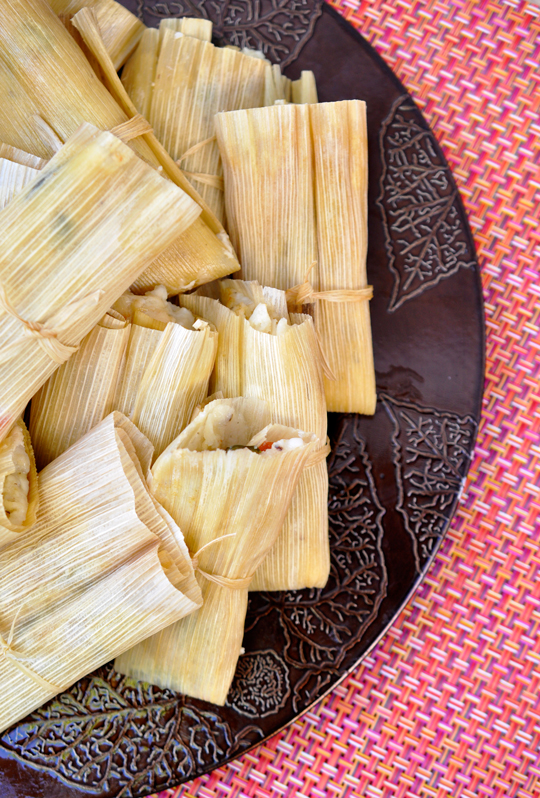 Now that I've shown you how to make Spinach and Cheese Tamales, I hope you'll be inspired to make some of your own during Hispanic Heritage Month. Remember that you can make sweet or savory tamales and alter them to include the meat, cheese, veggies and spices that your family enjoys.
Right now, Southern California Northgate Market stores are celebrating Hispanic Heritage Month all month long with food-centric, cultural events. Experiences can include wine tasting, folkloric dance, arts and crafts and more and last through October 1st, 2016. You can find your nearest Northgate Market location here or visit my favorite stores below!
2030 E. Lincoln Ave Anaheim, CA 92806

6991 Lincoln Ave Buena Park, CA 90620
5403 University Ave. San Diego, CA 92105