{Sponsored}
During the Summer, my kids loved the extra time we had in the mornings for more lavish breakfast dishes like blueberry cornmeal pancakes or vegetarian egg white frittatas.  Most mornings, we only have about 20-30 minutes for breakfast so we rely heavily on quick solutions like cereal with milk, fruit, and a scrambled egg. But because we love all-things breakfast, I have been brainstorming ways to incorporate more gourmet dishes without adding in extra prep time in the mornings.
Once school starts, I bring out my crockpot and cook everything from soups and chili to lasagna and oatmeal.  Preparation usually takes just minutes (unless chopping is involved) and the drawn-out cooking time allows for the flavors to meld, particularly with foods like soups and oatmeal. My kids love oatmeal, but we often don't have the time it takes to prepare it.  I am also a huge proponent of eating foods with whole grains, so the time required to cook steel cut oats precludes any morning weekday's schedule.  I've cooked steel cut oats in the microwave and on the stove, and consistently I've found that the creamiest texture is best achieved when these oats are slow-cooked.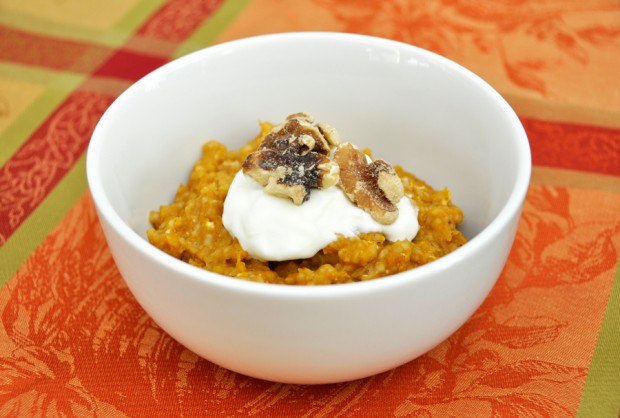 Last year, I showed you how to make Slow Cooker Blueberries and Cream Steel Cut Oatmeal.  Since we're in the midst of Fall, I thought I'd incorporate some of my favorite flavors of the season into a Slow Cooker Pumpkin Walnut Steel Cut Oatmeal Recipe. Steel cut oats require sufficient cook time and the creaminess you often experience in restaurants is traditionally achieved through cream or whole milk.  To lighten up this recipe, I used Oikos Greek Nonfat Yogurt which still resulted in a thick, creamy oatmeal without the added fat and calories.  Plus, the benefits of yogurt are numerous including offering twice the amount of protein when compared with traditional yogurt, acting as a great source for Calcium and Vitamin D, and offering some immune protection with live and active cultures.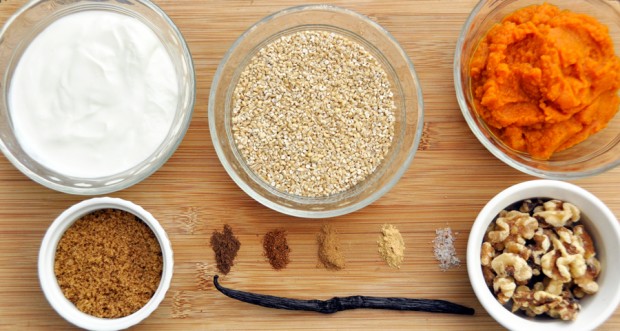 Once you've gathered all of your ingredients (everything I used can be found at your local Walmart), I simply placed them in the pot, stirred to combine, and let the slow cooker do its magic! One of the things you might find surprising is that there is no butter or cream used in this recipe, yet I still managed to achieve a rich, creamy texture from a combination of the canned pumpkin and Greek Yogurt. Here is my recipe for Slow Cooker Pumpkin Walnut Steel Cut Oatmeal Recipe.

Slow Cooker Pumpkin Walnut Steel Cut Oatmeal Recipe
Ingredients
1

cup

steel cut oats

1/4

cup

+ 2 tablespoons organic brown sugar

1

teaspoon

cinnamon

1/2

teaspoon

ginger

1/4

teaspoon

cloves

1/4

teaspoon

allspice

Pinch of salt

1

Vanilla Bean split lengthwise and seeded

1

cup

canned pumpkin

1/2

cup

Greek Yogurt

3

cups

water

1/4

cup

chopped walnuts

reserve for the end
Instructions
Place all ingredients in the slow cooker and stir

Cook on low for 6-8 hours (be sure to watch your oatmeal towards the end so that it does not dry out)

Serve topped with a dollop of Greek Yogurt and a sprinle of chopped walnuts
I absolutely loved how warm and scented my house was while this oatmeal was cooking.   I wasn't sure how my kids were going to like this particular recipe but my son said it tasted just like Pumpkin Pie.
While I don't always think about it, yogurt can be substituted for fats in nearly any type of recipe.  Colleen from Classy Mommy has an awesome Yogurt Substitution Swap Guide For Recipes on her site that you might reference if you're looking for easy ways to add creaminess and texture to your dishes without adding fat and calories.
From Fruit and Yogurt Parfaits to Smoothies, you'll find more than 100 yogurt-inspired recipes on Walmart.com. You can also check out the following recipes from my fellow Walmart Moms:
Pears With Yogurt Dip and Rice Krispies
Fruit & Nut Honey Compote for Yogurt
Rice Krispies Peanut Butter Dipped Fruit
Overnight Refrigerator Oatmeal Yogurt

Latest posts by Caryn Bailey
(see all)