My kids always seem to ask for the most elaborate meals on nights when that feat is impossible. Thankfully, there are simple hacks that make getting a homecooked meal on the table in under 30 minutes feasible. Semi-homemade is often the word I use to describe my approach to meals during the busy school week. Frozen, chopped vegetables and prepared sauces cut down on prep time without sacrificing flavor. For example, I'll make Skillet Goat Cheese Stuffed Shells instead of lasagna and use Barilla Creamy Genovese Pesto in place of homemade pesto in pasta dishes.
I received this product for free from Moms Meet (momsmeet.com) to use and post my honest opinions. Compensation for this post was provided and this page may contain affiliate links.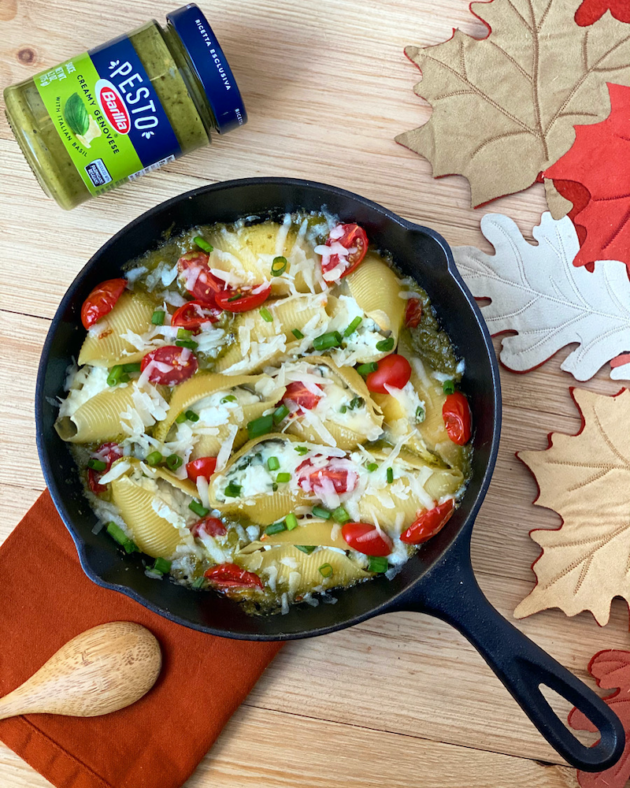 Barilla Creamy Genovese Pesto
I love to cook, and so much of our bonding time as a family involves baking, cooking, and enjoying meals as a family. My kids love my homemade pesto, but admittedly, it is very time-consuming to make from scratch. My kids have even learned how to make our favorite version, but during the week, it is impossible.
Barilla's Creamy Genovese Pesto is a quick, easy alternative and tastes fantastic. Imported from Parma, Italy, the pesto is made with Italian basil and freshly grated Italian cheese. Its creamy texture and savory flavor make it ideal for mixing into pastas, marinating meats and vegetables, or using it as a spread/dip. Barilla minimizes the handling of ingredients in their Creamy Genovese Pesto to preserve the color of basil and fresh aroma of Italian cheese. Additionally, their signature recipe is prepared and packaged in 3 hours. If you have ever made pesto from scratch, you know that a little goes a long way, and that is true for Barilla's Creamy Genovese Pesto. A 6.2 ounce jar can be used to flavor 16 ounces of pasta.
I grew up cooking and enjoying Barilla's pastas and sauces, and their new Creamy Genovese Pesto is the result of four generations of the Barilla family passing down their secrets to great-quality pesto. In addition to its flavor and convenience, I absolutely love the diverse ways I can use Creamy Genovese Pesto…from pasta and pizza to fish, vegetables, and sandwiches.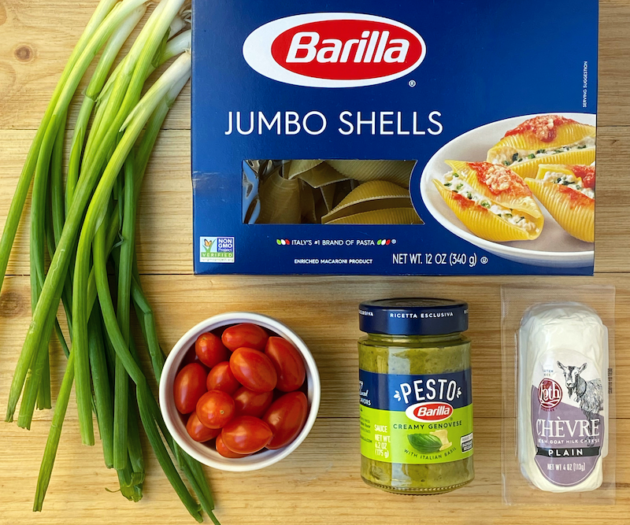 Skillet Goat Cheese Stuffed Shells
Italian dishes are wonderful comfort foods, and I appreciate the fact that many are simple to prepare. I started preparing Stuffed Shells for my kids as an alternative to lasagna and it has been a success in our household. Traditionally, I have simply stuffed cooked shells with ricotta and served them with a marinara sauce. For this Skillet Goat Cheese Stuffed Shells recipe, I used Barilla Creamy Genovese Pesto in place of marinara and stuffed pasta shells with herbed goat cheese. The result was an incredibly flavorful dish with an aromatic flavor profile.
Barilla Creamy Genovese Pesto retails for $3.29 and is available at Target, Publix, Stop & Shop, Meijer, ShopRite, Hy-Vee, Albertsons, Safeway, Vons, and more. You can find your local store by visiting MomsMeet.link/barillalocate.