{Sponsored}
Most toddlers' first foods include pureed vegetables and fruit. I was eating shrimp even before I could form a full sentence, despite my mother's concerns over allergies. Those early years where my father would feed me bites of seafood shaped my palate, and as I grew older weekly visits to his favorite seafood restaurant, Sizzler, were not uncommon.
Sizzler Family Restaurants
As I walked into my local Sizzler as an adult, I was surprised at how much the casual family restaurant had changed. Both the ambiance and the menu have been modernized, while the restaurant still retains those elements that keeps families coming back. Their Craft Salad Bar was the original and features an expansive selection of hot and cold foods, dessert, and seasonal dishes like their summer vegetable salad. U.S.D.A Choice steaks are cut fresh in-house daily and cooked over an open flame. Their seafood includes sustainable salmon and their soups are made daily from scratch. If you have ever been to a Sizzler restaurant, you know that the experience would not be complete without their world famous cheese toast.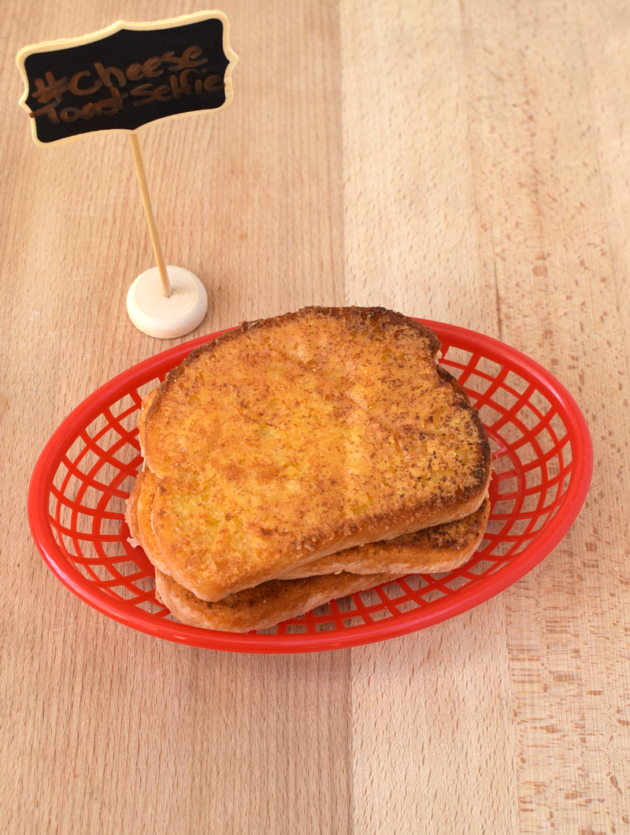 Sizzler's World Famous Cheese Toast
Sizzler was founded right here in Southern California nearly 50 years ago and their first slice of cheese toast was served in Hollywood in 1968. Particularly popular among Californians, Sizzler uses 1,541,628 pounds of secret cheese toast spread to prepare the 12,333,024 slices of cheese toast it serves each year.  Their Cheese Toast is so famous, it is served at Sizzler restaurant locations in Australia, China, Japan, Thailand and Puerto Rico.
Sizzler Cheese Toast Month
This month, Sizzler wants you to get "cheesy" by telling them how their world famous cheese toast makes you feel. Take a "Cheese Toast Got Me Like" photo or video and share it on your social channels with the hashtag #CheeseToastSelfie for a chance to win a $100 Sizzler Gift Card and mystery prizes. Be sure to join Sizzler for National Cheese Toast Day on September 15th, 2017.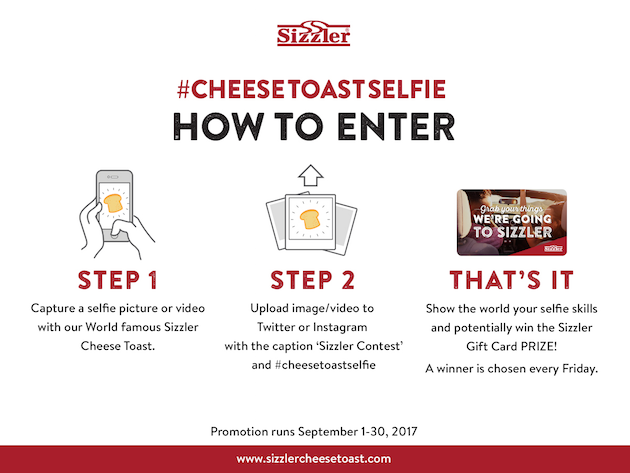 You can view the official contest rules here.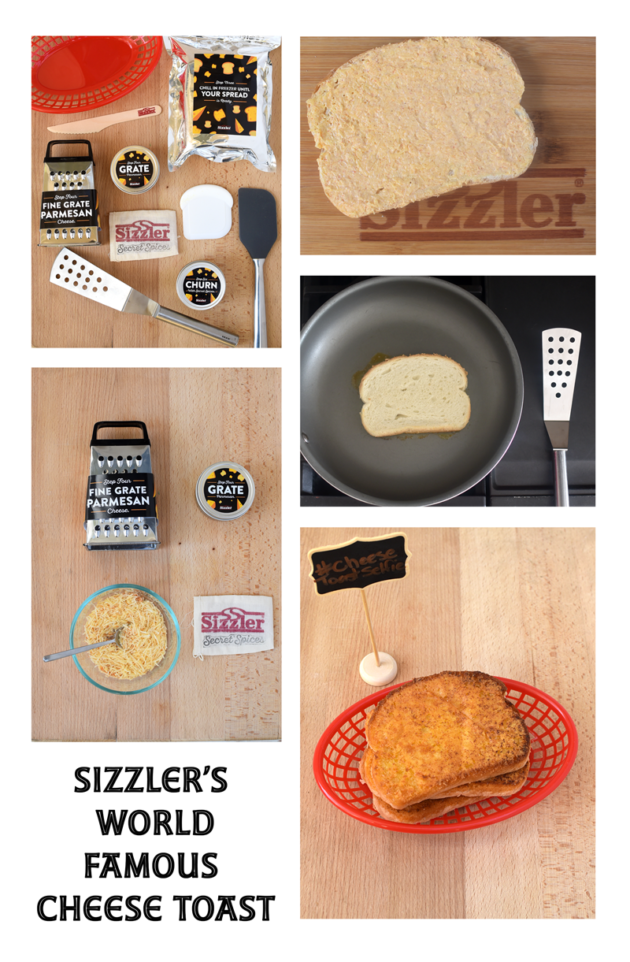 Sizzler Cheese Toast Recipe (Copycat)
To celebrate Sizzler Cheese Toast Month, the brand sent me a fun Cheese Toast Kit which includes all of the items needed to re-create their world famous cheese toast. While the secret is in the sauce (or in this case, the spices), you could easily replicate this Cheese Toast Recipe with a few slices of thick white bread, margarine, and parmesan cheese.

Sizzler World Famous Cheese Toast
Ingredients
4

slices

Thick White French Bread

Cut into 1-inch slices

1/4

pound

Margarine

1/4

cup

Parmesan Cheese

Granulated Garlic/Paprika Blend
Instructions
Soften the margarine to room temperature

Freeze the bread for 30 minutes


Place the softened margarine in a mixing bowl and beat for 5 minutes. Scrape down the sides of the bowl and whip for 5 additional minutes

Add Parmesan cheese and spices to the margarine and mix on low speed for a short time, then beat with mixer for five minutes

Use rubber spatula to apply a coating of spread on one side of cold bread slice

Heat electric or stovetop griddle to low-medium heat

Place bread, spread side down, on griddle. Listen for sizzling sound as spread caramelizes

Remove toast when golden brown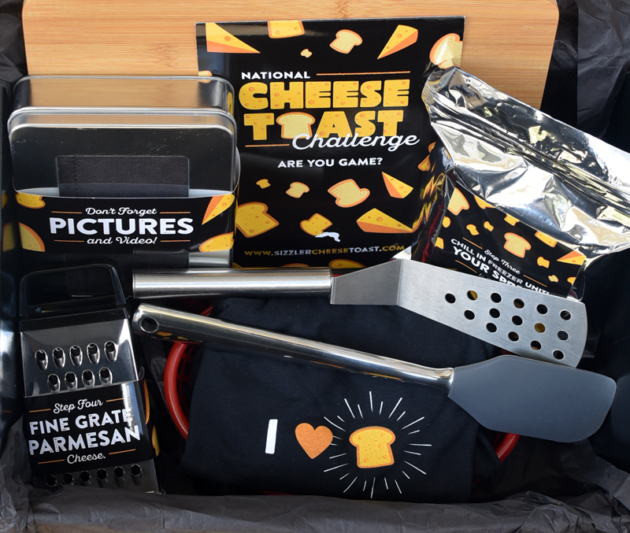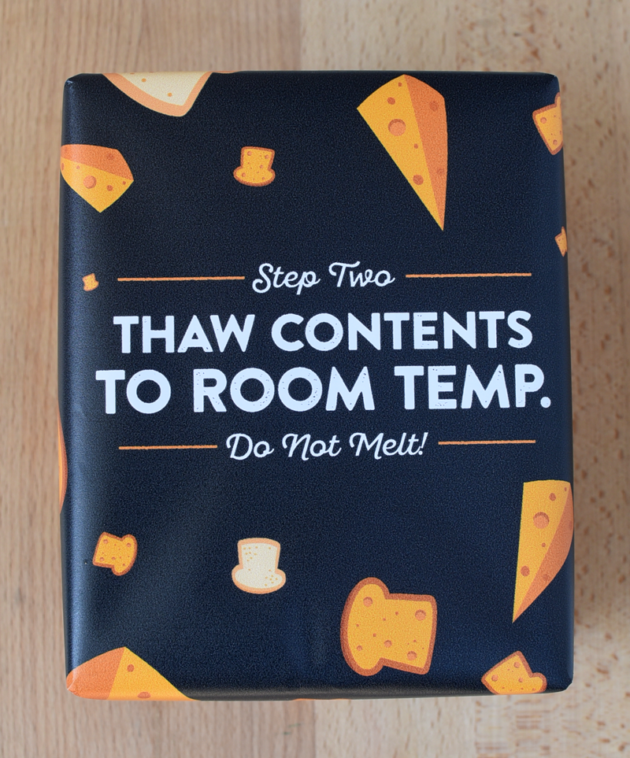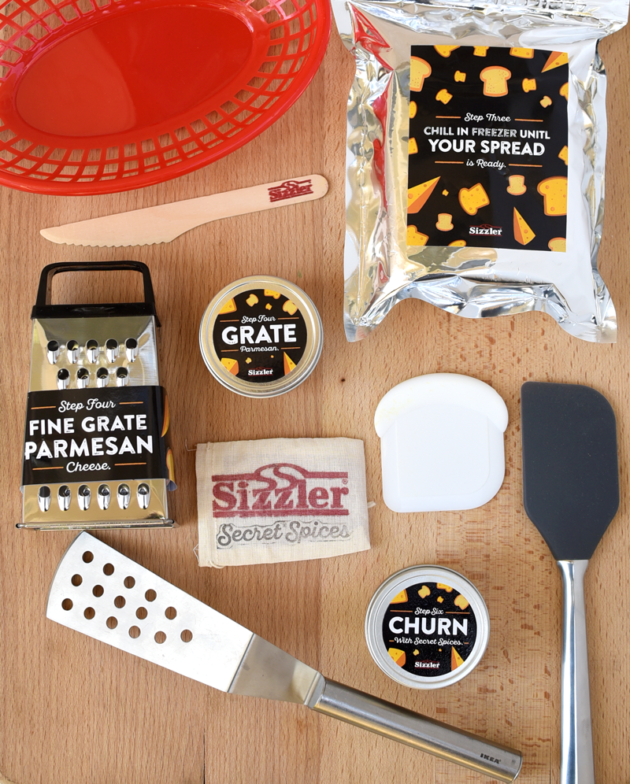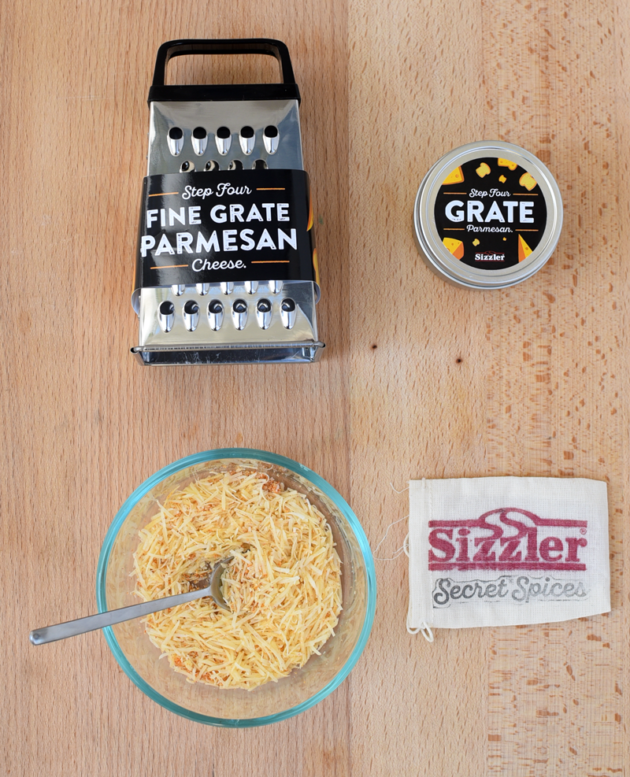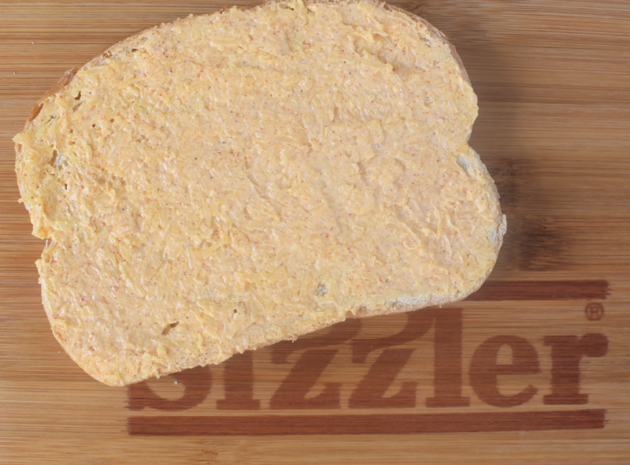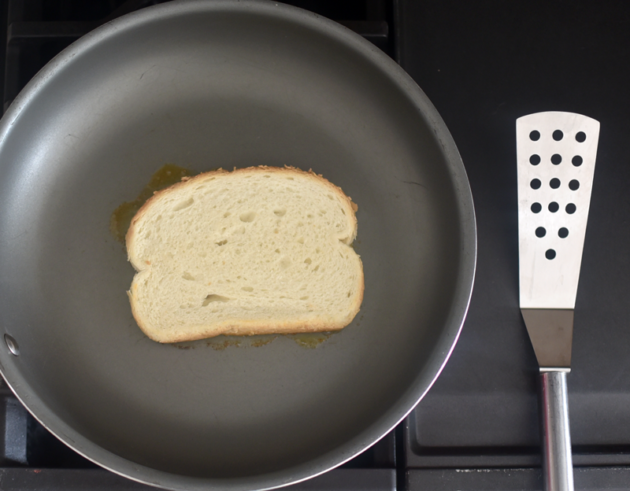 I was pleasantly surprised at how easy it was to make Sizzler's World Famous Cheese Toast. Sizzler does state that intricacies such as the type of bread they use (Orlando Baking Company), perfectly whipped margarine, and the exact quantities of their secret spice mix mean that your homemade Cheese Toast will not be exactly the same. The restaurants also use griddles you don't likely have at home. I'm no Cheese Toast expert, however, I think this recipe is very close to the original both in taste and texture. It also made my house smell amazing!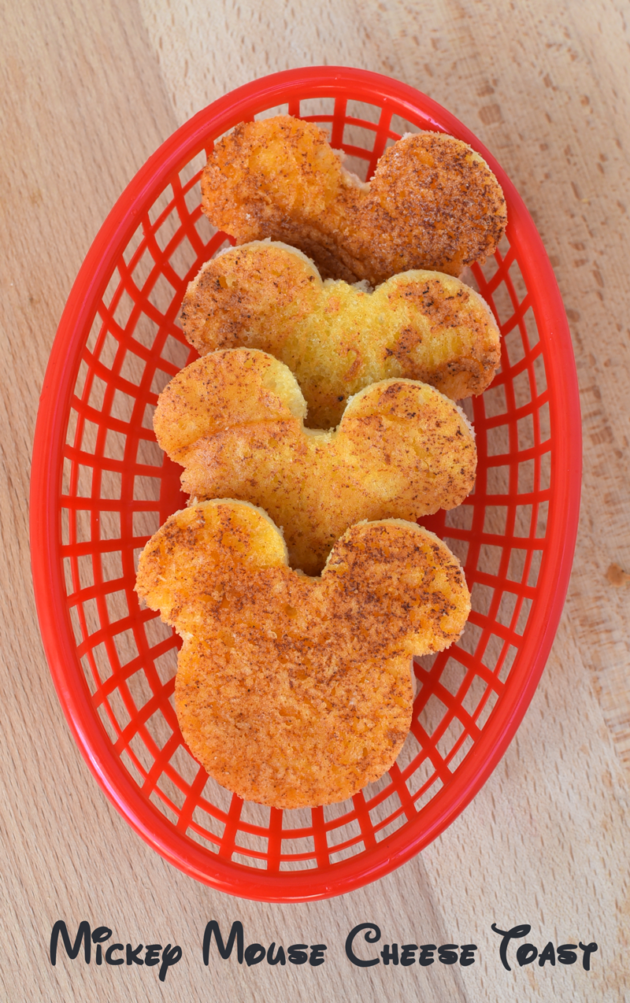 In the spirit of the #CheeseToastSelfie, I decided that my venture to make Sizzler's World Famous Cheese Toast would not be complete without making a Disney version. I used my Mickey Sandwich Cutter to cut out Mickey-Shaped Cheese Toast!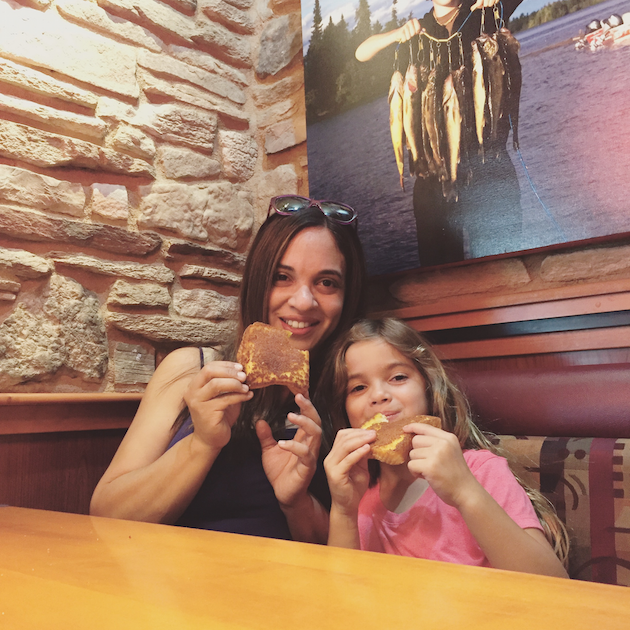 Don't forget to share your #CheeseToastSelfie with Sizzler before September 30th, 2017. You can find your nearest Sizzler location here.