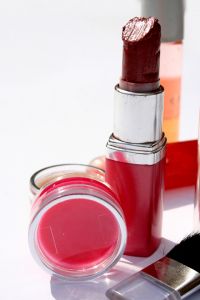 Because "natural," "hypoallergenic," and "pure" are largely unregulated terms, I find this step to be the most difficult.  There are times when I feel like I'd have to be a scientist to understand the ingredients on the back of my body wash, shampoo, and hand cream.  Fortunately, there are resources like Skin Deep and Campaign for Safe Cosmetics to offer guidance and to advocate for regulation.  I particularly like The Green Guide's list of "The Dirty Dozen Chemicals in Cosmetics" to avoid.  Here they are:
1. Antibacterials
2. Coal Tar
3. Diethanolamine (DEA)
4. 1,4-Dioxane
5. Formaldehyde
6. Fragrance
7. Lead and Mercury
8. Nanoparticles
9. Parabens
10. Petroleum Distillates
11. P-Phenylenediamine
12. Hydroquinone
To be honest, I think I'd find it a bit overwhelming to scrutinize every brand and product on the market for the above ingredients.  I'd much rather "look up" my favorite beauty product on Skin Deep for a detailed account of each ingredient present and it's effect on my body.  I really like their printable Parent's Buying Guide, which makes it easy for parents to find the safest products without those ingredients that have been linked to allergies, cancer, and other health concerns. Here are a few tips for sifting through the sea of cosmetics:
1.  Read labels discerningly. Look beyond terms like "natural," and "hypoallergenic" and look up the ingredients on Skin Deep.
2.  Opt for Organic.  While you should still read labels and check ingredients on products labeled "organic," these products generally contain natural ingredients that have been grown without pesticides.
3.  Choose from The Compact for Safe Cosmetics:  Over 1000 companies have pledged to make safer product and provide greater transparency about the ingredients in their products.  These companies' products meet or exceed the formulation standards and deadlines set by the European Union cosmetics directive and are free from chemicals known or strongly suspected of causing cancer, mutation, or birth defects.  The companies that sign the Compact also agree to implement substitution plans to replace hazardous materials with safer alternatives within three years and publicly report progress in meeting these goals.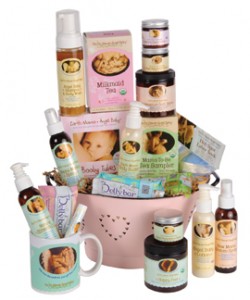 One of my favorite skin care companies is Earth Mama Angel Baby. I've been using a variety of their products for some time now.  They've just launched their Happy Mama Body Wash which is simply fabulous. The company (who has signed the Compact for Safe Cosmetics), uses "the highest-quality, certified-organic or organically grown herbs and oils for [their] teas, bath herbs, gentle handmade soaps, salves, lotions and massage oils." Their products are 100% toxin-free, cruelty-free, vegan, and free from all artificial preservatives, fragrances and dyes. They also use eco-friendly recyclable or reused/reusable packaging and packing materials.  Not only do their products feel good on the skin and smell pleasant, they are effective.  The Happy Mama Body Wash is a blend of ginger, grapefruit, and lime and has a light, fresh scent.  It's a foam (as opposed to a gel) and leaves my skin feeling soft without leaving any residue.  I remember becoming highly sensitive to scents during my pregnancy (especially during the first trimester)…to the point that I threw out the shampoo I had been using for years.  I highly recommend this line for pregnant women, particularly because ginger is known to have an anti-nausea effect.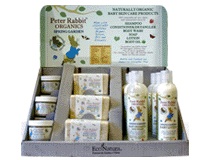 If you have children in the house (like me), it's important to avoid skin care products with ingredients that have been known to cause cancer, disrupt hormones or act as neurotoxins.  Children are more vulnerable to chemicals because they are not able to detoxify and excrete chemicals as an adult's body can, their organs are still developing and vulnerable to damage from chemical exposures, and have more years of life to develop disease triggered by early exposure (Skin Deep).  I was recently introduced to a new company called EcoNatura, who released an adorable line of Peter Rabbit-themed skin care products.  I was happy to learn they had also signed the Compact for Safe Cosmetics.  Their natural, organic products are free from harsh ingredients including parabens, phthalates, SLS, formaldehyde and many more (too long to list!).  They're so gentle (but effective), I've been using them on my 4 month old.  The Shampoo and Body Wash lathers well and the cream soothes and moisturizes well.  I appreciate the fact that the products don't contain fragrance.  As a side note, Peter Rabbit Organics offers the most adorable soft toys by Kids Preferred, and books by Frederick Warne. I grew up reading Beatrix Potter and their new product launch is a testament to the timeless nature of Peter Rabbit.  Beatrix Potter was an early 20 century environmentalist and staunch conservationist.  This new spring line reflects her passion for the environment.
I did not receive compensation for this post.  Product samples were provided from Peter Rabbit Organics and Earth Mama Angel Baby.
Latest posts by Caryn Bailey
(see all)