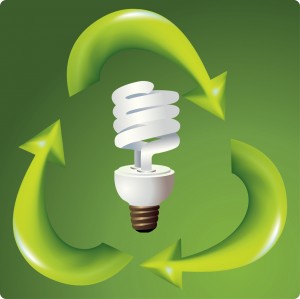 This giveaway is now closed. Thanks for stopping by.  The winner is Beverly. Congrats!
We are a highly technical society, wired in every way.  I look around my house and cannot begin to count the number of things I have plugged in.  Everything from the television to my coffee maker is wasting energy…simply by being plugged in.  It's called standby or vampire power and the financial cost alone exceeds 10 billion dollars a year in the U.S. A few years ago, I learned that just because a device is turned off, doesn't mean it isn't still draining energy.  The device, which you assume is "off," is actually in stand-by mode.  Your microwave likely uses more electricity to power the clock and the keypad over the course of the year than to heat food and a computer left on can draw as much current as a refrigerator.
And what about the amount of energy you expend heating and cooling your house?  Or the energy expended by your appliances?
Here are several simple, attainable ways you can reduce your energy expenditure:
Turn off unplug electronic devices and appliances when not in use.
Use a Smart Wall Surge Protector that detects when devices are not in use and shuts off "vampire" power.
Set your thermostat to 68 degrees during the day and 55 degrees at night during the winter.  In the summer, keep it at 78 degrees.
Install compact fluorescent light bulbs (CFLs).
Wash clothes in cold water when possible.
Wash clothes in the morning or evening when its cooler
Line dry your clothes.
Clean and/or replace air filters regularly
Invest in Energy Star appliances

Be sure your dishwasher is full when you run it and use the energy saving setting so the dishes air dry.
Turn your refrigerator down to 37 degrees and the freezer to 3 degrees.  Make sure the energy saver switch is turned on.
Weather strip doors and windows
Turn the thermostat on your water heater down to 120 degrees F (it's usually set at 140 degrees)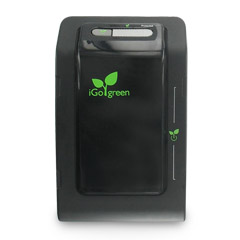 Thanks to iGo, I have an iGo Vampire Power Slayer Kit to giveaway to one lucky reader.  The kit includes the iGo Green Power Smart Wall with iGo Green Technology, a Vampire Power Sucks T-shirt, and an iGo garlic stress ball.  The iGo Green Power Smart Wall detects when a device is not in use and shuts off power to eliminate vampire power without having to unplug devices.  It automatically detects when power is needed again and turns back on.  The device features two "always on" outlets for devices like alarm clocks that require continuous power and two outlets with the iGo Green Technology.  This technology reduces standby power by more than 85%.  I absolutely love this device.  It's a simple, affordable way to reduce energy expenditure.  iGo Green Power Smart Wall retails for $29.99.
Win It! Simply visit the site.  Then come back and leave me a comment with another "green" product you're interested in.  Comments will close on May 3, 2010 at 11:59 PM PST.  One comment per person, please (unless you do the extra credit). US residents only. Duplicates and comments not including the above information will be disqualified. Comments are moderated. If you don't see your comment in a reasonable amount of time, send me an email. Bloggers and non-bloggers may enter. If you don't want to leave your email address, please be sure to check back for my announcement on the winner. Please note that winners must respond within 48 hours of being announced/contacted or another winner will be drawn.Want an extra entry? Do any or all of the following and receive an extra entry for each one.
Be sure to leave me a separate comment for each additional entry.
Follow me on Twitter AND tweet about the contest.
Subscribe to my feed via email or reader.
Blog about this giveaway. It doesn't have to be a separate post. Just include a blurb about it when you blog about other giveaways.
Click on one of the very cute buttons below and digg, stumble, fav, etc. Just let me know what you did in the comments!
I did not receive compensation for this post.  Product samples were received to facilitate this review/giveaway.
Latest posts by Caryn Bailey
(see all)