This giveaway is now closed. Thanks for stopping by. The winner is Cheryl M. Congrats!
It was a blustery Saturday in Edinburgh and we were prepping to move out of our flat. I took on the bathrooms, my husband the kitchen. We didn't know about toxic cleaners at the time. Thankfully, hormones and intuition took over. The smell was nauseating…I not only left the room…I left the flat to take a walk around the city. It was the first time in my 20-something years of life that the smell of bleach and oven cleaner sickened me. I remember growing up with the belief that the house wasn't clean unless bleach and Pine Sol wafted into my bedroom. My children are 2 1/2 and 3 1/2 months…and they've never smelled bleach, oven cleaner, or any other toxic cleaner.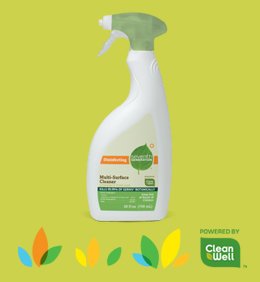 As an eco-minded mom, I've spent a lot of time trying out different cleaning products to find the ones that best fit our family. While I do use a product here or there from another company, I always come back to Seventh Generation's cleaning products. I started using them long before I started blogging…and I still use them to this day. I'd really love to be able to make my own cleaning products. I've even written articles on the topic. But I don't have the time or the energy to do that. So I opt for Seventh Generation's cleaning products.
Seventh Generation has been a leader in effecting environmental change. If you remember, I recently attended Expo West as their guest. I had an opportunity to sit in on a Seventh Generation GIVE (Generation Inspiration via Education) session and learned a bit more about their new disinfectants which include a multi-surface cleaning spray, bathroom cleaning spray, and wipes. If there are two areas I'd love to keep perpetually disinfected, it would be the kitchen and the bathrooms. Seventh Generation uses thymol (derived from the herb thymne in this new line of products to kill germs naturally. Thymol can kill over 99.99% germs naturally and is effective against Influenza A virus (including H1N1). If you've ever used CleanWell hand sanitizers, Seventh Generation's cleaners smell just like them.
I've always been impressed with how well the company's cleaning products work. Most importantly, I don't have to have the entire family leave the house when I clean and I don't have to wear a mask (something I used to do with conventional cleaners). I always keep cleaning products up in a shelf in our garage, away from our children. But I know that they would not cause the kind of harm conventional cleaners would inflict if accidentally gotten into.
Seventh Generation partnered with eco-lifestyle consultant and author Alexandra Zissu. Her book, The Conscious Kitchen, details what's good for your health and the planet. The book is incredibly resourceful and answers questions like, What is a GMO?, What seafood should I eat?, How might I differentiate between products deemed "natural," and Which plastics should I avoid? Here are some of her kitchen tips:
Avoid cleaning products with VOCs (volatile organic compounds)
Avoid cleaning products that must be sprayed onto surfaces unless they don't require a "rinse" step
Use a product with a natural, EPA-registered disinfectant (particularly in places like the bathroom)
Use rags in place of paper towels unless they're recycled and unbleached
Use a sponge without antimicrobial pesticides. Be sure to clean it regularly (2 minutes in the microwave or 3 minutes in boiling water)
Wash your hands
For more information on Seventh Generation's new line of botanical disinfectants, just visit their website.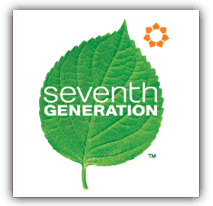 One of you will win a Seventh Generation Disinfecting Cleaning Kit which includes a Disinfecting Multi-Surface Cleaner, Bathroom Cleaner, Wipes, 2 rolls of 100% recycled unbleached paper towels, The Conscious Kitchen, and a cleaning caddy made from recycled plastic. Simply leave me a comment with one way you keep your family safe from chemicals OR the best thing you've done for the environment this year. Comments will close on April 24, 2010 at 11:59 PM PST. One comment per person, please (unless you do the extra credit). US residents only. Duplicates and comments not including the above information will be disqualified. Comments are moderated. If you don't see your comment in a reasonable amount of time, send me an email. Bloggers and non-bloggers may enter. If you don't want to leave your email address, please be sure to check back for my announcement on the winner. Please note that winners must respond within 48 hours of being announced/contacted or another winner will be drawn.Want an extra entry? Do any or all of the following and receive an extra entry for each one.
Be sure to leave me a separate comment for each additional entry.
Follow me on Twitter AND tweet about the contest.
Subscribe to my feed via email or reader.
Blog about this giveaway. It doesn't have to be a separate post. Just include a blurb about it when you blog about other giveaways.
Click on one of the very cute buttons below and digg, stumble, fav, etc. Just let me know what you did in the comments!
I did not receive compensation for this post. A product sample was supplied for review and giveaway via MyBlogSpark.