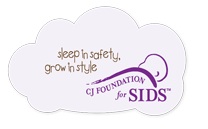 This giveaway is now closed. Thanks for stopping by.  The winner is Sarah G. Congrats!
As a NICU nurse, I educate parents regularly about how to ensure their babies are put down to sleep safely.  As a mom to a six week old baby, SIDS (Sudden Infant Death Syndrome) weighs on my mind.  SIDS is still the leading cause of death for infants between one and twelve months of age in the US (over 2,000).  And while many factors have been identified to contribute to SIDS, there is still no identifiable cause. The Journal of the American Medical Association recently published a study linking SIDS with low production of serotonin in the brainstem of infants.  This study could allow physicians to identify babies at risk for SIDS since it's presence was shown in 95% of all cases in this study.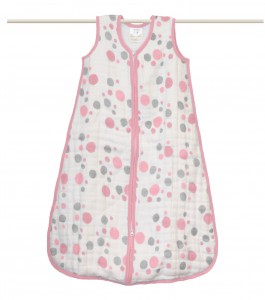 One of the recommendations to prevent SIDS has been to avoid overheating infants.  When my son was born, I purchased muslin cotton swaddle blankets from aden + anais.  He was born in June, right at the beginning of our scorching Southern California summers and I wanted to be sure he didn't get too hot.  Our daughter was born in December, and I've been concerned about her being too cold.  It's a good reminder to me that she doesn't need to be bundled as tightly as I think she does.  And my husband is actually correct when he tells me not to put the heater on too high!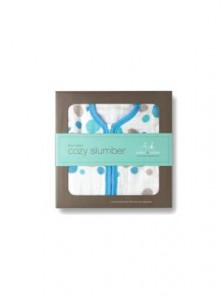 aden + anais is a proud sponsor of the CJ Foundation for SIDS and the company's inspiration for designing a product that keeps babies warm in the winter months while still reducing the risk of overheating.  The result is their new cozy sleeping bag, which consists of four layers of 100% breathable, muslin cotton.  The cozy sleeping bag allows the baby's body temperature to adjust naturally, thereby reducing the risk of overheating.  The CJ Foundation for SIDS recommends the use of wearable blankets and sleep sacks in place of blankets to keep infants warm (and safe) while sleeping.
The CJ Foundation for SIDS recently launched its Sleep in Safety, Grow in Style (SSGS) campaign to help educate parents about the importance of designing safe sleeping environments for babies. aden + anais is working to help the CJ Foundation for SIDS inform parents of the many ways they can keep their baby safe. While over-heating is one risk-factor for SIDS, SSGS and aden + anais also advocate the following practices to reduce the risk of SIDS:
Consider the use of fans to increases ventilation
Room temperature should be comfortable for a lightly-clothed adult, approximately 61-67 degree Fahrenheit
Cribs should be totally free of all loose blankets, stuffed animals and crib bumpers
Lay baby to sleep in an improved crib, on a firm mattress; do not let the baby sleep on soft things, like a couch, pillow, sheepskin, foam pad or waterbed
No smoking when pregnant or near baby
If possible, breastfeed baby
Offer a pacifier at bedtime
Co-sleeping should be in the same room but not the same bed or other sleep surface as parents
aden + anais cozy sleeping bag are available on their site and come in eight adorable prints.
Win It! One of you will win a cozy sleeping bag of your choice. Simply leave me a comment with which one you'd choose and something you learned about SIDS from either this post or the site.  Comments will close on February 20, 2010 at 11:59 PM PST.  One comment per person, please (unless you do the extra credit). US residents only. Duplicates and comments not including the above information will be disqualified. Comments are moderated. If you don't see your comment in a reasonable amount of time, send me an email. Bloggers and non-bloggers may enter. If you don't want to leave your email address, please be sure to check back for my announcement on the winner. Please note that winners must respond within 48 hours of being announced/contacted or another winner will be drawn.
Want an extra entry? Do any or all of the following and receive an extra entry for each one.
Be sure to leave me a separate comment for each additional entry.
Fan the CJ Foundation for SIDS on Facebook

Fan aden + anais on Facebook

Follow me on Twitter AND tweet about the contest.
Subscribe to my feed via email or reader.
Blog about this giveaway. It doesn't have to be a separate post. Just include a blurb about it when you blog about other giveaways.
Click on one of the very cute buttons below and digg, stumble, fav, etc. Just let me know what you did in the comments!
I received a product, courtesy of the company to facilitate this review.
Latest posts by Caryn Bailey
(see all)