As a young girl, my father would spend hours making Pasteles. Often likened to tamales, this traditional Puerto Rican dish also includes a masa and a filling (typically pork) wrapped in banana leaves. And much like the traditional tamale, pasteles are a treasured dish, particularly during the holidays. My kids have grown up here in Southern California, so their familiarity with tamales is limited to the traditional Meso-American dish, which features a corn-based dough, a filling of meat, cheese, fruits, and/or vegetables, and is then steamed in a corn husk. They absolutely love chicken and cheese tamales, so when I told them that my own version would be on the menu this Christmas, they asked for a preview during our latest visit to El Gallo Giro. And while it is admittedly easier to purchase tamales then to make them (scroll down for my Shrimp and Corn Tamales Recipe), there is that sense of tradition and bonding that comes when families spend time together during a Tamalada.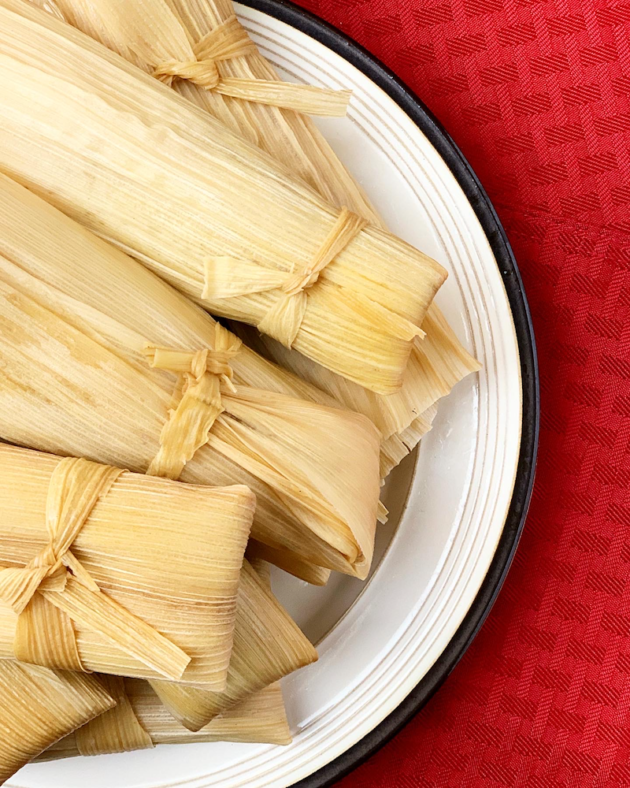 Sponsored.
How to Host a Tamalada
Making tamales is not an easy feat, and yet, every year, families across the globe spend time together prepping and filling these delicacies. While more time-consuming, then difficult, gather your favorite friends and family members and follow these steps for a tamalada (tamale-making party) that you will remember long after the tamales have been enjoyed.
Prepare Your Ingredients: Tamales consist of a masa (dough) and fillings, which are then steamed in a corn husk. While they sound easy enough to make, preparation is key. The corn husks must be soaked for at least 2 hours, and ideally, overnight. Prepare the masa at least one day before your tamalada so that you can focus on your fillings. Another option (and my favorite) is to pick up a few pounds of ready-made masa. El Gallo Giro's masa features Nixtamal (raw corn grains) which are soaked in lime and then ground.
Decide on the Filling (s): Tamales can be filled with sweet or savory ingredients. Options include chicken, pork, shrimp, spinach and cheese, strawberry, and dulce de leche. Running out of time? You can also pick up prepared fillings like like mole, chile verde, and chile rojo at your local Mexican kitchen or restaurant.
Assign Tasks: Making tamales can and should be a multi-generational event. Kids love to spend time in the kitchen with their parents and grandparents, so include them in your next tamalada. Tasks can include cooking, kneading masa, preparing the corn husks, and filling/wrapping the tamales.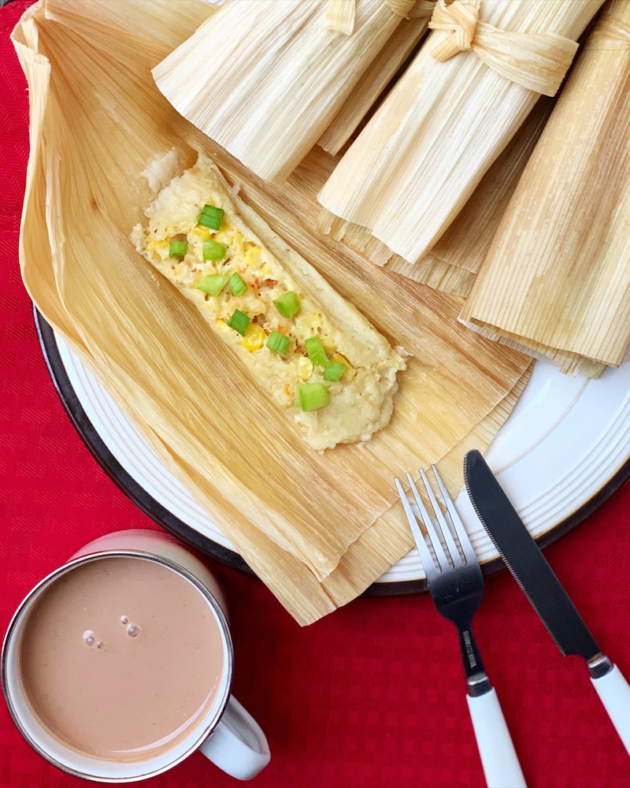 Shrimp and Corn Tamales
After picking up a variety of tamales at our local El Gallo Giro, I decided to get creative with a Pescatarian-friendly tamale recipe. This recipe features wild shrimp and corn in a roasted garlic sauce. I adapted it from Food & Wine, since I already had the masa from El Gallo Giro. In addition to the tips I mentioned above, I highly recommend investing in a quality stockpot/steamer for your tamales. It must be large enough to cook your tamales and include a steaming rack. I absolutely love my stainless steel stockpot from Princess House. And while it is undoubtedly an investment, a quality stockpot will ensure all of your hard work was not in vain.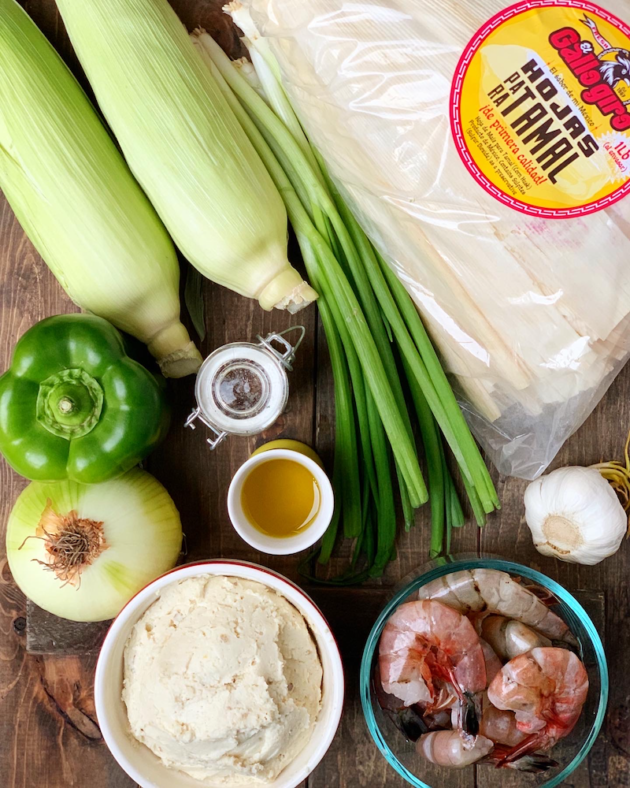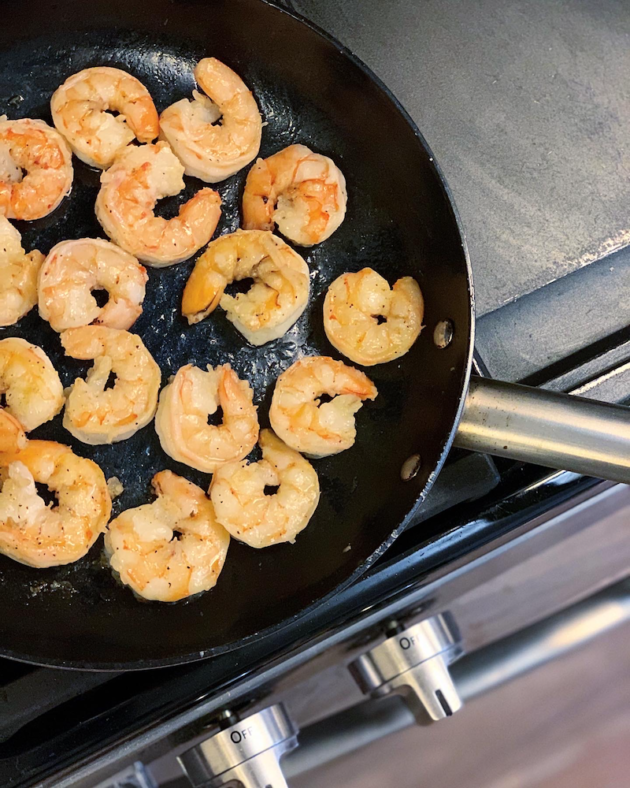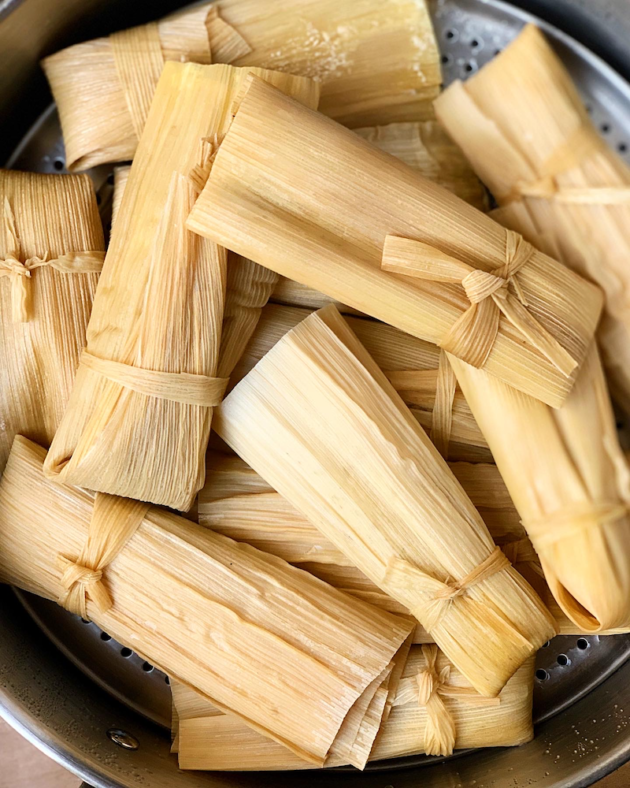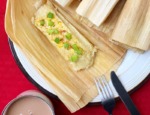 Shrimp and Corn Tamales
Ingredients
1

head

Garlic

1 1/2

tbsp

Olive oil

1

Onion

finely diced

1/2

cup

White wine

1 1/2

cups

Heavy cream

1 1/4

pounds

Wild shrimp

peeled and deveined

3

tbsp

olive oil

1

cup

Fresh corn kernels

Salt and pepper

Bell pepper and chives for garnish

Diced
Instructions
Cut off the top of the head of garlic to expose the cloves. Set the head on a sheet of foil, cut side up, and drizzle with 1/2 tablespoon of olive oil.


Wrap the garlic in the foil and roast in the oven for 45 minutes, or until very tender. Let cool. Unwrap and discard the skins.


In a medium saucepan, heat the remaining 1 tablespoon of olive oil.


Add the onion and cook over moderate heat until softened, about 6 minutes.


Add the roasted garlic cloves and the wine and boil over high heat until the wine is reduced to 2 tablespoons, about 5 minutes.


Add the cream and simmer over moderate heat until it is reduced by half, about 10 minutes.


Transfer the mixture to a blender and puree until smooth. Season the sauce with salt and pepper.


Season the shrimp with salt and pepper.


In a large skillet, heat 2 tablespoons of the olive oil. Add the shrimp and cook over moderately high heat until lightly golden on both sides and just white throughout, about 4 minutes. Set aside.

In the same skillet, heat the remaining 1 tablespoon of olive oil. Add the corn and cook over moderate heat for 2 minutes.


Stir in the roasted garlic sauce and bring to a simmer over moderately low heat. Add the shrimp, toss to coat and cook for 1 minute.


On the smooth side of the husk, spread a thin layer of masa 1/4 inch from the flat end to just before the tapered end.


Add 2 tablespoons of filling, fold in the sides, then the tail to meet the flat end.


Stack the tamales upright in a steamer, cover, and steam for 45 minutes, or until firm.


Uncover and allow to cool for 15 minutes before serving. Garnish with bell pepper and chives, if desired.
*It should be noted that this is not a vegetarian dish as prepared masa contains lard, an animal fat. For vegetarian tamales, be sure to make the masa from scratch.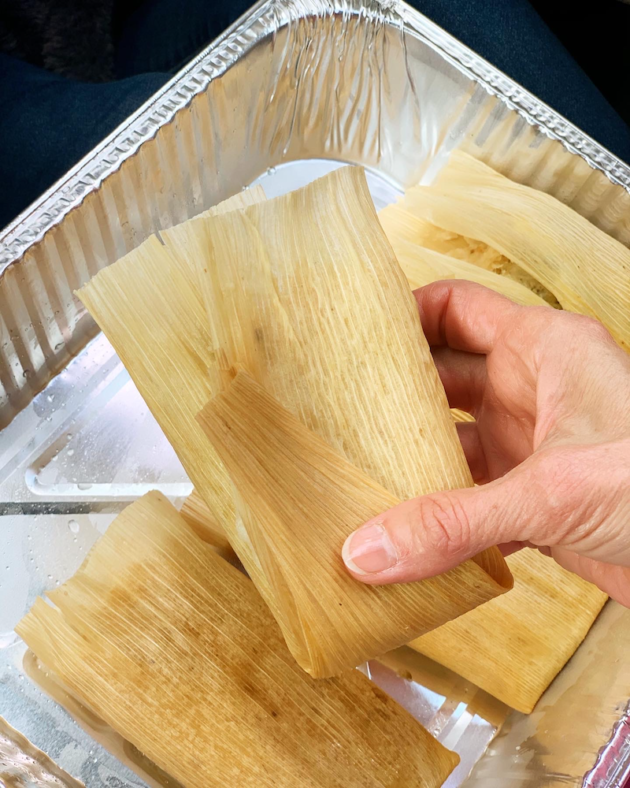 Best Tips for Making Tamales
Plan to make a lot of tamales. My recipe makes 2 dozen which is ideal since you want to enjoy tamales for Christmas and New Year's.
When spreading the masa onto the corn husk, leave a small margin so that they can easily be folded.
Do not overfill your tamales. The masa will expand during steaming and spill over into the steamer.
Overlap the edges of the corn husks to create a seal. I also like to tie a piece of corn husk around the tamale to ensure the filling does not spill out.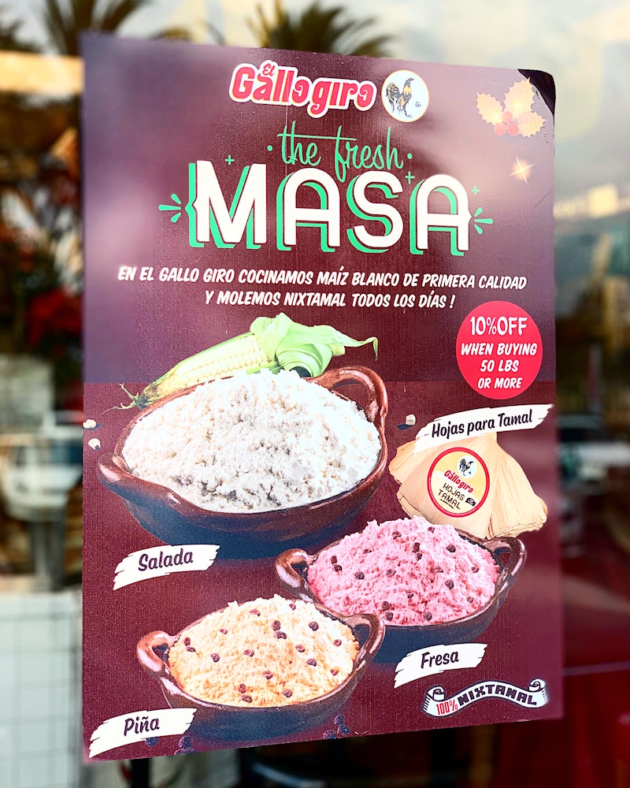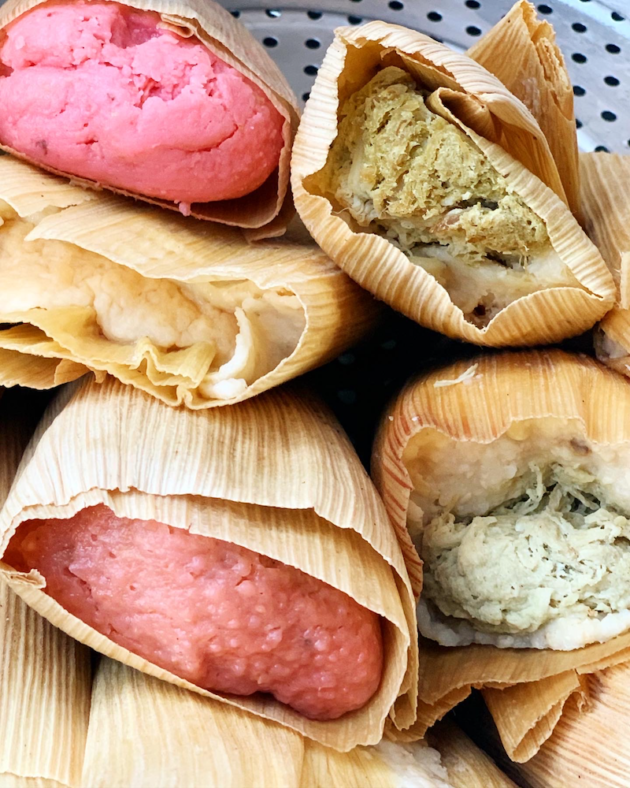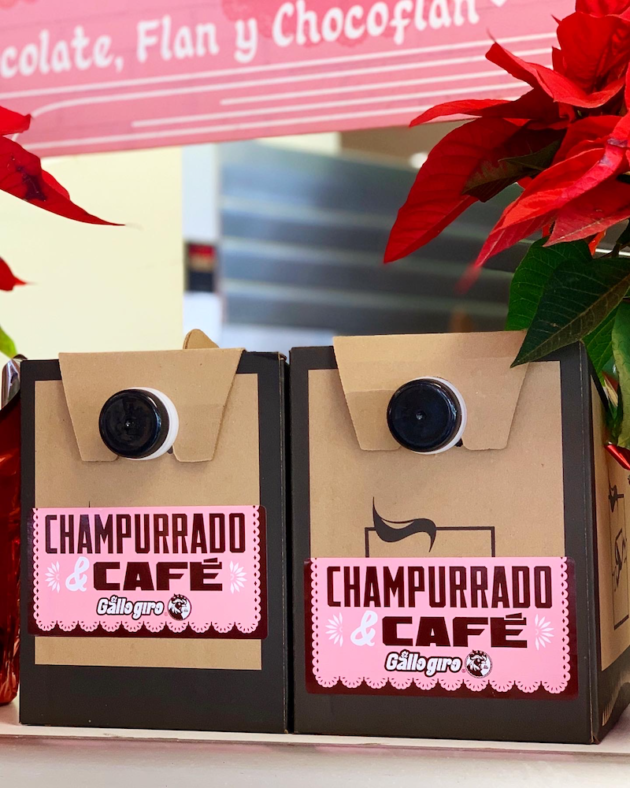 Want to make your own tamales? Head to your local El Gallo Giro to pick up everything you need, including masa, corn husks, and fillings. Don't forget a carton of Champurrado or Cafe de Olla and a selection of postres! You can also opt to pick up a variety of ready-made tamales including chicken, pork, cheese, pineapple, and strawberry. To find your local El Gallo Giro, visit GalloGiro.com.