{Sponsored}
People who knew my father would often comment about his love for seafood. I remember weekends where we would go to the store together to buy fresh shrimp, crab or fish and then spend time leisurely preparing it with his signature cooking style for the two of us. Any special occasion was celebrated at a classy coastal seafood restaurant and I credit him for my adventurous palate.
Four years ago, I finally decided to a commit to a Pescetarian diet. Motivated in part by a desire to live a healthier lifestyle, I gave up all types of meat and can honestly say that I don't miss it. For many, the decision to go meatless even for a day can seem daunting. But the number of meatless and seafood-inspired dishes I've enjoyed and even created has shown me that it can be done and be enjoyable.
In just a few weeks, the season of Lent will be upon us. If you're unfamiliar with Lent, it is a solemn religious observance which begins on Ash Wednesday and continues throughout the six weeks leading up to Easter Sunday. During this time, many who identify with Christianity choose to abstain from certain activities and luxuries in order to focus on prayer and repentance. Common practices include fasting (for short durations) and abstaining from meat during this time. Meat has traditionally been centric to celebrations and feasts, and while many have made the switch to more plant-based diets, the season of Lent and abstinence from meat is still very relevant today.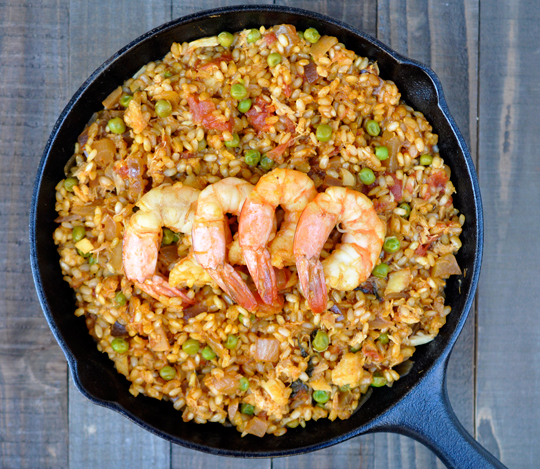 In honor of Lent, I decided to re-create one of my father's favorite seafood dishes, Paella. This Valenican rice dish is the national dish of Spain and while the traditional recipe consists of white rice, green beans, meat, white beans, snails, and seasonings, you'll often find vegetarian, vegan, seafood and mixed paella recipes. My version features Wild Shrimp, Wild-Caught White Fish, Wild Crab Meat, brown rice, red bell peppers, and Spanish Saffron, all available at your local Walmart.

Seafood Paella Recipe
Ingredients
½

onion

diced

¼

red bell pepper

diced

2

cloves

of garlic

minced

1

T

olive oil

Handful of fresh parsley

1

can of diced tomatoes

1

tsp

paprika

Pinch of Spanish saffron

1

tsp

red pepper

optional

Salt and pepper to taste

1

cup

white wine

2

cups

vegetable broth

2

cups

brown rice

1

cup

crab meat

1

filet of white fish

sautéed

½

pound

shrimp

½

cup

frozen peas

thawed

Fresh lemon
Instructions
In a large skillet or cast iron pan, sauté onion, red bell pepper, and garlic in olive oil until soft (do not brown)

Add parsley, tomatoes, and spices, and cook over medium heat until thickened

In a separate skillet, heat white wine and vegetable broth

Add brown rice to tomato sauce and toss to coat

Add white wine/vegetable broth mixture to rice and simmer for 30-40 minutes, or until rice begins to soften

Fold crab meat, cooked fish, and peas into rice mixture

Cook shrimp by tucking into rice mixture, approximately 10 minutes or until pink

Serve paella with fresh lemon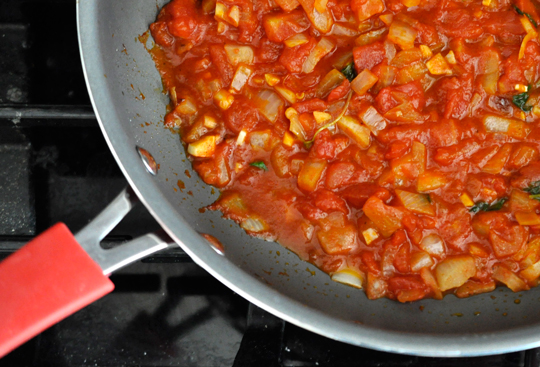 While somewhat time-intensive, this dish is well worth the wait. The inclusion of a wide variety of fresh fish and shellfish was the main reason my dad ordered this dish nearly every time we visited a seafood restaurant. This Seafood Paella is hearty enough to suffice for a meal yet, can also be served as a side dish if desired. Brown rice gives this dish a hearty dose of whole grains while keeping you satiated. If you are serving this dish to kids, I recommend decreasing or omitting the red pepper as the dish still holds its flavor well without it. And while I opted for shrimp, crab and white fish, you can always switch these out for your favorites including clams, squid and/or lobster.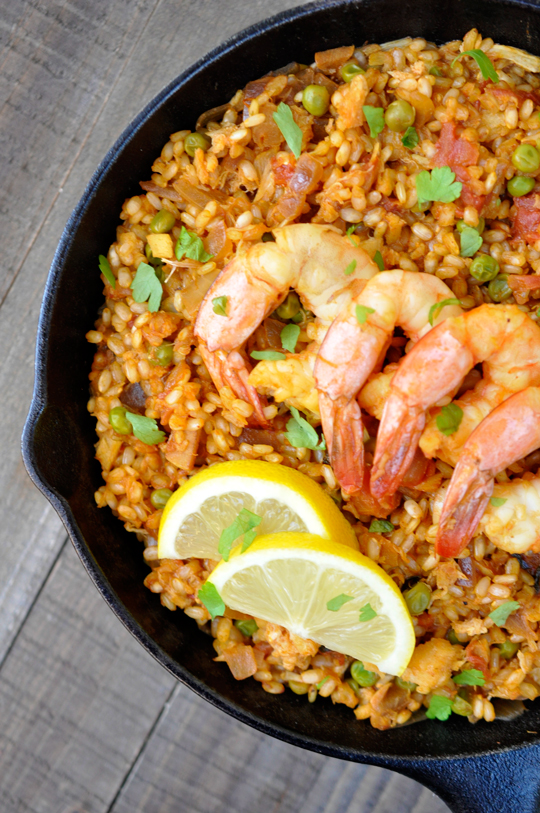 If you're looking for additional Lent recipes, visit Walmart.com.

Latest posts by Caryn Bailey
(see all)