Two years ago, when my son was diagnosed with food allergies, I never imagined I'd be endeavoring to make vegan foods.  And surely, I never imagined that I or my husband would actually enjoy a dish that didn't utilize real cheese or any of the numerous dairy foods we have both grown up eating. Lasagna is one of those dishes, I have avoided making, simply because I can't imagine anything tasting better than ricotta and mozzarella.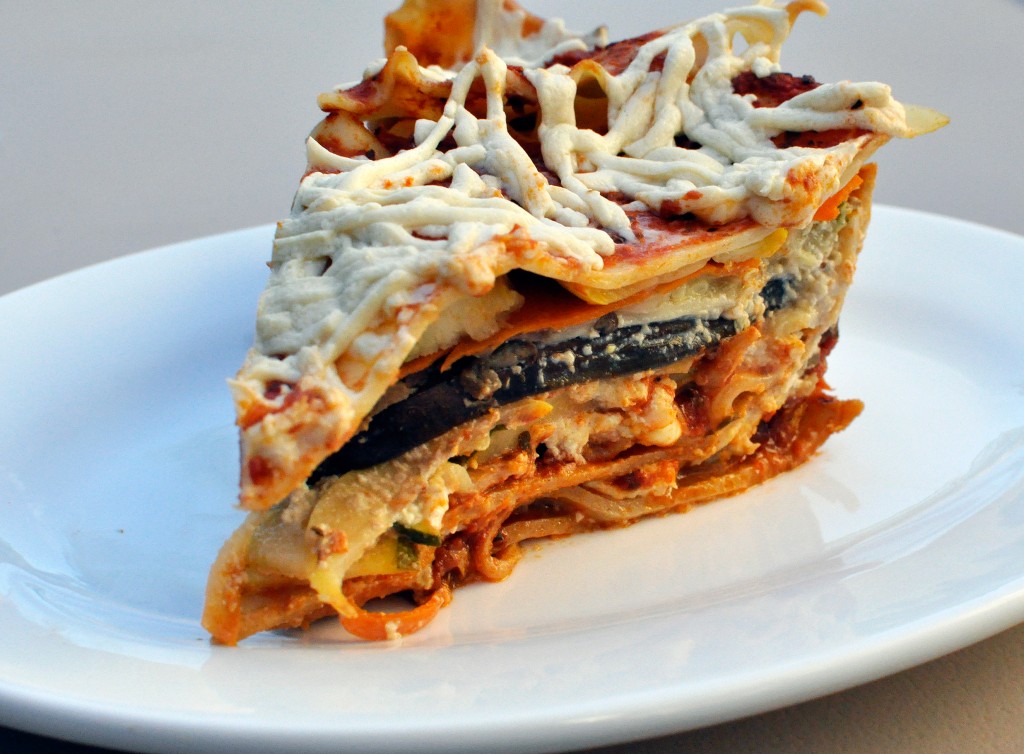 Messy but delicious!
After much research, I decided to attempt to make a vegan lasagna which includes a pine nut-based ricotta. Here is the recipe:
1 package Whole Wheat Lasagna Noodles (I use the Sun Harvest brand which is egg-free)
8 ounces of pasta sauce (I like Ragu's Organic Garden Veggie Sauce)
8 ounces of Daiya Mozzarella style shreds
Ricotta (recipe to follow)
Sliced carrots, zucchini, eggplant, and squash
Ricotta Recipe (via Book Of Yum):
"Ricotta"
1 cup raw pignoli (pine) nuts, soaked in water for at least 1 hour
1 tablespoon lemon juice
1 tablespoons nutritional yeast
1/2 teaspoon sea salt
Blend ingredients and use in recipe as substitute for ricotta. May add water to achieve "ricotta" texture.
Lasagna:
Boil noodles for 8-10 minutes according to the package. The goal is to cook the noodles "al dente" or on the firmer side so that they do not fall apart during assembly.
Assemble in a baking dishes alternating between pasta sauce, noodles, ricotta, veggies, and Daiya.  On the final layer, top with Daiya and bake at 375 degrees F for 25-30 minutes until cheese is melted.
Despite the fact that the recipe is free from animal products, it was surprisingly delicious. The "ricotta" has a rich nutty flavor and the texture you would expect in a lasagna. Daiya is melts well and is the most palatable cheese alternative I've tried. Prepping the dish (including slicing the vegetables, making the ricotta, and assembling the lasagna) is time-consuming but well worth it as you'll likely have leftovers.
Disclosure: This post was created in connection with my appointment as an Ambassador in the Ragú® Mom's the Word on Dinner Program. Visit www.facebook.com/ragusauce to join the conversation.
Latest posts by Caryn Bailey
(see all)