It's mid-January and perhaps you're thinking about ways to keep those New Year's resolutions.  I know that come February, I'm struggling to maintain my exercise routine, cook most of our meals at home, stay organized, and manage my time wisely (just a few of my resolutions).  Of those resolutions I've made this year (and every year for that matter) eating healthy and staying active are the most difficult to sustain long term. If I'm out and about, I tend to justify food choices I might not typically consider, simply because of the lack of options.  If I'm at home, I have a little more control because I don't keep a lot of indulgent foods stocked in the kitchen. But snacking, despite the negative associations that often accompany it, can be an opportunity to incorporate a variety of good-for-you foods, if approached the right way.  And for children like my daughter, who doesn't eat large meals in one sitting, snacking can be an important means of getting the appropriate amounts of vital nutrients.
Here are my best tips on snacking sensibly:
1. Get a new perspective. Rather than looking at snacking as an opportunity to indulge in fatty, sugary foods, approach it as a way to pack in nutrients you might be lacking.  Snacking should be a healthful way to sustain you from one meal to the next, so think about the foods that will help you achieve this.
2.  Pay attention to portion sizes. Remember, this is a snack and an opportunity to give your body the vital nutrients and energy it needs to hold you over to the next meal.  Snacking can easily lead to indulgence and result in an excessive intake of fat, calories, salt, and sugar, so be diligent about portion control.
3. Read the label.  Just because a product brands itself as all natural doesn't mean it isn't laden with fat, calories, sodium and much worse.  Do your own research, reading and discovery to find a snack that tastes good and is good for you.
4.  Combine foods for a nutritional boost.  Simple combinations like pretzels and peanut butter or yogurt and fruit help avoid blood sugar spikes because the protein and carbohydrate mix work to keep your blood sugar from rising and dropping too rapidly, which causes you to be hungry.  Bonus: Combine a whole grain carbohydrate and a protein which also includes a fiber component
5.  Make a plan. Just as you'd plan your meals, plan your snacks including the approximate time you'll eat them.  This will limit (but not eliminate) the times you indulge.
My best and last tip is to give yourself a break.  Allow yourself the occasional indulgence.  As ironic as it seems, you're more likely to stick to these tips if you allow yourself the occasional slip-up.
As you know, my son suffers from food allergies, so we're very careful with packaged snacks.  Pretzels are actually one of the few packaged snacks that are safe for him. And since pretzels and dark chocolate go hand in hand, I thought I'd experiment with both in a recipe. Note: There are two ways to make this and I'll describe them both below.
Vegan Dark Chocolate Chunk Pretzel Bars
Ingredients
2-1/4 cups all-purpose flour
1 teaspoon baking soda
1/2 teaspoon salt
3/4 cup of Earth Balance Soy-Free Vegan Butter, softened (if there are no soy allergies, you can use their Vegan Buttery Sticks)
3/4 cup organic sugar
3/4 cup organic dark brown sugar
1 teaspoon vanilla extract
3 tsp dry Egg Replacer mixed with 4 tbsp warm water
1/2 bar dark chocolate, coarsely chopped
1 to 1 1/2 cups your favorite pretzels, coarsely chopped (I recommend one of the Organic varieties offered by Snyder's of Hanover since they do not contain any animal products).
Preheat oven to 350°F. Prepare baking pan. I like Organic Sunflower Spray Oil.
Stir together flour, baking soda and salt. Beat butter, sugar, brown sugar and vanilla in large bowl with mixer until creamy. Add egg replacer, beating well. Gradually add flour mixture. Stir in dark chocolate chunks and pretzel pieces.
Spread batter evenly into baking pan.
Bake at 350° for 20-25 minutes or until golden brown.
Optional: Drizzle with melted dark chocolate when cooled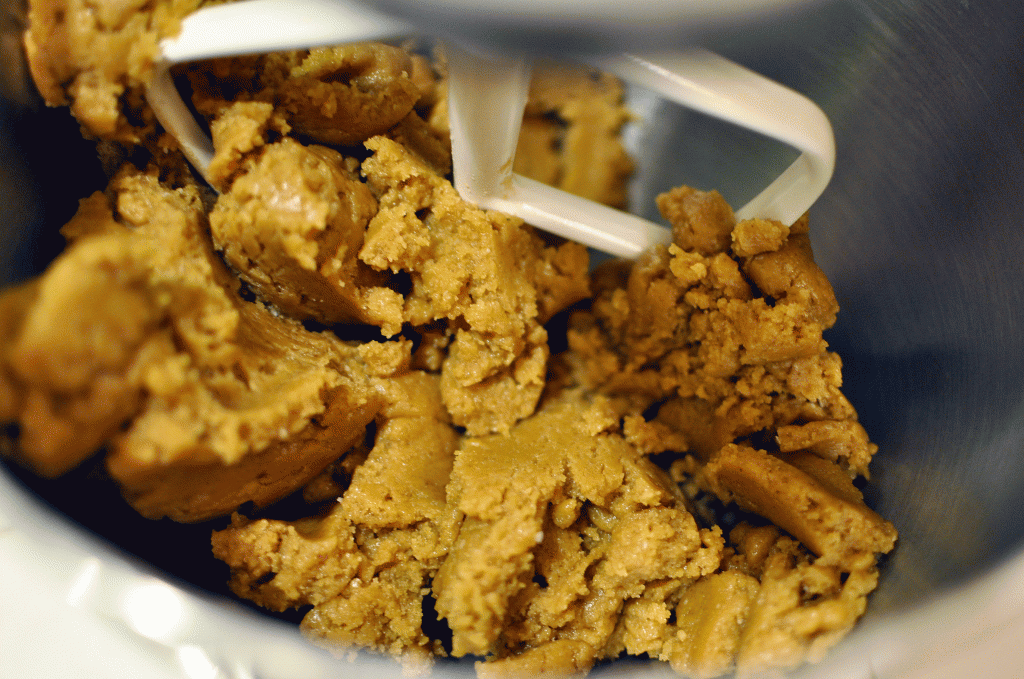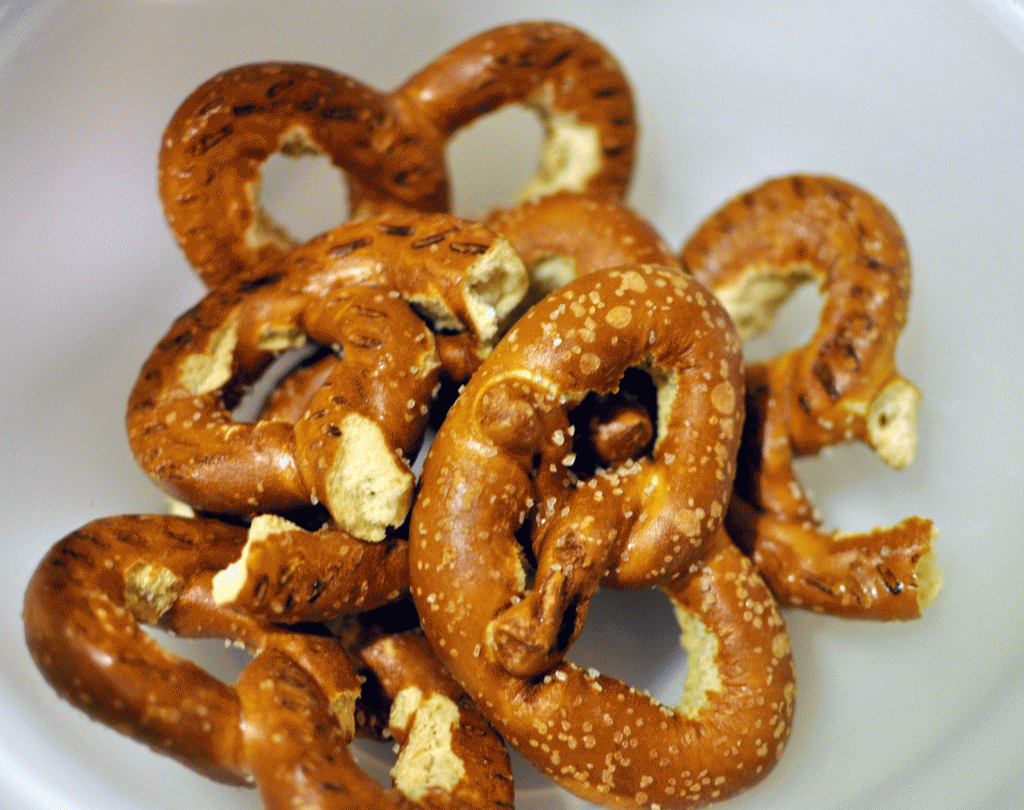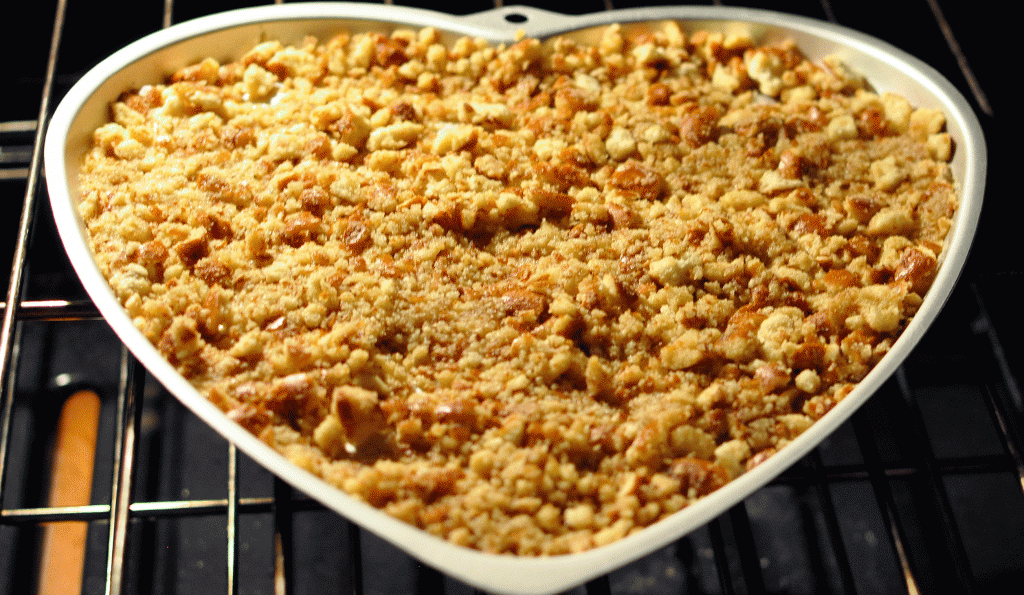 To make a saltier, crunchier bar, follow the directions above except you won't add the pretzel pieces to the batter. Instead, you'll prepare a pretzel crust as follows:
Crush approximately 2 1/2 to 3 cups of your favorite pretzels. You'll want to be sure they're crushed finely as opposed to coarsely in the preceding recipe.
Melt 3/4 to 1 cup of Earth Balance Soy-Free Vegan Butter (if there are no soy allergies, you can use their Vegan Buttery Sticks)
Combine pretzel pieces with melted butter and spread in prepared baking pan.
Bake at 350° for 6-8 minutes
Spread cookie mixture on top of warm pretzels.
Bake for an additional 20 to 25 minutes or until a toothpick inserted comes out clean.
Optional: Drizzle with melted dark chocolate when cooled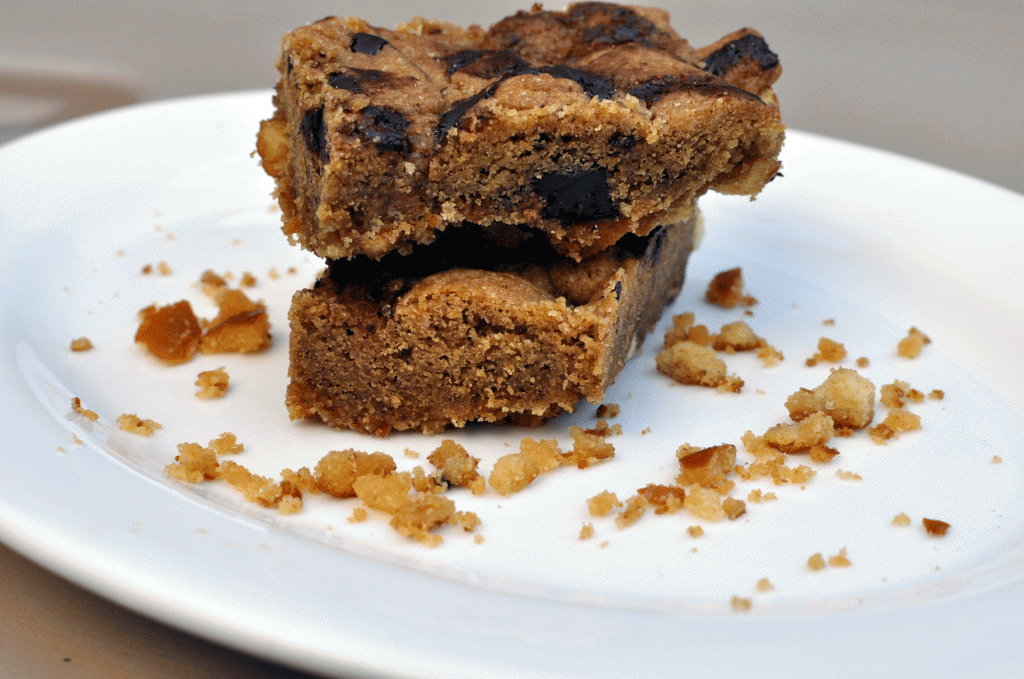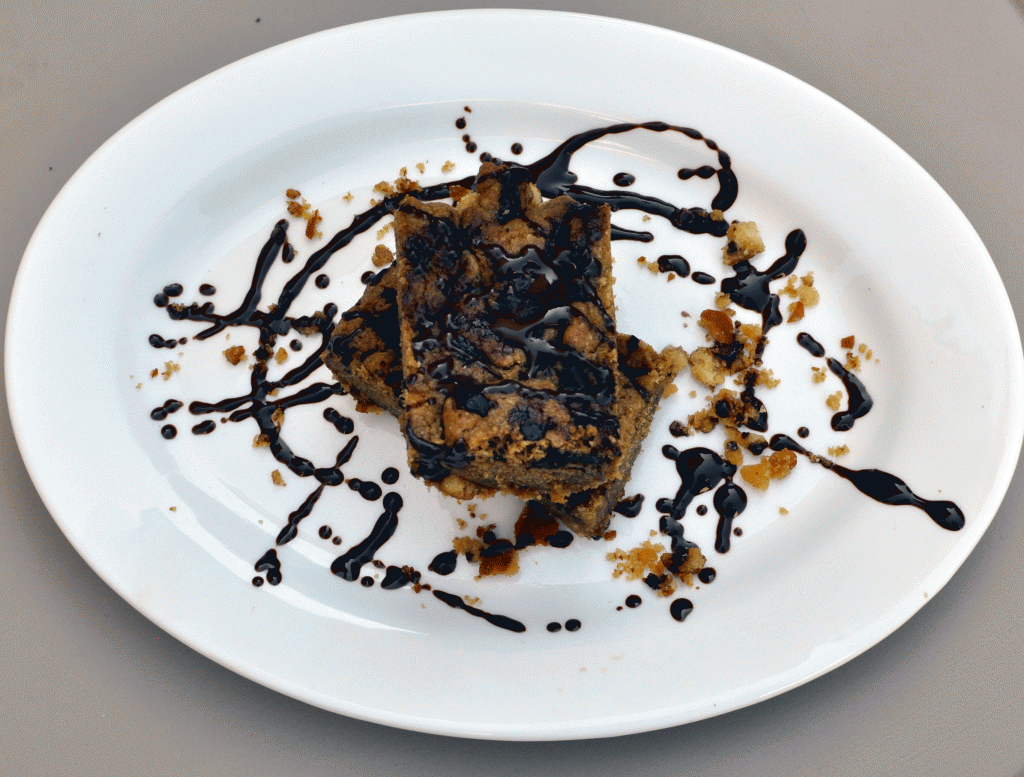 Both recipes result in a snack that is a nice blend of sweet and salty.  While this might definitely be considered an indulgence, it's free from any trans fats or artificial ingredients you might find in packaged snacks
Looking for additional snack-like recipes? Check out Snyder's of Hanover!  They have a variety of different options including organic, multi-grain, and gluten-free pretzels and my favorite: Sourdough Hard Pretzels!
This is a compensated post written while participating in the SocialMoms and Snyder's of Hanover blogging program.   For more information on how you can participate, click here.
Latest posts by Caryn Bailey
(see all)