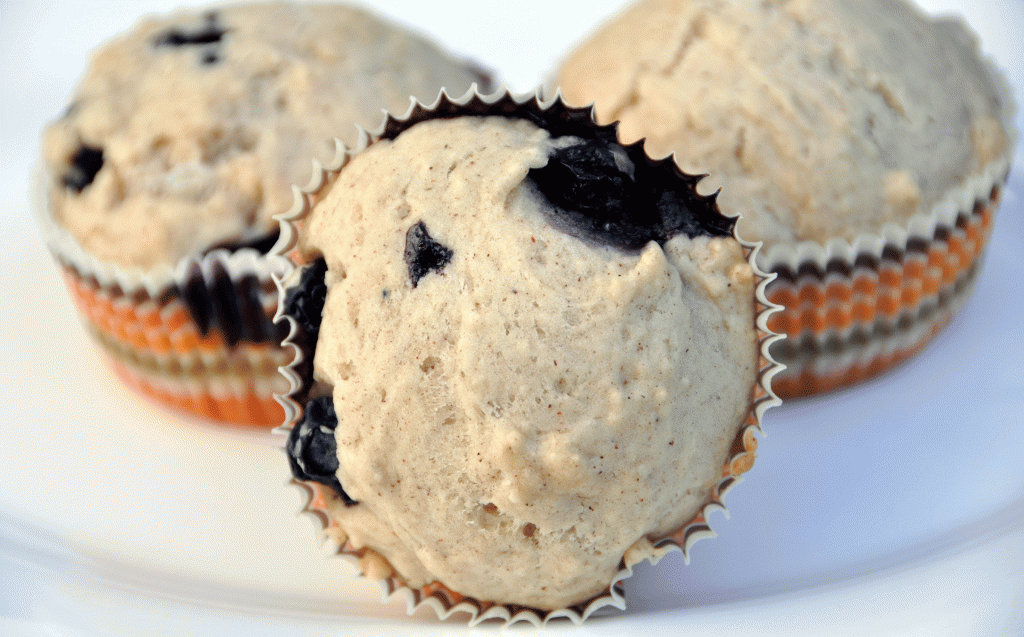 Combine my love for baking with my favorite meal of the day and the result is the most delicious Vegan Blueberry Muffins I've yet to taste. This super easy recipe can be made in a short amount of time with just a few simple ingredients.  I typically cut the recipe in half since we like our muffins fresh!
Vegan Cinnamon Blueberry Muffins
1 1/2 cups flour (I like whole wheat)
1/2 cup raw organic sugar
1 teaspoon baking powder
1/4 teaspoon salt
1/2 teaspoon ground cinnamon
4 tablespoons melted vegan butter ( we use the soy-free version)
 2 1/4 teaspoons of Ener-G Egg Replacer mixed with 3 tablespoons of warm water
3/4 cup almond milk
1/2 container of fresh blueberries (you can also substitute frozen blueberries but don't defrost them…just add them straight into the batter)
1.  Preheat the oven to 375 degrees.
2.  Line 6 muffin cups with paper liners
3.  Combine dry ingredients in a large bowl.
4.Whisk together the butter, egg replacement mixture, and milk in a separate bowl until combined.
5.  Add the above mixture to the flour mixture and stir until the dry ingredients are moist and blended, being careful not to over-mix. Fold in the whole blueberries.6.  Fill each muffin cup approximately until it's  1/3 full.
7.  Bake 20 to 25 minutes, until lightly golden brown and a toothpick inserted in the center of a muffin comes out clean.
This recipe can be doubled.
Voila!  What do you think?
Latest posts by Caryn Bailey
(see all)