One of the coolest foodie experiences I had was in Bentonville, Arkansas last month with Walmart.  During a grilling demonstration, Robyn Lindar of Grill Grrrl Blog discussed the versatility of the grill and how different zones can be created to cook a variety of dishes, including dessert. After sampling her grilled cobbler, I was determined to make my own version once I had practiced using our grill at home.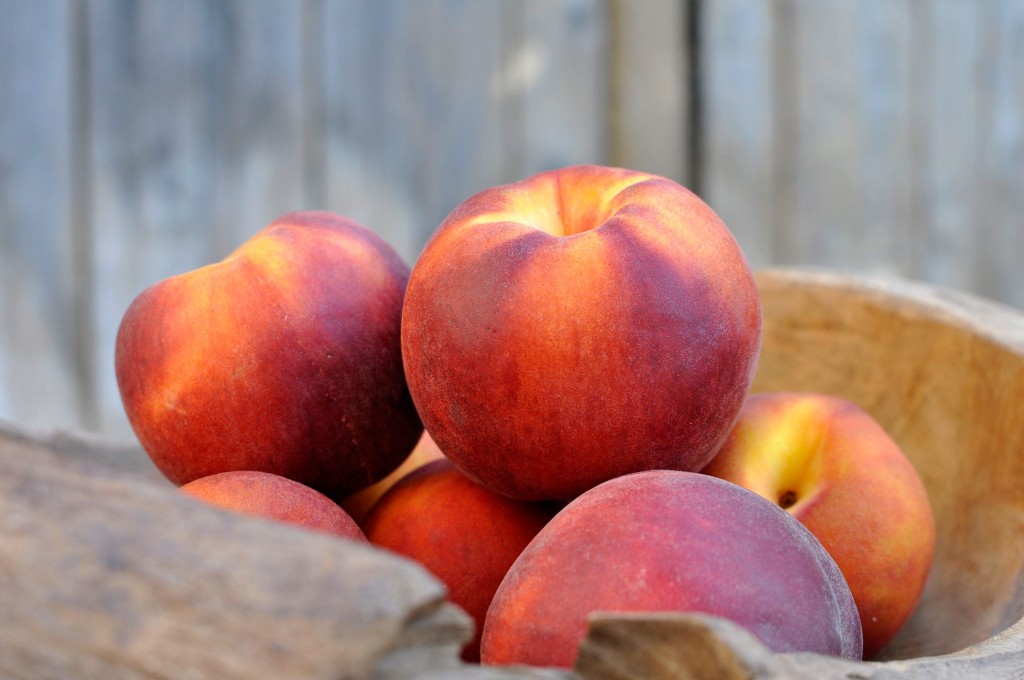 Utilizing the concept of indirect heat (which is equivalent to cooking or baking a dish in the oven), I decided to use the locally-grown peaches I had purchased for a simple grilled cobbler.  We have a gas grill so to create and indirect heat source, I first grilled our dinner as we normally would on medium-high heat. While the main dish was cooking, I prepared the cobbler.  Our grill has two burners so I simply turned the second burner off and placed the cobbler uncovered on that surface.  Both the main dish and dessert can be cooked at the same time using direct and indirect heat.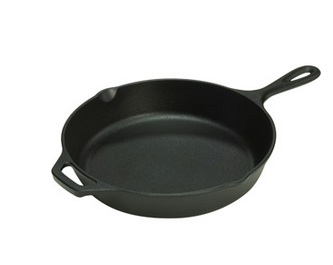 Before grilling a dessert, I recommend purchasing a cast iron pan (I found an inexpensive one at my local Walmart). This type of pan is incredibly durable and can withstand the heat from a grill without scorching the bottom of your dish.  And, most pans available, including the one I purchased by Lodge Logic, have a non-stick surface which makes it ideal for grilling desserts. Be sure to hand wash this pan and "season" it with oil after each use to prevent rusting and to ensure your pan lasts a long time.
I love cobbler because it doesn't require a true crust and can quickly and easily be made.  Most store-bought cobblers tend to be too sweet, so I created this recipe and only used the amount of sugar necessary to bring out the sweetness in my peaches.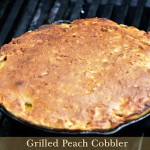 Recipe: Grilled Peach Cobbler
Ingredients
4

peaches

peeled and sliced

1/4

cup

light brown sugar

1/2

teaspoon

of cinnamon

1/4

teaspoon

salt

The juice of 1/2 Lemon

Crust

1 1/3

cups

flour

1/3

cup

uncooked oats

1/2

cup

brown sugar

1

teaspoon

baking powder

1/8

teaspoon

salt

1/4

cup

unsalted butter

1/2

cup

buttermilk

Bake on grill

cover on, over indirect medium heat for 40-45 minutes. Check crust for done-ness.
Instructions
Combine sliced peaches, brown sugar, cinnamon, salt, and lemon in a small bowl and refrigerate for at least 30 minutes to allow the flavors to meld.

To prepare the crust, combine the flour, uncooked oats, brown sugar, baking powder and salt in a medium-sized bowl

Cut the butter into the flour mixture (you can use a pastry blender if available)

Add the buttermilk until a soft dough is formed (you may not need the entire 1/2 cup)

Grease a cast iron pan with unsalted butter

Layer peach mixture at the bottom of the cast iron pan

Top with soft dough

Grill uncovered over indirect heat for 40-45 minutes, or until crust is browned and done all the way through

Serve with vanilla ice cream, if desired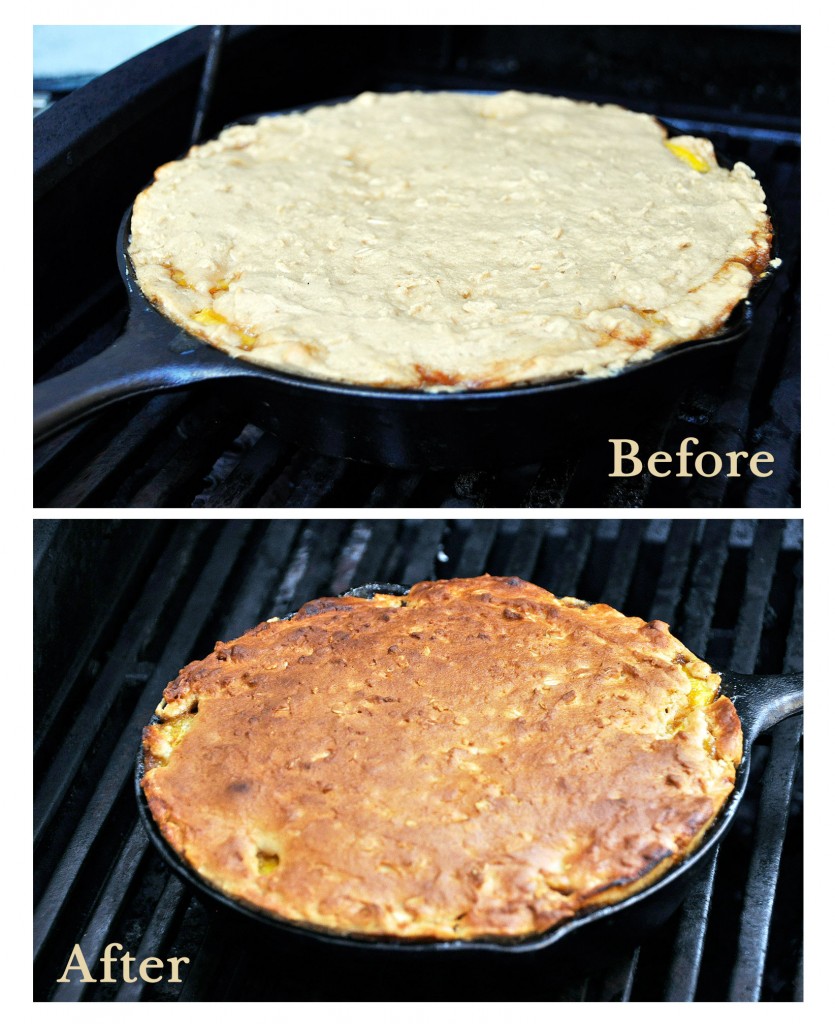 Given the fact that this was my first time grilling a dessert, I found myself watching it intently to ensure it didn't burn. Interestingly enough, it cooked slower than I expected and I didn't need to be concerned. After approximately 30 minutes, you'll want to check the cobbler more frequently since every grill differs.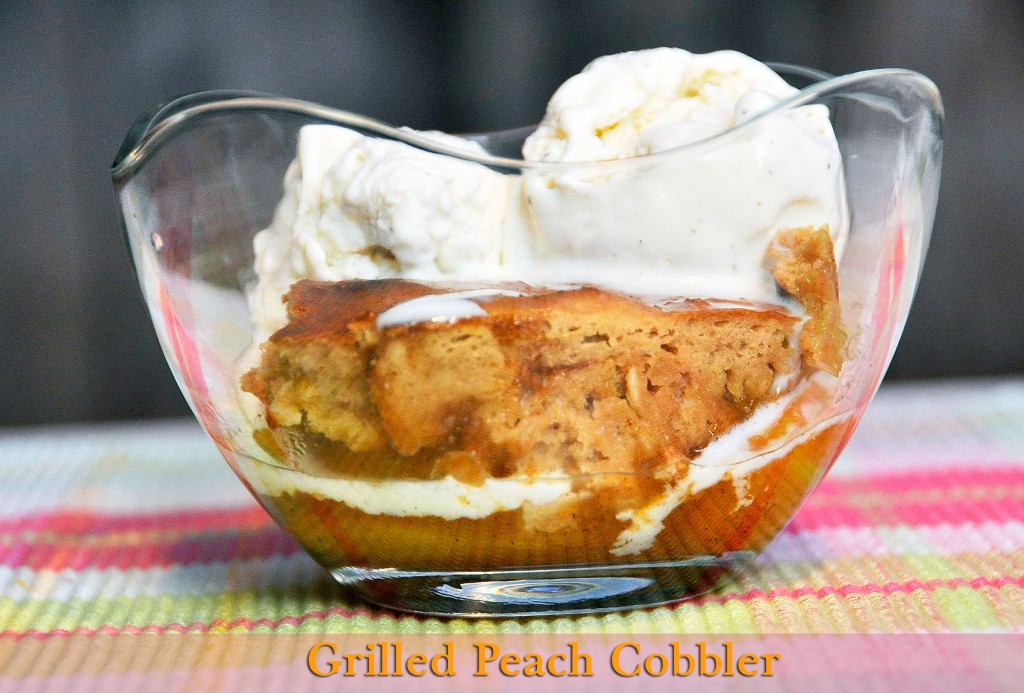 While not as pretty as a pie, this cobbler was amazing!  The peaches were soft and sweet inside and the crust was crumbly as you would expect with a cobbler.
The grill can effectively be used to cook a variety of different dishes and summer is the perfect season to take your cooking outdoors.  For some tips on getting started, see my previous post which features a Cedar Plank Grilled Salmon and 5 grilling tips you'll want to know before you get started. And for even more ideas on diversifying your grilled meals, visit Grill Grrrl Blog!
Latest posts by Caryn Bailey
(see all)