I remember the day I was introduced to Cedar Plank-Grilled Salmon.  I was reviewing a local Orange County restaurant, unique in its use of natural cooking techniques and a seasonal menu with no item over 475 calories.  The dish was cited as a favorite amongst guests, and given how much I love salmon, I decided to give it a try.  It was honestly the best fish I have ever tasted and I vowed one day to make it. It's been 3 years too long, so I decided that I'd do a bit of research and grill a salmon on a cedar plank.
Every summer, my husband grills a few times a week…meats…fish….vegetables.  Me?  Not so much. It wasn't too long ago that I feared the kitchen, so to get me near a grill has taken a lot of coaxing (and coaching) by my husband.  Combine that with the grilling insights I gleaned from Robyn Lindars (aka Grill Grrrl) and I was inspired to grill something this summer!
After watching a ton of YouTube videos, I finally felt ready to grill a salmon.  Along with the ingredients you'll need to prepare the fish, you'll want to pick up cedar planks.  Walmart carries them in the grilling section and I was able to pick up a pack of two for around $4.

Recipe: Cedar Plank-Grilled Salmon
Ingredients
1

Cedar Plank

2

Sockeye Wild Alaskan Salmon Fillets

Orange Juice

Cider Vinegar, White Wine

Lemon juice

olive oil, fresh herbs
Instructions
Soak the cedar plank in mixture for 2-4 hours

Preheat grill and cedar plank

Brush herb mixture on salmon before cooking

Cook fish to an internal temperature of 145 degrees F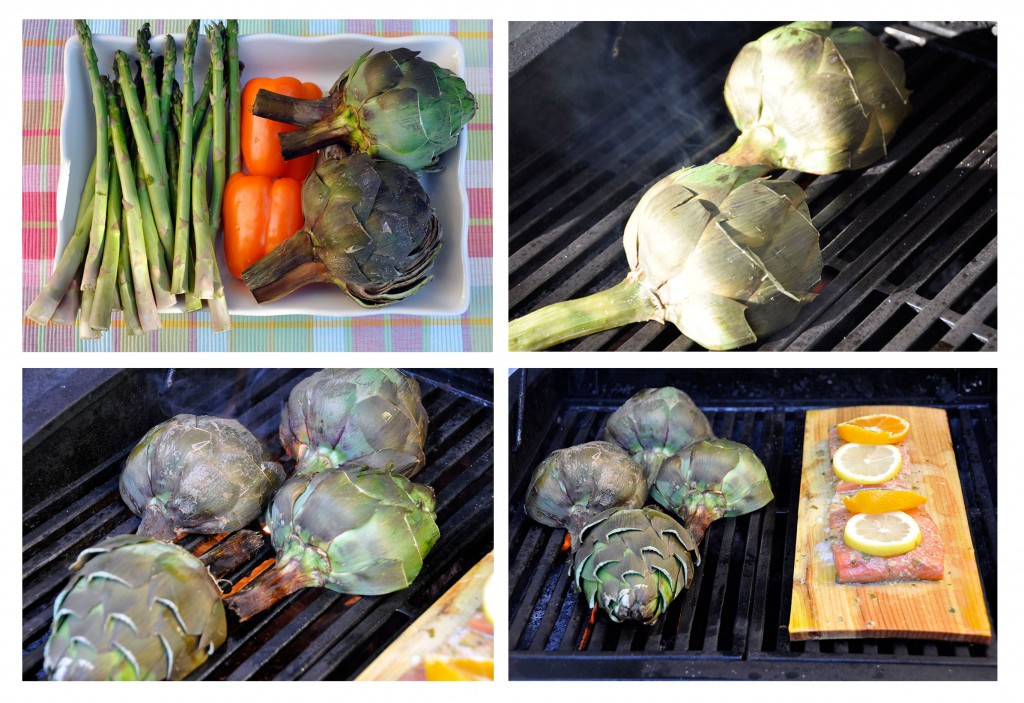 Since I already had the grill on, I decided to cook some fresh vegetables alongside the salmon. I simply brushed some of my herb mixture on the vegetables before grilling.  If you time it right, everything can be done and ready to serve at the same time.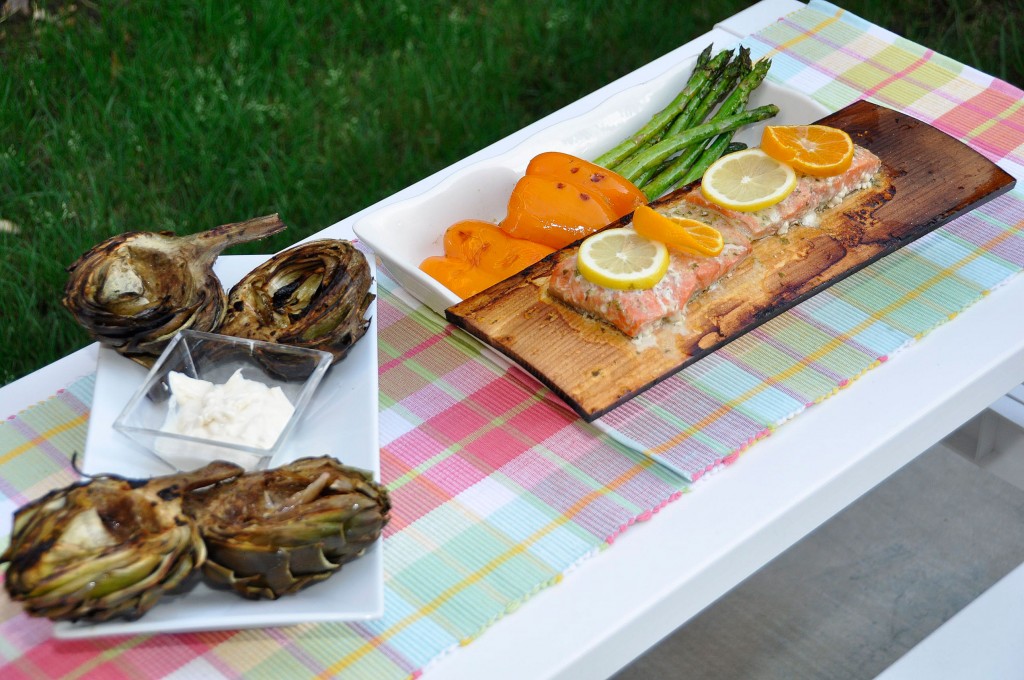 This dish was very easy to recreate and our family absolutely loved how flavorful and moist the salmon tasted.  In the summer, when it's too hot to cook, bring the food outside and use the grill.  Not only will you have quick, easy, delicious meals, you'll likely use less fats and other ingredients to flavor your dishes.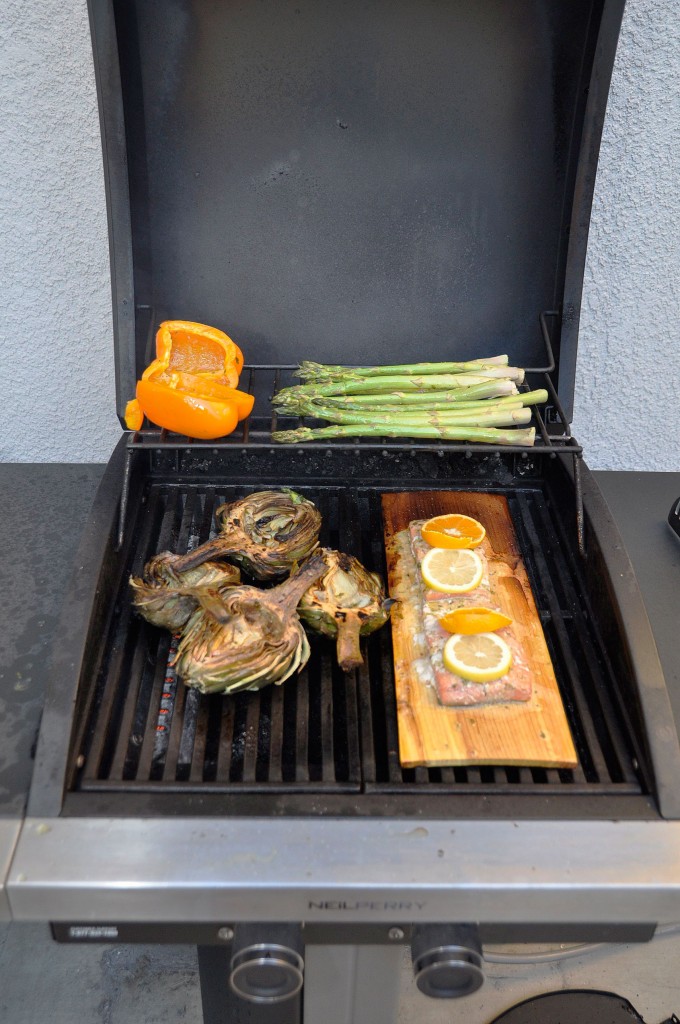 Grilling was easier than I anticipated, but it helped that I referenced the tips Robyn shared with us last month.  Here is a quick video demonstrating how I created this Cedar Plank-Grilled Salmon.
If you're hesitant, remember these 5 essential grilling tips and you'll likely have success!
1. Invest in a few good tools: Robyn suggests finding a quality pair of tongs that are long enough for your particular grill and a cast iron skillet to cook side dishes (and desserts!).  I also recommend purchasing a heavy duty brush to clean the grill prior to each use. Hint: It's easier to clean when the grill is hot.
2.  Know when it's done:  A meat thermometer is essential for ensuring food is cooked adequately.  By using a thermometer, you won't have to "guess" or risk having over or undercooked food.  Reference FoodSafety.org for safe minimum cooking temperatures.
3.  Quality over quantity:  Opt for a handful of quality ingredients such as olive oil, sea salt, and pepper, says Robyn.  The grill will add natural flavor to foods which will eliminate the need for fancy sauces and marinades.
4. Oil the grates:  According to Robyn, this is the key to a quicker, more effective clean-up and will ensure your food won't stick. Simply dip a folded paper towel in oil and rub it on the grates before lighting the grill.
5. Create multiple grilling zones: One of the most valuable things I learned from Robyn was exactly how a grill works. Interestingly enough, you can use your grill as a broiler (direct heat) or like an oven (indirect heat).  If you are using a gas grill, you can create direct and indirect cooking zones by setting half of the grill burners to medium/medium-high heat and the remaining burners to low/off.  On a charcoal grill, place the charcoal in a pile and move it to one side.  This creates a "fire" and "no fire" zone on the grill.   
Are you ready to get your grill on?  Check out Robyn's blog Grill Grrrl for recipes, tips, and more!