{Sponsored}
During the warm summer months, we tend to eat more fruits and vegetables for a variety of reasons.  Fresh foods are easy to prepare and I find that produce is in abundance at our local market.  I also notice a shift in our approach to meals when it's hot outside and very often we're opting for foods that don't require turning on the oven.
Now that we live within driving distance of a Walmart Supercenter, I am able to do a majority of my shopping (including groceries) at this new location.  I've been quite impressed with the variety of fresh produce offered and the assortment of locally grown fruits and vegetables. My children's favorite fruits are those from the berry family and our local store sells blackberries, strawberries, and blueberries in larger family sizes at very competitive prices. My store also has a small selection of organics and I'm hoping that the options continue to expand over the coming months.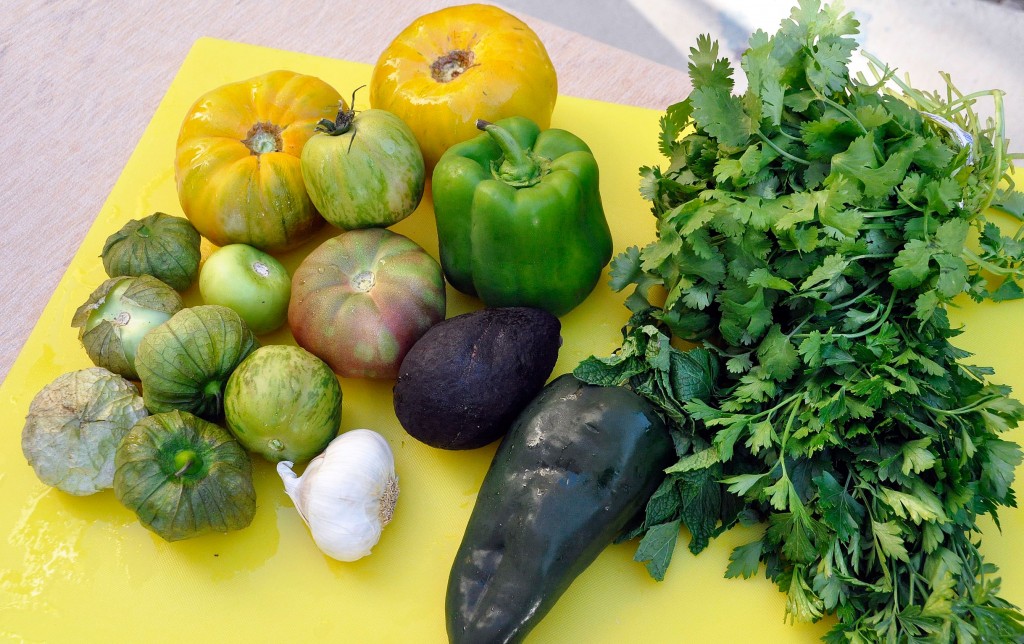 During my visit with Walmart over the summer, I learned that they are implementing new policies regarding produce sold in stores nationwide.  With many fruits and veggies, it is easy to determine whether or not they are moldy or on the verge of going bad. But with berries, lettuce, and other packaged produce it becomes a challenge.  I can't tell you how many times I've purchased a container of berries that look great on top only to find them moldy on the bottom.  Walmart's new 100% Freshness Guaranteed policy ensures that customers are completely satisfied with the produce they purchase. If you bring it home and you find it to be unsatisfactory, simply let them know and you'll receive a refund.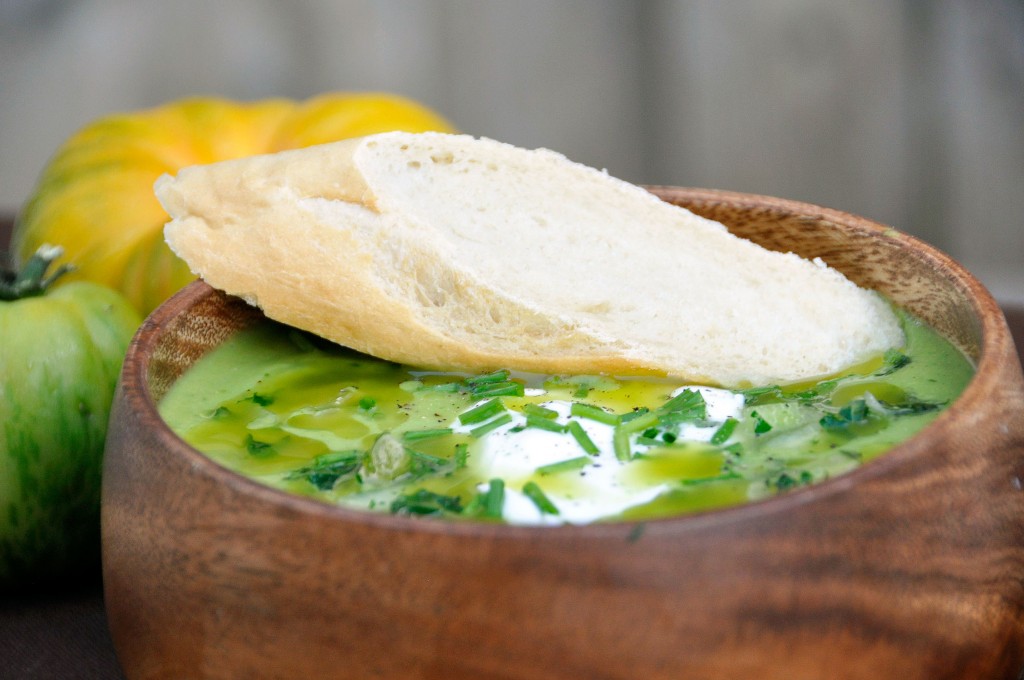 My children are actually really good about eating vegetables but I find that they like to stick with a handful of favorites rather than venturing to try something new. In an effort to incorporate more diverse fresh vegetables in our life, I decided to take a "green" approach to the traditional gazpacho earlier this week.  Gazpacho is my favorite soup with its origins in Spain.  Traditionally, it is made with just a few simple ingredients including ripe red tomatoes, cucumber, bell pepper, onion, garlic, stale bread, olive oil, vinegar, and salt.  With a few additions, several alterations, and a gourmet finish, here is my recipe for Green Gazpacho With Cilantro Parsley-Infused Olive Oil.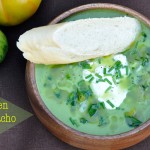 Recipe: Green Gazpacho With Cilantro-Infused Olive Oil
Ingredients
2

handfuls of baby spinach

washed

1

pound

of green heirloom tomatoes

quartered and seeded

1/2

pound

tomatillos

halved and seeded

2

cucumbers

peeled, seeded, and chopped

1

medium sweet onion

coarsely chopped

1

poblano pepper

seeded and coarsely chopped

1

green bell pepper

seeded and chopped

2

limes

juiced

2

T

mint leaves

3

T

cilantro

3

T

parsley

2

cloves

garlic

1

avocado

1/4

c

olive oil

1/4

c

+ 2T vegetable broth

Salt and pepper to taste

Garnish:

Chopped tomatoes

tomatillos, cucumber, and poblano peppers

Chopped chives

Mint leaves

Cilantro

Greek yogurt

Cilantro-infused olive oil

see recipe below
Instructions
Before blending ingredients, reserve a small amount of chopped tomatoes, tomatillos, cucumber, and poblano peppers for the garnish

Blend ingredients in 4 batches until smooth and creamy, making sure to drizzle in olive oil as the ingredients are blended

Chill soup over night to allow flavors to meld

Before serving, garnish with 1 tablespoon of Greek yogurt, chopped veggies, mint leaves and cilantro

Drizzle Cilantro-infused olive oil and serve
Despite the number of ingredients included in this soup, it's relatively quick and easy to put together.  Here is a quick video I created showing you the steps:

I was pleasantly surprised at how flavorful this soup was.  The tomatillos gave it the "kick" I associate with traditional gazpacho while the avocados were perfect for a smooth, creamy texture.  One thing to note is that when adding Greek yogurt to the soup, it will tone down that zesty flavor that characterizes gazpacho, so go light (or heavy if your kids will be eating it).
The cilantro parsley-infused oil is a bit labor intensive but amazing!  You can find the recipe here.
There are still several weeks left of summer and this is a healthy, flavorful, refreshing soup to cool off with.  You could serve it as an appetizer at an outdoor party or add some shrimp and make a meal of it. Either way, I always like to pick up a freshly-baked baguette to serve alongside the soup.
Have you ever attempted to make gazpacho? I'd love to hear about your favorite recipes!
Recipe, Images: Rockin' Mama. All rights reserved.

Latest posts by Caryn Bailey
(see all)