{Sponsored}
My husband can attest to the fact that planning and organization aren't my strengths, but now that we're completely immersed in homework, soccer practice, dance, and the PTA, I'm finding myself heavily reliant on calendars, planners, lists, and meal plans.  One of the daily challenges I face is what our family is going to eat for dinner each night. In fact, very often it's a source of confusion and stress in our home because our time in the evenings is short.  Because our schedule varies from night to night, a meal plan is an effective way to ensure our family enjoys healthy meals most nights of the week.  It also guides my grocery shopping each week. Not only do I know exactly what I need to purchase (which helps curb the grocery bill), it saves me time and extra trips during the week.
Since I'm not as savvy as some moms, I decided to brainstorm a bit before I came up with our family's meal plan for the week.  I thought about our kids' favorite foods and our family's schedule (which is actually very close to being set for the school year) to determine which days would work best for elaborate meals, when I needed to pull the crockpot out, and when leftovers were essential. While our family is not as a whole vegetarian, we rarely eat beef or pork and try to have at least 2-3 completely meatless nights each week.  Here is a sample meal plan for one week of Vegetarian Meals:
Sunday:  Grilled Salmon Burgers With Green Goddess Sauce
Monday: Shrimp Fajitas
Tuesday: Vegetarian Enchiladas
Wednesday: Spinach and Three Cheese Stuffed Shells
Thursday: Vegetarian Minestrone Soup (recipe below)
Friday:  Leftovers or Pizza (omit the Prosciutto)!
Saturday: Cedar Plank-Grilled Salmon
Despite the fact the fact that none of these meals include meat, I've still ensured that they are packed full of protein-rich foods.  Fish is a wonderful, lean source of protein and gives our children important vitamins and minerals including Omega-3 Fatty Acids. Beans, legumes, quinoa, and nuts are also protein alternatives we love and try to include in salads and side dishes.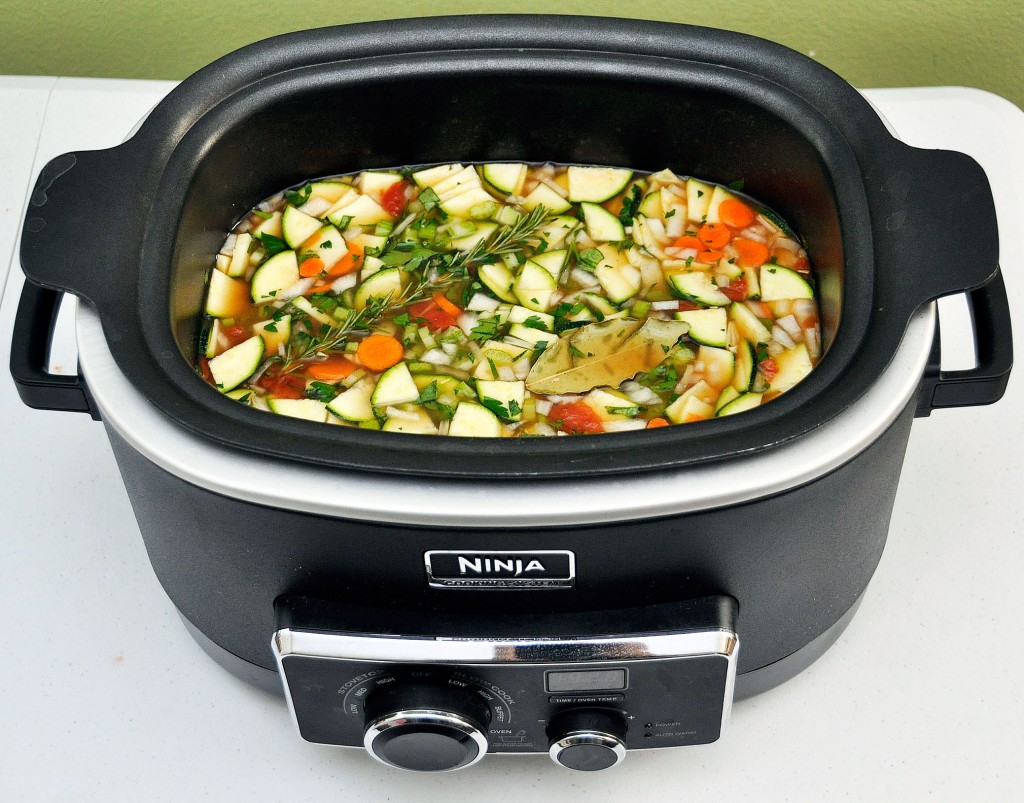 In addition to meal planning, I've found that our Ninja Cooking System has been a huge timesaver.  I've made everything from soups, chili, and enchiladas to vegan, gluten-free chocolate cake in my slow cooker.
Earlier this week, while walking my son to school, I could feel Fall for the first time in the air.
My children absolutely love my homemade soups, so I pulled out my Ninja Cooking System, threw some fresh veggies, herbs, spices, and beans into the pot, and 8 hours later I had this warm, delicious soup!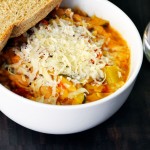 Recipe: Crock Pot Minestrone Soup
Ingredients
16

ounces

of Low Sodium Vegetable Broth

16

ounces

of water

1

can of Diced Tomatoes

2

cans of White Beans

rinsed and drained

2

carrots

chopped

2

stalks of celery

chopped

1

zucchini

chopped

1/2

onion

chopped

2

cloves

of garlic

chopped

1/4

cup

Italian Parsley

chopped

2

tablespoons

of Fresh Basil

chopped

1

spring of fresh Rosemary

1

bay leaf

Salt & pepper to taste

1

cup

whole wheat pasta

Orzo or Ditalini, uncooked

Freshly grated Parmesan cheese
Instructions
Place all ingredients in the slow cooker except for the pasta and Parmesan cheese and cook on low for 8 hours.

Fifteen minutes before the soup is ready, add the pasta

Serve soup with freshly grated Parmesan cheese
My kids loved this soup and my son's exact words were "This soup is SOOO good!"  I personally enjoy making soup for so many different reasons, primarily because there aren't many ways that it can be messed up.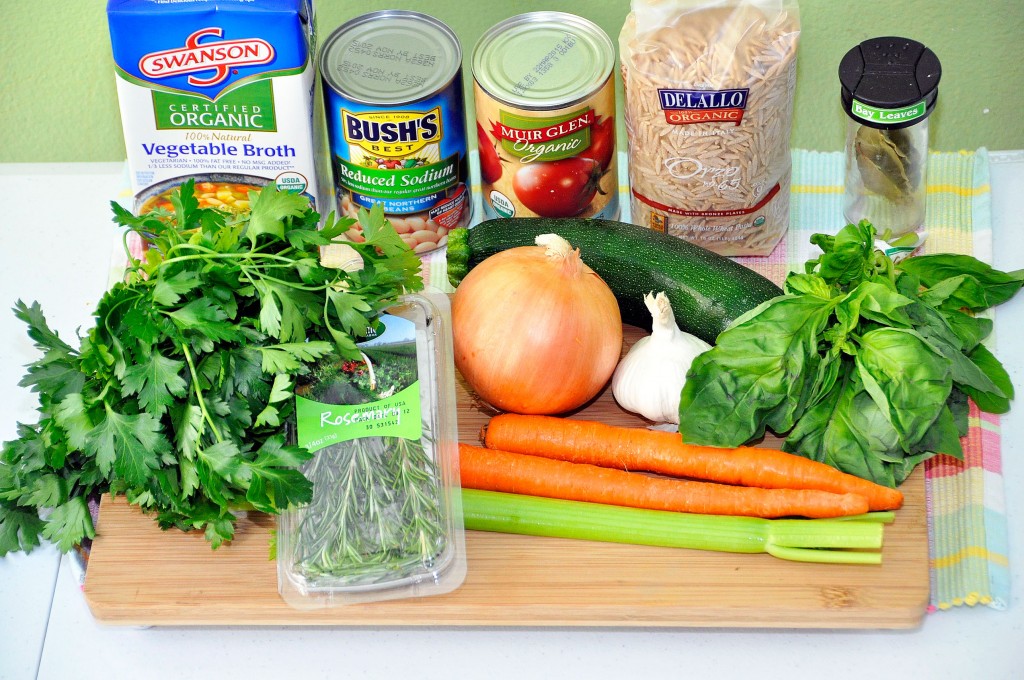 Even if you don't have some of the ingredients above, your soup will still taste delicious! If you use the slow cooker, you don't have to Sauté any of the veggies.  Simply chop them up and let your slow cooker do all of the work.
*Note* I really wanted to add kale to this recipe but my local Walmart ran out so I omitted it. You could also opt for fresh spinach in place of the kale.
So there you have it…one full week of vegetarian meals!  Do you meal plan?  I'd love to swap recipes with you!

Latest posts by Caryn Bailey
(see all)