Last year, after achieving some success with our small garden, we decided to invest in an avocado tree.  All four of us love the creamy fruit (yes, it's a fruit!) and my husband thought that growing them in our backyard would allow us the opportunity to enjoy them at leisure, which pretty much means every day.  Unfortunately, growing an avocado tree proved to be more difficult than we imagined, and despite our frequent
nurturing
watering and warm, sunny weather, the tree has yet to produce a single avocado. In fact, according to one source,
it could take 7-15 years for an avocado tree to yield it's first fruit
. Since avocados are a staple in our home, we often shop at our local market to purchase the freshest varieties.
Did you know that the world's first avocado originated in Mexico? The country's optimal climate and fertile soil provide optimum growing conditions and Mexico is the only place in the world where avocado trees bloom four times a year.
Suffice it to say, we could eat avocados at every meal and my children literally eat the creamy fruit right out of the skin.  They're also delicious in omelets, salads, sandwiches, tacos and dips.
Since my foodie husband and I are always looking for new ways to prepare and incorporate foods, we decided to take an avocado twist on the Mexican Shrimp Cocktail.  The traditional recipe features a spicy, tomato-based sauce and we've replaced it with a spicy avocado puree.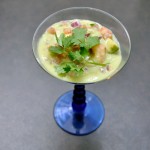 Mexican Shrimp Cocktail
Ingredients
1

Avocado

1

Lime

1

TSP

- 1 TBSP Canned Green Chiles

Water

Dash of Salt

1

Avocado

diced

1/4

cup

Onion

diced

1

Tomato

diced

Diced Cilantro

1/2

pound

boiled shrimp

chilled
Instructions
Puree 1 Avocado with juice from 1 lime

Add a dash of salt and 1 teaspoon to 1 tablespoon of canned green chiles, depending on how spicy you like your cocktail.

Add a small amount of water to achieve a soup-like consistency

Chill

Combine diced onion, tomato, avocado, and cilantro with the boiled shrimp and the avocado "cocktail."

Stir and serve chilled
This recipe is perfect for summer since it's a cold dish and can be served as an appetizer.
Apart from their rich, creamy taste, avocados pack much in the way of nutrition.  Here are just a few benefits you reap when you eat avocados (via
Avocados From Mexico
):
Avocados provide close to 20 essential vitamins and minerals including potassium, folic acid and other B-vitamins, vitamins E and K.
Avocados contain phytonutrients which may help  prevent chronic diseases
Avocados are a good source of lutein, an antioxidant concentrated in the macula of the eye that may help preserve the health of one's eyes
Avocados help enable the body to absorb more fat-soluble nutrients, such as alpha- and beta-carotene, lutein and vitamins A, D, K and E in foods that are eaten with them.
Want to learn more about avocados?  Tonight Avocados from Mexico and LATISM will host a Twitter party from 9 pm to 11 pm EST.  Just tweet with the hashtag #LATISM and follow @guacgrl.
What is your favorite way to enjoy avocados? I'd love to hear about your favorite recipes. I created a Pinterest board with a few of mine!
For more information about avocados or to obtain recipes, just visit Avocados From Mexico.
This is part of a compensated campaign with Latina Bloggers Connect and Avocados From Mexico.
Photos & Recipe: Rockin' Mama