This giveaway is now closed.  Thanks for joining the potty party.  The winner is Andrea B.  Congratulations!

We're at the end of this series and I want to thank you for stopping by and sharing your tips.  I hope you learned something…I know I did!  If there's one thing I want you to take with you, it's that there is no single right way to potty train.  Our families are unique, no two children are the same (not even in the same household), and we have different parenting styles.  I hope something I've shared with you helps you as you start the process of potty training.
Oh…now that this series is closing, I have another series you're definitely going to want to come back for.  I'll be posting about it over the weekend but I'll give you a hint…it has something to do with Spring!
I've heard people talk about potty training a child in one day.  Dr. Phil had a show dedicated to this very topic.  I have to admit that while the thought of potty training a child in one day is appealing, it sounded like something OTHER people do.  But, seeing that I had questions and that you might have questions, I decided to research the topic.  I came across an incredibly resourceful website called Potty Training Concepts, founded by a woman named Narmin Parpia who potty trained her two sons in one day (and designed a doll that drinks and wets).  I had the opportunity to talk to Ms. Parpia about how she developed the Potty Training In One Day Program and decided to do an informal interview with her.  My review consists of information she shared with me during the time we spent talking about her program and her anatomically correct potty training dolls, Potty Scotty and Potty Patty.  I received a Potty Scotty doll (complete with bottles and training pants), training pants for my son, the book and DVD, and a chart for this review.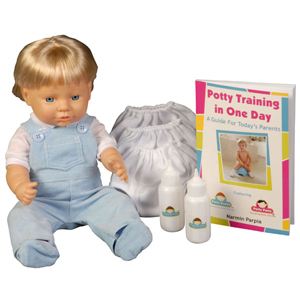 One of my very first questions for Ms. Parpia was when a child would be ready to potty train in one day.  From that question came a wealth of information about the importance of readiness.  I've briefly mentioned in each of my posts how important a parent's and child's readiness is for a successful outcome.  In order for the Potty Training In One Day program to work, both you and your child must be ready.  Ms. Parpia describes four levels of readiness which include physiological development, motor skills, cognitive and verbal development, and emotional and social awareness.  In order for this (or any other program for that matter) to work, a child must have achieved readiness in all of the four levels.  The average age for a child to demonstrate readiness in these four levels is 20-30 months, but parents must keep in mind that every child is different and may not be ready until even later.  Oh…and it goes without saying that you as the parent must be ready too!  If you'd like more information on the four levels of readiness, read her article entitled When to start potty training?
If you've decided that your child is ready to potty train, you'll need to do some preparation for "the big day."  When I spoke with Ms. Parpia about the timeline, she clarified that while a child can learn the concepts in one day, it may take one to two weeks of "maintenance" before a child is completely accident free.  To be honest, this is a method that is going to take some preparation and commitment by you, the parent.  But isn't that really the essence of parenting?  This planning period can take as little as an hour to 2 weeks or more depending on your child's readiness.  My son and I are in the "planning" period and we've also engaged in some morning practice runs, but we're both not quite ready for that big day…yet!  Some of the things you'll need to do to prepare include obtaining the proper supplies, an awareness of your child's elimination schedule, an understanding of the "method," and a plan for rewards and "consequences" (more on that later).  Parents, you'll love this method because it's quick…you should see results immediately and highly structured (which means you and your child know exactly what to do).  It may appear to be too easy which is why follow-through and maintenance are so important.

One of my questions for Ms. Parpia was how this method works.  She described the two basic premises or concepts for which the method is based upon:
The best way to learn something is to teach it

Behavior is shaped by consequence
Because Ms. Parpia describes the method so succintly, here is an overview in her own words:
With your guidance, your child will teach a doll named Potty Scotty™ or Potty Patty™ the appropriate "going potty" behaviors. Your child will start learning that the natural consequence of drinking is the urge to urinate. The logical consequence of urinating in a potty are rewards such as such as verbal & non-verbal praise, treats, toys and even a celebration potty party. Then, your child will teach the doll the natural consequence of not using the potty, which is wet underwear. The logical consequence of this undesired behavior is practicing going back and forth to the potty.
I had not really thought about potty training in this way and I think it's actually pretty ingenious.   When I was in nursing school, we did a ton of "teaching" projects and I remember how much I learned through the process of teaching someone else the subject matter.  I had no idea that children can learn concepts the same way and this is proabably my favorite part of the method.  When my son first saw the doll, I have to admit that he really didn't want anything to do with it.  I persisted and kept introducing him to it, asking him to bring me the doll, or give the doll his bottle or put the doll on the potty.  He has since warmed up to the idea and has even started giving the doll a bottle.  Hence we're still in the preparation phase of this process.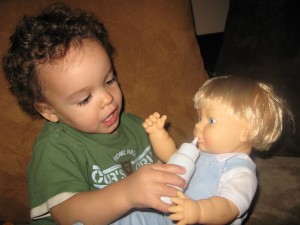 Once you and your child are ready for the "Big Day," you will switch over to training pants.  During my conversation with Ms. Parpia, I asked her what was significant about training pants.  She responded by telling me that a child must be able to feel wet in order for this method to work.  On the "Big Day" you and your child say bye-bye to diapers forever (hubby and I can't wait for that joyful day!).  The day is spent first teaching the doll how to potty (with rewards) and then teaching your child how to potty.  There will be accidents…but by the end of the day your child will have learned the basic concepts necessary to use the potty.  After that you and your child enter the maintenance phase where you deal with issues like accidents and using the potty away from home.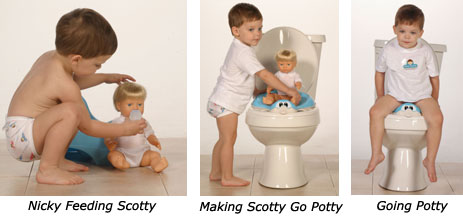 The Potty Training in One Day method is simple, straightfoward, and successful when done precisely as described by Ms. Parpia.  Consistency is key.  I definitely feel like this is something any child and parent can do together.  While I tried to give you a detailed overview of the method, I highly encourage you to read the book, watch the DVD, and read the articles on Ms. Parpia's site so that you are familiar with the method before beginning the process.
Please vist Ms. Parpia's site.  She has compiled a wealth of information on potty training that goes beyond the Potty Training In One Day method.  I'd like to thank her for the time she spent with me discussing this topic.
Win It!  One of you will win a Potty Training In One Day Book/DVD, training pants, and a potty training chart.  Simply head on over to the site and take a look around.  Come back here and leave me a comment with something you learned or a product you liked (not mentioned in my review).  Comments will close on March 7, 2009 at 10 pm PST. One comment per person, please. US residents only. Duplicates and comments not including the above information will be disqualified. Comments are moderated. If you don't see your comment in a reasonable amount of time, send me an email. Bloggers and non-bloggers may enter. If you don't want to leave your email address, please be sure to check back for my announcement on the winner. Please note that winners must respond within 48 hours of being announced/contacted or another winner will be drawn.
Want an extra entry? Do any or all of the following and receive an extra entry for each one.
*Update* Comment on any of my other potty training posts and receive another entry!
Be sure to leave me a separate comment for each additional entry.
Spread the word and gain up to 2 extra entries for each giveaway (see this post for more details)
Follow me on Twitter AND tweet about the contest.
Subscribe to my feed.
Blog about this giveaway. It doesn't have to be a separate post. Just include a blurb about it when you blog about other giveaways.
Place my button on your site. If you have difficulty, please let me know.
Click on one of the very cute buttons below and digg, stumble, fav, etc. Just let me know what you did in the comments!
Looking for more giveaways?
Potty Training Series and Giveaways
Let's Get This Potty Party Started
Positive Reinforcement and Potty Training
Potty Training Accidents? We've Got Ya Covered!
Potty Train the Fun Way With the Potty Tots!
A Neat Solution for Potty Training on The Go
Sustainable (Potty) Training Pants by Seventh Generation
Protect-A-Bed Against Nighttime Accidents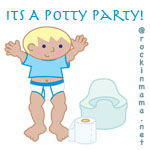 Latest posts by Caryn Bailey
(see all)