No compensation was received for this post.  I was invited to visit the set of The Smurfs 2 in Montreal and travel/accommodations were provided.
It was nearly one year ago to the day that I boarded a plane for the French Canadian city of Montreal.  It was still cold and rainy in the quaint historic city, but it's gorgeous European architecture and ambiance compelled me to take a walk before we began an immersive day on location with Sony for their upcoming live action/computer animated release, The Smurfs 2. Having grown up with the Smurfs, I distinctly remember sitting with my father on many a Saturday morning to watch the popular animated television series.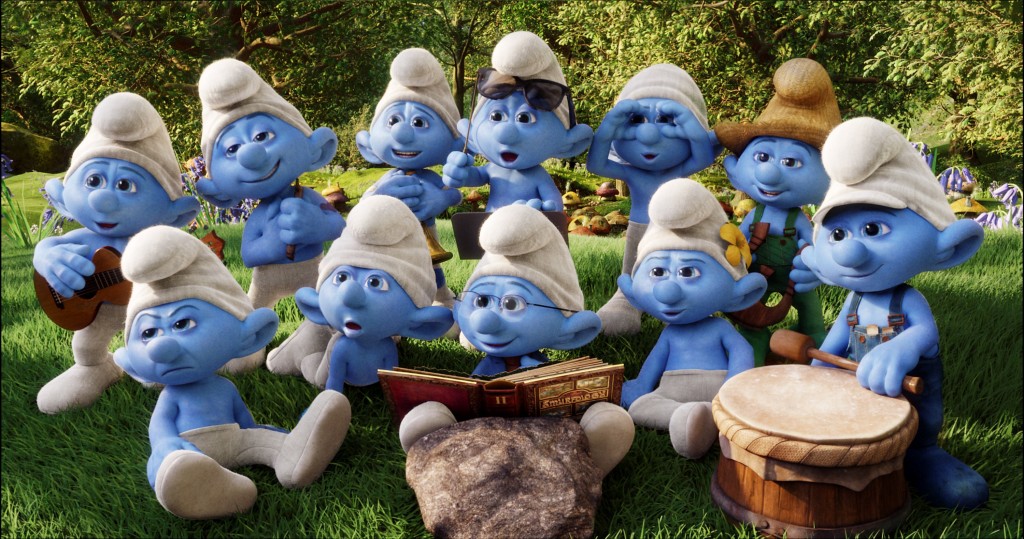 The Smurfs 2 is the second of three films pitched to Sony, and during my set visit in Montreal, I had an opportunity to learn more about this particular story and how it  ties in with the original and the film that follows.  As we walked into the production offices, we were surrounded by artwork from the film which helped set the tone for our discussion with producer, Jordan Kerner, who returns along with the entire original voice cast.
Since some time had passed between the original film, released in 2011, and the animated television series, The Smurfs was really about reintroducing these characters to a whole new generation through live action and computer animation (Kerner).  Many parents, including myself, grew up with the Smurfs, and while they have widespread notoriety across Europe, Asia, and Africa, the US is still very much an untapped market. In The Smurfs 2, the overarching  question, "Why one female," is addressed.  The filmmakers will delve into why Gargamel created Smurfette.  In The Smurfs 3, scheduled for a summer 2015 release, Gargamel will experience an existential crisis and ask himself why he continues to chase the Smurfs. The film will also explore the events surrounding when the Smurfs became blue.
While a majority of the film is set in Paris, the filmmakers spent just one month shooting on location and the remaining 3 months in Montreal. Old Montreal has a historic, French vibe to it and just from my short walk, I could see semblances between the two cities. As the film opens, we see Gargamel in Paris playing at the Paris Opera House. The Smurfs 2 really builds towards the third film and Gargamel's pending crisis, and in an attempt to move from hunting down the Smurfs, he kidnaps Smurfette to harvest her essence so that he can create his own Smurfs.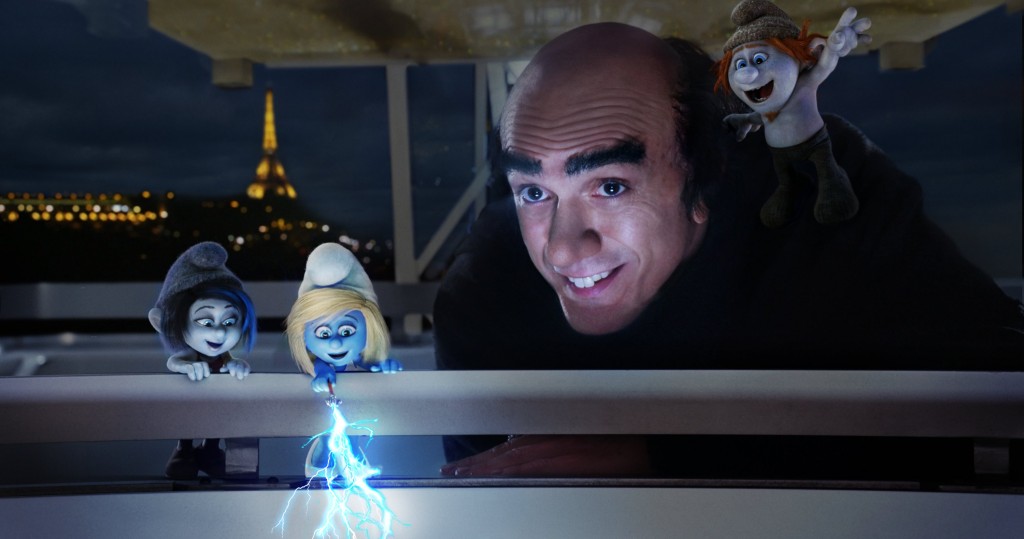 But why Paris? Flashback to New York City where Gargamel uses the magic of his wand to lift a cabby and his vehicle into the air.  Through the brilliance of social media, two young bloggers capture this moment on video, and soon it's on YouTube getting over 100 million views.  He's a legend…the most famous sorcerer in the world.  At this point, he's played everywhere…New York, Las Vegas, and now Paris. But his reasons for coming to Paris are two-fold…to do his show and to use the great iron spire located on the Eiffel Tower to create a storm that will garner the energy needed to create a magic portal back to Smurf Village to capture Smurfette.  When Papa Smurf learns of Smurfette's kidnapping, he uses some of the blue water he saved to create travel crystals that will transport him and 3 other Smurfs back to the Winslow apartment to seek help from Patrick and Grace Winslow (Neil Patrick Harris and Jayma Mays).
These three films have progressions and "we wanted to go deeper into family stories" (Kerner).  While The Smurfs 2 is funnier and more action-packed than the original, it also seeks to answer the question, "Who's Your Papa?" and what that means in a blended family.  Smurfette really has two fathers…Gargamel, who created her, and Papa Smurf, who raised her.  Gargamel's "bargain" with Smurfette is that he will finally leave the Smurfs alone if she agrees to give him the formula.  As his daughter, Smurfette should want to do this for him, which fuels this inner crisis.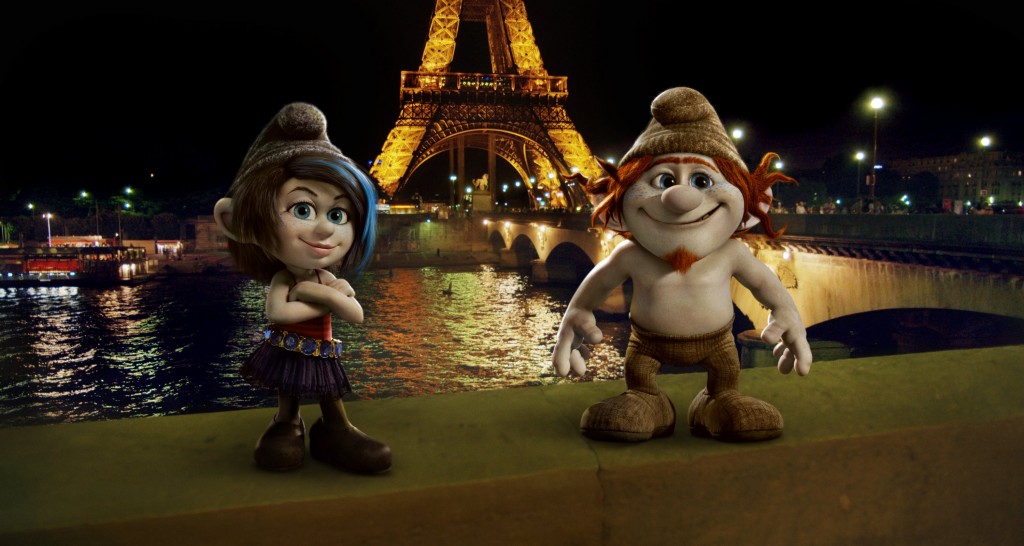 Having seen just a small amount of footage last week, I can tell you this film is even grander in scale than the original, which grossed $500 million at the box office.  No major film has ever been inside the Palais Garnier (the Paris Opera House), which is a testament to the fact that people love the Smurfs. Along with the excitement and action audiences will experience in "the city of light," we will meet two brand new Smurfs, aka The Naughties.  Vexy and Hackus (voiced by Christina Ricci and J. B. Smoove) were created by Gargamel, and are appropriately deemed The Naughties because of their persuasive influence over Smurfette.  In this film, Smurfette will discover and embrace her dark side and will have to work through her own "crisis of confidence." Additionally, we'll meet three brand new Smurfs including Passive-Aggressive Smurf, Clueless Smurf, and Party Planner Smurf.
Leading up to the film's theatrical debut, I'll share more insights and inside information from my interviews with Hank Azaria and Neil Patrick Harris.
The Smurfs 2 opens in theaters on July 31st, 2013.
Images: Sony Pictures Animation
Latest posts by Caryn Bailey
(see all)