I'm in baby mode.  This time around, I know exactly what I do and don't need. I loved Stephanie's series on baby niceties and necessities. I think it's really useful for moms (either first-time or otherwise) to know what they truly do and don't need.  I'd hate to come home that first day from the hospital and realize I didn't have _______ (fill in the blank).  Some of you may or may not agree with me, but bottles are one of those necessities.  You're probably thinking, wait a minute….didn't you breastfeed your son?  Yes!  In fact, I nursed him for 14 months and he would have continued, had my body not decided that it was done.  As a working mom, I realized that just like the first time, I'll have to go back to work at some point (hopefully not before 6 months).  Hence the need for bottles.  I waited way too long to introduce a bottle to my son (although that topic is definitely an entirely separate post) and plan on avoiding the bottle strike with baby number 2.
When I was pregnant with my son, the only BPA-free bottles available were those from Born Free.  So I bought them.  It's been two years and I'm impressed with the number of companies offering affordable, BPA-free baby bottles. Now why it took so long for this to happen is again, best suited for another post.  Needless to say, while there were many things I liked about those bottles, I'm definitely open to trying a new company.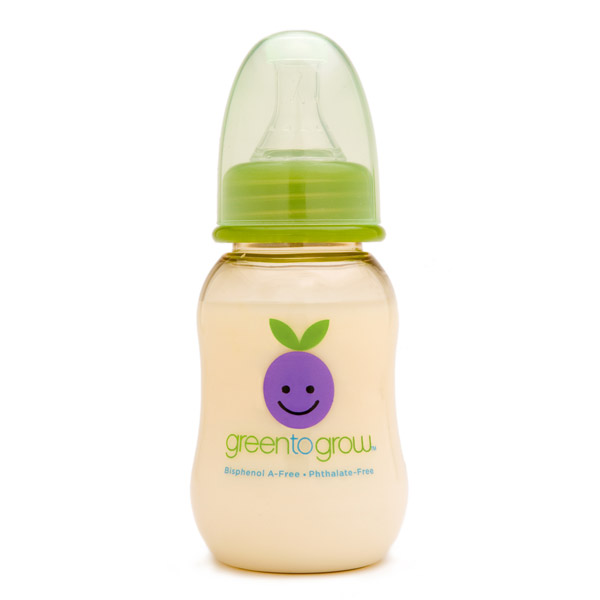 Thanks to Mom Fuse, I had an opportunity to take a look at one of Green to Grow's baby bottles.  These bottles are made from a high-grade, durable, BPA and phthalate-free plastic.  What's important about their durability is that the bottles hold up against a wide range of temperatures including repeated sterilization (very important for NICU nurses like me!). I love that the bottles are compatible with Medela breast pumps (which I have and will use again).  That will save me one extra step in the tedious task of pumping.  Just like most bottles, the company offers 3 different stages of nipples which corresponds to the flow. The bottles are available in both regular and wide neck models and in 5 and 10 ounce sizes and retail for approximately $10.00 a bottle (which is about half of what I paid for my son's bottles).  You can purchase the bottles directly from the site.
Profuse thanks to Mom Fuse for this review opportunity.