No compensation was received for this post. I was invited to a media preview and accommodations were provided.
With no end to the soaring price of gas, I have to admit that decisions regarding our future car purchases will rely heavily on fuel efficiency. My husband and I are very close to purchasing a new vehicle, and the debate over hybrid, electric, or gas is never-ending. While manufactures like Nissan have made progressive innovations in the electric vehicle space, many consumers have range anxiety (aka the fear of being stranded should a vehicle's battery charge run out).  So what is the alternative?  And can a gas-powered vehicle achieve the fuel economy you would only expect from a Hybrid?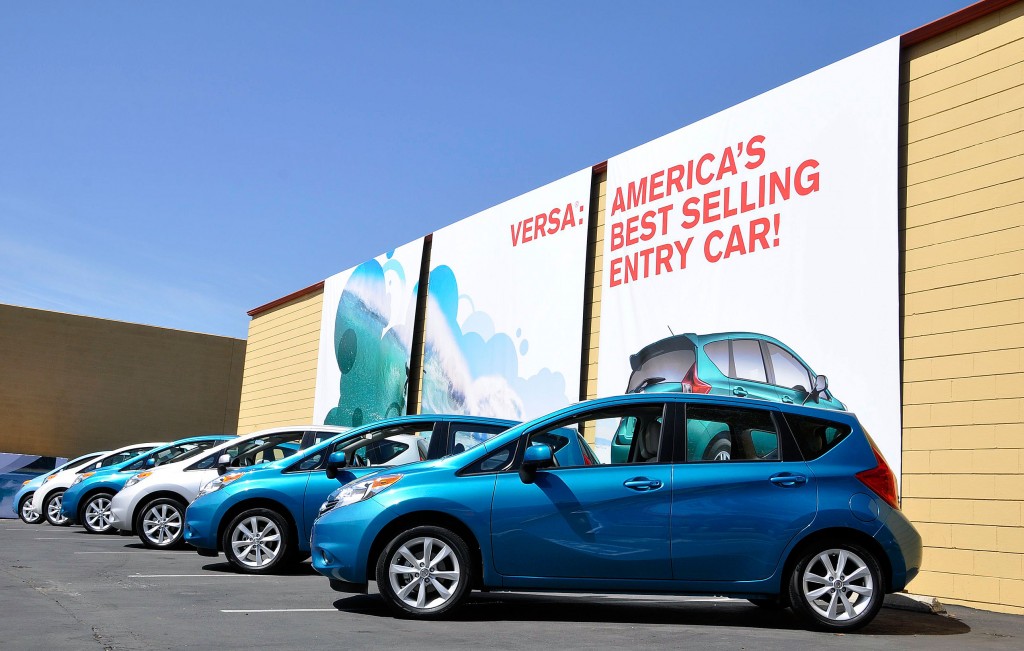 I recently spent two days in San Diego with Nissan to test drive their 2014 Versa Note. I didn't know much about the vehicle prior to the trip, but I do remember reading about its class-leading fuel economy, achieving 40 miles per gallon on the highway.  I was intrigued.  The Nissan Versa was introduced in 2007 and quickly became America's Best-Selling Entry Car. Designed for the active driver, the 2014 Versa Note features a modern, energetic yet elegant design.
Upon seeing the car inside the lobby of the Andaz Hotel, I immediately commented on the color, which just so happened to be named Metallic Peacock. I am a lover of all-things blue and this blue-green shade was strikingly appealing.  At first glance, I expected the stylish hatchback to be zippy and fun to drive. After a quick briefing on the history and specs of the new Versa Note, we were unleashed on the streets of San Diego!
In a sector where the leading competitors are vehicles that include the Honda Fit, the Toyota Yaris, and the Ford Fiesta Hatchback, I wasn't certain what to expect with regards to performance, technology, and luxury features.  Hands-down the Versa Note exceeded my expectations at a starting price that even young adults will find highly competitive.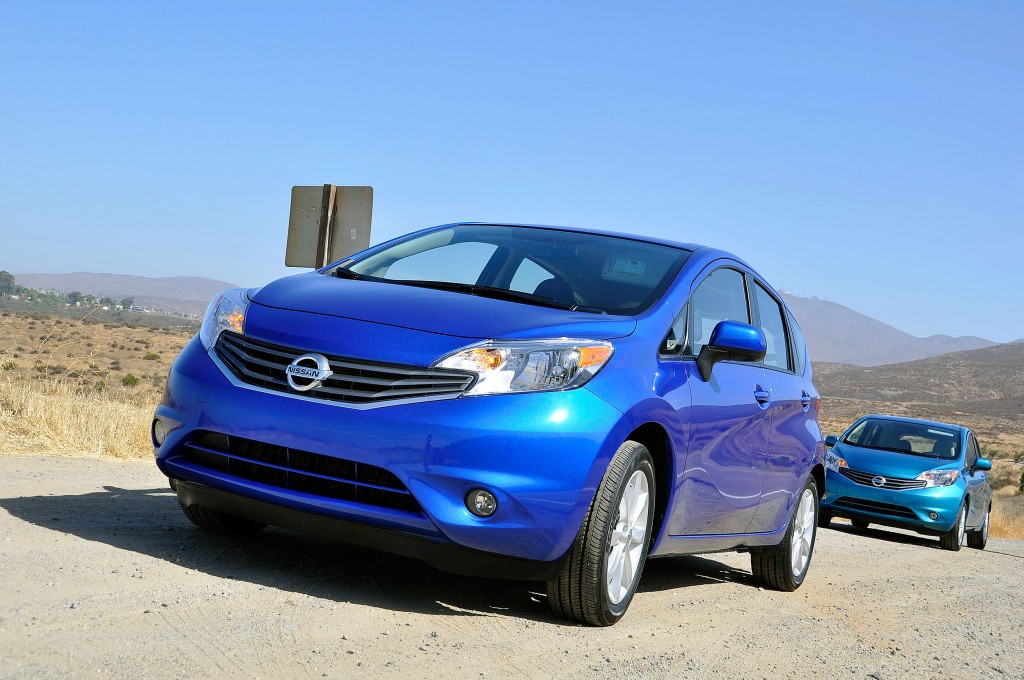 How Does It Look?
To be honest, I don't know that I would have necessarily described a hatchback as sporty, but it's sleek, sculpted styling sets it apart from other vehicles in it's class.  Interestingly enough, the Versa Note's newly redesigned body is as much functional as it is stylish, resulting in improved fuel economy. One interesting fact I learned was that the Versa Note features a dramatic character line called the "squash line," which was inspired by the sport.  Nissan truly understood it's target demographic even as they were fashioning the vehicle.
How Does It Feel?
For a vehicle that shed 300 pounds and shrunk in length, I was surprised to learn that the new Versa Note actually has more interior space than it's predecessor. With the capacity to seat 5 passengers, the Versa Note is a leader in the areas of front headroom and rear legroom. I'm actually quite short, so I wasn't really able to gauge how roomy the vehicle was, but what I did find reassuring was the fact that I could adjust the driver's seat to my liking and still see over the dashboard!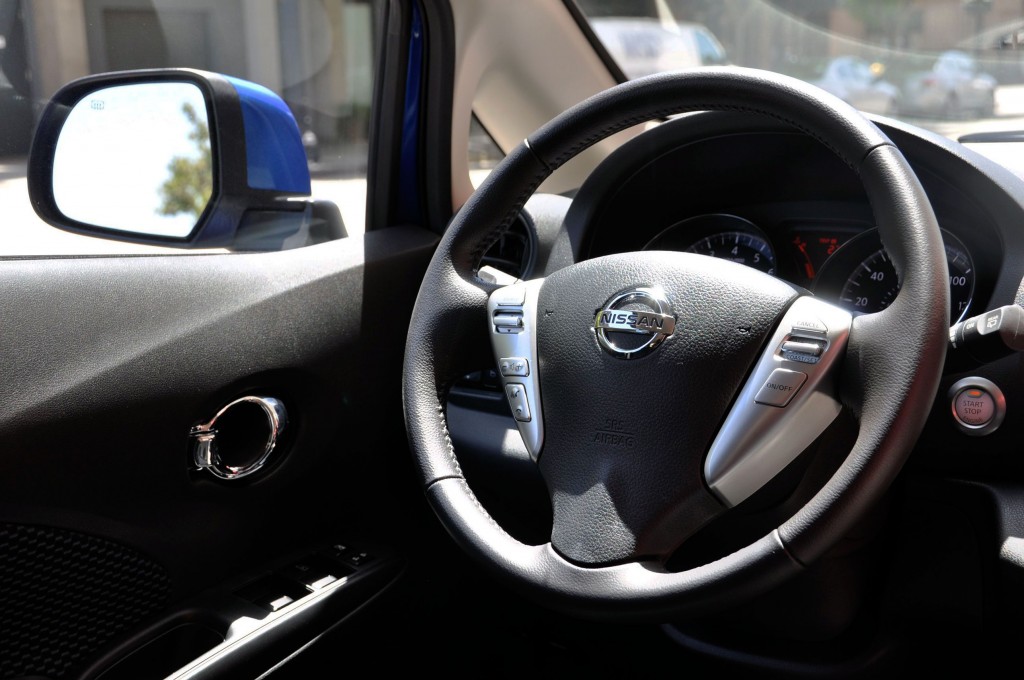 How Does It Drive?
A couple of weeks before I test drove the Versa Note, I rented a compact car from a competitor.  It was roomy but basic and didn't offer any memorable features.  I can recognize a car for what it is, but upon driving it, I was quite disappointed in the way it handled, particularly when accelerating from a stop or onto a highway.  Coming into the Versa Note Press Preview, I wasn't sure what type of expectations I should have given my recent experience.  The Versa Note comes equipped with a 1.6 liter, 4-cylinder engine and the option of a 5-speed manual or a next generation CVT transmission. What that means is that I had little difficulty eliciting power from the engine during acceleration and it offered a smooth, quiet ride.  Much of our driving took us through the windy backroads of San Diego and the Versa Note handled those twists and turns well.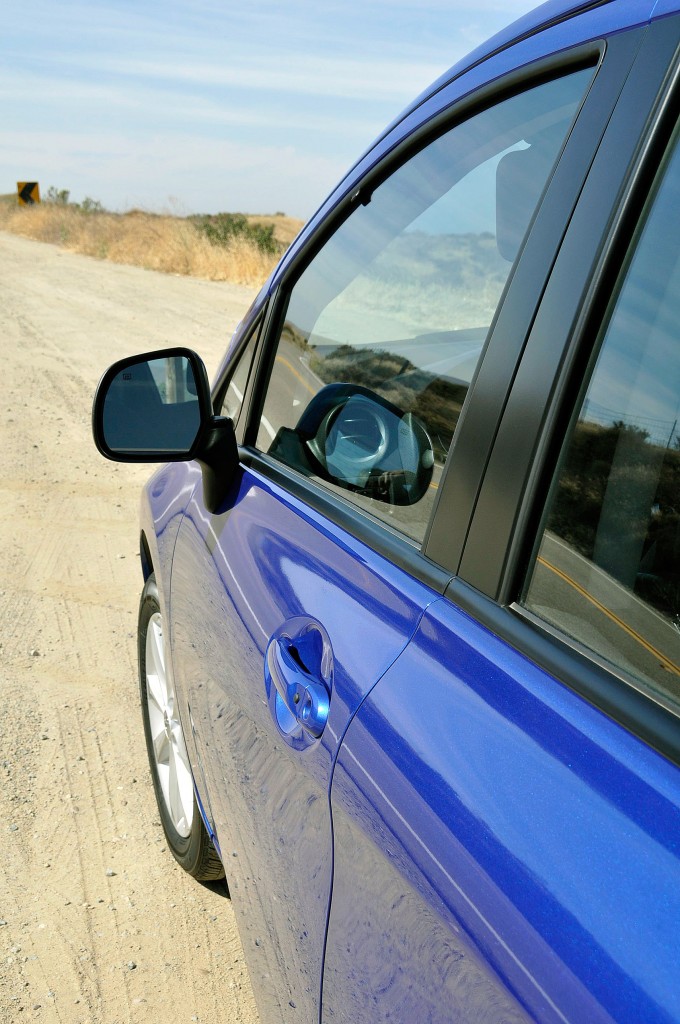 Is It Safe?
While the target demographic for the Versa Note is the active couple in their 30s, I can envision smallish families being happy with this vehicle. Whether or not kids are part of the mix, safety is always a concern. Some of the Versa Note's stand-out safety features include Nissan Advanced Air Bag System which includes driver and front passenger air bags, a Traction Control System, and a Tire Pressure Monitoring System (My mother has this in her car and it lets her know if one of her tires is low, thus aiding to avoid a flat or a blow-out). Families will be happy to learn that the Versa Note includes the LATCH system and child safety rear door locks.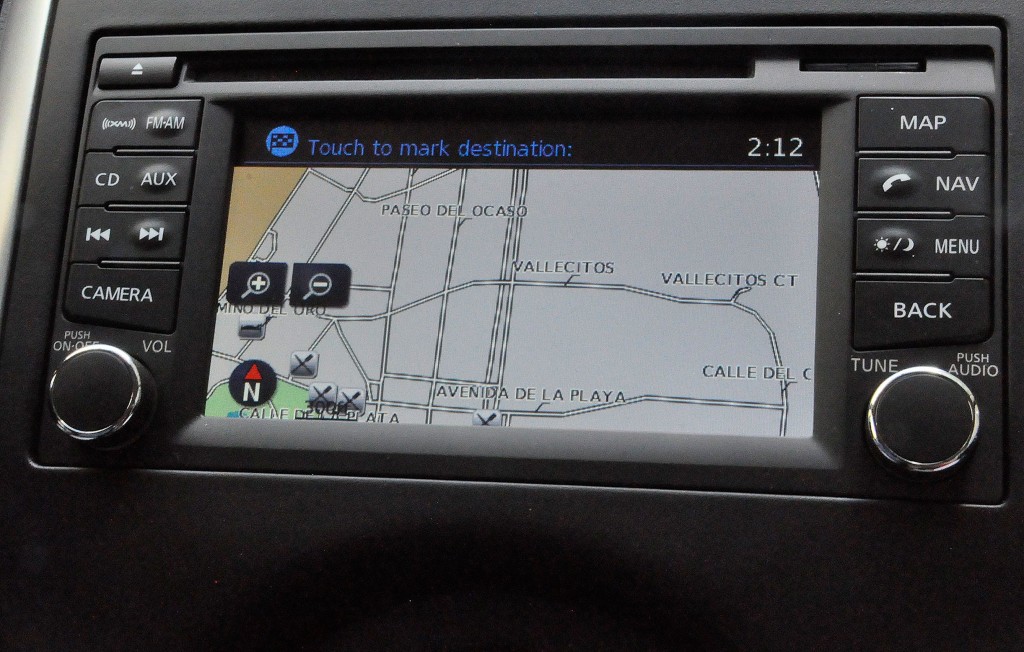 Can A Compact Vehicle Still Afford Luxury and Technology?
Surprisingly, the answer is yes!  I was thoroughly impressed with all of the available features and given the fact that I love technology, I couldn't wait to put them to the test!  If you're on the fence about upgrading to a vehicle with Nav, NissanConnect will put you over the edge! Complete with traffic, weather, hands-free text messaging assistant, streaming audio via BlueTooth, Pandora radio capability, points-of-interest powered by Google and Google Send-To-Car, there isn't really any information I can't access from the vehicle. The rear-view camera has become a standard feature on many newer vehicles, but Nissan has stepped it up a notch with its Around View Monitor.  I literally backed the Versa Note into a parking space with the windows blacked out, solely assisted by the Around View Monitor.  Perfection!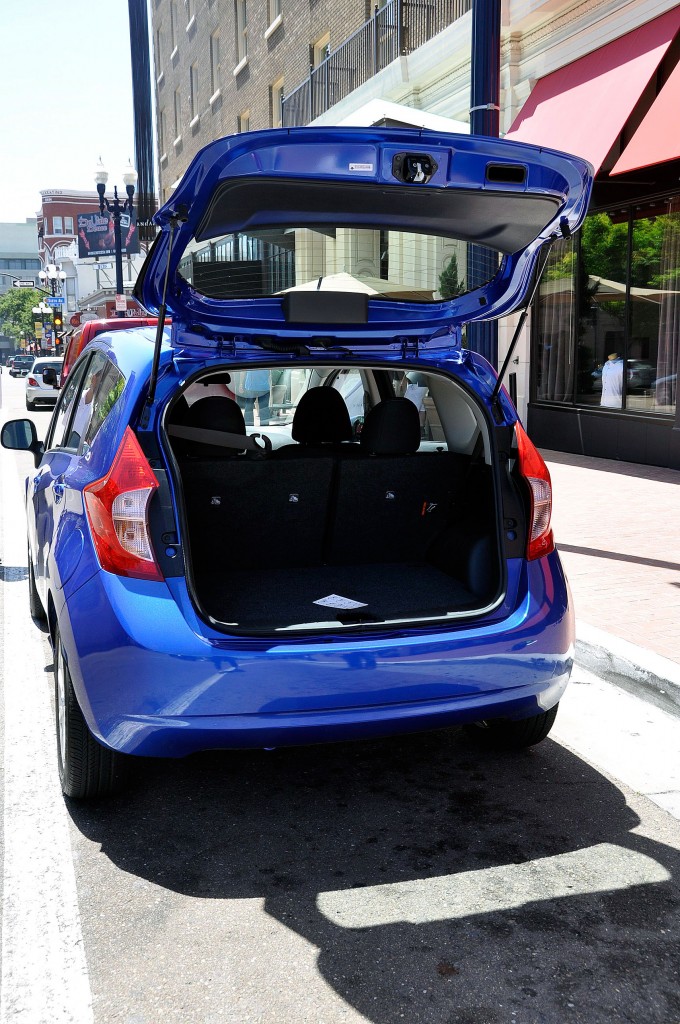 What about the "5th" door? 
Nissan refers to the Versa Note's hatchback as "Your Door To More." Since the target demographic for this vehicle is someone who leads an active lifestyle, Nissan designed the Versa Note with a cargo area that affords 21.4 cubic feet of space. Many vehicles with a roomy interior tend to lack cargo space (and vice versa).  The Versa Note affords both a roomy interior and cargo area and allows the driver to choose with its Divide-N-Hide Adjustable Floor. With the standard 60/40 split fold-down rear seat folded down, a larger flat cargo area is created. Similarly, drivers can lower the floor board to create a deeper cargo well when space is needed for tall or bulky items. There is also a hidden area underneath the cargo floor board to hide valuables.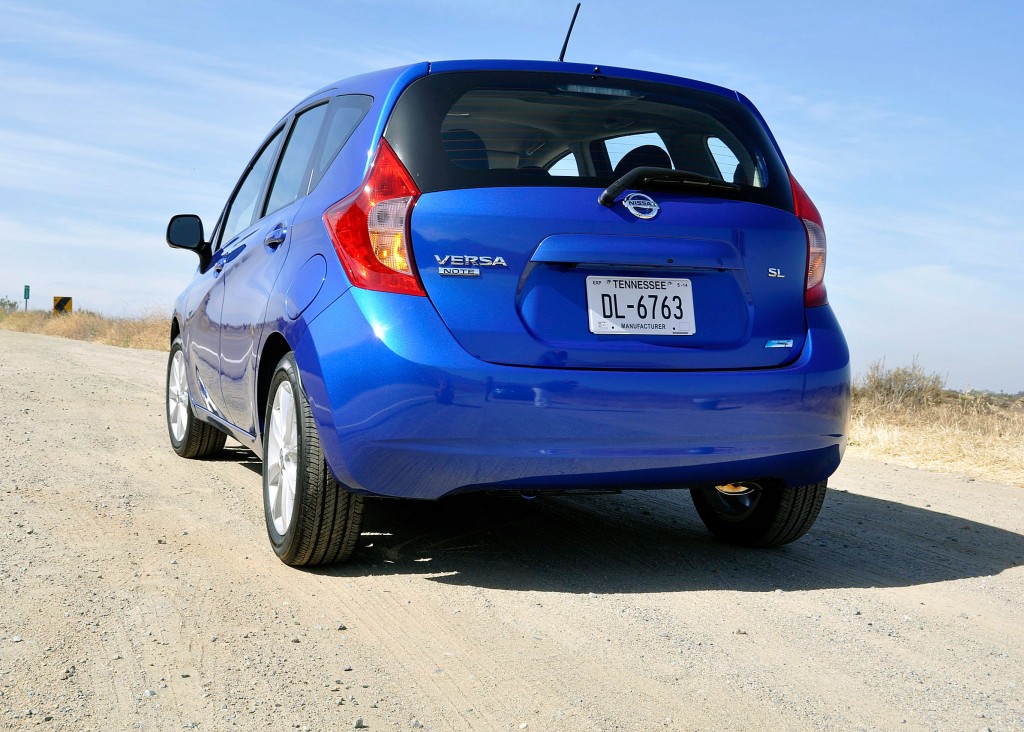 How Much Does It Cost?
The 2014 Nissan Versa Note starts at just $13,990 (manual transmission) and maxes out at $18,490 (automatic transmission, $18,490). Even the most expensive model is still under $20,000…for a fully loaded, 5 passenger vehicle that gets combined fuel economy of 40 MPG, the price is more than competitive.
For an entry level compact 5-passenger hatchback, the Versa Note truly stands out with it's style, design, innovation, and price.
To celebrate the launch of the 2014 Nissan Versa Note, the company has just launched the "Your Door To More Video Contest" and the prizes are HUGE!  To enter, simply visit YourDoorToMore.com and download the Versa Note kit. Create a video about what you love using Instagram or Vine and include the Versa Note.  Share your video before August 5th, 2013 on Instagram or Twitter using the hashtag #VersaVid. THREE Grand Prize winners will see their video in a national TV commercial plus receive a $1,000 Amazon Gift Card.
Images: Rockin' Mama unless otherwise noted.
Latest posts by Caryn Bailey
(see all)