I always use the week after Christmas to catch up…on sleep and laundry and life. I also use this time to reflect, in order to be intentional about how I will approach the new year. The wave of nostalgia I often feel is tempered with the excitement surrounding the new year. Change and growth and renewal are on the horizon, and this sentiment of "starting over" spans many cultures. Of the varied cultural New Year's celebrations, none is more prominent than Chinese New Year (also known as Lunar New Year). This important festival is celebrated by diverse Asian cultures and begins February 1st, 2022, ushering in the year of the tiger.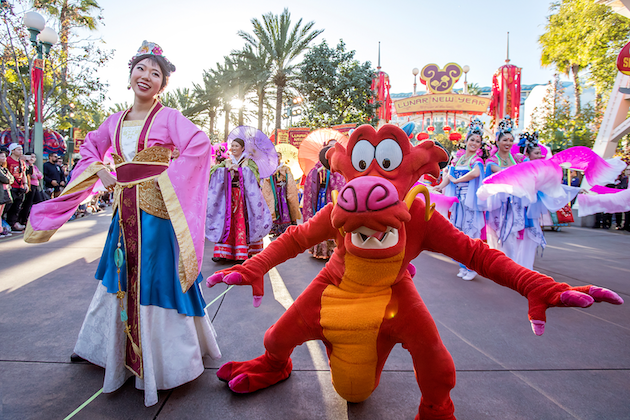 Lunar New Year
In Chinese and other Asian communities, Lunar New Year is the most important holiday of the year. Lunar New Year is the first day of the year where the months are coordinated by the cycles of the moon. Celebrations traditionally honor deities and ancestors and gatherings often include a meal shared amongst family members. Traditions include a thorough housecleaning to sweep away bad luck and prepare for good luck, red-colored decor which aligns with the themes of good fortune, happiness, wealth, and longevity, the lighting of firecrackers, and gifts of money in red paper envelopes.
In honor of Lunar New Year 2022, I've compiled the best family-friendly Lunar New Year Celebrations in Los Angeles and Orange County.
Lunar New Year Celebrations in Los Angeles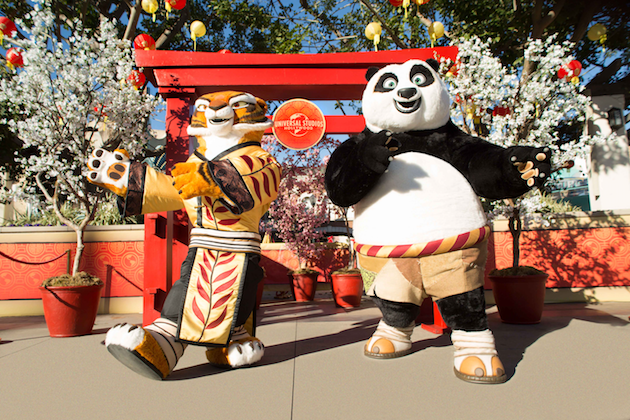 Universal Studios Hollywood: This year, guests can enjoy a variety of Lunar New Year food and merchandise offerings throughout the month of February. You can see below for previous offerings at the park in honor of Lunar New Year. Be sure to check their website for the most up-to-date information on Lunar New Year at Universal Studios Hollywood.
This year's Lunar New Year Celebration will feature a Kung Fu Panda Jade Palace Performance Stage and the exciting Dragon Warrior Training Show based on the beloved Kung Fu Panda franchise.  Mr. Ping's Noodle Shop is back to serve up delicious culturally-themed food such as Po's Dumplings, Dragon Warrior Bao, Oogway Eggrolls, and Secret Ingredient Stir Fry Noodles. Mr. Ping himself will be on hand to interact with guests and take memorable souvenir photos. Hello Kitty will step out in style, wearing her signature red bow and specially designed Lunar New Year attire. A Mandarin-speaking Transformer's MEGATRON will greet guests at the entry of the festivities, engaging guests in Mandarin and in real-time conversation reflective of his persona. A curtain of customary red Chinese lanterns and stunning plum blossom Wishing Trees will further complement the event. Uniquely-themed experiences offered in Mandarin include the theme park's signature Studio Tour and the exclusive VIP Experience. The celebration will feature expertly-trained Mandarin-speaking tour guides both opportunities provide insight into the world of movie-making magic.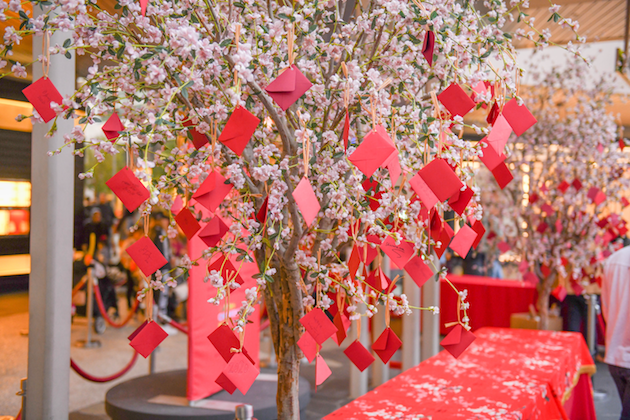 Santa Monica Place: Celebrate the Year of the Tiger February 1-8, 2022 as Santa Monica Place is transformed with red and gold lanters over Center Plaza. Families will also enjoy red envelopes with special deals from participating shops and restaurants, take-home craft kits, and fortune cookies. Participate in Lunar New Year by hanging your wish on the cherry blossom wishing trees for prosperity and renewal for the new year. Additionally, The Gourmandise School will offer a date night on February 4th. The Lunar New Year Celebration class will feature Chef Katie Chin teaching participants how to make a tiger lily martini, chicken potstickers symbolizing prosperity, long life veggie nooldes symbolozing longevity, a whole steamed fish symbolizing abundance, and banana spring rolls with caramel sauce symbolozing prosperity. The cooking school will also offer a Valentine's Date Night with Chinese Dumplings on February 14th, a date night on February 18th with Thai Favorites, and a virtual celebration on February 10th.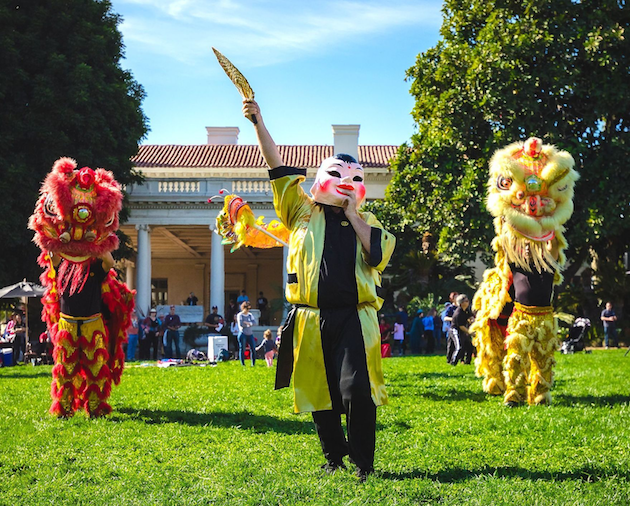 The Huntington Library: Celebrate the Year of the Tiger at the library's annual Chinese New Year Festival. Families will enjoy lion dancers, performances by a mask-changing artist, choreographed martial arts demonstrations, Chinese music and dance, arts and crafts, food, and more. Festivities will take place in and around the Chinese Garden and are included with admission. February 5th and 6th, 2022.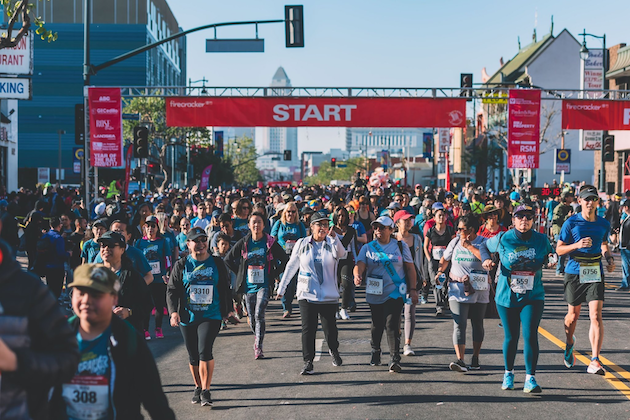 Chinatown Los Angeles: Due to the current status of the pandemic, their traditional celebration will not be taking place. This year marks the 44th Annual Firecracker 10K race, which will be held virtually. When you register, you will receive race swag including a souvenir t-shirt and a goody bag along with discount coupons. Participants can choose to run, walk, or cycle. February 19th, 20th, 2022.
Each year, this celebration takes place in Central plaza with a variety of free, family-friendly activities. Enjoy calligraphy, candy sculptures, face painting, magic, crafts, food trucks, acrobatic acts, a lion dance troupe, and more. Additionally, don't miss the Annual Golden Dragon Parade at 1 pm which features more than two dozen floats, multiple marching bands, government officials, various dignitaries, entertainers, local business leaders, and cultural groups.
Lunar New Year Celebrations in Orange County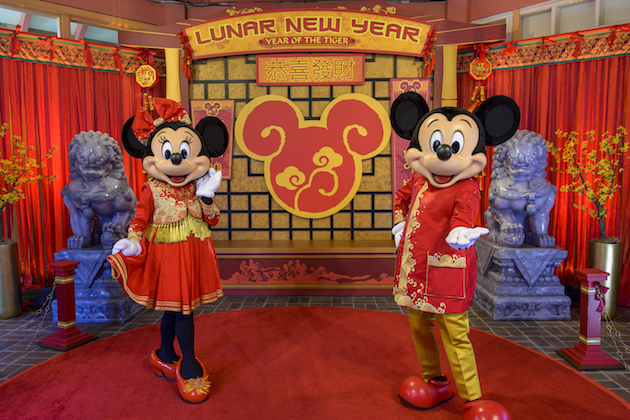 Disney California Adventure Park:  Disneyland's Lunar New Year celebration returns to Disney California Adventure Park for 24 days. The celebration invites families to experience Asian culture through food, music, and entertainment. Activities include Tigger, Mulan and Mushu, Mickey and Minnie, and the Three Little Pigs dressed in festive Lunar New Year attire, four Lunar New Year marketplaces featuring food inspired by Chinese, Korean, and Vietnamese cultures, live performances from authentic musicians, complimentary arts and crafts with local artisans, a Lucky Wishes Wall, Mulan's Lunar New Year Procession with a brand new float featuring Mulan and Mushu, and more. January 21 through February 13, 2022.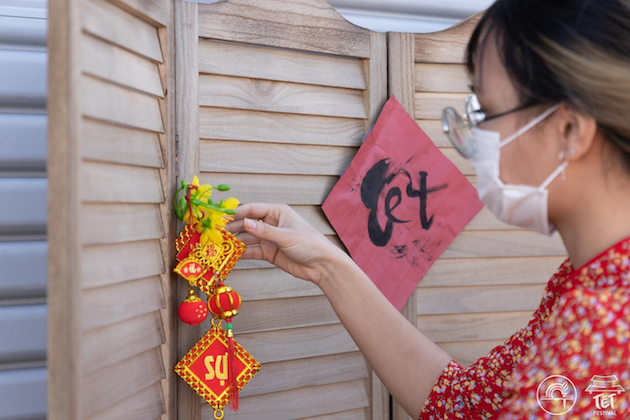 40th Annual Tet Festival: The world's largest Vietnamese Lunar New Year Festival returns to the OC Fair & Events Center this year and the theme is Spring of Reunion. The event features a Vietnamese cultural village, live entertainment, the Miss Vietnam of Southern California pageant, festive games and rides, a variety of ethnically diverse foods, and a dazzling firecracker show celebrating the new year.. February 5-6, 2022.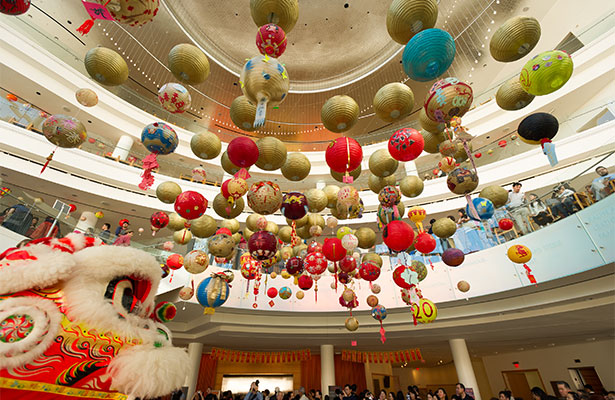 Segerstrom Center for the Arts: Celebrate the Year of the Tiger with the Pacific Symphony's annual Lantern Festival. Pacific Symphony and South Coast Chinese Cultural Center/Irvine Chinese School present a free family-friendly festival to commemorate the end of Lunary New Year with music, dance, art making, riddles, and food. The concert hall lobby will be transformed for the festivities with floating lanterns. Activities will take place inside the Renée and Henry Segerstrom Concert Hall and outside on the Argyros Plaza at Segerstrom Center. Admission is FREE, but tickets are required which can be printed from home. February 26, 2022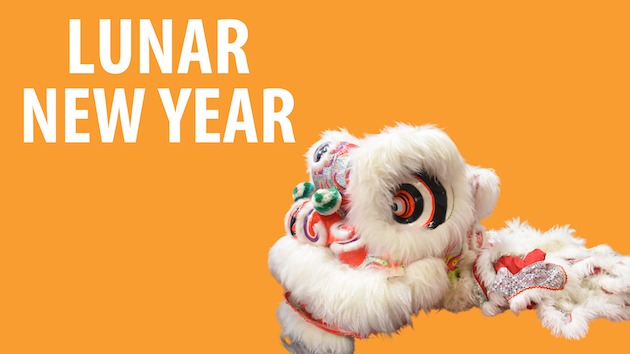 Pretend City Children's Museum: Families will be immersed in a variety of cultural experiences during the museum's Chinese New Year celebration. Activities include music, stories, arts and crafts, and more. Included in museum admission price. Learning activities include DIY Red Envelopes, a communal creation of a Lunar New Year Dragon, and a sensory exploration of Chinese foods, textures and tools. On Saturday, February 5th, the Kishin Daiko Drummers from East San Gabriel Valley Japanese Community Center will perform at 11 am. February 5 & 6, 2022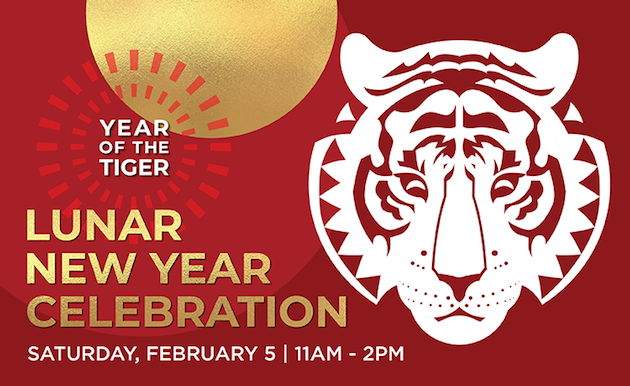 Irvine Spectrum Center: Enjoy a free, outdoor, family-friendly celebration commemorating the year of the tiger! Activities take place throughout the center and include instrumental performances near Apple, Lion Dance near Old Navy, and Martial Arts Demonstrations at the Giant Wheel Lawn. February 5, 2022 11 am to 2 pm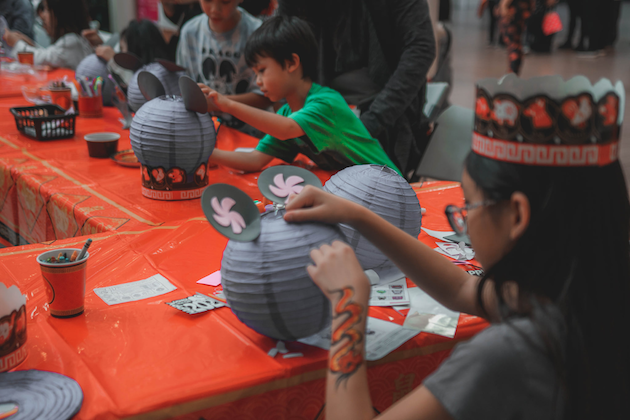 MainPlace Mall: Enjoy a special Lunar New Year Celebration at MainPlace which will include stilt walkers, zither performances, and themed crafts in the Center Court, and a balloon twister at the south end of the mall near The Children's Place. The center will be adorned with beautiful decor. Be one of the first 500 people to check in at the welcome table in Center Court and you will receive a red envelope with $2 bills, plush tigers, and fortune cookies. The first 50 MyPerks members to check in at the MyPerks Lounge will receive a bamboo plant and a tiger tassel. January 29, 2022 2 pm to 5 pm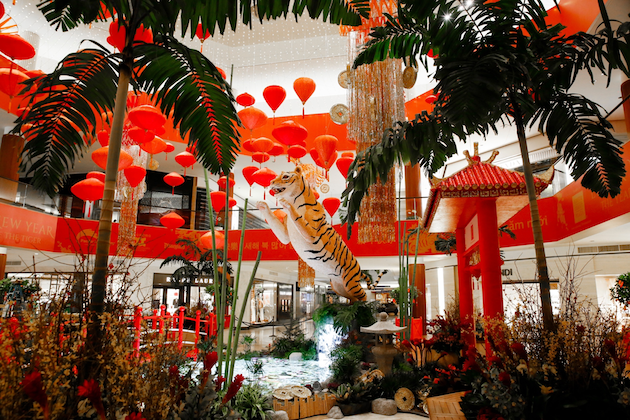 South Coast Plaza: A spectacular Year of the Tiger display sets the tone for this year's Lunar New Year Celebration at South Coast Plaza. The luxury retail destination will celebrate with Lunar New Year merchandise and offerings from boutiques and restaurants, cultural and interactive exhibits, and two weekends of entertainment. The weekends of January 29-30 and February 5-6, enjoy traditional instrumental Chinese music in the Jewel Court from 2-4 pm. See the Lunar New Year exhibit in the Jewel Court through February 20, 2022. Don't forget to toss a coin into the interactive digital pond to make a wish for the new year. Lastly, the Consulate General of the People's Republic of China in Los Angeles presents two photographic exhibitions and celebration video, and Liuli Crystal Art presents a sculpture exhibit. Visit four cultural exhibitions on Level 2, Nordstrom Wing.
Latest posts by Caryn Bailey
(see all)