I always use the week after Christmas to catch up…on sleep and laundry and life. I also use this time to reflect, in order to be intentional about how I will approach the new year. The wave of nostalgia I often feel is tempered with the excitement surrounding the new year. Change and growth and renewal are on the horizon, and this sentiment of "starting over" spans many cultures. Of the varied cultural New Year's celebrations, none is more prominent than Chinese New Year (also known as Lunar New Year). This important festival is celebrated by diverse Asian cultures and begins February 5th, 2019, ushering in the year of the pig.
Lunar New Year
In Chinese and other Asian communities, Lunar New Year is the most important holiday of the year. Lunar New Year is the first day of the year where the months are coordinated by the cycles of the moon. Celebrations traditionally honor deities and ancestors and gatherings often include a meal shared amongst family members. Traditions include a thorough housecleaning to sweep away bad luck and prepare for good luck, red-colored decor which aligns with the themes of good fortune, happiness, wealth, and longevity, the lighting of firecrackers, and gifts of money in red paper envelopes.
In honor of Lunar New Year 2019, I've compiled the best family-friendly Lunar New Year Celebrations in Los Angeles and Orange County.
Lunar New Year Celebrations in Los Angeles
Universal Studios Hollywood: This year's Lunar New Year Celebration will feature a Kung Fu Panda Jade Palace Performance Stage and the exciting Dragon Warrior Training Show based on the beloved Kung Fu Panda franchise.  Mr. Ping's Noodle Shop is back to serve up delicious culturally-themed food such as Po's Dumplings, Dragon Warrior Bao, Oogway Eggrolls and Secret Ingredient Stir Fry Noodles. Mr. Ping himself will be on hand to interact with guests and take memorable souvenir photos. Hello Kitty will step out in style, wearing her signature red bow and specially designed 

Lunar

 

New

 

Year

 attire. A Mandarin-speaking Transformer's MEGATRON will greet guests at the entry of the festivities, engaging guests in Mandarin and in real time conversation reflective of his persona. A curtain of customary red Chinese lanterns and stunning plum blossom Wishing Trees will further compliment the event. Uniquely themed experiences offered in Mandarin include the theme park's signature Studio Tour and the exclusive VIP Experience. The celebration will feature expertly-trained Mandarin-speaking tour guides both opportunities provide insight into the world of movie-making magic. February 2 – 17, 2019
Santa Monica Place: Comedian Paul "PK" Kim will host this year's Lunar New Year celebration at Santa Monica Place. The event will feature authentic cultural performances and activities including traditional Chinese lion dance, Korean fan dance, stilt walkers, traditional dough artist, balloon twister, classic folk music from a Chinese musical duo, New Year's Wishing Trees, and family-friendly arts and crafts. New to the celebration this year is the addition of K-pop dance group First Bite. February 2, 2019 from 2 pm to 6 pm.
The Huntington Library: Celebrate the Year of the Pig at the library's annual Chinese New Year Festival. Families will enjoy lion dancers, performances by a mask-changing artist, choreographed martial arts demonstrations, Chinese music and dance, arts and crafts, food, and more. Festivities will take place in and around the Chinese Garden and are included with admission. February 2 and 3, 2019.
Port of Los Angeles: The 5th annual celebration will be held at Cabrillo Marine Aquarium on the LA Waterfront. Free to the public, there will be live entertainment, face painting, crafts, a petting zoo, and a fireworks finale. Traditional entertainment includes dancers, Taiko drummers, lion dancers, and more. February 2, 2019 from 3 pm to 7 pm. Parking, admission, and activities are free.
Chinatown Los Angeles: Each year, this celebration takes place in central plaza with a variety of free, family-friendly activities. Enjoy calligraphy, candy sculptures, face painting, magic, crafts, food trucks, acrobatic acts, a lion dance troupe, and more. February 9, 2019. Additionally, don't miss the 120th Annual Golden Dragon Parade at 1 pm which features more than two dozen floats, multiple marching bands, government officials, various dignitaries, entertainers, local business leaders, and cultural groups.
Lunar New Year Celebrations in Orange County
Disney California Adventure Park: This year, Disneyland will bring its grandest Lunar New Year celebration to Disney California Adventure Park for 24 days. The celebration invites families to experience Asian culture through food, music, and entertainment. Activities include Goofy, Pluto, Micky, Minnie, Mulan, and Mushu dressed in their Lunar New Year attire, four Asian marketplaces featuring food inspired by Chinese, Korean, and Vietnamese cultures, live performances from authentic musicians, arts and crafts with local artisans, a Lucky Wishing Wall, Mulan's Lunar New Year Procession, and more. January 25 through February 17, 2019.
37th Annual Tet Festival: The world's largest Vietnamese Lunar New Year Festival returns to the OC Fair & Events Center this year. The event features traditional foods, live entertainment, festive games, traditional customs, and more. February 8-10, 2019.
Segerstrom Center for the Arts: Celebrate the Year of the Pig through Eastern and Western music as the center celebrates this annual festival observed by Asian cultures in Orange County and around the world. The interactive Musical Carnival takes place in the concert hall lobby at 9 am (10 am concert) and 12:15 (for 11:30 concert). Kids can test drive a musical instrument, meet the performers, and enjoy musical arts and crafts themed to the concert. In the evening, audiences will come together for a colorful presentation of Easter and Western music and dance. Note: Performance usually sells out. February 9, 2019 at 10 am, 11:30 am, and 8 pm. 
Pretend City Children's Museum: Families will be immersed in a variety of cultural experiences during the museum's Chinese New Year celebration. Activities include story time, arts and crafts, and more. Included in museum admission price. February 5, 2019.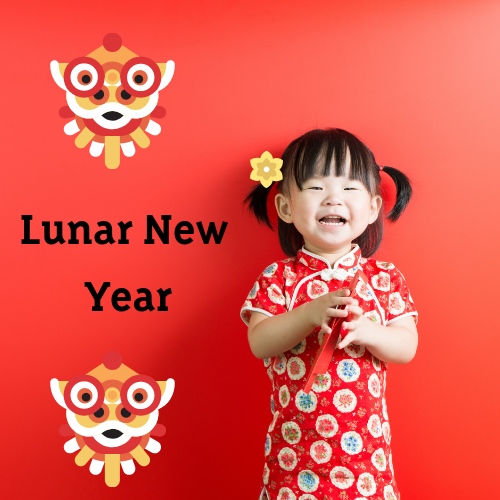 Irvine Spectrum Center: Enjoy a free, outdoor, family-friendly celebration commemorating the year of the pig! Activities take place in the Giant Wheel Court and include lucky red envelopes, Lion Dance, Chinese dragon dance, greeters distributing fortune cookies, arts and crafts, entertainment, and more. February 10, 2019 12 pm to 2 pm.